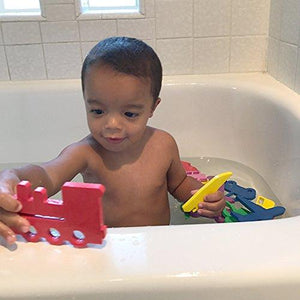 Features:
MAKES A GREAT GIFT - bathtub toys kids will play with and love you for; toddlers and preschool kids love these bathtime water toys!
BEST VALUE 2 For 1 - Why pay extra for separate bath tub toys AND a bath toy organizer when you can get 20 fun unique foam toy vehicle shapes that float in the tub, water table and pool PLUS a bath toy storage net for the price normally paid for just one of these items?
SAFE FOR KIDS & NO MOLD FOR ADULTS - this non toxic bath time toy set is certified BPA free, lead free, phthalate free and built to last; the large durable mesh organizer provides quick drying action that helps prevent mold in bath toys
EDUCATIONAL - Fun new way to learn colors (colors vary) and vehicle shapes plus helps enhance motor skills and imagination
SATISFACTION GUARANTEED - Order today. 100% Risk Free. 60 Day Return. We stand behind our bathtub toys and bath toy net!
Description:
Fun Bath Toys for Boys and Girls - Toddlers and Older Kids
Made with environmentally friendly bpa free materials, this foam playset comes with 20 toy vehicles in a variety of fun colors that float and stick to most bathtub walls and will lead to many hours of fun bathtub water play.
What's included in this fun vehicle playset?
Car toys, airplane toys, toy boats, train toys, construction toys and there is even a submarine toy!
That's not all!
You also get a bath tub toy organizer. This mesh bath toy net sticks to the wall with powerfully strong suction cups that makes clean up easy and fun so no mess or fuss with bath toys scattered everywhere.
These are the best bath toys for boys and girls and make a great birthday gift for kids, Christmas present or stocking stuffer or a 'just because' gift!
These popular bathtub toys for toddlers offer a fun, educational way to learn about colors and shapes, and they help encourage imagination and creativity.
Perfect Size for Little Hands
Each vehicle shape is easy to grip which make them fun foam bath toys to play with for kids of all ages. It's a great bath toy for 3 year old boys and girls, 4 years old preschool kids to kindergarten and even older children who like to play in the bath tub.
Play Time Is All the Time
Whether they drive 'em, fly 'em or sail 'em, these girl and boy toys are ready for action! Kids can take them from the water to dry land to water table to pool and back again without skipping a beat. These versatile fun bath toys can go anywhere your kids' imaginations can take them.
Treat your child to an exciting new collection of bath toys and get 20 toys AND a bath toy holder for the price of one!
Order this special, high-quality, set of 20 foam bath toys for kids and bath toys organizer today. We guarantee your satisfaction or your money back.