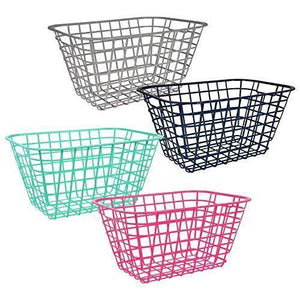 Brand: Little Smartie
Color: Muilticolor
Features:
Trademark Registration Number 5174453, any seller who follow this listing will be charged with trademark infringement.
4 Pack -Nice and Sturdy Plastic Organizing Storage Baskets. Slotted plastic storage baskets have a multitude of uses for home, office, crafts, and more!
Nest design making plastic organizer baskets stack nicely and stacking easily for storage when not in use, space saver. Neutral colors will match almost any décor. and is ideal for counter and shelf display or storage - ideal for holding art supplies, school supplies, bath items, and much more. For drawers, shelves, desktops, organizing kids toys, bathroom vanities or closets, use in bathroom for storing shampoo, conditioner, cosmetics, personal care products, medicines and more.
Perforated design allows to see contents,decorative and perfect size in school desk drawer or on desktop for small items/accessories (pens/pencils) organization. Durable and sturdy, lightweight and easy to wipe clean.
Width: 13.6 in. Height: 7.5 in. Depth 9.7 in on the top, 5 in in the bottom.
Details: These plastic baskets fit practically anywhere and offer plenty of room for all those things you need to keep close by without taking up too much room in your bedroom, kitchen or closet. These baskets offer seamless storage that can suddenly make your house or apartment feel a whole lot neater and cleaner. If you're looking for a storage solution that doesn't break the bank, our storage solution is for you. plastic baskets easily stack when not in use for maximum space utilization and its integrated handles allow you to move them around with total ease. From toy storage in the kids' bedroom to tool storage in the garage and everything in between, you can use these storage baskets to easily organize just about anything you want to keep around, rather than sitting around taking up valuable space. You can use this portable storage basket to store as much or as little as you want - a far cry from other cabinets and storage solutions.
UPC: 600150860471
EAN: 600150860471
Package Dimensions: 13.9 x 9.9 x 8.0 inches