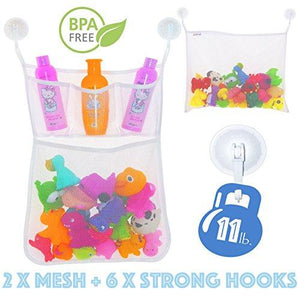 BEST ORGANIZER SET - LuckyOrex has made the best set of 2 net bags + 2 additional hooks at a very good price. All accessories for storing everything in your bath including your baby's toys for bath time. The bath toy organizer (18 in x 14 in) is a big net pocket with easy access. The large storage net bag with 4 different pockets (13 in x 18 in) is ideal for shower accessories, cosmetics and more.

SO SIMPLE AND EFFECTIVE - Our bath toy organizer is great for toddlers and kids, even baby can handle it. Cleaning toys in the bathroom will be a fun game, and both mom and child will love it (a real help in saving time for moms and dads). Your bathroom will always be clean and tidy.

NO MOLD OR BACTERIA - The bath/tub toy organizer and mesh organizer with pockets are made of high quality net bags, fast drying polyester edging and powerful large suction cups. This is the best storage accessory to keep toys and other bath items dry. Good air circulation and fast draining prevent bacteria and mold.

USE ANYWHERE - You can use the bath toy storage organizer in the bathroom, children's room or bedroom -- anywhere where there is a smooth surface for hanging the accessory (doors, windows, mirrors, lockers and others).

MONEY BACK GUARANTEE - We want you to be happy using our bath toy organizer set, so if you don't completely love it for any reason, please return it for a full refund.
Do your children like to play in the bath tub and after jolly bathing your bathroom always looks like a storage of kids' toys which you have nowhere to put?
We will help you to ARRANGE YOUR BATHROOM SPACE, and your child will have a personal kid zone for favorite toys.
We are glad to present you a set of 2 multiuse organizers, in which you can store not only kids' toys, but also other bathroom items.
Organize your things anywhere: Use the bath/tub toy holder/organizer not only in the bathroom. You can organize your things anywhere. Just attach the accessory and enjoy the convenience and ease of use. In children's room, the kitchen or bedroom -ANYWHERE.
Our LukyOrex bath toy organizers have a number of features and benefits:
- High-quality weave is able to hold pounds of various things.
- Great for home use.
- One organizer with a big pocket is great for large and small kids' toys, such as ducks, frogs, fish, penguins, turtles and others.
- The second organizer with four pockets is great for soap, shampoo, toothpaste, toothbrushes and lots of other items.
- Multifunctional use - you can affix the organizer not only in the bathroom, but also in the closet, in the car, on the fridge, on the crib to store diapers and on any other smooth surface.
- Suction cups and hooks are durable and easy to affix.
- Our organizers are resistant to mold and dry quickly.
(basket bin caddy white washable adjustable extra large animal corner tile hanging wall top quality super gift fun boys and girls)
WHAT IS IN THE BOX?
- 2 organizer nets in one set: 18 x 14inches and 13 x 18inches
- 2 hooks / suction cups

BONUS GIFT:2 reliable additional hooks.
RISK-FREE SHOPPING: If you are not 100% Satisfied, we will refund your money back.
Get a set of organizers 2 in 1 at a really good price. Order now.
Click the
Add To Cart
button above to get your