This is not one of those posts with beautiful photos of a clean, decorated house. This is what real life home renovation looks like in the middle of the mess with unfinished walls, exposed wiring, and old doors that need replaced.
But… this is also progress being made, taking the time to figure out what makes the most sense for our needs and budget, and getting everything organized. If there's one thing you probably know about me, it's that I like my things organized… even my power tools in an old dirty garage.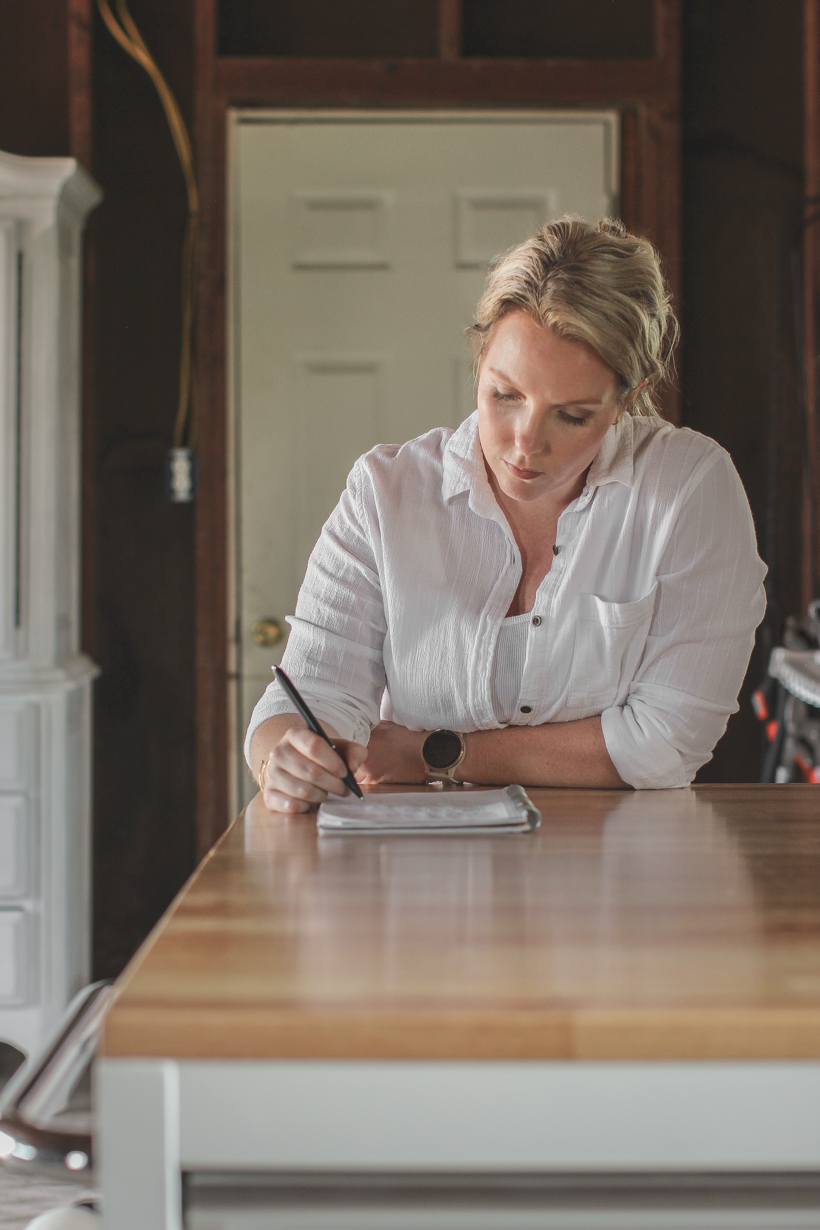 The next big project on my list is renovating our 2 car garage into a functional extra workspace. I haven't parked my car in the garage in years because I always have some kind of project going on in there, whether it's woodworking, refinishing furniture, or sorting through deliveries of items for the shop. Working from home is such a blessing that I try never to take for granted, but it also comes with its challenges, like extra clutter, messes and people in the house. 
So this year I made it a goal to work on converting the garage into a space we could better utilize for projects and expanding our business. This won't be an overnight renovation, and I'm taking my time to really figure out what I need vs. want in here and budget accordingly. Before we dive into my plan and the progress so far, here's a look at the "before":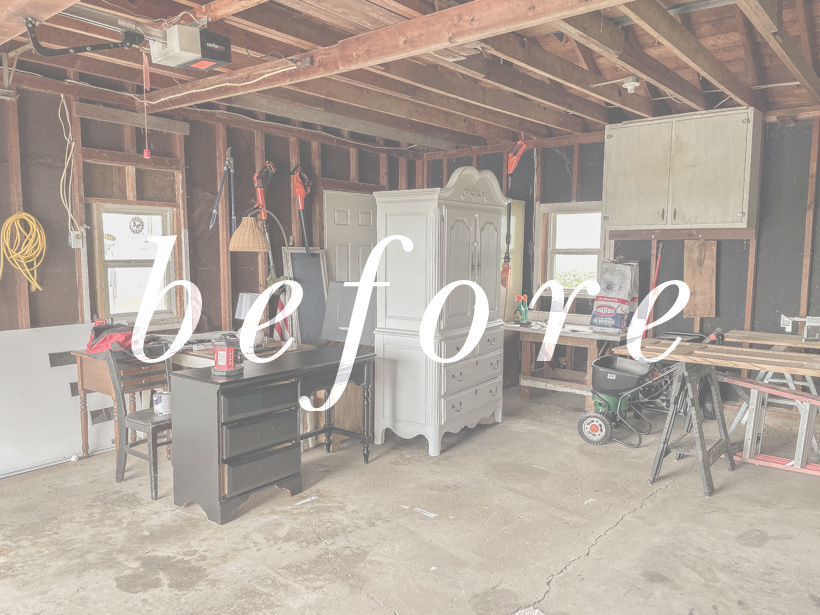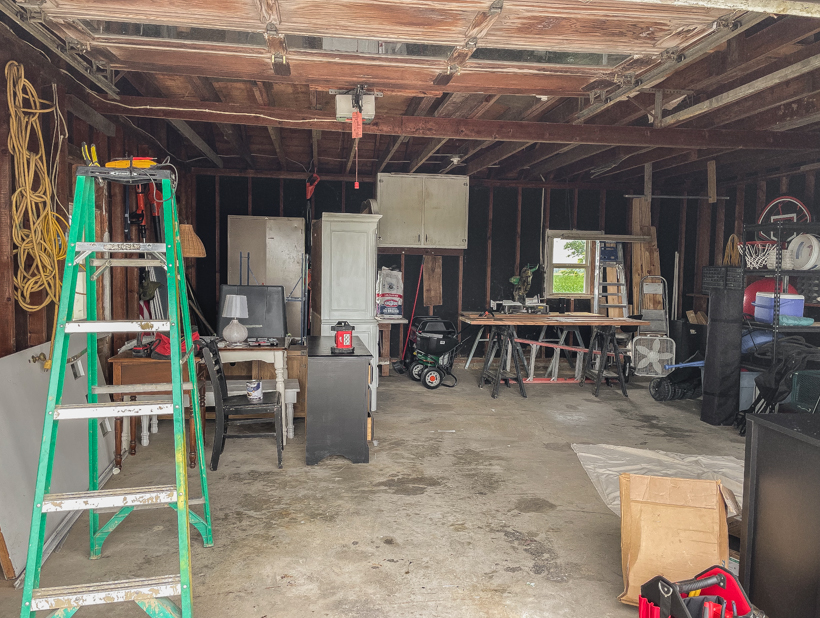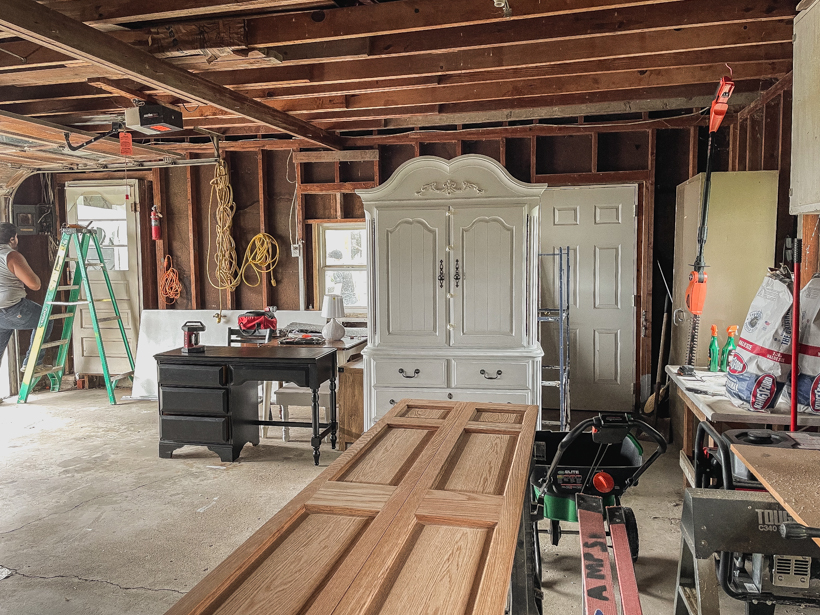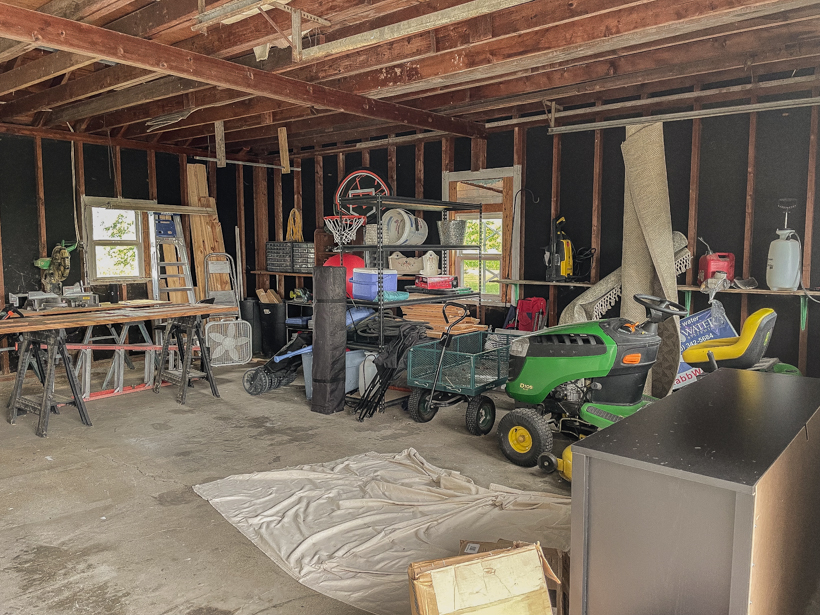 Any time I organize a space, I first get rid of anything I don't use and then categorize all the things I'm keeping. In the garage, I mostly have:
lawn & yard care, garden tools & planters, pressure washer, hoses
tools, lumber, sawhorses, extension cords
sports equipment, coolers, lawn chairs, portable canopy
After A LOT of cleaning, organizing, and trips to the dumpster, I've eliminated a ton of the clutter that accumulates over the years and narrowed down what I really need to keep in here.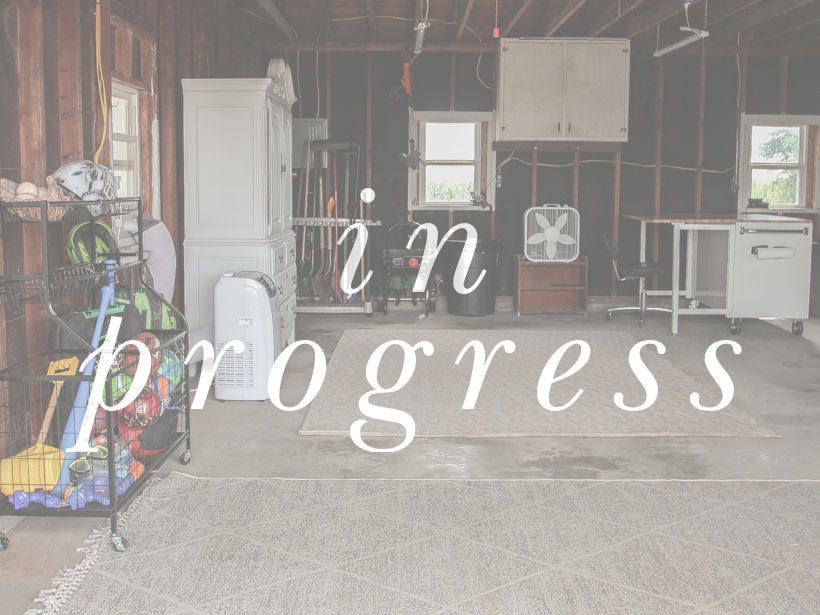 My goal is to eventually finish out the walls and ceiling with insulation and drywall, but first I had to address the old electrical in here. I had an electrician completely rewire the entire garage, adding a new panel, 5 overhead lights and half a dozen or so extra outlets. The yellow wires and blue boxes you see are all new and will be hidden behind drywall eventually. I cannot tell you how nice it is to finally have an ample amount of outlets and lighting in here!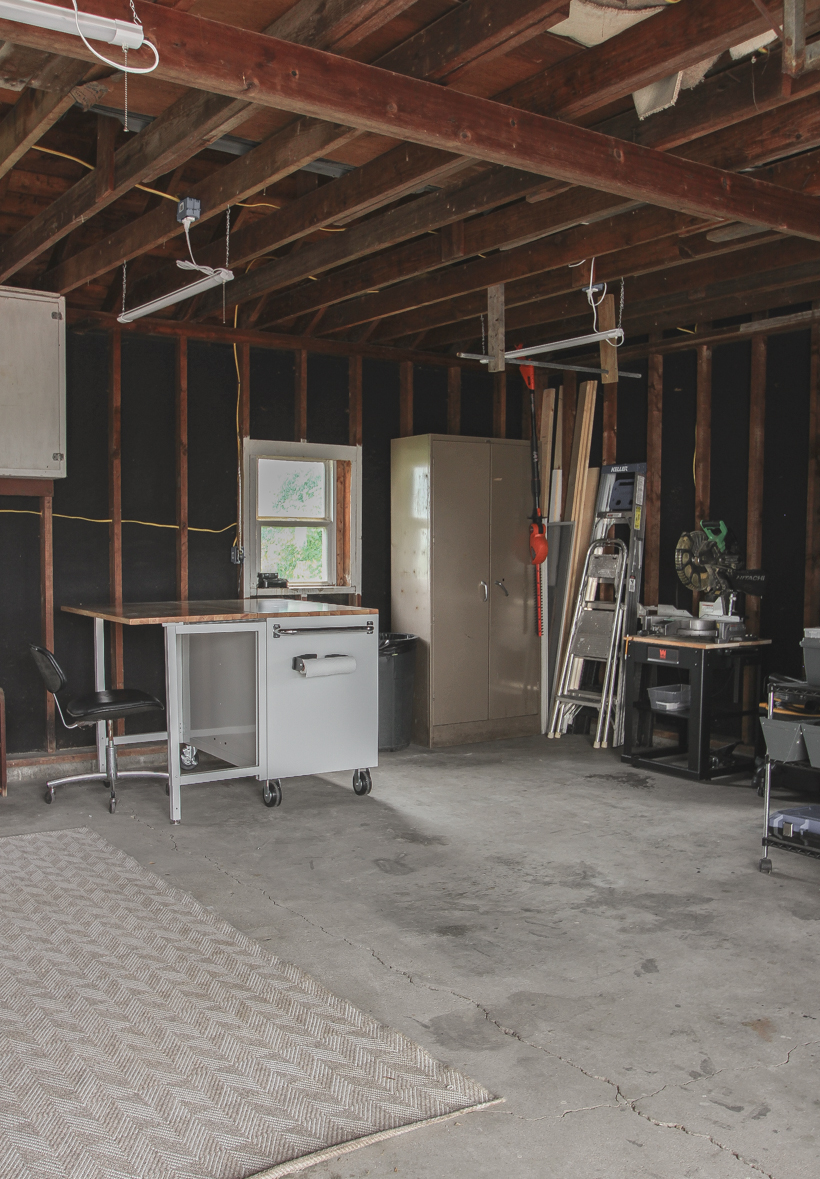 I set up one corner of the garage as my workshop with:
all my tools and a new tool chest/worktable
a new stand for my miter saw
organizers for nails/screws/etc.
sawhorses
and possibly my favorite new toy… a wet/dry shop vacuum we lovingly named Bob
The stand for my miter saw comes with a bottom shelf, expandable arms for support, and casters, which means we can roll it outside the garage to cut down on the sawdust mess if we wanted to.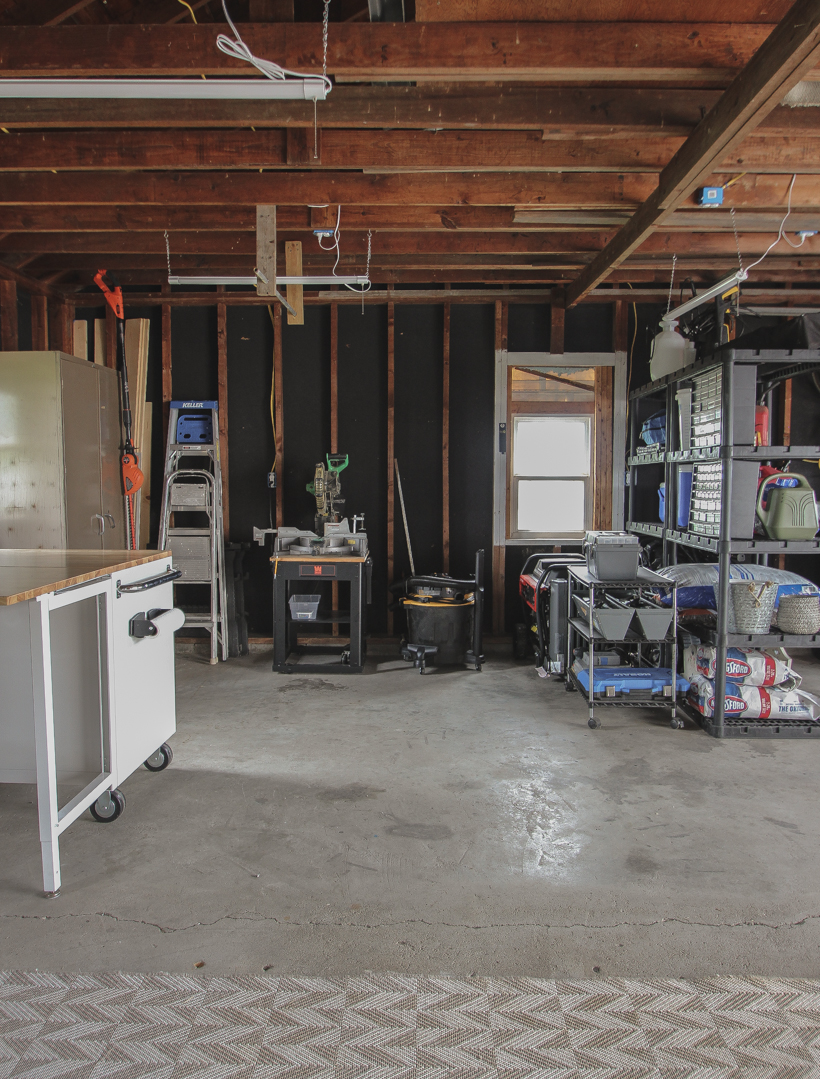 This Husky tool chest was definitely an investment, but something I knew I would use for years and years. And when I saw that I could get it with a solid wood top in off-white instead of the standard black, I knew it was meant to be. I chose one that has a drop-down worktable on the back and filled the drawers with organizers and dividers to keep everything tidy. Here's what I love about this workbench:
9 drawers of various depths with non-slip drawer liners included
heavy-duty casters so you can easily move this wherever you need to
soft close 100-lb. rated drawer slides
extendable work table
internal keyed locking system
built-in power center with 6 outlets and 2 USB ports to charge power tools and devices
total weight capacity: 1500 lbs
It stores every one of my tools with plenty of room for more. And I found a magnetic paper towel holder to stick on the side because we're always using them when refinishing or building furniture! It's the little things.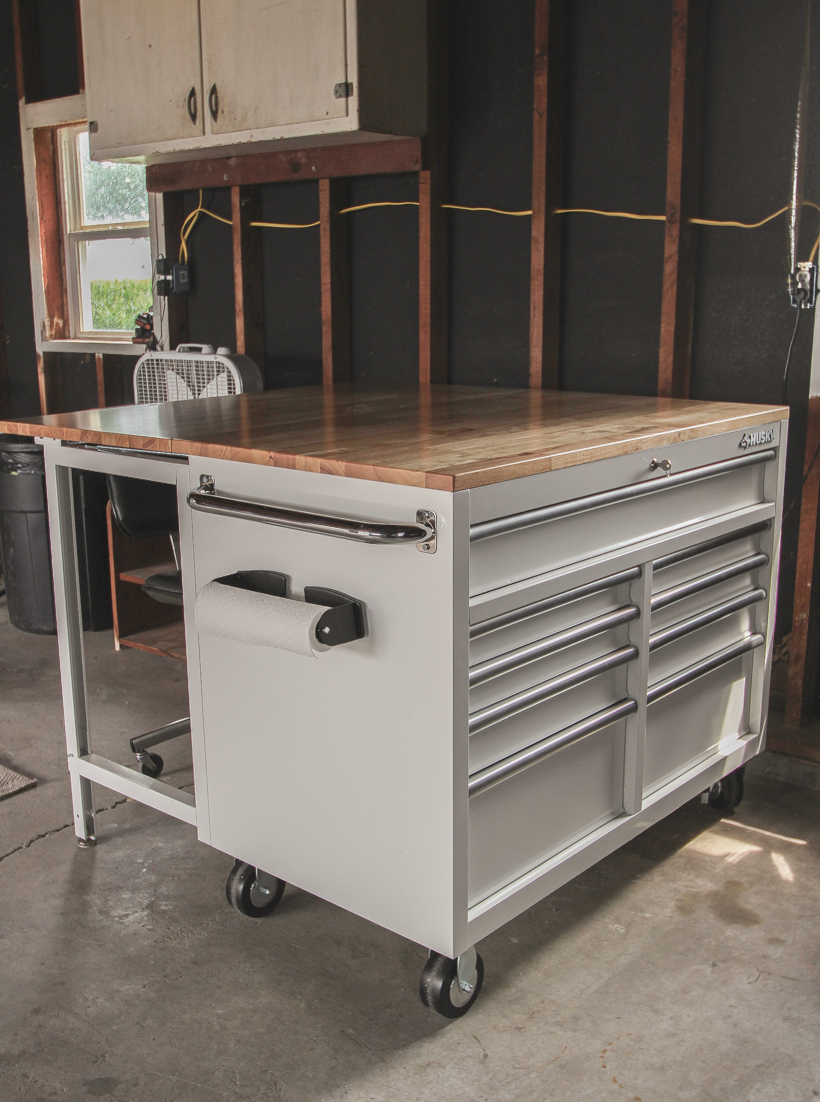 I got these drawer dividers to help organize all my smaller tools, and I like that they interlock to stay in place. The package comes with 32 trays in various sizes, and they're shallow enough to fit in even the shortest drawer perfectly. They also come in light gray and white and would be perfect for a desk drawer, bathroom, or any space you need organized. Highly recommend!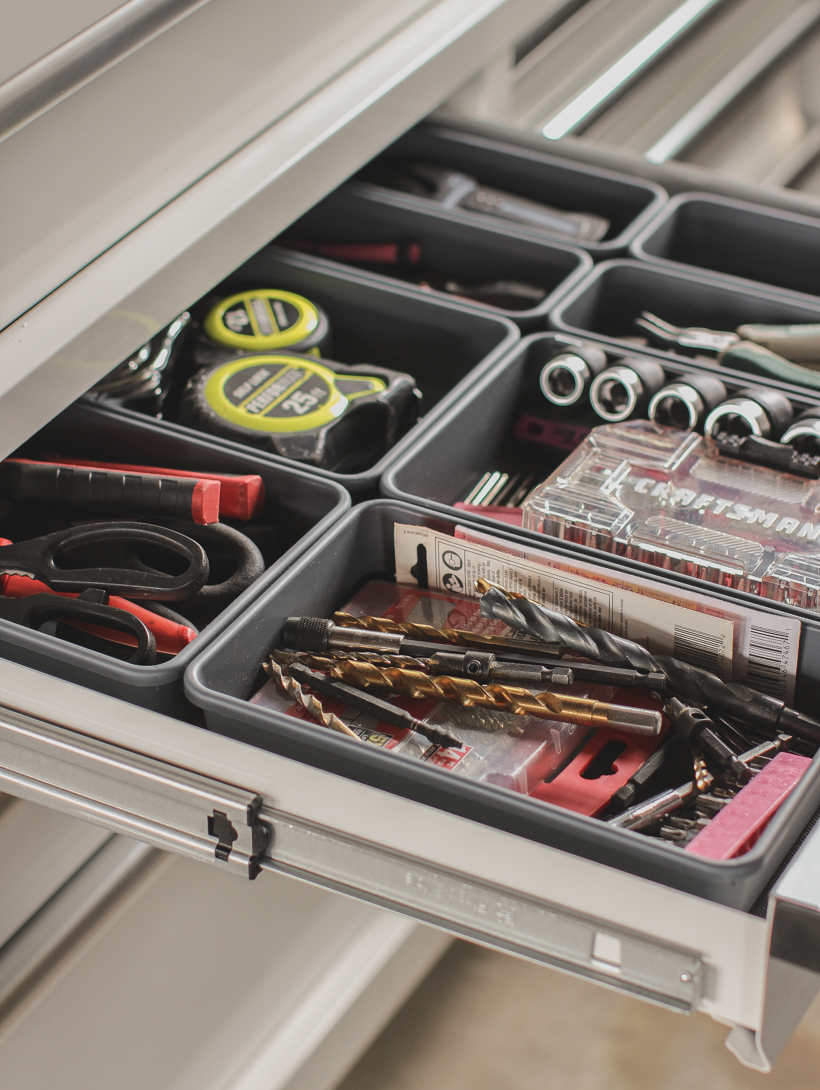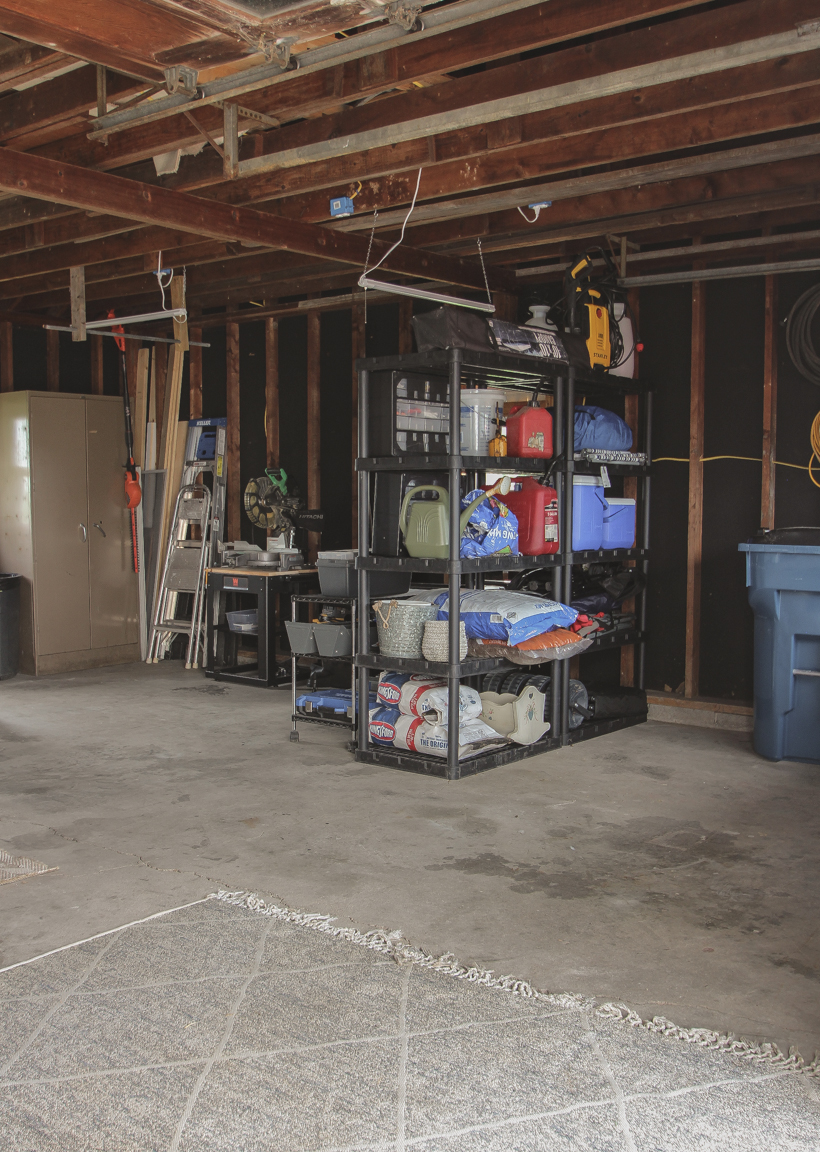 Next to the workshop corner, I added two shelving units for larger items like gas cans, coolers, bags of potting soil and charcoal, planters, and handheld spray tanks. Garbage cans are right by the garage door so we can get them in and out easily. And one of the best organizing purchases I made for the garage: these heavy duty storage straps to hold extension cords and hoses. 
They come in all different sizes, but I bought a 6 pack of the 17″ straps that were a good size for even my longest extension cord. They each have a grommet hole for hanging, which made it super easy to get these up on the wall and out of the way. 
I also bought a big pack of self-gripping cable ties for small cords on appliances, hair tools, charging cords, and more. 
And in the opposite corner, I bought a rolling garden tool rack for all the shovels, rakes, brooms, and other long-handle tools. MUCH better than having them all laying against the wall in a corner and falling all over the place.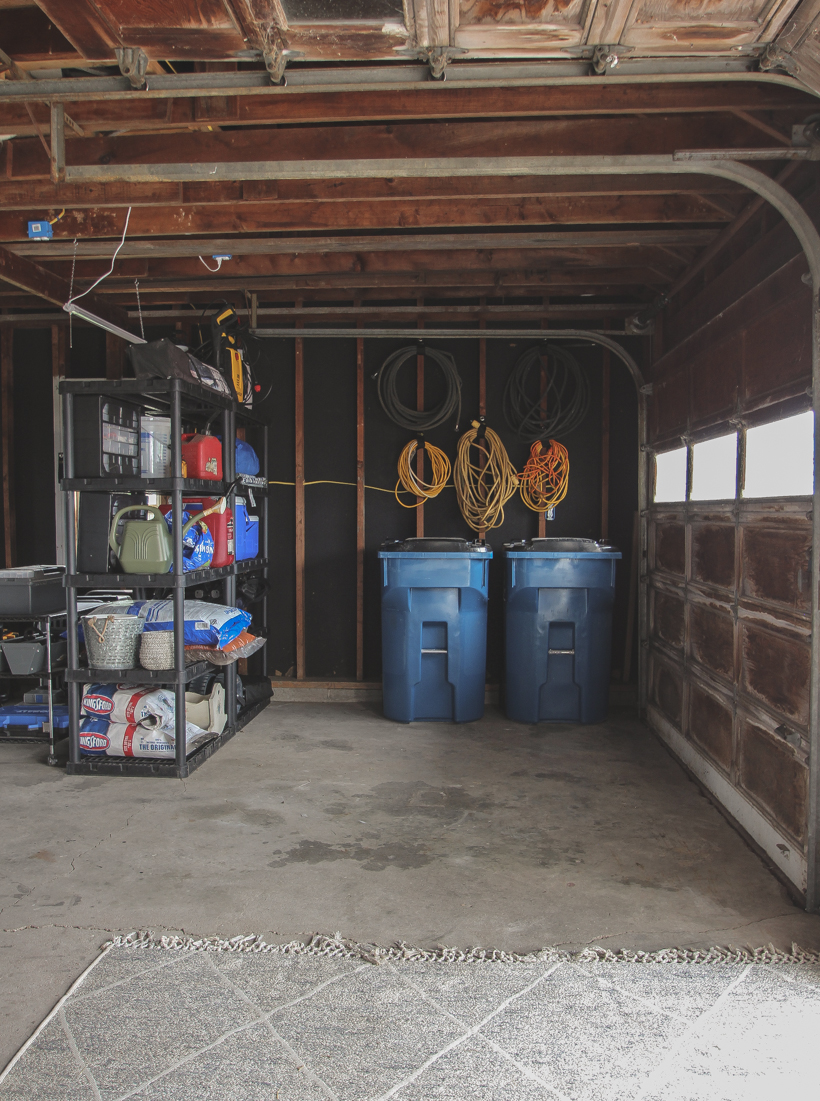 On the other side of the garage (the side we enter), I wanted to have somewhere to store all the boys' sports equipment and outdoor toys. I am absolutely giddy over this black steel storage cart I found that has:
two large bins for balls, water guns and pool/beach toys
four wire baskets on top for smaller or most frequently used items such as baseballs, catcher's mitt/helmet and stinky cleats that I would rather not have in the house
a special hanging hook on one side to store bats, tennis racquets and hockey sticks   
additional hooks on the opposite side to hold bags, water jugs, hats/helmets, jerseys and more
wheels to easily move the entire cart around
This organized SO MUCH clutter from all the sports the boys play year round. 
I had two large outdoor area rugs that haven't been used in a few years, so we cleaned them really well with the pressure washer and laid them out in the garage to cozy up the space a bit. Do they match? Not really, but it's nice to have something other than the hard, cold cement to work on.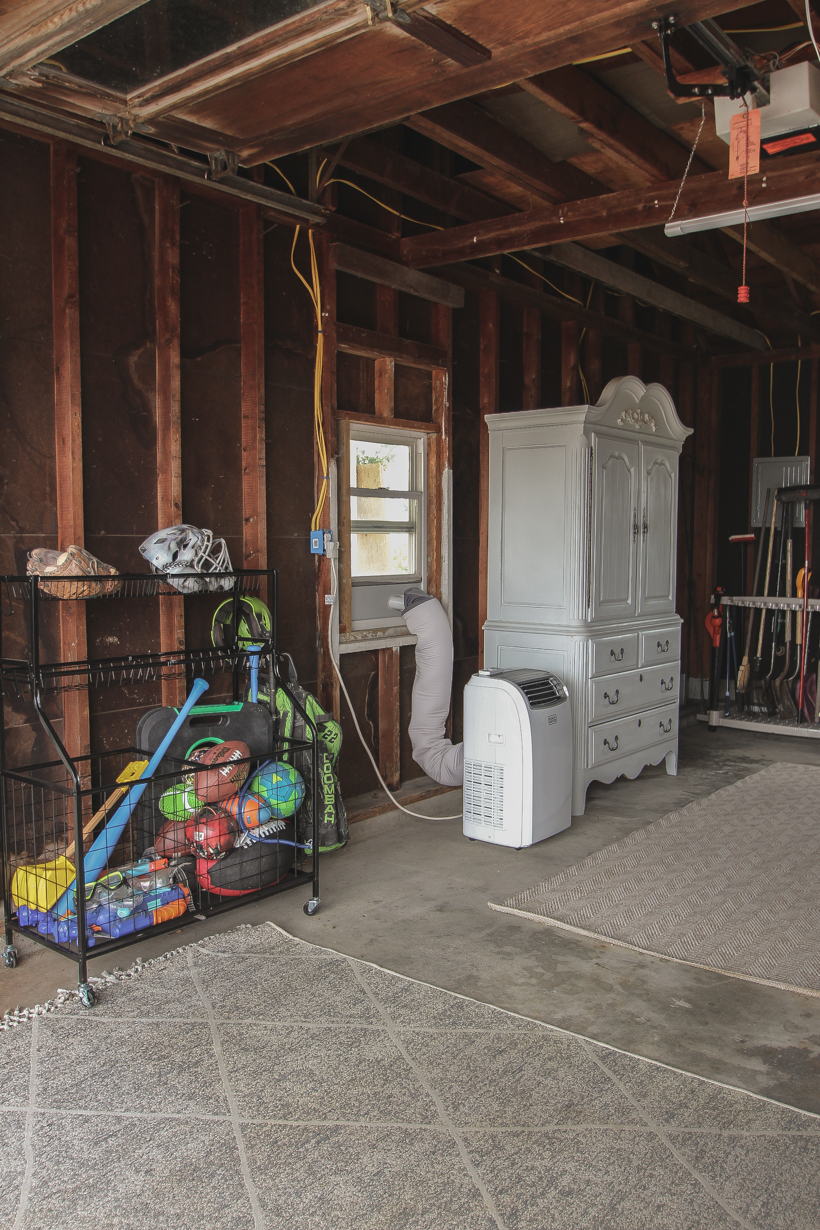 I installed a portable air conditioning unit that also has heat to make the garage comfortable for longer throughout the year. I got a quote for a mini split system to be installed when the drywall gets finished out, but that was right around $5000. Way more than I wanted to spend on the garage right now, so I decided to buy a $400-500 portable unit, and so far I am very happy with that decision and those savings. 
I bought an insulated hose cover to help the unit function most effectively and installed everything myself. I don't run it all the time, just when we're out there working. 
And the last thing you see is the white armoire I've had in the house for several years that just moved out to the garage. I ran out of space for it in the house, but it has so much storage that I carried this enormous piece of furniture out to the garage with my oldest son… it gave both of us a run for our money!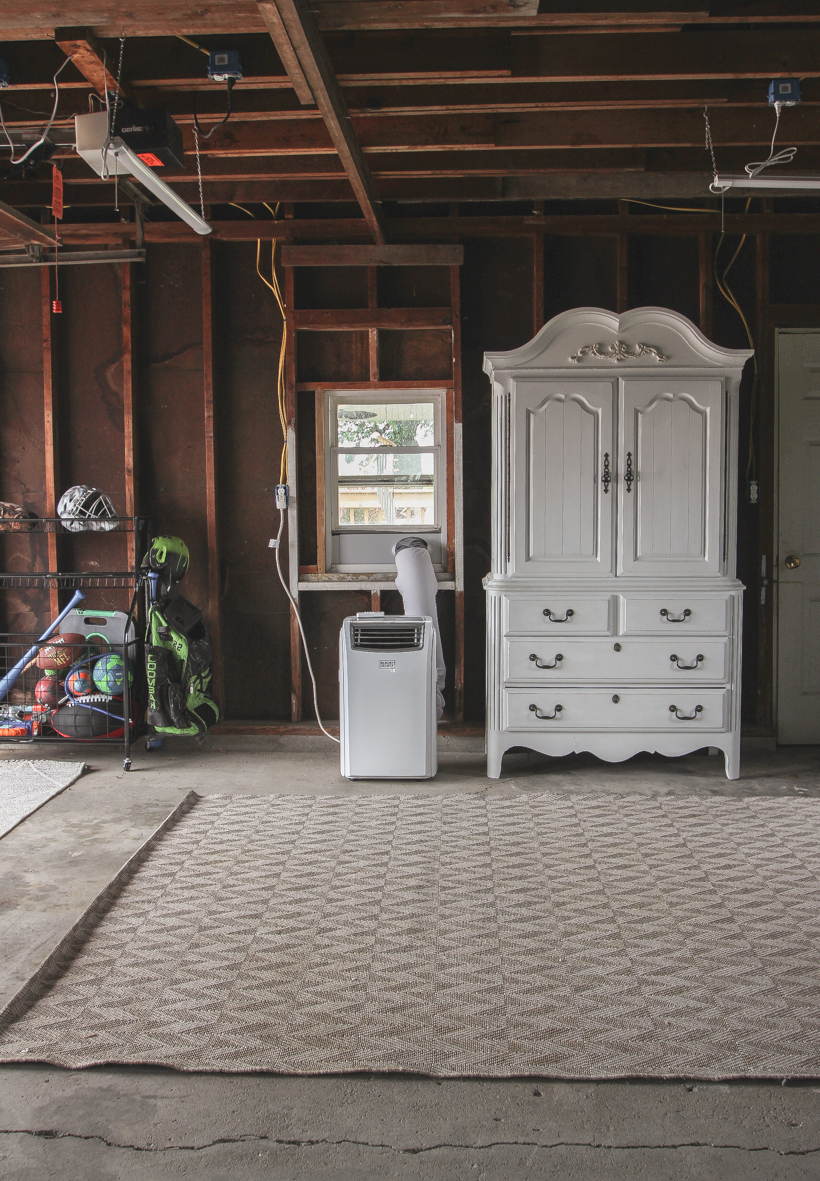 The garage is obviously far from finished, but it's a good start in the right direction. And in the meantime, we have a clean, organized, properly lit space to work in! I know this post probably isn't as exciting as some pretty home decor ideas, but I always want to share the real life messes and in-between phases too. If you have any questions on any of the storage or organization pieces I bought or about the garage renovation in general, let me know in the comments!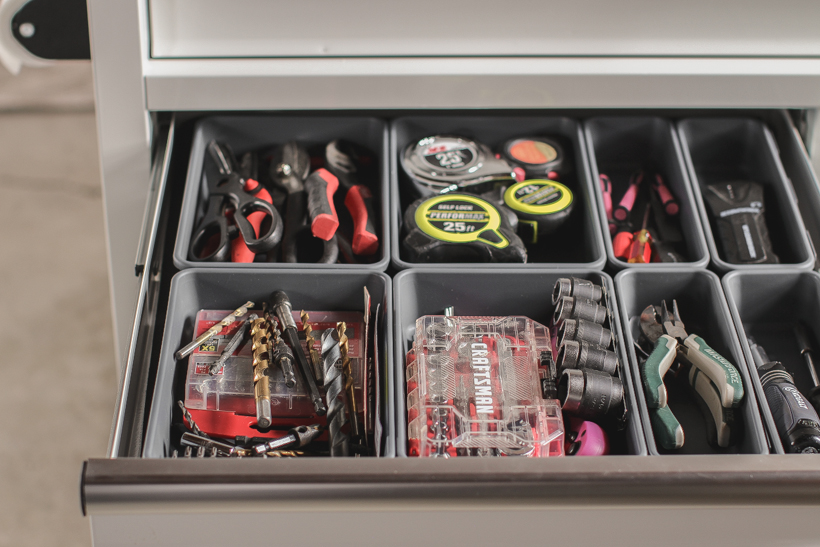 SHOP THIS POST:

white tool chest | portable air conditioner with heat | insulated hose cover
32 pack interlocking drawer organizers | magnetic paper towel holder
rolling sports equipment cart organizer | miter saw rolling tool stand
heavy duty storage straps | reusable self-gripping cable ties | pressure washer
wet/dry shop vacuum | 5-tier storage shelves | rolling garden tool rack
As always, I sincerely appreciate you shopping through the links I share, which allows me to make a small commission from your purchase while your purchase price stays the same. When you use my affiliate links, I'm better able to create content for this blog as well as support my family, and I thank you from the bottom of my heart for supporting what I do!
---
Shop my Posts | Shop my Amazon Store
Join our Community | Follow on Instagram 
Follow on Pinterest | Follow on Facebook
The post Garage Renovation Part 1 appeared first on Love Grows Wild.