8 Best Cribs with Changing Table for Newborns
Check out these stylish cribs with changing table for newborns!
When it comes to putting your newborn down for a nap or for the night, the discomfort of a wet diaper can easily disrupt their slumber.
Having a changing table attached to the crib means that you can quickly and easily change their diaper with minimal disruption!
While you can certainly change your baby anywhere or even use a changing table dresser, these types of changers keep everything close by.
Plus, having a changing table nearby means that you can keep all of your diaper-changing essentials, like wipes, creams, diapers, and clean onesies, all in one place.
Crib and changing table combos are also perfect for saving space if you are trying to decorate a small nursery!
Most of them also convert into toddler beds and daybeds, so you don't have to worry about replacing your little one's sleeping space as they grow.
So, if a crib with a changing table attached sounds good to you, let's take a look at the best:
Best Cribs With Changing Tables
So, let's check out these stylish and cute cribs with changing tables if you have a small place or apartment!
1. Dream On Me Convertible Crib and Changer
Not only does the Dream On Me Convertible Crib and Changer feature a useful changing table, but it also converts to grow with your little one!
It can be changed from a crib to a toddler bed and eventually a daybed. The crib features four mattress height settings.
2. Dream On Me 3-in-1 Combo
This crib with changing table by Dream On Me also converts into a daybed and twin-size bed.
The changing table portion of this crib has three drawers to help you keep your diaper-changing essentials organized and out of sight!
And the changing table is detachable and can be used independently from the crib.
3. Delta Children Abby Convertible Crib and Changing Table
The Delta Children Abby crib with changing table converts to a toddler bed, daybed, and full-size bed with headboard.
The changing table has two drawers and a shelf to keep all of your diaper-changing supplies on hand.
4. Storkcraft Portofino 5-in-1 Convertible Crib and Changer
The 5-in-1 Portofino convertible crib with changing table by Storkcraft converts into multiple beds as well and includes an attached changing table with ample storage.
It's also available in four different colors: Espresso, gray, pebble gray, and white.
5. Storkcraft Steveston 5-in-1 Convertible Crib and Changing Table
Here's another convertible crib with changing table by Storkcraft!
The Steveston converts in the same way as the other model but features a sliding drawer under the crib for additional storage!
Storkcraft's cribs are made from sustainable pine wood and are backed by a 1-year warranty.
6. Graco Remi 4-in-1 Convertible Crib and Changer with Drawers
Available in three different colors (espresso, gray, and white), the Graco Remi 4-in-1 converts from a baby crib to a toddler bed, daybed, and full-size bed.
This crib with changing table also features a sliding drawer under the crib that has two compartments.
The changing table includes three storage drawers, two open shelves, and a water-resistant changing pad with a strap.
7. Nursery Organizer and Diaper Caddy
For those who plan on using the crib as a changing table when the mattress is set higher, you can always use a nursery organizer and diaper caddy!
This one hangs on the end of the crib and is designed to hold diapers, wipes, and other changing table necessities.
8. Pack-and-Play Nursery Center
If you're looking for something portable, you can always use a pack-and-play nursery center that includes a bassinet, changing station, and playpen, along with a removable crib, diaper table, and canopy.
While this isn't a good permanent solution for your little one's nursery, it's perfect for when you are on the go!
Changing Table Safety Tips
When you're looking at buying a crib and changing table combo, it's important to keep safety in mind when it comes to changing your little one!
Here are some safety tips to follow:
Use a Safety Restraint
Good changing tables will have a safety restraint with buckles that you can use to prevent your baby from rolling over and falling off the changing table.
Most changing pads also come with these safety restraints.
All it takes is a quick second to turn around and grab a diaper for your baby to roll and fall!
Use a Changing Tray
You can also use a changing tray and pad that conforms to your baby's body.
The high sides keep your baby comfortable and safe.
Plus, changing trays are portable, so you can easily take them with you wherever you go!
Keep the Changing Table Organized
You can make changing your baby easier by ensuring that you have all of your diaper-changing essentials organized and within your hand's reach.
That's why I love the idea of having a crib with changing table – with the drawers and shelves, it's easy to stay organized!
Don't forget to keep your diaper pail close by as well.
Entertain Your Baby
A bored baby is likely to cause you more grief if they are bored or distracted.
You can keep their attention by singing to them or giving them a toy they can hold while you change their diaper.
Read the Instructions
Once you have your crib and changing table put together, make sure you read the manufacturer's instructions before you use it.
This information will provide you with weight limits, what parts need to be attached, and what the warranty covers.
How Do I Choose a Crib for Your Newborn?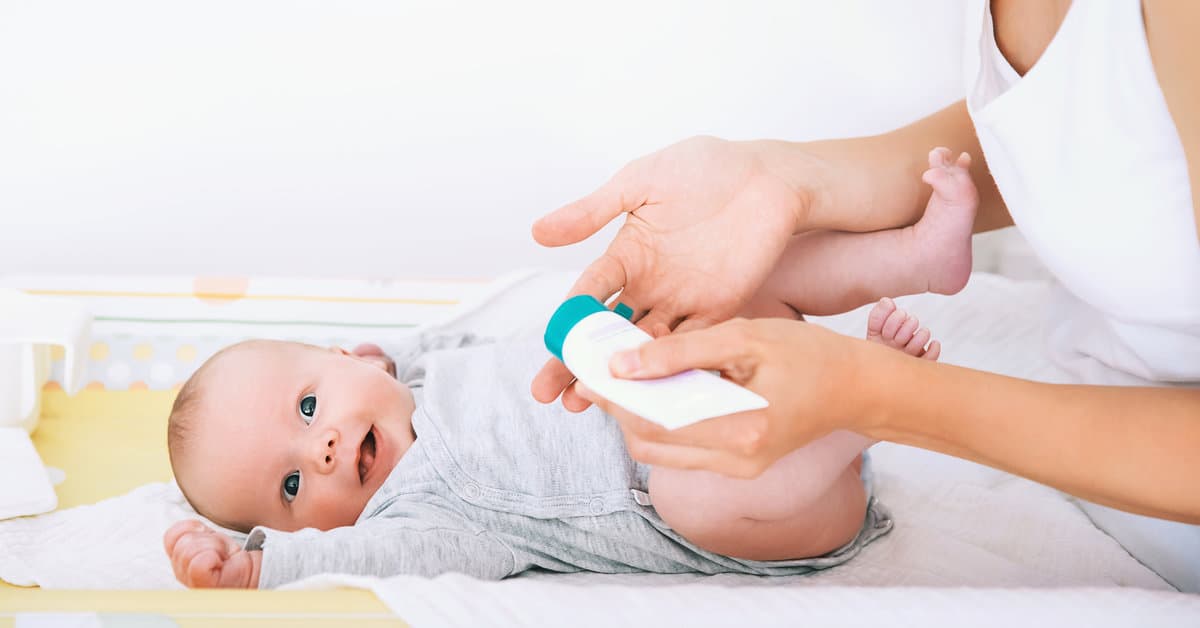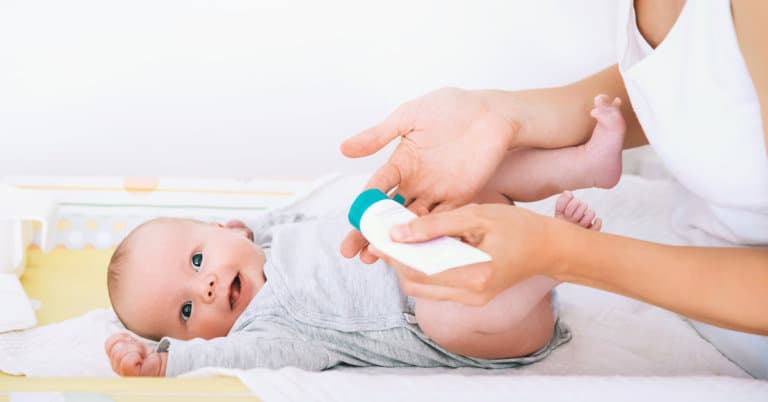 Choosing a crib for your newborn is an important decision that should not be taken lightly.
There are many different types of cribs to choose from (as you saw above!), so it's important to research and compare the different models in order to find the one that best suits your needs and will provide a safe and comfortable environment for your little one.
When selecting a crib, safety should be the number one priority.
Look for a sturdy model with no loose screws or sharp edges, and make sure it meets all the requirements set forth by the Consumer Product Safety Commission (CPSC).
The mattress should fit snuggly in the frame so there's no gap between them; if there is, it could create a risk of entrapment or suffocation.
Also, look for a non-toxic finish on any wood surfaces and make sure all materials used are chemical-free.
If you're opting for a convertible model that can transition into a toddler bed later on, make sure it's designed with adjustable heights so it can grow with your child.
Size is another important factor.
If you have limited space in the nursery, opt for something on the smaller side.
On the other hand, if space isn't an issue then you may want to consider purchasing something larger like a four-in-one that your baby can use until they reach their teenage years.
When selecting any type of crib, make sure you check its dimensions both inside and outside against any furniture measurements you have available in order to ensure that it will fit comfortably into the room where it will be placed.
Style is also something to consider when choosing a crib; after all this is likely going to be part of the focal point of your nursery décor!
Choose something timeless yet modern—think sleek lines and neutral colors—that will work well with whatever theme or color palette you decide on later down the line as your baby grows up.
Then again, if you plan on having multiple children then investing in an adjustable convertible model may save money in the long run since you won't need to purchase separate cribs over time as each baby arrives!
Finally, don't forget about accessories!
From breathable bumpers and organic sheets to mobile toys, nightlights, and mattress covers – these items can turn an ordinary crib into an extra special haven for your new bundle of joy!
Just remember: safety first! So shop around until you find quality products that meet all CPSC standards before making your final decisions on what accessories are right for your home.
When shopping for a new crib remember: safety first!
What's the Best Crib with a Changing Table?
So, which crib do you like the best?
When I was pregnant, I didn't know about these 3-in-1's or cribs with a changing table!
It was only with time and seeing other moms' nurseries that I saw all the types of cribs!
Take all necessary precautions by researching what options are available before selecting one that fits within both budget constraints and size limitations whilst meeting all CPSC requirements – then add accessories accordingly!
With careful consideration given towards comfort levels as well as style preferences, parents should feel confident knowing they've chosen a safe place where their newborn can rest peacefully day and night until they are ready to graduate into bigger beds!