$100 Kids Closet Makeover Plan
Get organized this year with a functional kids closet makeover for only $100.
The year is starting, and I love to start fresh! So we took a look at what spaces in our home still need to be completed. And the biggest challenge we are facing is our kids closets!
Taking on my daughters bedroom closet for the $100 Room Challenge was the perfect solution!
In case you are new here, the $100 Room Challenge is a twice a year challenge that my friend Erin, from Lemons, Lavendar & Laundry hosts. Participants pick room in their house to makeover using only $100 in only 1 month.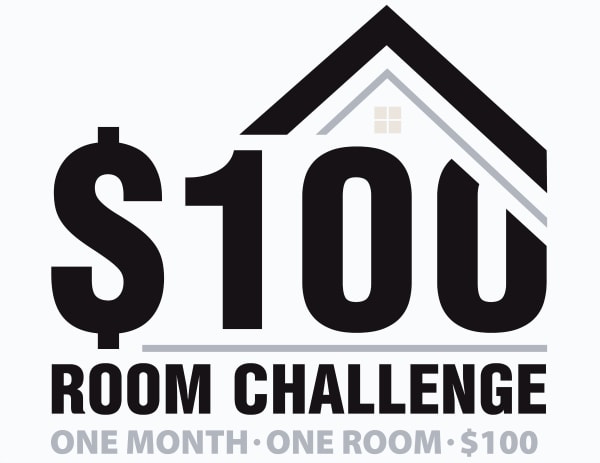 You can see the 3 rooms I have already successfully updated for only $100 here: Office & Craft Room Reveal; Walk in Closet Reveal; and Colorful Farmhouse Laundry Room Reveal.
A $100 closet organization makeover is the perfect way to start the new year. And hopefully it will help my daughter keep her closet much cleaner.
Are you ready to see the before pictures
Kids Closet Before Makeover
These photos are my dirty little secret, I am super embarrassed that I let it get this bad. But I guess that is what I needed to find a solutions for the kids closets.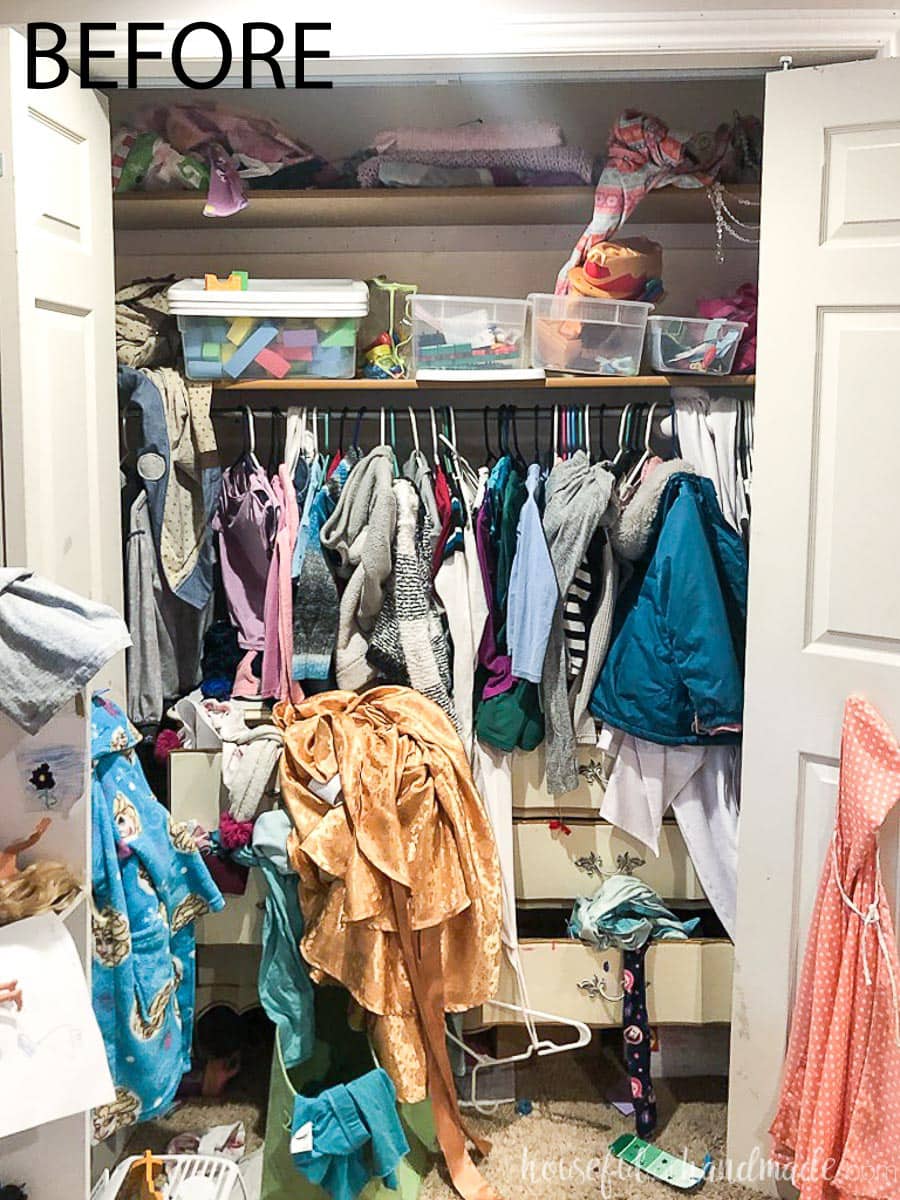 The closet was made to work better for the kids by adding a second shelf and lowering the hang bar to an easier to reach level. But there is still only a basic closet hang bar.
And the shelves are too hight to store toys so things just get tossed up there. No real organization.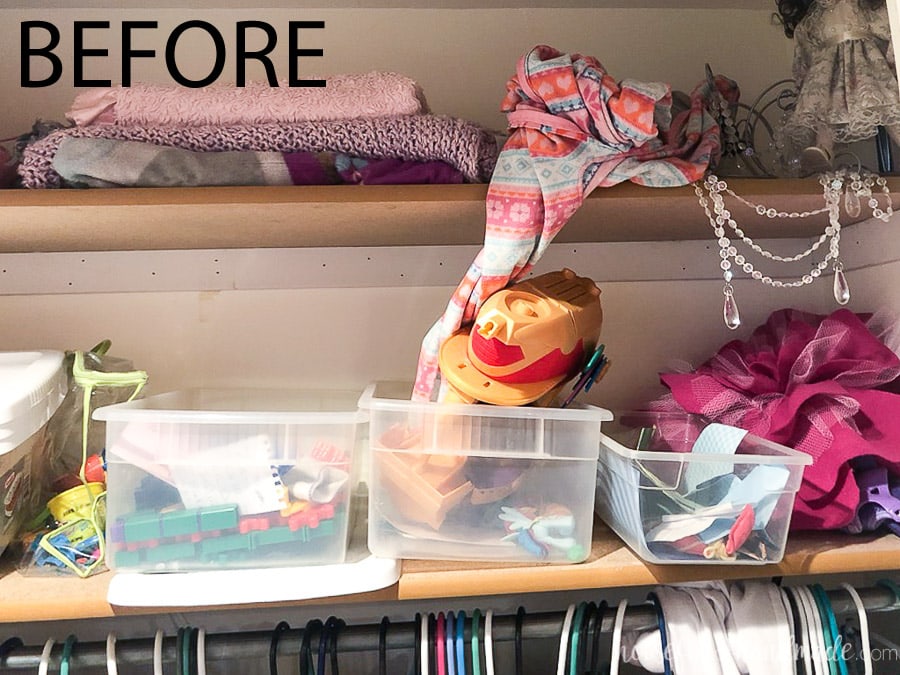 My daughters room is on the small side, so after adding a full sized dollhouse and her new art easel to the room, the dresser got moved to the closet. As you can see, that was a bad idea!
Now the closet barely has any space for hanging items easily, the top of the dresser collects things that she doesnt want find a place for. And the dresser drawers end up being left open and messy.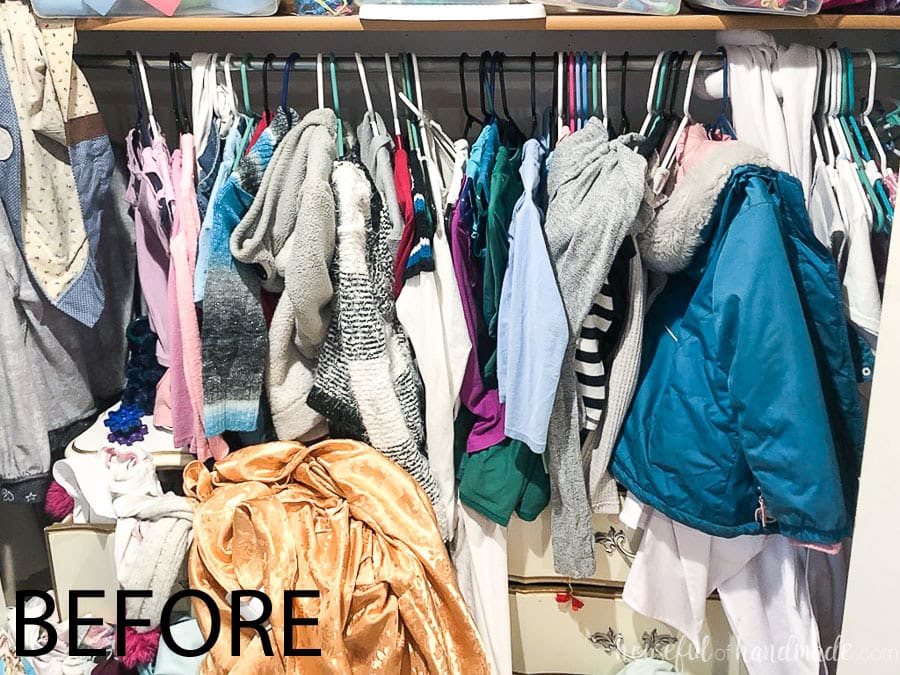 And while I am undertaking the closet, we are also going to tackle the shelf nook next to it. This nook is a great place to organize and store toys.
But as I am taking these before photos, I realize I never actually finished the shelves. They are unpainted and one is even missing the front trim. Whoops!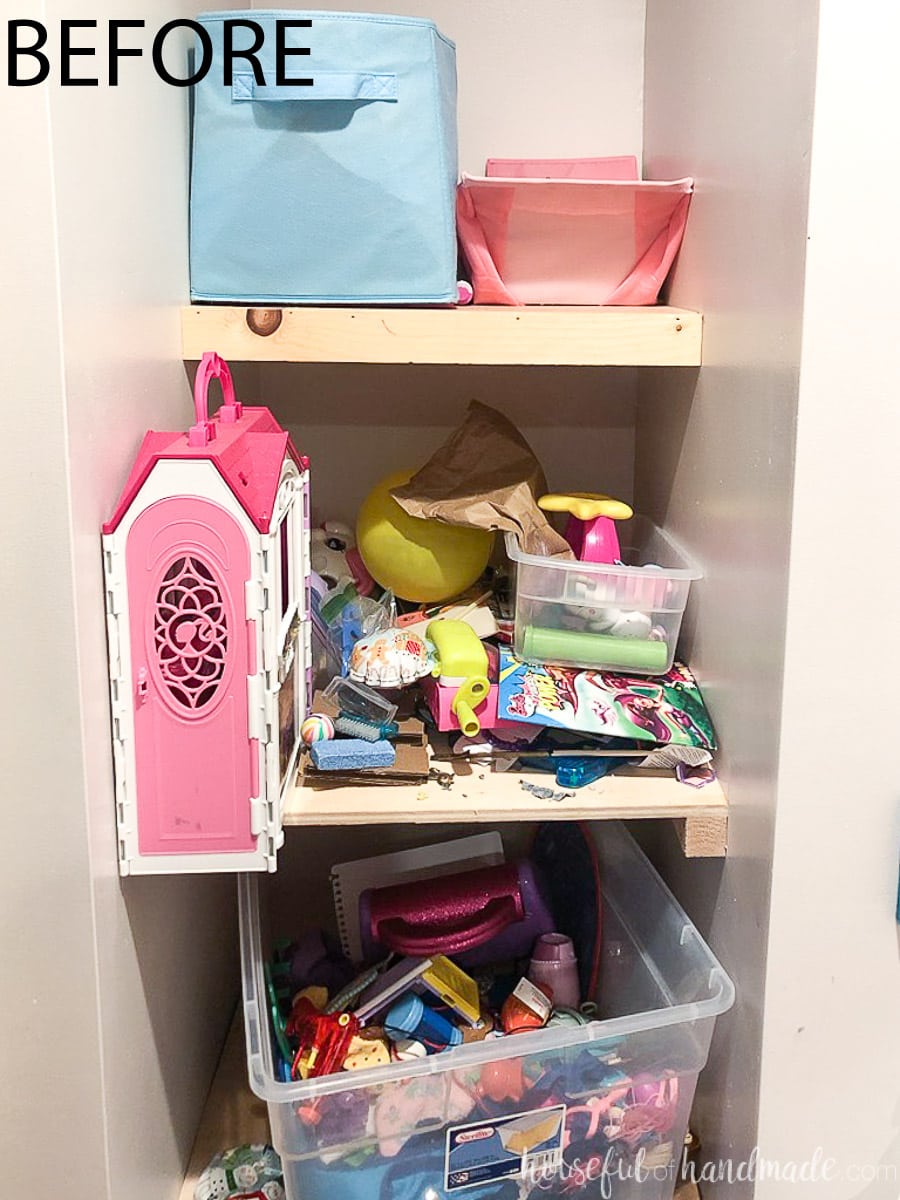 So we will finish the shelves and add some much needed organization solutions to the space.
Closet Organization Makeover Plan
So what is the plan to make this space both beautiful and functional???
1- PURGE
We will start by purging. Sadly it has been a while since I took a deep dive into her clothes and toys and removed things that have been outgrown.
2- MAKE A CLOSET ORGANIZER
To open up the space and add functional organization, we will remove the dresser and replace it with a built-in closet organizer.
The closet organizer will include drawers to function as a dresser. Plus there will be shelves for folded clothing to be easily stored.
There will be hang bars on both sides of the closet organizer cabinet so that the tops and dresses will be separated and easily hung.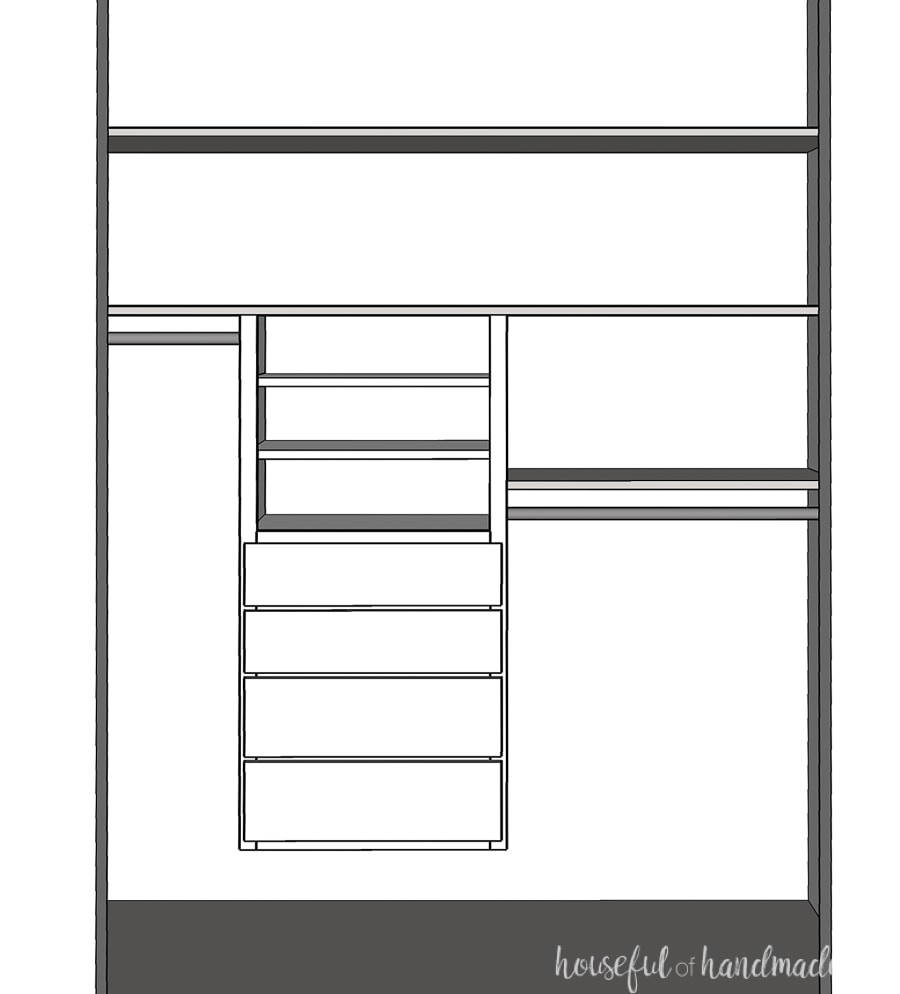 3- Fresh Paint
All the current shelves and the new closet organizer will be painted a clean, fresh white. And this time I wont forget the shelves in the nook!
The walls were painted in the last couple years, so we will give them a good cleaning to make them look new again.
4- Lots of Organization Solutions
Once we determine what will be staying beyond just clothes, we will create organization solutions for all of them.
This will include making bins, boxes, etc. to store away the toys. I am thinking there will be more fabric covered boxes like these ones.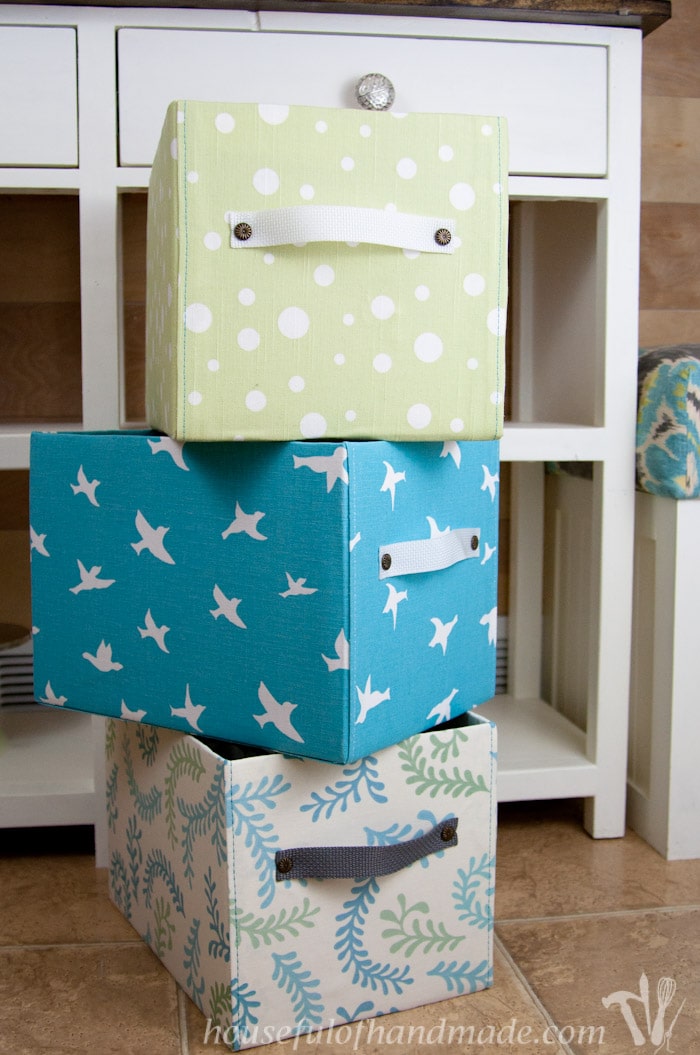 Two of the biggest toy storage challenges my daughter has are her stuffed animals and art supplies. So we will definitely create solutions to address both of these.
5- Label Everything
Now that my daughter can read, we are going to make sure everything is labeled. Hopefully this will make cleaning (and keeping things clean) much easier for her.
6- Make it Pretty
Yes its a closet, but I want it to be fun and pretty. So we will add some design elements to bring in color and pattern.
Using the colors in her DIY upholstered daybed, we will tie the closet design in to the rest of the room. So even when the doors are left open (because they always are), the room will look great!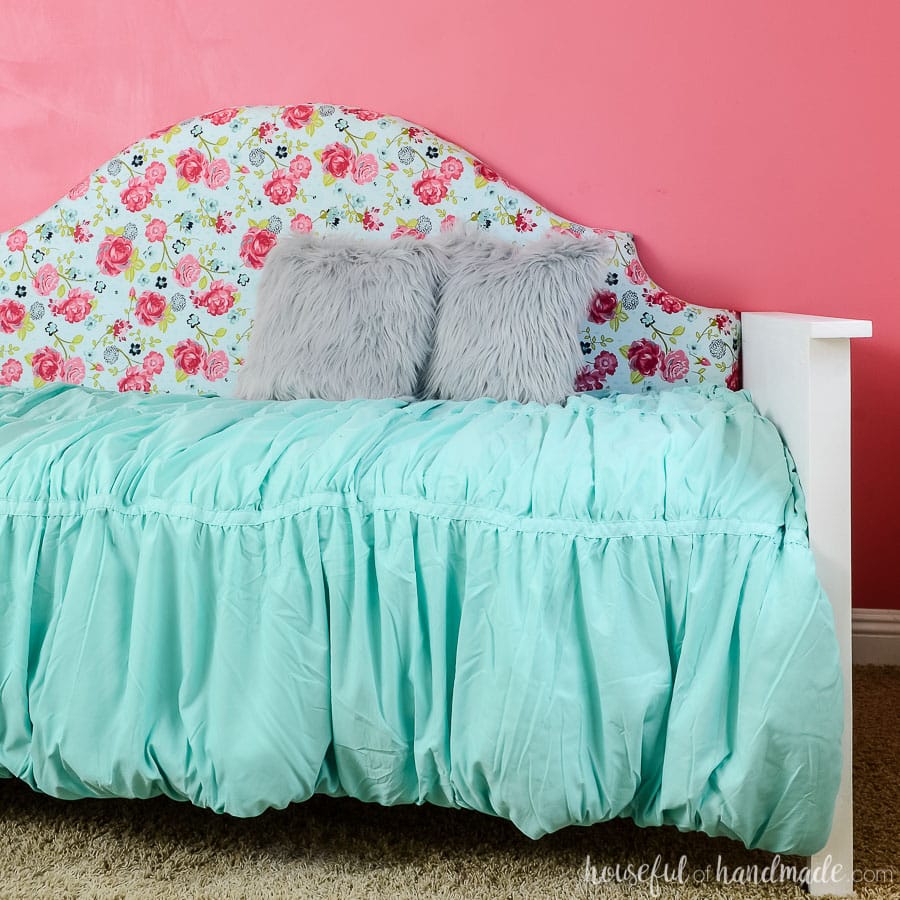 That is a big job for only 1 month and only $100, but I am confident we can do it!
Make sure to follow-along as we share all the projects and tutorials that will create a beautiful and organized kids closet makeover.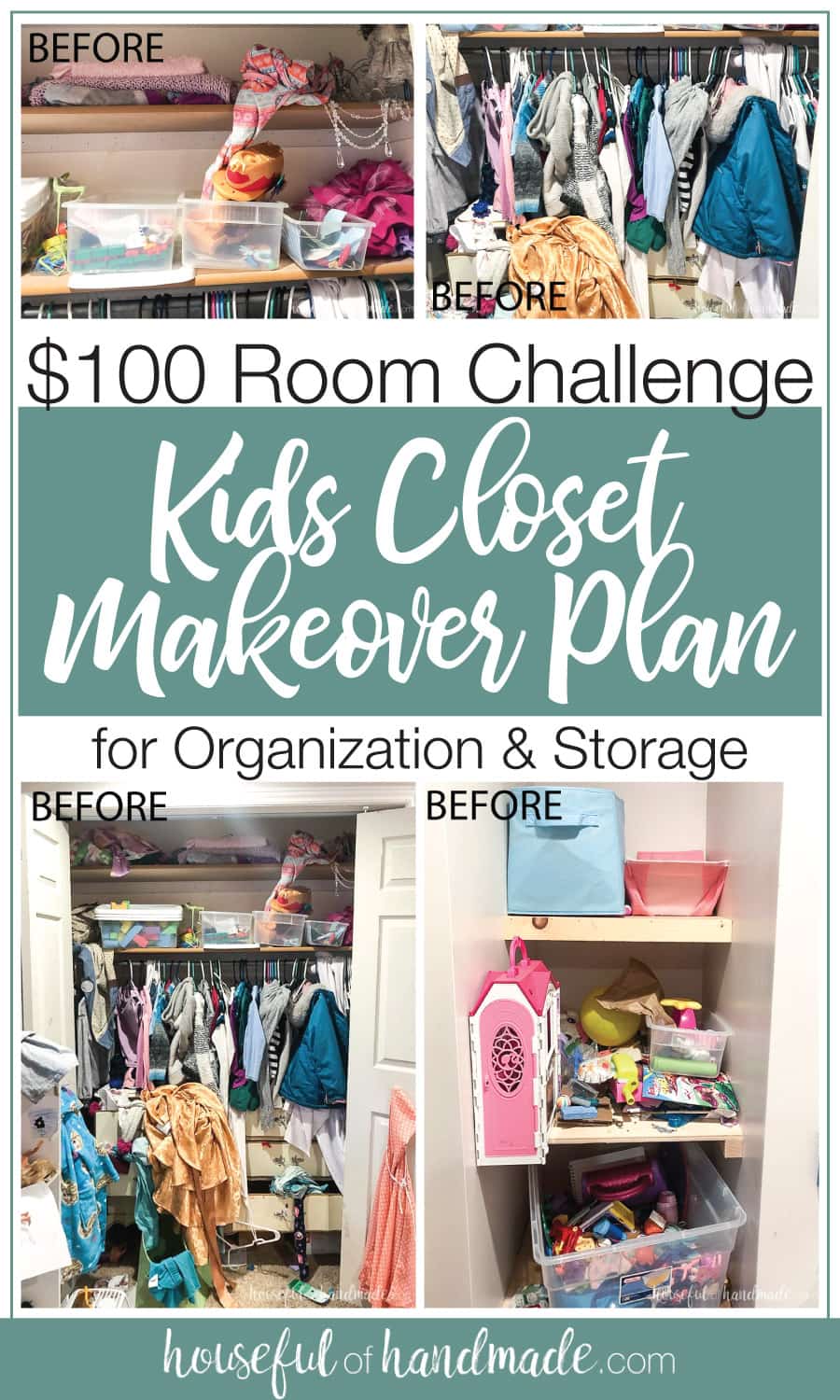 And for more $100 room makeover ideas, check out these other $100 Room Challenge participants.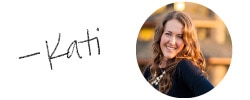 The post $100 Kids Closet Makeover Plan appeared first on Houseful of Handmade.