Why Your Toddler Should Have Wooden Stacking Toys and Puzzles
Stacking toys and puzzles are essential for toddlers, they can also help children with pattern recognition, memory, and both gross and fine motor skills.
Play has so many important levels to it. Sure, it's a great idea to use play to keep kids busy and content, but it also helps children, particularly toddlers, figure out the world around them. 
Toys can really help kids make order out of the universe. It has the potential to be very educational when the right tools are employed. And some of our favorite educational tools are wooden stacking toys and puzzles!
Stacking toys and puzzles are vital for toddlers because they can help them with pattern recognition, memory, as well as gross and fine motor skills. We turn to wooden toys and puzzles again and again because they're simple, sturdy and make great toys to hand down from child to child and generation to generation!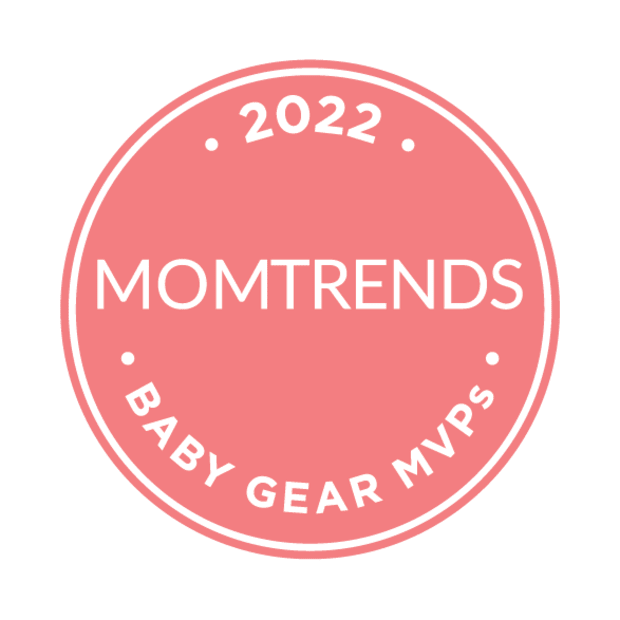 If you store them away carefully, they may even be around for your grandchildren someday! I still have some of the toys that my mom saved from her childhood for me. 
Wooden Toys for Toddlers to Help Them Play and Learn
I just feel like wooden puzzles and stacking toys are the kind of classic pieces that are built to last. And most of them seem to be made with non-toxic materials which is always a plus in my book!
On that note, I have put together a sampling of wooden toys for you to choose from...We have a slew of both wooden stacking toys and wooden puzzles so I am confident that you can find a must-have wooden toy for the toddler in your life right here!
Related: Why Your Family Needs to Puzzle Together
The Best Sorting Board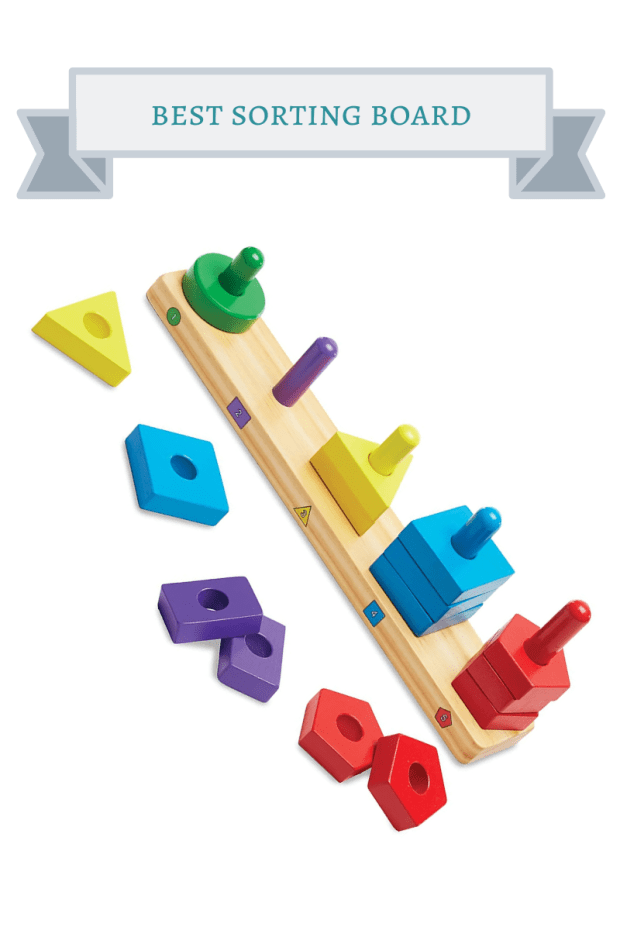 First, we have a Melissa and Doug stacking toy. As are most of the toy recommendations I gathered, this wooden sorting toy is very simple, yet effective. 
With the Melissa and Doug Stack and Sort Board, toddlers can work on both their color and shape sorting. It comes with 15 colored wooden pieces that stack on sturdy pegs.
And you can have your child practicing their counting with this versatile toy too! It really is a multi-tasker.
Get the Melissa and Doug Stack and Sort Board on Amazon here. (note: This is an Amazon Affiliate link)
The Best Infant Stacking Toy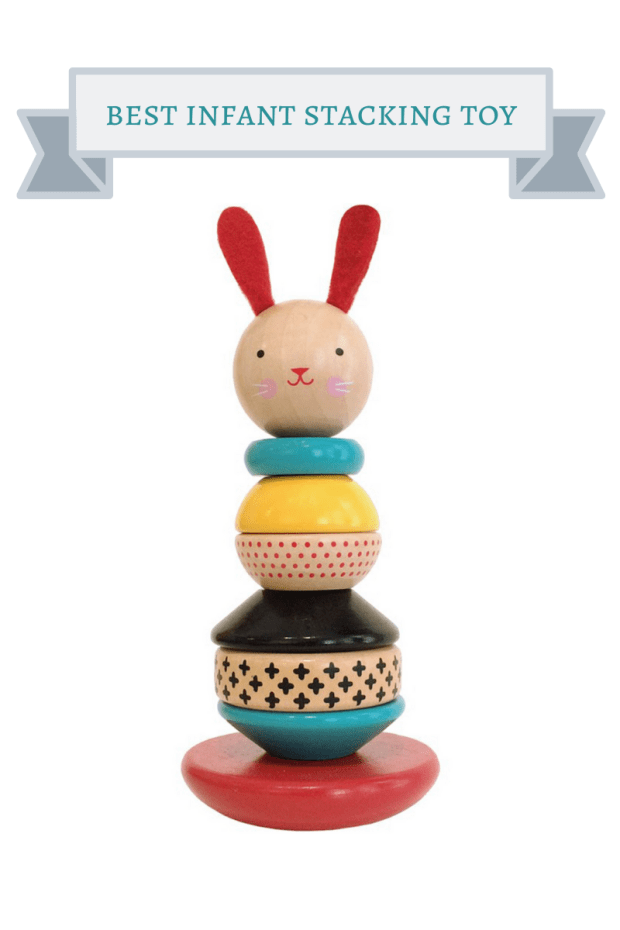 Here is an infant stacking toy that could easily double as decor in your child's room or nursery. The Modern Bunny from Fat Brain Toys comes with beautiful pieces in colors and patterns that almost look like art.
These mix and match pieces will inspire your child's creativity and pattern play as they can be arranged in countless pretty patterns.
Plus, this sweet wooden toy is made with eco-friendly, sustainable wood so you can feel great about your carbon footprint with its purchase too.
Get the Modern Bunny Wooden Stacking Toy here.
The Best Magnetic Stacking Toy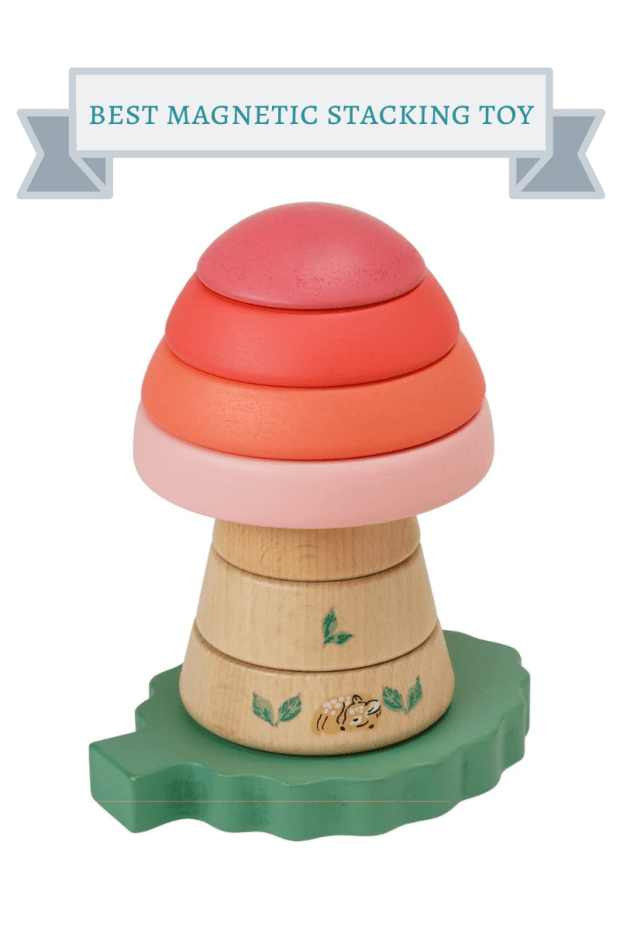 This stacking toy is super cool because it's also magnetic. Eight wooden magnetic pieces stack together to create the most darling little mushroom.
A non-toxic finish and heirloom quality wood means you don't have to worry about the inevitable piece going in the mouth incident, bwah. 
Hand-eye coordination play has never been cuter, wouldn't you agree?! Plus, the magnetic element allows toddlers to work through cause and effect as well.
Get the Manhattan Toy Magnetic Wooden Toadstool on Amazon here. (note: This is an Amazon Affiliate link)
The Best Stacking Rings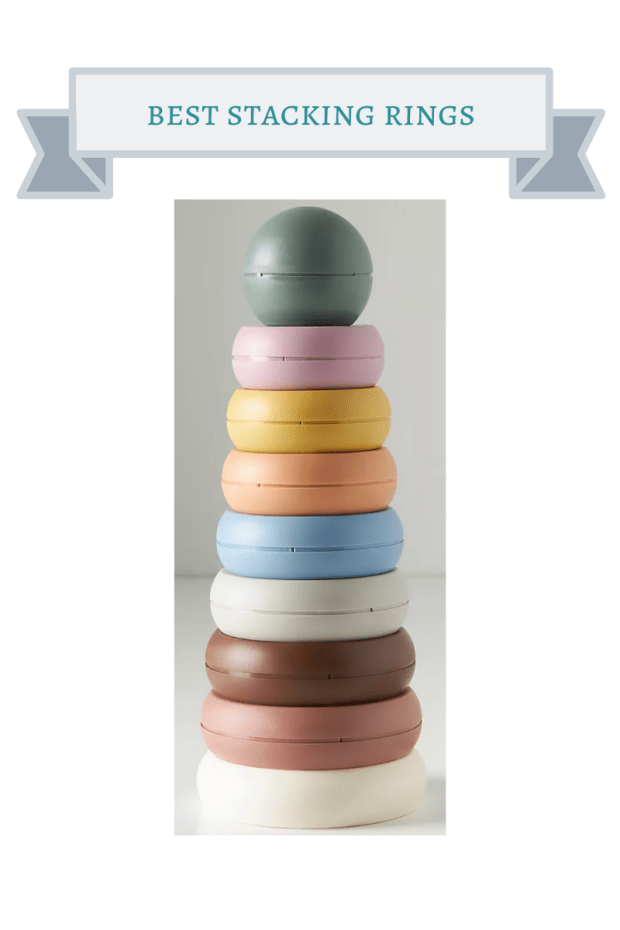 Anthropologie probably isn't where your brain goes when you think about toys, but they actually have a lovely selection of infant products and this Mushie Stacking Rings toy is my favorite!
Ok, I admit, it is not made of wood, but it is made of BPA and PVC-Free plastic. So, I think it qualifies for honorable mention here, haha!
Simple stacking rings are an infant toy must-have and the pretty soothing colors in this toy make it perfect for quiet play time.
Get the Mushie Stacking Rings on Amazon here. (note: This is an Amazon Affiliate link)
The Best Snap Stacking Toy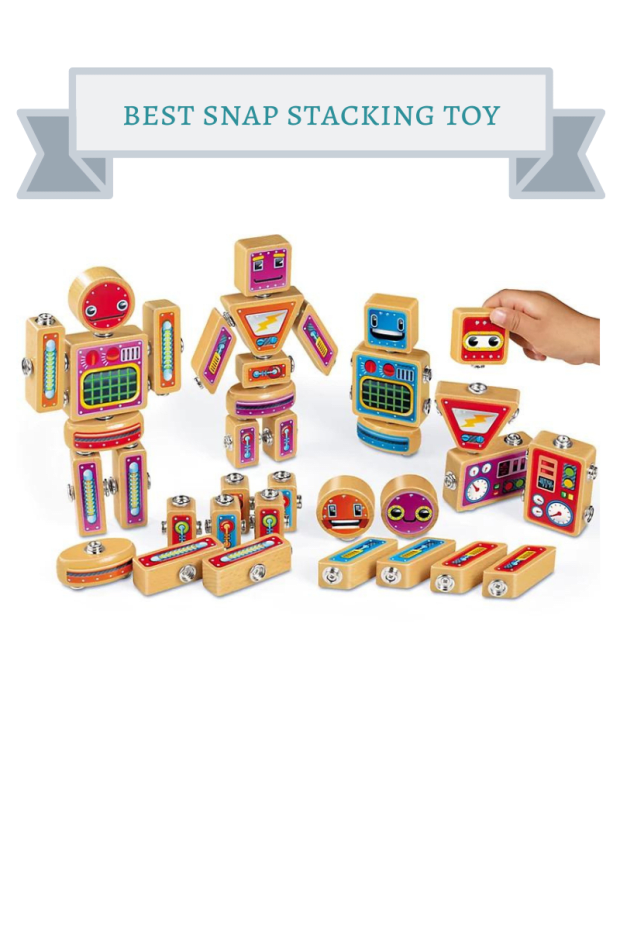 The final stacking toy here is best for ages 3 and up, so it's more for older toddlers, but I love it so much, I felt it had to be mentioned!
The Lakeshore Learning Snap-Bots come with pieces that kids can mix and match to create their own custom robots. 
Shape recognition, open-ended imagination and motor skills development all come into play with this wooden toy! It has a cult following...enough said!
Get Lakeshore Learning Snap-Bots here.
The Best Wooden Animal Puzzle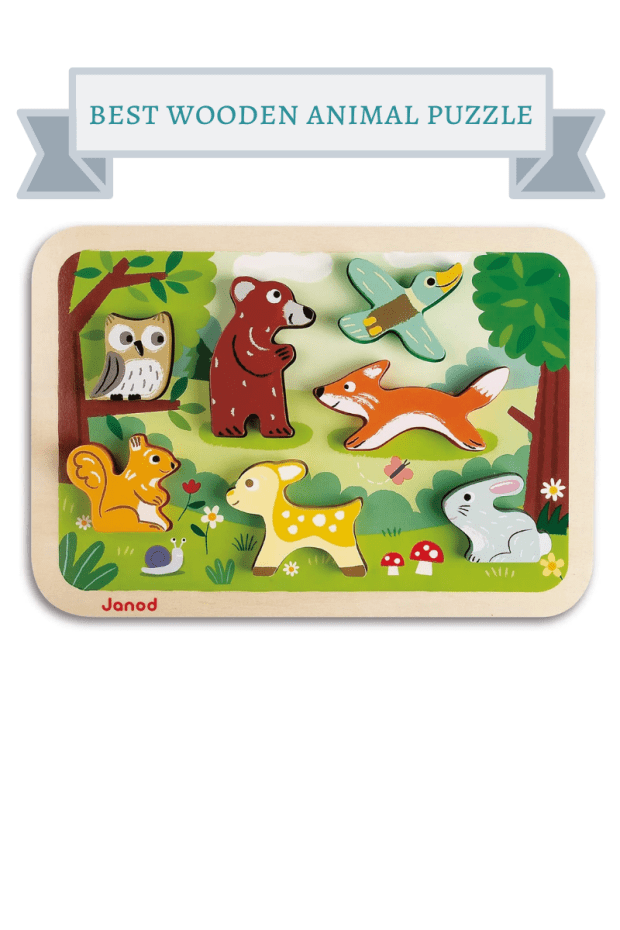 As I am sure you can tell, I love a toy that can be used multiple ways. A wooden puzzle fitted with woodland creature puzzle pieces can teach a toddler about new animals along with all the skills puzzle play help develop like memory, fine motors etc.!
This Chunky Stand Up Puzzle comes with seven thick wooden pieces that fit into a charming forest background. This toy was built for imaginative play!
And again, safe non-toxic materials are the theme here...
Get the Janod Chunky Stand Up Puzzle on Amazon here. (note: This is an Amazon Affiliate link)
The Best Puzzle to Learn Colors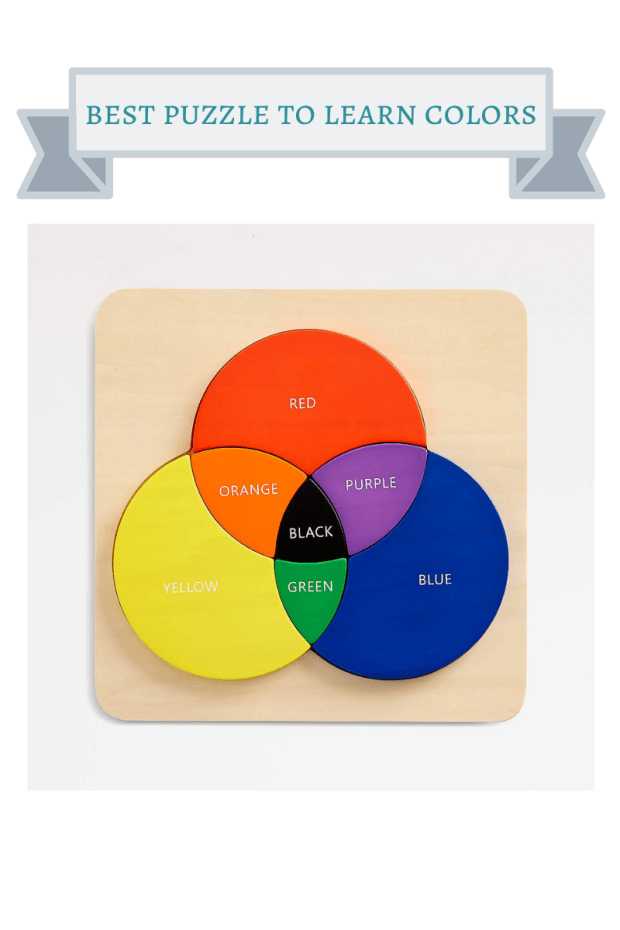 Color recognition is an important step in a toddler's development and this modern Color Wheel Wooden Baby Puzzle from Crate & Barrel would be a great tool to add to your educational play collection.
Not only is it super cool to look at, which is great for you, haha, it is so useful as it teaches kids about primary and secondary colors. 
They will never forget which colors can be combined to create certain other colors if they have this puzzle on hand!
Get the Color Wheel Wooden Baby Puzzle here.
The Best Wooden Alphabet Puzzle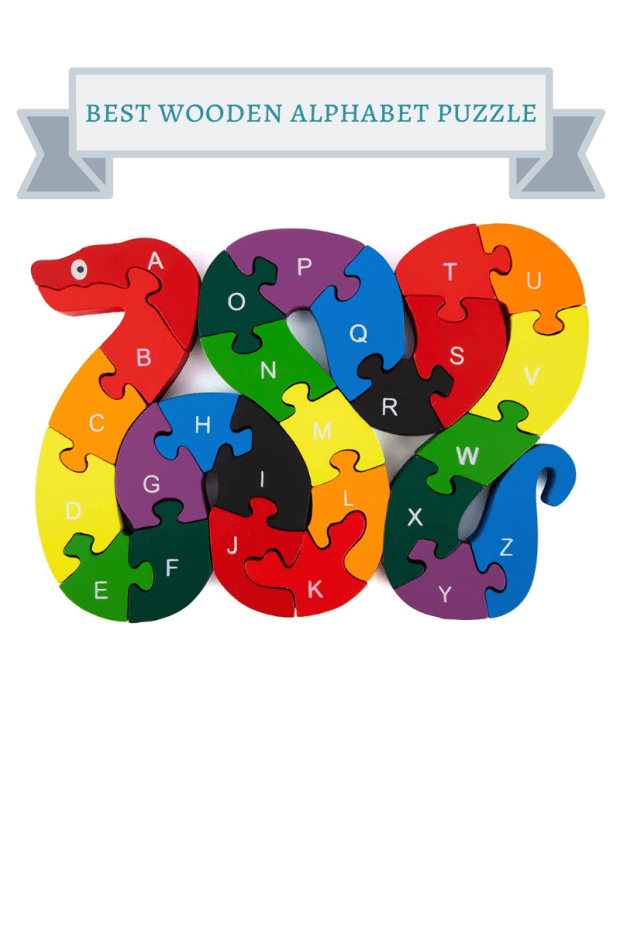 We have talked about counting, colors, animals and the like, but what about letters? Don't worry I haven't forgotten about alphabet puzzles!
Your toddlers can start working on their letters even before pre-school with wooden puzzles like this rainbow snake number.
The bright eye-catching colors and fun snake shape will make letter learning a blast! And on the opposite sides are numbers, score!
Get the Alphabet Jigsaw Puzzle on Amazon here. (note: This is an Amazon Affiliate link)
The Best Puzzle Multi-Pack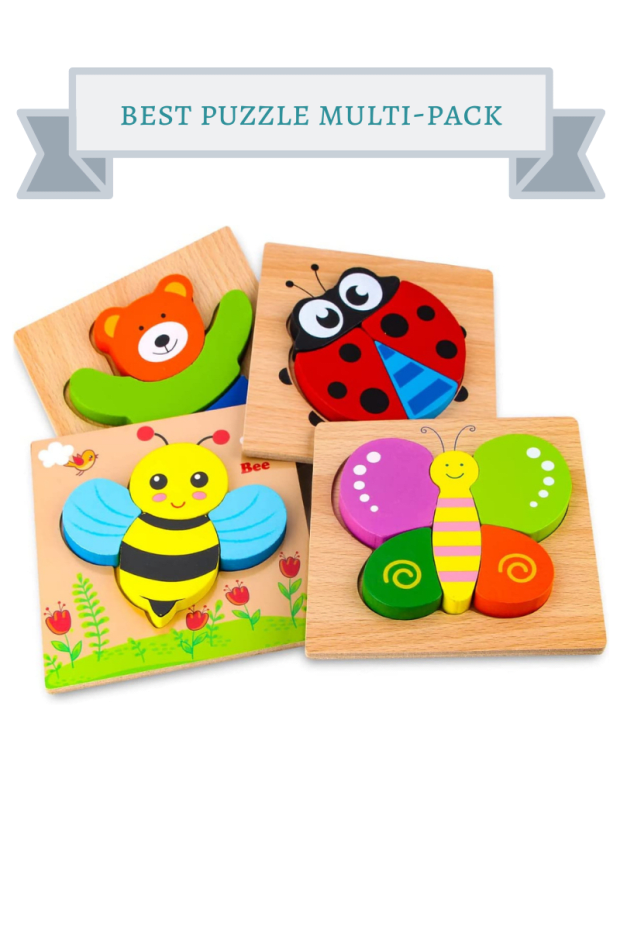 If you want the most bang for your buck, a puzzle multi-pack is the way to go! Skyfield offers up a 4-pack of the cutest wooden puzzles.
They come in bear, bee, ladybug and butterfly shapes with pieces in various patterns to help challenge your toddler's sensory development. 
Brain building doesn't have to be complicated. Simple puzzles with just a few pieces can do so much!
Get the Skyfield Wooden Animal Puzzles on Amazon here. (note: This is an Amazon Affiliate link)
Well, I think you have enough wooden stacking toys and puzzles to choose from now. I can't wait to hear all about which ones your kids like best!
Even if you aren't ready to shop today, this is a great post to save for later. You never know when you'll need a new toy to add to your child's collection or a holiday or birthday gift idea! 
Personally, I love rotating in a new toy or two once I donate or sell some older ones to keep things fresh and fight boredom! And wooden toys never go out of style, but I digress...
More of Our Favorites
For Even More of Our Favorite Momtrends MVP's Winners for Babies, Follow the Links Below:
Pin It!
Don't forget to save your favorite baby gear and ideas on Pinterest and follow along with our Gear for baby and kid board too!