When He Wasn't Working With George Romero, Tom Savini Was Making The Mysterious Kid's Show Ghostwriter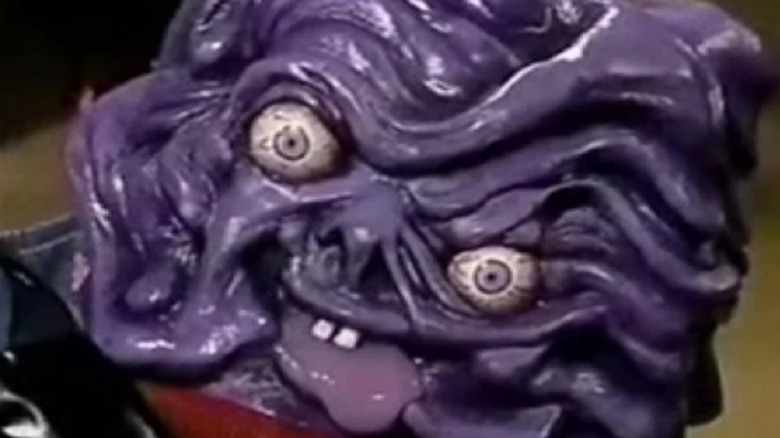 Few makeup and special effects artists in the world of horror hold the same film pedigree and name recognition as Tom Savini, whose bloody prosthetics helped define a generation of gore and guts. Savini is most known for his collaborations with fellow horror legend George A. Romero, starting with the cult vampire film "Martin" but getting his true big breakout with the groundbreaking "Dawn of the Dead." After years of creating some of the gnarliest kills and the grisliest creatures, Savini took a quick break to share his nightmares with a more child-friendly audience in the '90s television show for PBS, "Ghostwriter."
Savini's experiences in the Vietnam War as a combat photographer informed his special effects, lending a macabre sense of realism to his work and making him a prime candidate for '80s slasher films like the original "Friday the 13th" and cult classics "The Burning" and "The Prowler." However, Savini's most extensive work was his return to collaborating with Romero on "Creepshow," in which his contributions included the film's signature comic book panel effects, a floating skeleton, and, perhaps most famously, his first animatronic creature, Fluffy. Savini still worked on plenty of gore effects for "Creepshow," but his branching out to other kinds of visual effects like creature design made him an even more versatile artist. That resume could be why PBS hired him for "Ghostwriter" to try out designing a spooky villain for a publicly-funded kids' show.
A Spitting Purple Nightmare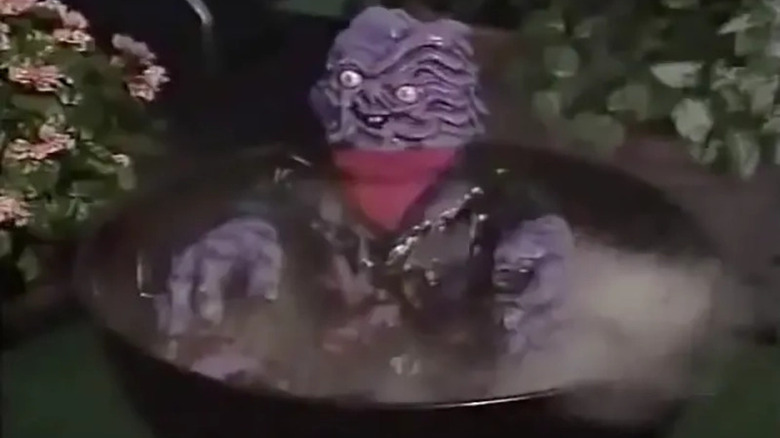 "Ghostwriter" wasn't even a G-rated horror show, despite the name. The series revolved around a diverse group of kids from Brooklyn operating as neighborhood sleuths, while the titular, friendly Ghostwriter helped his comrades solve mysteries by communicating through writing (hence the name). A Sesame Workshop production, the show operated as a sort of interactive puzzle that encouraged its viewers to piece the clues together alongside the characters. This innocent premise is probably why Tom Savini's creation for the show, the purple, gelatinous villain Gooey Gus, seemed to traumatize so many people who grew up watching the show.
Gooey Gus was a melting blob of slime with sickly protruding eyes and a dastardly smile who wore a leather jacket and had a penchant for spitting disgusting purple slime onto people's faces. He appeared in the series' final four-part arc, "Attack of the Slime Monster," leaving the show on a surreally creepy note and making his appearance all the more unforgettable. According to Savini in an interview with RogerEbert.com, working on "Ghostwriter" mainly served as a way to let him spend time in New York for a bit and have fun "making a cartoon character after making all these horror characters." Savini may have made much more graphic and realistic works of horror in his more adult projects, but the kids who witnessed Gooey Gus and stored him in their memories as nightmare fuel would beg to differ that the purple monstrosity wasn't a genuine horror show.
Read this next: How These Child Stars Feel About The Horror Movies That Put Them On The Map
The post When He Wasn't Working With George Romero, Tom Savini Was Making the Mysterious Kid's Show Ghostwriter appeared first on /Film.