Tiny German Week & Sewing: ALDI Finds week of 2/15/23
ALDI Finds for the week of 2/15/23 include just a few German foods — as well as sewing kits, candles & scents, protein pancakes, and more! Check out this week's picks below, and let me know what you want to Find.
Just a few German Week Finds await you at ALDI this week, so you can enjoy a little taste between their larger semi-annual events. Start with Deutsche Küche egg spaetzle, which should be over in the new pantry Finds at $3.49 for each one of these 17.6 oz bags.
More ALDI Mini German Week Finds
Also back in this week's ad, you'll find Deutsche Küche raisin & nut müesli at $3.29 for a 16 oz box.
Fan's of ALDI's Deutsche Küche red cabbage with apple will be pleased to find these jars back on the shelf, too, at $2.49 per 24 oz. Also look for Deutsche Küche lentil vegetable or lentil chickpea soup, at $2.79 per 28 oz can.
Look also for bags of Barissimo German ground coffee: 17.6 oz for $5.99, in medium or dark roast.
A little something sweet with your coffee? Choose either Deutsche Küche spritz cookies, $2.49, or Deutsche Küche Doppel Keks, $3.49. And yes, that's it for our little German Week run — although sometimes they do have more unadvertised items in store.
As always, both advertised and unadvertised ALDI prices can vary by store and by region. Here are more of the top ALDI Finds for the week of 2/15/23. (You may also Find some on 2/12/23 in Sunday ad markets, or if your store tends to put products out early, which is such a fun treasure hunt…)
More Top ALDI Finds this week
Beyond those few German Week food Finds, here are fifteen more Food Finds and thirty-five new non-Food Finds to check out this week.
What are you planning to grab out of this latest batch of ALDI Finds?
Fifteen new ALDI food Finds
There are just a few non-German foods listed in this week's preview ad, so let's see what else there is to taste!
Benner premium green tea 20 ct, $2.29
La Croix curate 8 ct, $4.12
Propel 12 pack, $7.68
Bake Shop French pancakes, $3.99
Bakerly chocolate hazelnut filled crepes, $3.99
Rana 38 oz meatball fettuccine in creamy tomato sauce, $13.98
Breakfast Best chocolate chip protein pancakes, $3.99
Bremer Bistro seafood stew or cioppino stew, $5.95
Fremont Fish Market catfish fillets 16 oz, $8.99
Fremont Fish Market toss 'n serve shrimp 12 oz, $6.99
Season's Choice potatoes & green beans in rosemary or garden medley, $1.99
Whole & Simple adobo chicken or Korean inspired beef power bowl, $3.99
Whole & Simple steak & cheddar or chicken cilantro lime burrito, $1.99
Beyond Meat 8 oz plant-based patties, $3.99
Fresh family pack thin-sliced boneless pork chops, $3.29
Chocolate hazelnut crepes? Hmm, that makes me want to go make some Nutella crepes right now…
And this is actually a pretty short ad this week, but it features a few frozen seafood Finds to stock up on as Lent approaches — as well as a few other items to try.
You can also invest in a couple of prepared foods for busy lunches or evenings, if you've been watching for those. (People always speak highly of these whole & simple burritos, for instance, although I haven't myself tried them.)
Thirty-five ALDI non-food Finds
As we move over to the non-food half of the ad, these little ALDI mini sewing kits are always quite useful. I was lucky enough to pick this one up on clearance over the holidays, and it was a surprisingly huge hit in the pre-teen's Christmas stocking! What else can we Find on the non-food front? Well, how about:
Huntington Home 2-pack energy efficient window panels, $8.99
Huntington Home full or twin comforter set, $17.99
Huntington Home twin or full royal plush blanket, $14.99
Huntington Home twin or full sheet set, $9.99
Huntington Home 24″x36″ faux sheepskin rug, $19.99
Huntington Home 3-pack kids essential oils, $6.99, or essential oil, see price in store
Huntington Home 3-wick candle, $4.49
Huntington Home accent fragrance warmer, $4.99
Huntington Home ceramic desk decor, $4.99
Huntington Home luxury 2-wick candle, $5.99
Huntington Home luxury reed diffuser, $4.99
Huntington Home scented wax melts, $1.89
Huntington Home single wick candle, $2.49
Huntington Home spa candle, $4.99
Huntington Home ultrasonic diffuser, $14.99
Huntington Home kids' diffuser, $6.99
Huntington Home over-the-door hooks, $8.99
Gardenline premium rose bush, $8.49
Hyacinth in glass vase, see price in store
Bee Happy 5-in-1 activity table, $29.99
Hinkler craft activity book, $6.99, or ultimate drawing kit, $9.99
National Geography STEM activity kit, $8.99
Nintendo Super Mario puzzle, $9.99
SOHL kids' character stool, $19.99
SOHL kids' saucer chair, $24.99
The Clever Factory 4-pack write & wipe learning boards, $4.99
Ambiano 12-stitch sewing machine, $39.99
Easy Home mini sewing kit, $4.99
Huntington Home 12-drawer rolling cart, see price in store
Huntington Home 3'x4′ office chair mat, $24.99
Huntington Home stackable storage with label, $12.99
SOHL accent bookcase, $49.99
SOHL velvet office chair, $59.99
Bauhn 6-outlet surge protector or wall tap, $6.99
Easy Home flexible 3-outlet, 2-USB surge protector, $22.99
A couple of nice office organization ideas here, if you're sprucing up your home office.
And ALDI's over-the-door hooks are always useful; we've have them in the kids' rooms for a while to store all of the various hoodies etc. that they seem to accumulate.
The ad only shows white 12-drawer rolling storage carts, which feature 2 locking castors. Mine had a couple of these black ones out, too, although those might be from an earlier ad.
The rose bushes are sold bare stem, but bloom fairly quickly in my experience. Mine have done well over the last couple of years.
And speaking of pretty flowering plants, the hyacinths are always such a nice pop of spring when they reappear!
What's Up with ALDI Finds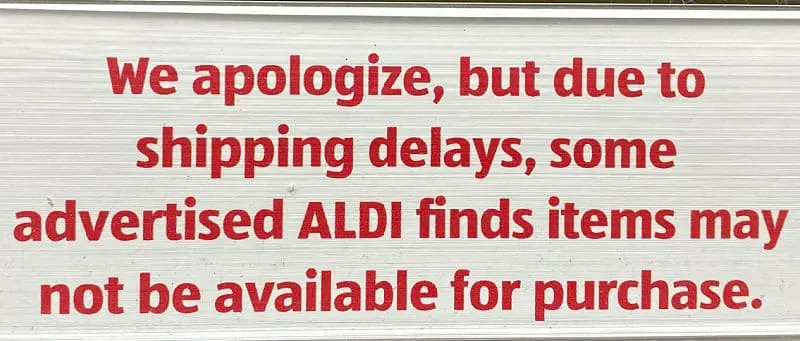 What's up with ALDI Finds? These are limited time special buy items, and are available in stores only while supplies last. If you spot something you like, be sure to pick it up while you can. See also: What is the ALDI Aisle of Shame?
Be sure to visit the ALDI Finds product delays page before popping over to the store for new Finds. Because of ongoing shipping delays and materials shortages affecting ALDI (and everyone else…), some of their advertised products may not be available in all locations.
Finding the Finds
Where do you Find all of this week's special buys?
Check out the "ALDI Finds" and current weekly ad tabs (or mobile menu choices) on the ALDI site to window shop from home.
Products mentioned in this post were either spotted in store or are from the ad starting 2/12/23 in Sunday ad markets, 2/15/23 in Wednesday ad markets. What caught your eye among this week's ALDI Finds?