Thursday, July 1, 2021, David Poole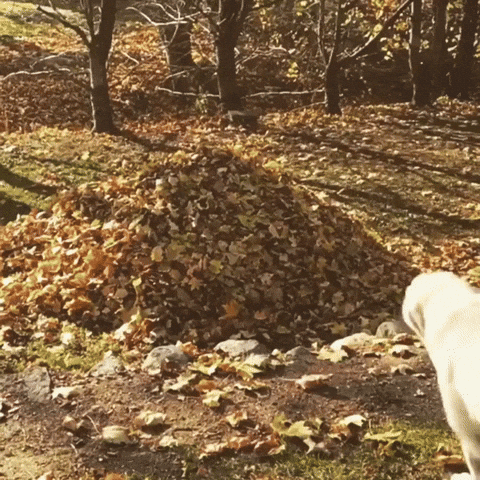 Good morning, cruciverbalists.  Malodorous Manatee here with a canine friend to celebrate the first day of July with a puzzle that might have been more appropriately published on the first day of October.  Go figure.  Of course, jumping into a pile of loose leaves is fun at any time of the year.  Just ask any Labrador Retriever.
Today's constructor is David Poole.  David has previously had several puzzles published in both the L.A. Times and the N.Y. Times.
At four places within today's grid David took the letters of the word LEAF and scrambled them.  It seems that David just could not LEAF WELL ENOUGH ALONE.
To make it even more interesting, David starts each sequence with a different one of the four letters.  Those are my words.  His, or, perhaps, the editor's, are found at 57 Across:
57 Across.  Kind of paper . . . and a hint to a sequence, each starting with a different letter, found in four other puzzle answers: LOOSE LEAF.
In any event, here are the four theme answer:
17 Across.  Pub purchase: YARD OF ALE  We saw YARD used this way in a recent puzzle.  That might have helped with the answer.
26 Across.  Standard for a high seas villain:  PIRATE FLAG  Standard, in this case meaning a flag used for identification. 

35 Across.  Property insurance phrase: PERSONAL EFFECTS   I have most often heard the phrase used when someone is being put in, released from, jail as in "Here are your PERSONAL EFFECTS."
48 Across.  1996 Gere thriller: PRIMAL FEAR  This one could be interpreted as a slight break in the sequencing as the A in PRIMAL also works to jumble LEAF.
Here is how everything looks in the completed grid:
. . . below are the rest of today's clues and answers:
Across:
1. "Shall I compare thee to a summer's day?" quintet: IAMBS.  Dictionaries, and probably my High School English teachers, say that IAMBS are metrical feet consisting of one short (or unstressed) syllable followed by one long (or stressed) syllable.
6. Vietnamese soup: PHO.  Still working on the correct pronunciation.
9. Country album?: ATLAS.  Cute clue.  An ATLAS could be described as an album filled with maps of the world's countries.
14. Sidewalk artist's supply: CHALK.  Some of the CHALK is washable.
15. Runner's circuit: LAP.  Sometimes clued in reference to sitting down or standing up,
16. Wince or flinch, say: REACT.
19. Follow: ENSUE.  An answer that often follows crossword puzzle clues.
20. Produce providers: GROCERS.  Produce as in fruits and vegetables.
22. Prefix with angle: TRI.  RECTangle was not going to work out.
23. Me-time resorts: SPAS.
29. Part of UCLA: LOS.  The University of California at Los Angeles.  Neither University nor California nor Angeles was going to fit.  I did more than one year of undergraduate and two years of graduate work at UCLA.    I also taught for a while at the UCLA Graduate School of Architecture and Urban Planning.
30. Trip letters: 
LSD
.  This could have been AAA or another travel-related answer but, as answered, we're talking about an Acid Trip.  
L
y
S
ergic acid 
D
iethylamide.
31. Onion rolls: BIALYS.  Brought to the United States by Polish Jewish refugees in the late 1800s.  Many know of the onion rolls.  More, likely, know of Max.
32. Asia's __ Mountains: ALTAI.  This is known to me only through it's occasional appearance in crossword puzzles.
34. Four-time Emmy winner Woodard: ALFRE.
41. Kick off: START.  The original use (the first kick in a football match) apparently dates from 1857.  The first use in the figurative sense dates from 1875.
42. You might hang one if you're lost: U TURN.
43. "Get lost!": BEAT IT.  Also, a song by Michael Jackson.  This marine mammal prefers Weird Al's version.
Side By Side