The Five Sorrowful Mysteries of Andy Africa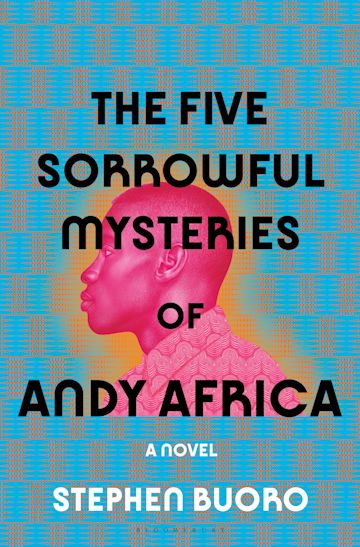 It's just Mama and me mirrored on the TV now. She yawns, her dimples burrowing. She's almost naked, wearing only the wrapper patterned with one thousand green yellow red blocks, tied around her chest, covering her down to her knees. She yawns again. The bump fastening her wrapper loosens. She quickly opens her wrapper – I catch the dark crooked line of her cleavage, the resignation of her fallen, mitten-like breasts – straightens it and ties it again, locking it under her armpit, forming a new bump. The hem of her slip peeks. She tucks it into the wrapper. She hasn't mended her bras this weekend. She often mends her two black bras on weekends, with a needle and white or yellow thread. I don't know why she never uses black thread. Why does she want to notice the stitches?
I always imagine her other self: Mama 2, who she'd be if she'd not been born on this crappy continent. For example, Mama 2 never needs to mend her bras. She has like a thousand in her wardrobe. She also doesn't wear wrappers. She wears flower-patterned pleated dresses, green or peach. Unlike Mama, who reads her Bible with a finger, slowly pronouncing or mispronouncing each word, Mama 2 is a doctor or lawyer, owns a Range Rover, wears glasses and reads a book a week. She lives in a city in America or Europe, does not believe in ghosts, does not smell of must or perspiration. Her voice is calm and funny, and now and then she uses trisyllabic words or phrases such as 'so to speak'.
Mama finishes with her gum. She leans forward and plants it on the centre table. She sits back, rests her head on the sofa, closes her eyes. Her lips are heavy, pouty, alive, like black petals. Her cornrows are long and full; streaks of grey lean out of the dark mass, drooping, waving like a cornfield in the breeze as she turns and turns her head.
This is my mama:
the goddess
i want to be
and don't want to be
the seed
of my
shame
the twist
of my
fear
I want to say something to her. But I don't know what to say. I feel a strange need to talk to her, a duty to hold her hand. She's so close to me. 30cm away. Veins pushing out to me. Breath whistling in my ear. But she feels so far away.
The older I grow, the less we seem to speak. I remember those yellow days when she and I moulded sandcastles after rainfalls . . . leaves smelling, stones glistening . . . when she laughed out loud as I tickled her sides, telling me to stop but wanting me to continue. Those speechless moments when she looked in my eyes and smiled knowingly, her dimples sucking me in . . . when I'd find circling round their folds the words she couldn't speak: words without spellings, without sounds.
In times like this, in the epicentre of silences like these, I remember Ydna. And I miss him. And I try to trace time back to the very moment when this silence began. When it appeared suddenly like mushrooms do. Without a seed.
*
When you're younger you're closer to the world of the Unborn, to the world of the Recently Dead. Once, Ydna and I were One and The Same. We were concentric circles by day, fractals by night. He was my buddy, my shadow. This was before I turned eight. He had long, thin dreadlocks. He liked yellow shirts with blue collars and red flowers printed on the front. I felt him everywhere. His breath hissing in my ear when I did the dishes or solved maths, his eyes chasing me when I played football with other kids in the neighbourhood. At night Ydna and I whispered in the dark. We whispered after Mama and I had said Hail Mary and We Fly To Thy Patronage, after she was sure that I'd covered myself from mosquitoes with her old wrapper, that I'd closed my eyes and my chest was rising and falling normally.
Ydna and I talked about trees, the tallest one he dreamt of climbing, the sweets Okey had licked, the little homeless girl he'd seen sitting by the stream alone, with no one to talk to, her hair sandy and tousled. I shared my dreams of birds and my fears of snakes and juju with him. I was always dreaming about birds. Big white ones. With green eyes. Birds that neither sang nor cried. Why didn't I ever dream of sheep or lions or snakes, but only birds, arboreal birds?
Ydna always sat beside me on my mat. We inhaled and exhaled together. His head rested on his palm, unblinking eyes on me. I stared at the rain-stained ceiling, not seeing the dragon-shaped marks in the darkness, but picturing and reanimating them. His fingers and toes were unmoving, his soul absorbing every word I said. His breath smelt of mint or leaves sweating dew; my breath smelt of eba and egusi.
Every night Ydna and I whispered till the cocks crowed.
Everything changed when I turned eight, when I watched The Matrix and Superman and Spider-Man and told Ydna about them. Walls and mountains and black holes grew between us. Obstructing. Shattering. Everything changed when I told Ydna that I wanted to be like Neo. Like Clark Kent, like Peter Parker. That I wanted to be different.
That I wanted to be white.
Because:
only white people
could
freeze time
could
read minds &
stop bullets
could
fly
'Ydna, only white people can fly!'
He was silent. He didn't react. I repeated myself. Over and over, louder and louder. A tear dribbled down my cheek, down my ear. Down, down, until I heard its spatter on my mat. He didn't even look away when I turned to him, when I fingered his toe. I became sure that the mountains had grown between us because he suddenly rose and told me that he was sleepy, that he needed to go, when we hadn't even whispered for an hour.
I didn't see Ydna the next day.
Or the next one.
Or weeks after.
The rains came. Their waters smelt of fish. Looked like fish when they landed on the ground, when they rolled, when they hurried away. And at night, from my mat, through the window, I searched every drop of rain for Ydna.
My brother. His toe prodding my side. The way his front teeth shone in the dark and tore into the bread I'd saved all day for him. I kept saving bread for him even though I knew it would turn to crust by morning. But at least he ate the freshness. My Ydna savoured the freshness.
My dreams of birds stopped.
Several months afterwards, he finally came. It was night. I was on my mat, burning with malaria. He came after Mama had gone to her room, after she'd wailed that I shouldn't die, after she'd babbled prayers to St Michael and St Mulumba and Blessed Tansi. He walked into the room, dimmed the lantern so that I could see him clearer. He didn't say much. He just said, 'How far, Andy?' and sat down on our worn-out sofa (he'd never sat on the sofa before), jiggling his foot, banging the sofa with his heel, worsening my headache. I didn't mind. In fact, I got up. Shooed the malaria.
'What's up, bro?' I said.
'Fine,' he said.
'I really like your dreads. Seriously.'
'Okay.'
'Did you climb that tree?'
'No.'
'Why?'
Silence.
I felt his to–fro struggle to talk to me. His eyes kept beating off the finger of my gaze. His eyes: dark, watery, rippling. In them I spotted the most complicated jigsaw I've ever seen. Each piece of the puzzle was microscopic, shapeless. Each contained fish, birds, mountains, satellites, light speed, light years, an encyclopedia of info.
But I was not in them.
He leant forward, cleared his throat, parted his big lips. Then he got up and left. And I've not seen him since.
I often want to tell Ydna that being alive isn't easy. (Why else did he turn back and refuse to be born?) Death and dying are easy. Even boring. Life is hard. And senseless. Life is lifting a mountain without touching it, quenching a volcano without using even a drop of spittle. Life is waking up and finding hooks in your heart. If you remove any, you die. If you leave any, you die. You end up stuffing more hooks into your heart to stay alive.
But Ydna doesn't want to hear any of this. I know of his refusal to listen to me because I eavesdrop on his thoughts and record them in my diary. He accuses me of living the life he should have lived. He claims to have turned back, in Mama's womb, for a breather, so that he could refresh himself and arm his muscles for this world. But by the time he was ready, by the time he peered into Mama's womb, he saw that it was already full, nine months full. So he tried to push me back, to wherever I'd come from, so that he could slip his soul into my body and be born. But I refused to let that happen. It was this struggle that prevented Mama from bringing me out the normal way, that made the doctors cut her belly and pull out my Cursed self. It was this struggle that made the quack surgeons cut her in the wrong places, ruin her organs, so that she's now neither a woman nor a man.
I'm sure Ydna still cares about me. This is because, since I began to think about sinking my fingers into blonde hair, since I began to think of HXVX, since my maths teacher Zahrah returned from the Sahara, I've felt him peeping at me several times. He peeps at me through the curtains, pretending to be a light breeze so I don't notice him. His voice filters into my head, repeating poems and phrases, pretending to be earworms. I often want to call him out on it. But I don't. I'm afraid that it would further chase him away from me. From my horizons, from my closed-bounded intervals.
 __________________________________
From The Five Sorrowful Mysteries of Andy Africa by Stephen Buoro, forthcoming April 18th from Bloomsbury Publishing. Copyright © 2023 by Stephen Buoro. All rights reserved.