The Best Alfred Molina Movies Ranked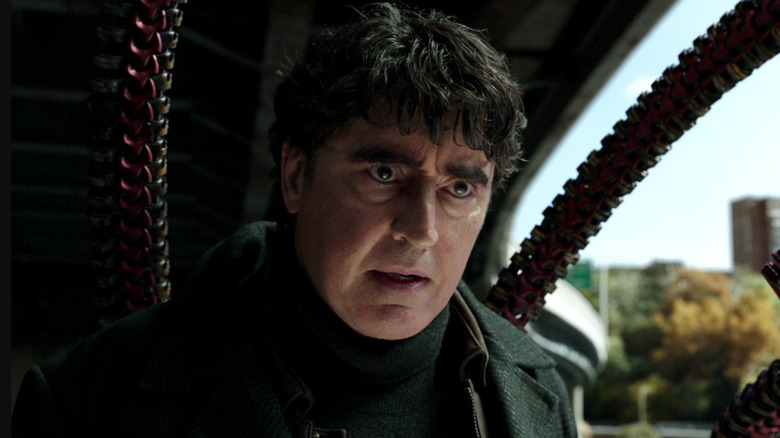 Known by film fans for his work in the "Spider-Man" franchise, Alfred Molina is one of the greatest actors who ever lived. With a career spanning over 40 years, Molina continues to surprise audiences with his calculated acting, larger-than-life personality, and ability to play quite a range of characters. From complicated anti-heroes to heartwarming, quirky individuals, Molina has proven time and time again that he can make any role even better than what's on the page.
While he has some excellent TV and stage credits to his name, there's something unique about Molina's feature film work. Yet, with such a long filmography, it can be hard to decide which Alfred Molina movie to watch next. For new fans of the actor, it can be nearly impossible to pick which performance deserves to be explored. Without further ado, let's take a look at the wide variety of fascinating movies that have made Alfred Molina the beloved actor he is today. From superhero flicks to dramatic epics, there's nothing this acclaimed talent can't do.
Indiana Jones: Raiders Of The Lost Ark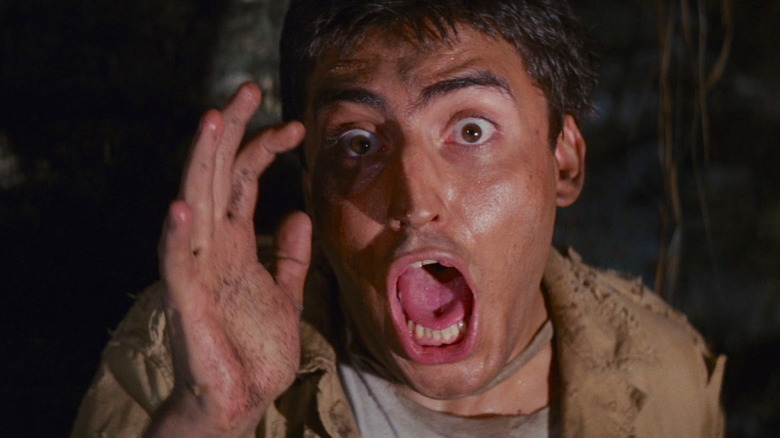 While most viewers fondly remember the "Indiana Jones" franchise for its iconic moments with star Harrison Ford, the series also featured early performances from many acclaimed actors (including the subject of this list). That's right. Alfred Molina is indeed in "Raiders of the Lost Ark." In the movie, Molina plays Satipo, a Peruvian guide who helps Indy go through the Temple of the Chachapoyan Warriors. Of course, in true Indy movie fashion, Satipo has quite a few tricks up his sleeve to snag the golden idol from the film's memorable opening scene.
Even though his role is relatively small compared to his more established co-stars, Molina absolutely left a mark on both "Raiders of the Lost Ark" and Hollywood as a whole. With his devilish facial reactions and his on-point line delivery, this role proved the talent Molina had early on in his career, especially when it came to his tremendous ability to play metaphorical (and later, literal) mustache-twirling bad guys.
The Da Vinci Code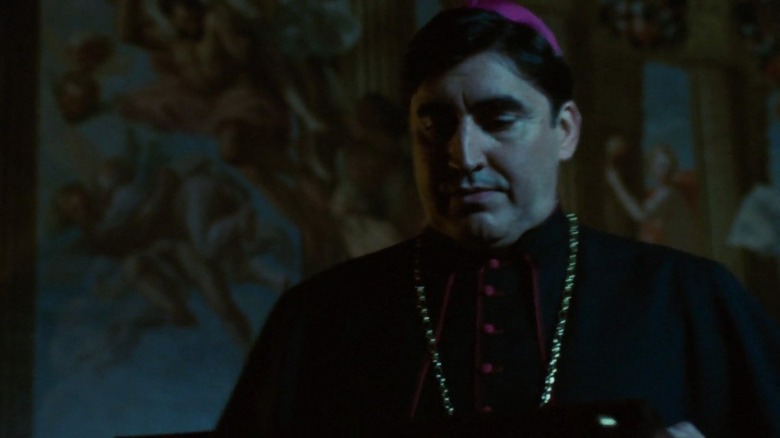 When it comes to the Robert Langdon film trilogy (directed by Ron Howard), no entry is quite as iconic as "The Da Vinci Code." While Tom Hanks and Ian McKellen make this cinematic religious puzzle fascinating, it's the supporting cast that really gives the story life. Alfred Molina delivers a standout performance as Bishop Manuel Aringarosa, leader of the Opus Dei and member of the Council of Shadows. Aided by the albino monk, Silas (Paul Bettany), this sneaky and calculating antagonist will do anything to protect his reputation and the integrity of the Vatican.
Although it's not the most remarkable adaptation of Dan Brown's work, easily the best thing about "The Da Vinci Code" is its cast, including Molina. While he doesn't get as much screen time as the rest of the ensemble, he uses his ability to play misguided figures to his advantage. Aringarosa, despite appearances, is sinister to the core — something that Molina perfectly personifies while also bringing just the right amount of vulnerability to this fascinating character.
Promising Young Woman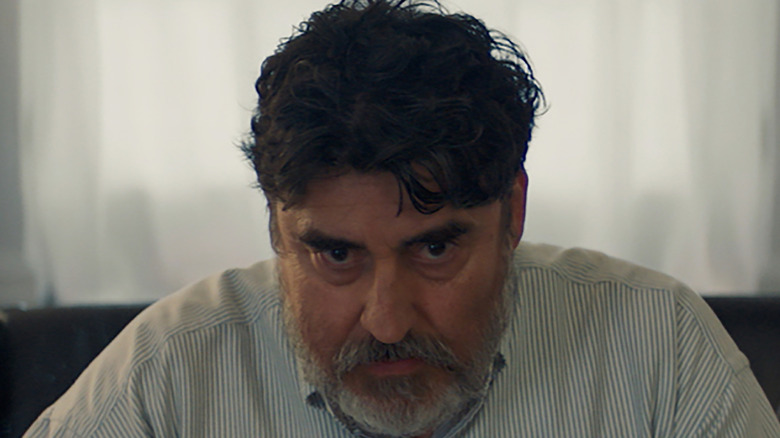 Although Alfred Molina's role in "Promising Young Woman" is uncredited, it is nonetheless haunting. Acting alongside his "An Education" co-star Carey Mulligan, Molina plays Jordan Green. Known to protagonist Cassie (Mulligan) as the lawyer who defended the boy who sexually assaulted her best friend, Jordan has quite a few metaphorical demons — all of which are perfectly captured in Molina's well-calculated acting choices in a three-minute sequence.
From showcasing a perfect level of vulnerability to his intense use of body language, Molina's performance leaves an impression on both the character of Cassie and the audience. Many of us have met problematic people who have been altered by their bad decisions, and far too many of them come across just as creepy as Jordan. However, what lands this role on the list is how Molina elevates the already delicious dialog (by Academy Award winner Emerald Fennell) into something uniquely melodramatic yet all too real.
Spider-Man: No Way Home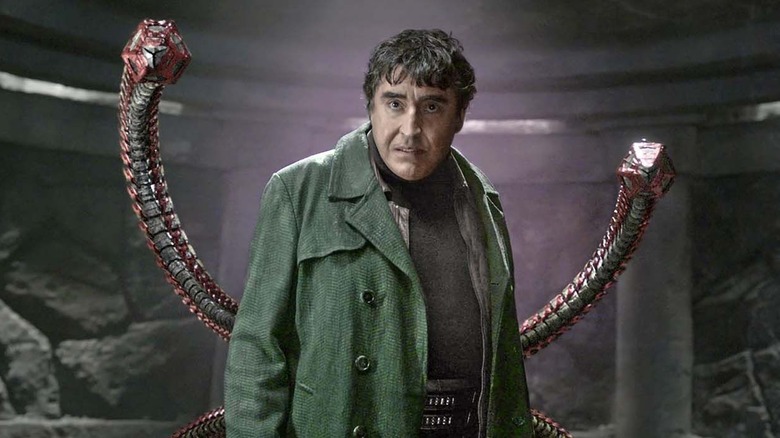 In a cinematic landscape where actors are returning to iconic franchises, "Spider-Man: No Way Home" stands as a shining example of a blockbuster with fantastic acting across the board. One of the best elements in the movie is, of course, the return of Alfred Molina as Dr. Otto Octavius. While many of his contemporaries tend to phone in their performances in similar films, Molina breathes even more life into a role he did so well the first time, and Spider-Man fans can't get enough of it.
From his cartoonishly villainous side to his more heartbreaking, antihero edge, Molina does a fantastic job of sliding right back into Doc Ock's complex nature. He even gets to flex his comedic chops alongside Tom Holland and the gang, bringing some of the biggest laughs in the entire movie. Yet, the sequences where Molina shows the multifaceted elements of the iconic antagonist's inner struggles make his performance one of the highlights of a movie filled with great moments.
As You Like It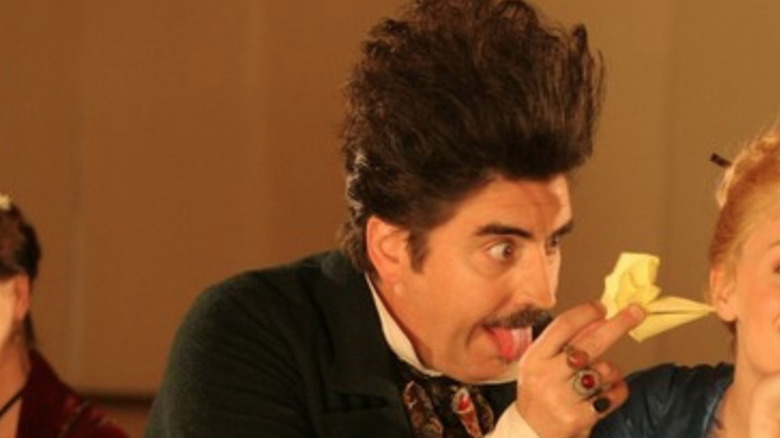 Based on the classic Shakespeare tale, Kenneth Branagh's "As You Like It" features stunning colors, beautiful costumes, and a cast as delightful as its premise. In the film, the beautiful heroine Rosalind (Bryce Dallas Howard) and her cousin Celia (Romola Garai) run away from her uncle's court after being banished. Accompanying the two beauties (in their various disguises) is Alfred Molina as Touchstone, the court fool. Together, they eventually relocate to the Forest of Arden, a location that allows them many things — including the ability to fall in love in unexpected ways.
While a bit messy with its Japanese-themed reimagining, "As You Like It" has a fantastic cast that truly shines in the most quirky ways. Molina delightfully portrays Touchstone's outlandish comedic moments and silly romantic bits with bold, electric choices. Yet, the best aspect of his performance comes when he's paired with Janet McTeer's Audrey. Molina proves he's just as great at romantic comedy as he is at drama.
Species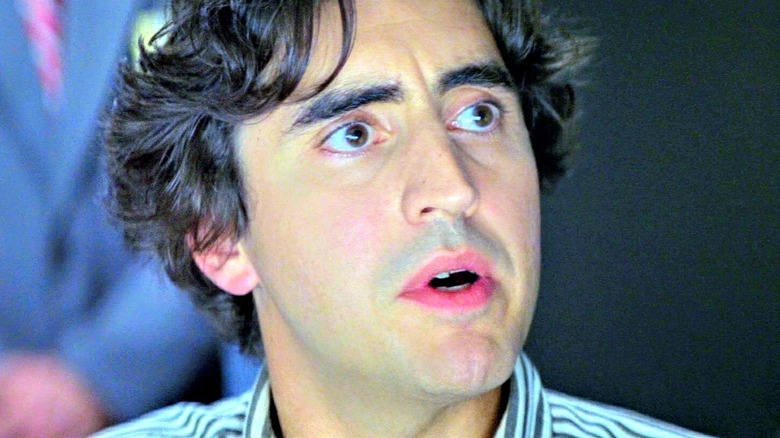 When it comes to ridiculous sci-fi movies, only a few get as wacky as 1995's "Species." Directed by Roger Donaldson, the movie follows a group of scientific experts as they try to hunt down an extraterrestrial-human hybrid before she begins to procreate on Earth. Alfred Molina plays Dr. Stephen Arden, a renowned anthropologist. A nerd with a charming, classic aesthetic, Stephen just wants to wrap up this gig and find a lady to dance with at the club. Yet, the plot, as always with these movies, has other plans for our dorky hero.
Sure, "Species" isn't a good movie by any conventional definition, but, when it comes to films that are so deliciously trashy you can't take your eyes off of them, it takes the cake (and eats it too). One of the elements that makes "Species" so delectable is its notable cast of misfits, and Molina steals the show in many of his scenes. Plus, when any movie pairs this talented gentleman with Forest Whitaker (who plays an empath), you know you're in for a good time.
Enchanted April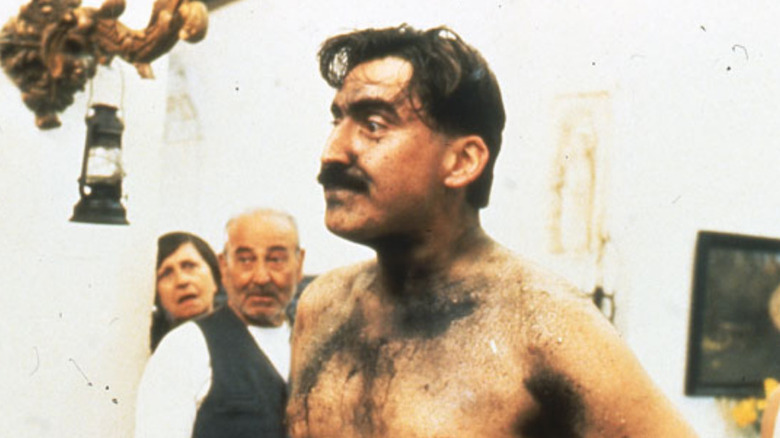 Based on the 1922 novel by Elizabeth von Arnim, "Enchanted April" tells the quirky yet lovely tale of four women who need a change from their dull lives. That shift comes in the form of a medieval castle in Italy. Together, they decide to split the expenses and spend a fantastic holiday inside its walls. As the story progresses, these outstanding and layered protagonists discover new things about themselves — including the kind of love they all deserve from the people in their lives.
One such lady is Mrs. Lottie Wilkins (Josie Lawrence), a down-on-her-luck woman married to the annoying Mellersh Wilkins (Alfred Molina). From the beginning, Mellersh is a character who never indulges in extravagances, especially if it's something that Lottie desires. Yet, with Molina's cozy, delightful performance, audiences get to experience a beautiful shift in the way Mellersh sees Lottie. Molina and the rest of the cast (along with the film's stunning cinematography) make "Enchanted April" an underrated classic.
Prick Up Your Ears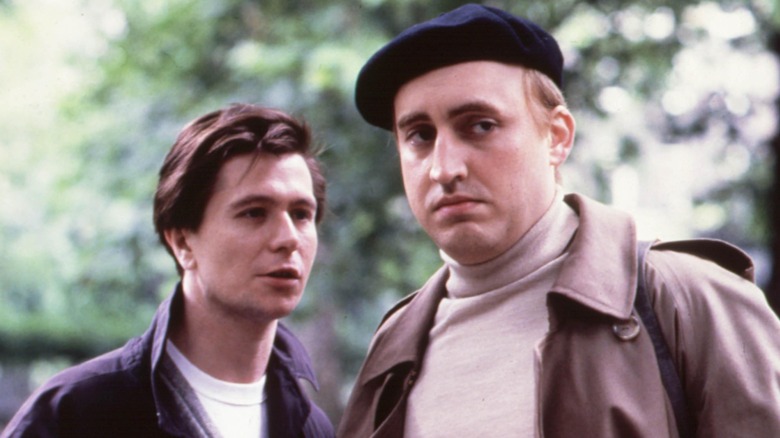 When it comes to movie combos, few are quite as exciting as the offbeat duo of Alfred Molina and Gary Oldman. However, in the biopic "Prick Up Your Ears," this dynamic acting pair is put to the ultimate dramatic test. The movie tells the true story of playwright Joe Orton (Oldman) and his lover Kenneth Halliwell (Molina) from the beginnings of their romance to the horrifying downward spiral that resulted in their deaths.
What makes "Prick Up Your Ears" a shoo-in for this list is how it shows Molina's incredible range as an actor early in his career. He portrays Halliwell as a fading star who once shined brightly in his inner circle but later feels that the metaphorical curtains are closing on his life. When paired with Oldman in the movie's many fun, intense, and tragic sequences, a young Alfred Molina proves that he isn't just a quirky flash in the pan.
Letter To Brezhnev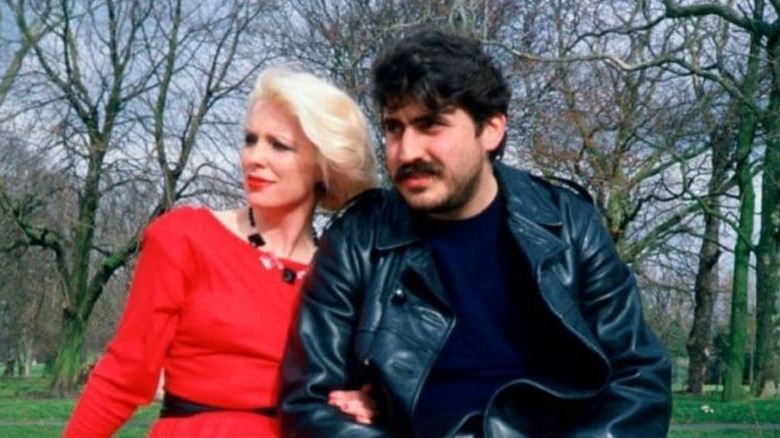 Centered around the working-class culture of England, "Letter To Brezhnev" takes audiences to a world that is far from the whimsical environs of a typical rom-com. In the movie, Teresa (Margi Clarke) and Elaine (Alexandra Pigg) are two girls from Kirkby who just happen to meet a couple of Russian sailors at a nightclub. From there, the film follows these friends on their differing paths in a Margaret Thatcher-era Liverpool, focusing primarily on Elaine's wish to escape to a better life.
In "Letter To Brezhnev," Alfred Molina (as Soviet Navy man Sergei), again displays his limitless potential as an actor in one of his early roles. While he doesn't get quite the amount of screen time as his co-stars, the moments Molina gets beautifully showcase his charms. Although Molina has never had typical, matinee idol good looks, the moment in the film when he dances with Margi Clarke proves how much the camera loves him. Even in a small role, Molina makes quite a cinematic impression.
Chocolat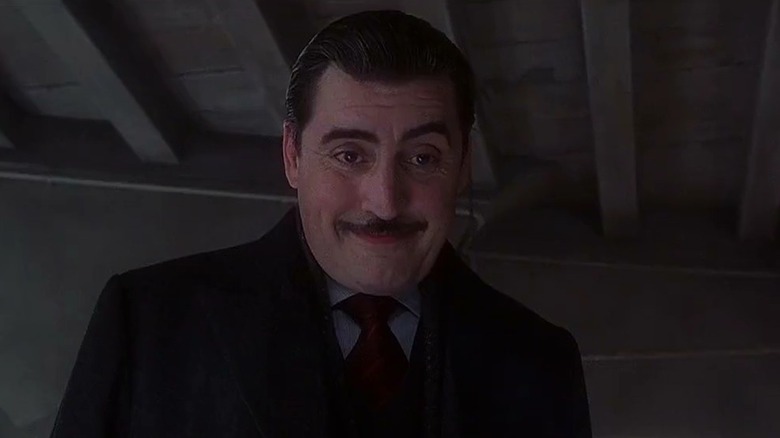 Filled with extravagant imagery and beautiful storytelling, Lasse Hallström's "Chocolat" blends romance, drama, and comedy into a cozy yet emotional package. The film tells the story of a mother and daughter who travel the world, making incredible chocolate as they go. They eventually settle in a small French village that's quite religious. Obviously, the town isn't too keen on a sweet shop opening during Lent. No community member is more obsessed with the new residents and their business than the town's mayor, Comte de Reynaud (Alfred Molina).
While the movie mainly focuses on Vianne Rocher (Juliette Binoche) and her hopes to shift the town's perception of her store, Reynaud's arc is equally as enjoyable. Starting off as a flawlessly suave gentleman, Molina wonderfully portrays the unraveling of this public figure in ways that are both comedic and horrifying. One sequence in which Molina is asked to indulge his sweet tooth in the most dramatic way is pure cinematic gold. If you want to see why fans love Alfred Molina so much, "Chocolat'' is a great starting point.
Boogie Nights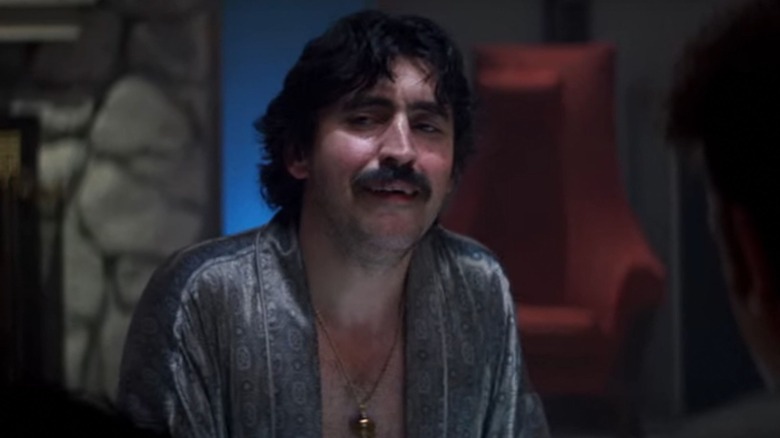 Directed by the one and only Paul Thomas Anderson, "Boogie Nights" takes viewers into the seedy world of the 1970s and '80s porn industry through the eyes of dishwasher-turned-star Eddie Adams (Mark Wahlberg) — best known by his adult movie moniker "Dirk Diggler." Throughout the film, Dirk and the audience meet many colorful individuals. Among these eccentric and dangerous characters is Rahad Jackson (Alfred Molina), a local drug dealer whom Dirk and his friends try to scam. While Molina isn't in the movie for long, he leaves quite a memorable impression.
As the sounds of various '80s tunes fill the room, it becomes clear that Rahad is a man with strange tastes. Molina portrays this confident, oddball character with ease, casually hanging out in little more than a robe while extolling the virtues of pop music. Nothing is more delicious than hearing him genuinely rave about Rick Springfield's "Jessie's Girl" in one of the most iconic scenes in Anderson's filmography. Molina's relentless on-screen charisma helps make "Boogie Nights" one marvelous film.
Spider-Man 2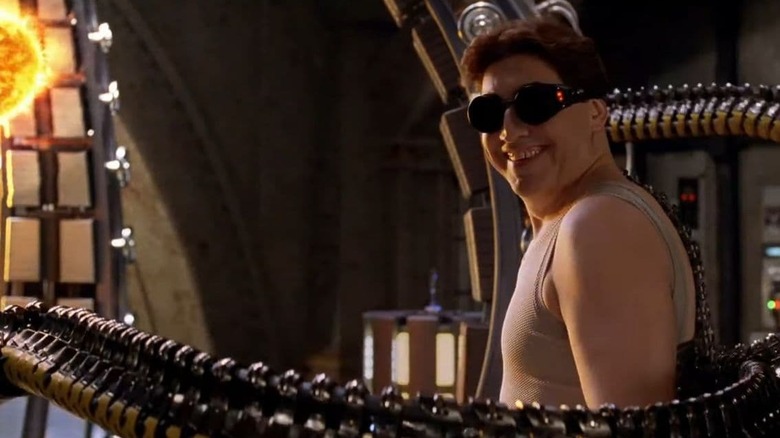 When it comes to superhero cinema, there's nothing quite as perfect as Sam Raimi's "Spider-Man 2." Starring Tobey McGuire as the film's crime-fighting protagonist, the plot follows Peter Parker as he tries to cope with his new life as the friendly neighborhood web-slinger. While attempting to juggle his job and home life with a superhero's duties, Peter meets the brilliant Dr. Otto Octavius (Alfred Molina). When things go horribly wrong with Octavius' new experiment, Peter has to try to protect New York from the monster the doctor has become.
While there is a treasure trove of reasons why "Spider-Man 2" is a comic book movie classic, there's no denying that Molina's performance as Octavius is a crucial ingredient. Not only does he get some wonderful, scene-chewing moments, but Molina also gets to tap into the tragic elements so many fans love when it comes to Spider-Man's rogue's gallery. This is especially true in the film's grand finale in which Molina gets to flex his acting skills by showing multifaceted angles of this surprisingly complex role. Doc Ock has some genuinely poignant moments in his arc, and Molina makes them even grander on screen.
An Education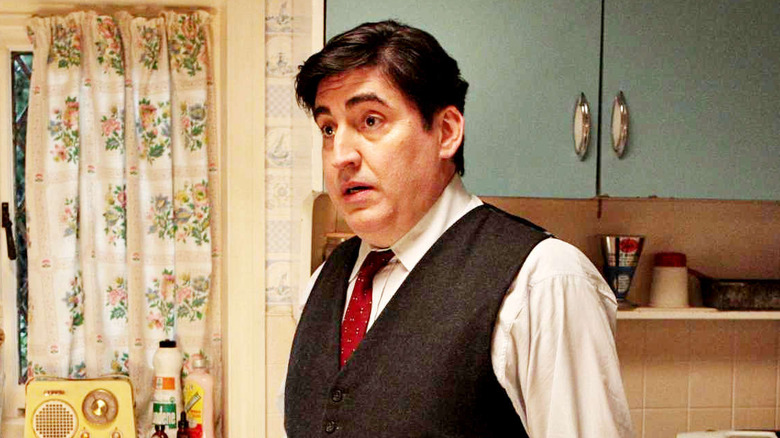 In Lone Scherfig's "An Education," a wide-eyed school girl named Jenny Mellor (Carrey Mulligan) falls for the irresistible David Goldman (Peter Sarsgaard), a handsome older man. As the two thrive in the swinging '60s, Jenny begins to experience her dream life of culture, art, and luxury. However, as the adults in Jenny's life (including her controlling father Jack, played by Alfred Molina) notice her sudden lifestyle changes, they become concerned over David's influence on the Oxford University hopeful.
While playing father figure roles might seem dull to many other actors, Molina brings his A-game as Jack. From his comments about Jenny's university goals to his tender conversations when bringing her a cup of tea, he genuinely sells the awkward line that all parents have to walk when raising teenagers. His best scenes are when he goes toe-to-toe with Mulligan, battling it out for sassy parental supremacy. In "An Education," Molina proves he understands the duality of fatherhood.
Love Is Strange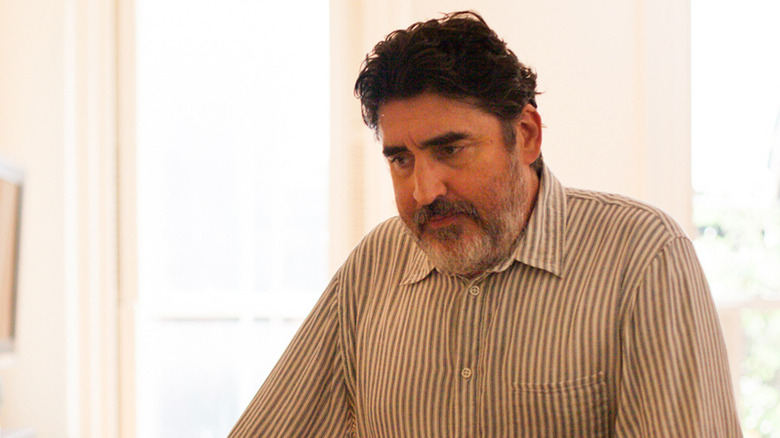 One of Alfred Molina's most charming traits is how adorable he seems in many of his roles. An outstanding example of this comes in "Love is Strange" — a small, indie drama with a lot of heart. George Garea (Molina) and Ben Hull (John Lithgow) are a gay couple who have been together for almost 40 years. After they finally get married, their life gets turned upside down when George is fired from his job. This forces the two to figure out a new living situation that tests the boundaries of their love.
Filled with intimate, beautiful moments of earnest emotion, "Love is Strange" has charm oozing from its every frame. A superb cast, including underrated greats like Darren Burrows as Ben's nephew and Cheyenne Jackson as George's roommate and friend, make "Love is Strange" a uniquely touching film. Yet, what really sells the movie is Molina and Lithgow's completely believable romance. From their phone conversations to their piano duets, these two make one incredible couple you can't take your eyes off of.
Frida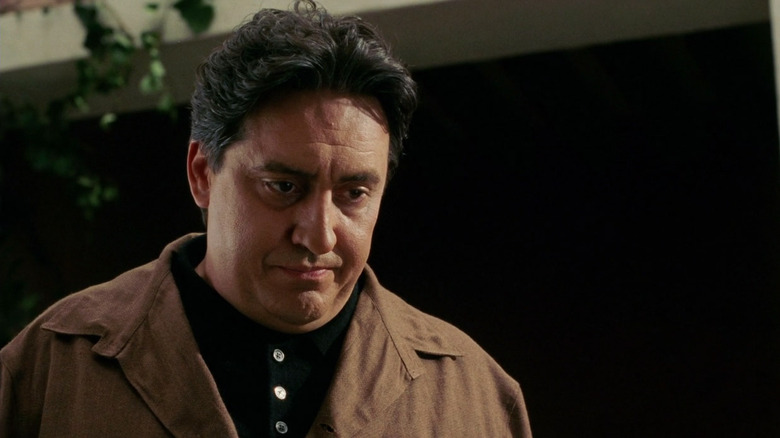 Directed by the amazing Julie Taymor, "Frida" explores the complicated and sometimes painful life of Mexican Surrealist artist Frida Kahlo. Frida, played by Salma Hayek (who earned an Academy Award nomination for the role), has many romances throughout this cinematic adaptation of her life — the most important one being her marriage to Diego Rivera (played brilliantly by Alfred Molina). In the movie, Diego is depicted as a quirky, offbeat individual who is the definition of problematic. Still, he somehow has an allure that Frida can't seem to let go of.
While the film is far from perfect, there's no denying that Molina's performance as Diego is among his best work. Not only does this performance serve as a veritable "greatest hits" of all of Molina's many skills as an actor, it also shows what makes him so fascinating to watch on screen. He evokes a unique and irresistible charm in this role that makes his less savory scenes an even harder pill to swallow. Nevertheless, this is Molina at his best and will be recognized as such for years to come.
Read this next: Jack Nicholson's 15 Most Iconic Roles Ranked
The post The Best Alfred Molina Movies Ranked appeared first on /Film.