The Arkham Asylum Files: Panic In Gotham Uses New Board Game Tech To Create The Ultimate Batman Puzzle Experience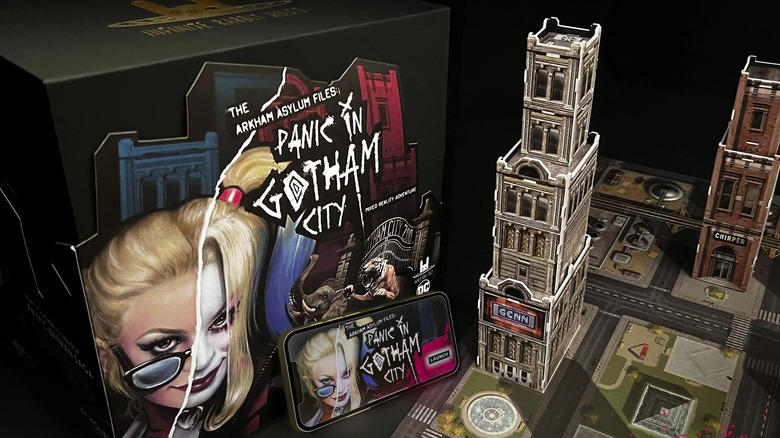 In the world of tabletop games, studios matter — perhaps even more than they do in the world of film. So when brand new tabletop publisher Infinite Rabbit Holes started making headlines in 2022 for their "mixed reality" Batman game, I approached the news with a healthy blend of skepticism and curiosity. More than anything, I was intrigued by the staff; the bulk of the Infinite Rabbit Holes creative team comes from backgrounds like video games or amusement parks, which suggested that "The Arkham Asylum Files: Panic in Gotham City" would be a different experience from even the most app-friendly board games.
Twelve months and one successful Kickstarter later, "Panic in Gotham City" is finally here. Given the strength of the license and the higher-end price point, there are many reasons for Batman fans to approach this one with their own mix of skepticism and curiosity. But good news from Gotham City: this unique and engaging augmented reality experience will absolutely be a big hit for those willing to take the plunge.
Welcome To A Virtual Gotham City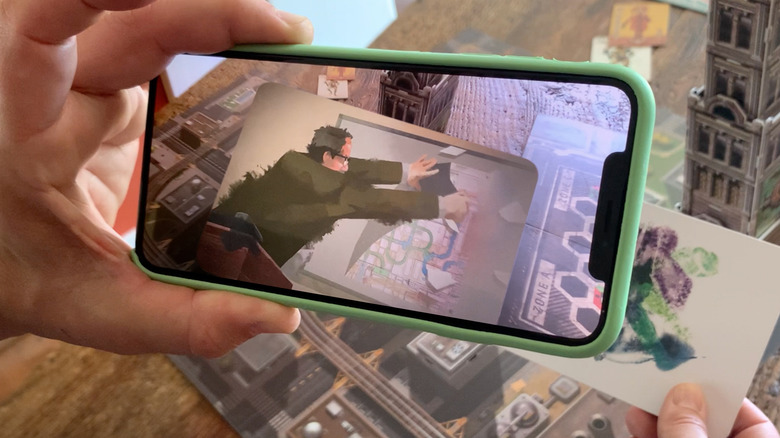 If you are a tabletop collector, odds are you have at least one app-assisted board game in your collection. Publishers like Lucky Duck Games — the team behind the excellent storytelling and roleplaying mashup "Destinies" — have carved a niche with companion apps that do most of the narrative heavy lifting for players. In those games, you make in-app decisions that prompt changes to the playing board, meaning that you are constantly tweaking your character sheet and world map to match the outcomes in the companion app.
"Panic in Gotham City" takes the app-assisted approach to the next level. This is a true augmented reality experience; as you progress through the game's seven stages, you will craft a cityscape that lives equally on your table and in the app. The cardboard buildings you assemble become a permanent fixture of the board, but they also become reference items for interactive elements in a virtual Gotham. Several times throughout the game, you will scan a Gotham City News Network jumbotron in the heart of downtown Gotham, only to see the screen come to life on your phone with a live-action update on current events.
And as much fun as it may be to see a bustling city come to life on your tabletop — including an above-ground subway and news helicopters — this cityscape only scratches the surface of the technology. As you dig through case files and pieces of evidence, pieces of cardboard or even your living room will suddenly become a three-dimensional workspace for new and complex puzzles. My favorite use of augmented reality in the game is a series of ink blots that swirl to life when scanned with your phone. The colorful, abstract images printed on the cards reveal essential elements of backstory or key interactions between various suspects and Batman villains.
The results are undeniably immersive — sometimes even a little too much. For the first few chapters of the game, my wife and I cast my phone screen on our television before realizing that my unsteady hand was causing the "aerial" footage of Gotham to trigger a bit of motion sickness for both of us. Thankfully, once we turned off casting and viewed the game through our phone, the problem never returned, but it led to an uncomfortable 30 minutes after we wrapped our first session.
Lose Yourself In Anarky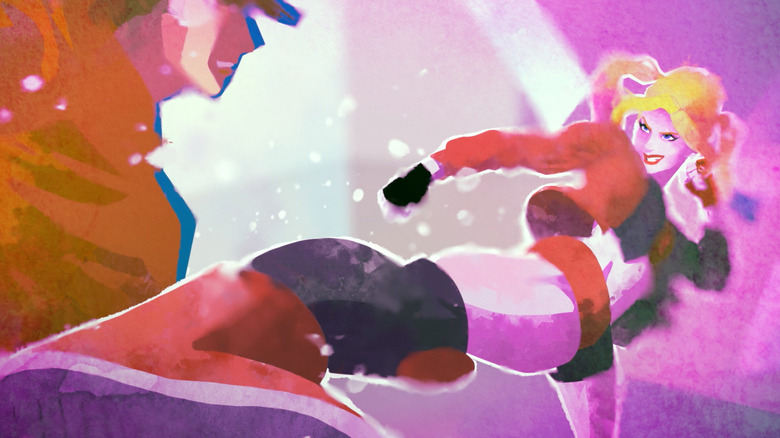 As part of its marketing, "Panic in Gotham City" promises over 100 different components for players. But what surprises the most about the game is the variety of elements in the box. There is probably a version of this game built around utility — where simpler pieces serve multiple functions to limit production costs — but it seems just as much effort here has gone into the physical components as the virtual ones. Each new folder you open comes with a unique collection of evidence to sift through or police manuals to read, whether it be a deck of playing cards or two dozen pieces of plastic ciphers.
This keeps "Panic in Gotham City" from ever fully repeating itself — a critical bit of design that prevents the game from overstaying its welcome. The puzzles themselves are varied in their difficulty, and like any good escape room, players must navigate the occasional bout of healthy frustration when a critical piece of information is misunderstood. One puzzle even stymied me completely; I was only able to advance because the answer was a passcode I could guess at from context clues (though, much to my relief, "Panic in Gotham City" also allows players to skip puzzles if they find themselves stuck).
But even without the augmented reality bells and whistles, "Panic in Gotham City" still offers a pretty slick Batman narrative. The story's centerpiece is a reformed Harleen Quinzel, once again working at Arkham Asylum as a case worker for some of Gotham's deadliest criminals. In this game, a mysterious criminal named Anarky is threatening the wealthy of Gotham with acts of financial terrorism, and we must figure out his plan before the Federal Reserve becomes the target of a deadly plot. Along the way, players will meet a handful of other Batman villains and be treated to strong vocal performances and a genuinely impressive soundtrack (including a few overt nods to Hans Zimmer's movie scores).
Worried about the lack of heavy hitters in the story? Don't be. Sure, compared to some Batman villains, Anarky is a relatively recent addition to the Gotham universe. Introduced by legendary comic book writer Alan Grant in 1989 as a child prodigy with the goal of societal revolution, Anarky has become a second-tier fan favorite, serving as a parallel ideologue to the ruthless militarism of Bruce Wayne. "Panic in Gotham City" uses Anarky well, presenting players with complex societal issues with a teenage veneer. The game walks a fine line between the various iterations of Batman to create something more adult in tone without coming across as overly nihilistic. If anything, it feels fresher for not being a version of a Batman story we've already seen a dozen times.
Escape Room In A Box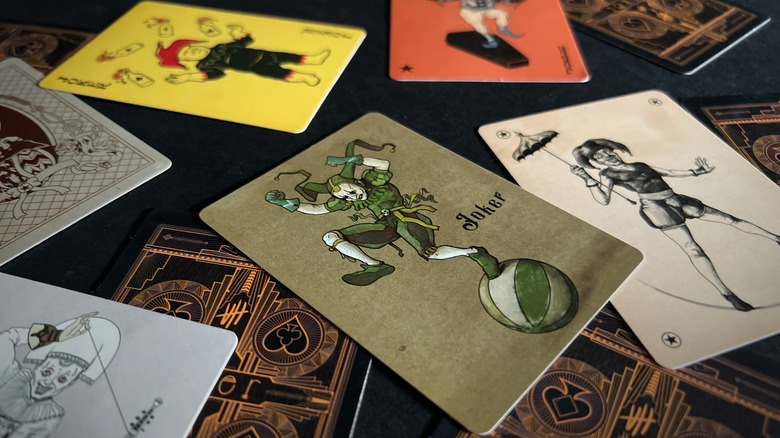 Still, given a not-insignificant price point, one crucial question remains: is "Panic in Gotham City" worth the $149 investment? There's no denying this is a high-end game, even for those not already hooked on the augmented reality experience. Several items in the box, including the Batman or Joker mask, would even make for worthwhile collectibles in their own right. And to its credit, "Panic in Gotham City" tries to be more than a one-off experience. The app includes a repackaging tutorial to help introduce the game to new players once your group has solved the case.
If your only goal is to spend as much time in Gotham City as possible, there are other adaptations — such as the miniature game "Batman: Gotham City Chronicles" or the Rocksteady Studios video game series ("Batman: Arkham Asylum," "Batman: Arkham City") — that may have more to offer. But while "Panic in Gotham City" presents itself as equal parts board game and escape room, the promise of hours and hours of puzzles will make or break this experience for any group of players.
If you have a few friends who love escape rooms almost as much as they love Batman, you will get a good five or six hours of playtime for roughly the price of one 60-minute escape room session. And that is probably how Infinite Rabbit Holes's game should be viewed: as a next-level, in-home experience for those who love solving three-dimensional puzzles. Dive into the game with that approach in mind, and you will get a Batman augmented reality experience worth every penny.
Disclosure: An advance copy of "The Arkham Asylum Files: Panic in Gotham City" was provided to Slashfilm for this review.
Read this next: Joker's Wild: Ranking The Cinematic Versions Of The Clown Prince Of Crime
The post The Arkham Asylum Files: Panic in Gotham Uses New Board Game Tech to Create the Ultimate Batman Puzzle Experience appeared first on /Film.