The 16 Best Audrey Hepburn Movies, Ranked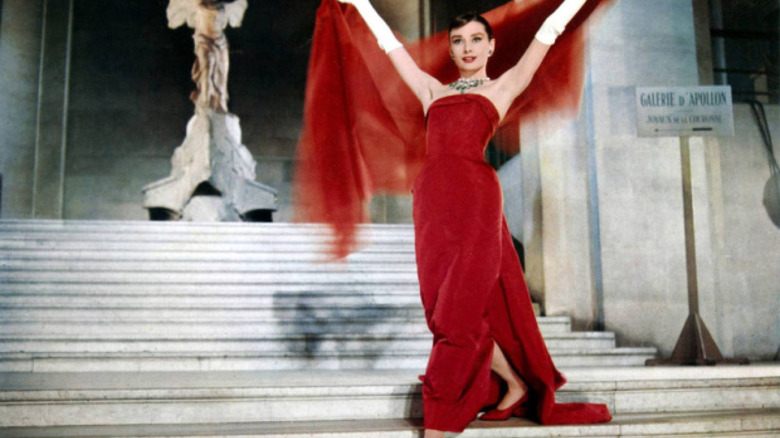 Known for her graceful presence and regal qualities, Audrey Hepburn has continued to remain a film icon into the 21st century. She not only graced the silver screen in some of the greatest movies of all time but has become the unofficial saint of college dorm rooms thanks to ubiquitous  "Breakfast at Tiffany's" posters. Yet regardless of how people have come to discover Hepburn, it's hard to deny the magic in her performances. From those of a more serious nature, like "The Children's Hour," to those of the more romantic sort, like "Roman Holiday," Hepburn makes any movie more beautiful and radiant with just a simple glance at the camera.
But with a list of incredible movies within Hepburn's filmography, which among them is the best of the best? That's the puzzle this list is here to solve. From the films that deserve a bit more respect to those that have defined her career, we'll look through the fascinating history of Hepburn's movie legacy to discover which project represents her best. So grab a croissant and your most delicate pair of gloves, and let's take a look at the films that made Audrey Hepburn the movie, fashion, and overall pop culture icon she is today.
16. Always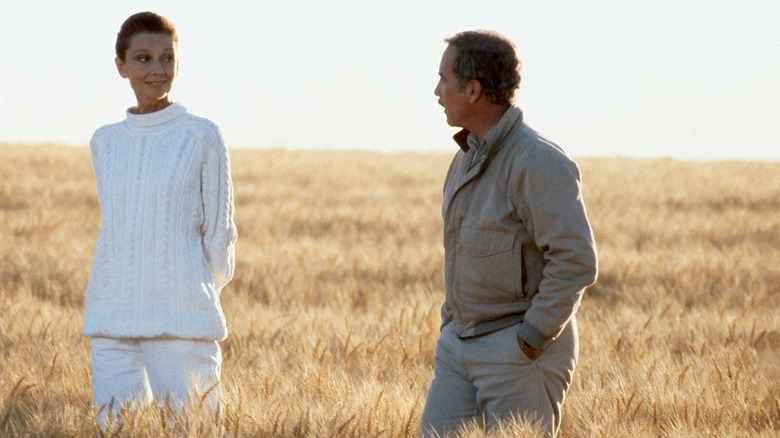 In Steven Spielberg's "Always," rebellious pilot Pete Sandich (Richard Dreyfuss) is living on the top of the world (metaphorically speaking). He's got an incredible girlfriend, aka Dorinda Durston (Holly Hunter), a hilarious best friend (John Goodman), and of course, an impressive aerial career. But when he doesn't survive an explosion, Pete becomes confused over his circumstances. He then stumbles across Hap (Audrey Hepburn), a heavenly figure who pushes Pete to help guide others in the mortal world via his ghostly "spiritus" abilities. The movie then follows Pete as he mentors a new pilot (Brad Johnson) and attempts to give Dorinda the happy life she deserves (despite his own jealousy). 
Though considered one of the more disappointing Steven Spielberg movies, "Always" merits a place among Hepburn's best work. Why? Because not only was it her last on-screen role, but her character is a lovely representation of her entire career. For much like Hepburn's most memorable flicks, this movie and her character wears their heart on their sleeve — making it a fitting final project for an actress who was the definition of earnest. Overall, there's something enchanting about the image of Hepburn, dressed head to toe in cozy white clothes (as she's giving advice to Dreyfuss) that makes up for any of the movie's shortcomings. 
15. War And Peace (1956)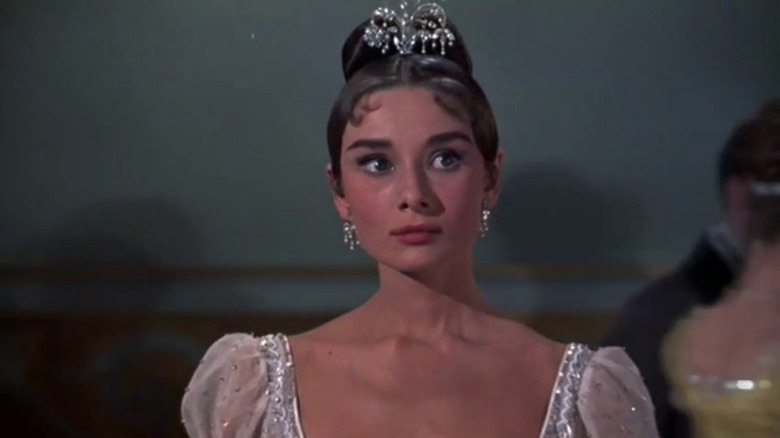 Filmed like many epics of its era, King Vidor's take on "War and Peace" is a visually striking yet ultimately lackluster adaptation that isn't quite as juicy as the story itself. In it, audiences get to experience how Napoleon's 1812 take over of Russia twisted the lives of various high-ranking families. There's romance, over-the-top battle sequences, stunning ballgowns, and all of the half-baked melodrama that dramas of this time were famous for. 
Despite not being the most remarkable adaptation, "War and Peace" is an Audrey Hepburn movie that speaks to her strengths as an actor. Not only does Hepburn look absolutely stunning as Natasha Rostova, but she brings a magical energy to the role that wonderfully represents her unique on-screen presence. Plus, this is one of the few films where she has genuine chemistry with her romantic co-stars — especially with Henry Fonda as Count Pierre Bezukhov, whose performance is a fantastic juxtaposition to Hepburn's bubbly nature. 
14. How To Steal A Million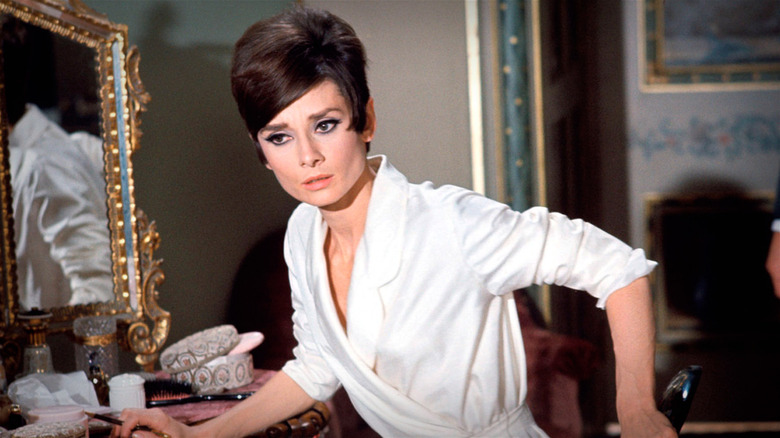 One of the more silly projects within Audrey Hepburn's career, "How to Steal a Million" focuses the daughter of an art forger, Nicole Bonnet (Hepburn) who is trying to protect her father, Charles Bonnet (Hugh Griffith) from getting caught. She then enlists the help of a thief, Simon Dermott (Peter O'Toole) to steal one of her father's fakes, the "Cellini" Venus statuette, before it is to be examined. And like many madcap adventures of the '60s, the film turns into a comedic riot — filled with everything from ridiculous car sequences to clever uses of keys. 
While far from the most complex movie on this list, "How to Steal a Million" is a film that brilliantly shows the playful side of Hepburn while wonderfully presenting what made her such a fan favorite. From her fantastic comedic timing to her aesthetic mix of cool and campy, this project brings out the magic of Hepburn in the best of ways. Plus, she wears some of the most stylish outfits of her cinematic career, which were designed by her longtime fashion collaborator, Hubert de Givenchy.  
13. Love In The Afternoon (1957)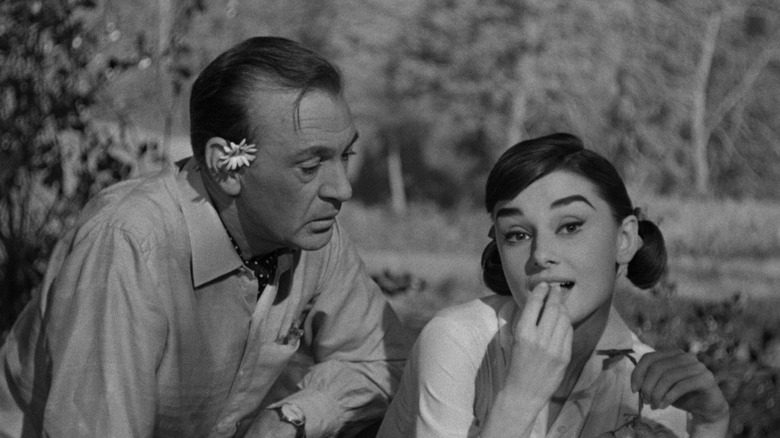 Based on the 1920 novel by Claude Anet, Billy Wilder's "Love in the Afternoon" tells the story of a young cello player, Ariane Chavasse (Hepburn) who becomes quite friendly with rich playboy, Frank Flannagan (Gary Cooper) — a figure who just so happens to be the subject of an investigation that's being conducted by Ariane's private detective father, Claude Chavasse (Maurice Chevalier). As the movie progresses, we get to see the various stages of their fascinating relationship, all done in Wilder's signature cinematic style. There's quippy dialog thanks to Wilder and collaborator I.A.L. Diamond, stunning cinematography by William Mellor, and of course, a glittering performance by Hepburn. 
Yet despite the magic within "Love in the Afternoon," the casting of Cooper (who was 56) and Hepburn (who was 28) as a romantic pair is hard to shake. Sure, Hepburn is no stranger to being cast with actors twice or more her senior. But many of them don't look quite as grandfatherly next to Hepburn as Cooper does. Sadly, Cooper's health was slowly declining around the time of filming, which likely attributed to his frail appearance in the movie. Though regardless of this (and his talent), it's hard to deny that this movie would be a bit easier to enjoy if Frank's age was a tad closer to Ariane's. 
12. Breakfast At Tiffany's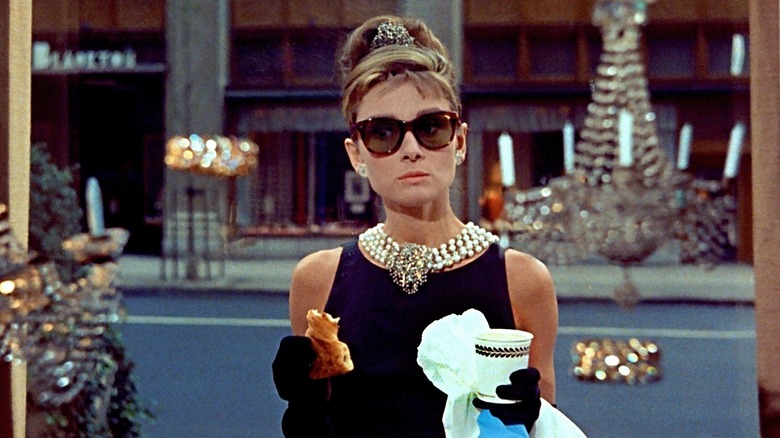 When it comes to the most iconic pop culture images, Audrey Hepburn looking through the windows of Tiffany's flagship store is definitely up there — but does such a memorable visual reflect the excellence of "Breakfast at Tiffany's" as an entire film? Well, that depends on what you're looking to get out of it. This movie wouldn't satisfy the cravings of those searching for an accurate adaptation of Truman Capote's novella, but if you're on the hunt for a flawed but influential '60s rom-com that defined Hollywood for decades to come, then Blake Edwards' film will check most of your boxes.
Yet, the most interesting aspect of "Breakfast at Tiffany's" is the casting of Hepburn in the iconic role of Holly Golightly. She's a character known for her provocative party girl ways, making it seem like a stretch to be played by someone who is the embodiment of innocence and fairy-tale whimsy. Now, sure, Hepburn is the fundamental reason why "Breakfast" has become the adored movie it is today, but when comparing Hepburn's Holly to her book counterpart, it's a shame the movie couldn't have been made when Hepburn herself was allowed to be the bold, risky heroine the book portrays. A fact that (along with the film's many other problematic issues) makes "Breakfast at Tiffany's" a mixed but still significant cinematic experience.
11. Robin And Marian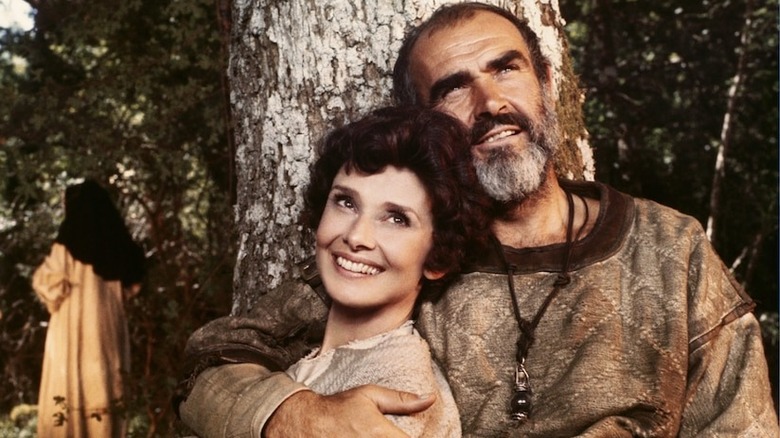 In "Robin and Marian," we get to see the iconic Sherwood couple much past their typical "happily ever after" phase. As the film begins, we see a much weathered Robin Hood (Sean Connery) return from war to find his home not in the state he left it in. The story then follows Robin trying to win back the hand of Maid Marian (Hepburn) and discovering the Sheriff of Nottingham is up to his old tricks again, all the while attempting to bring his community back to its former glory.
While far from the most glamorous film in Hepburn's career, "Robin and Marian" deserves a place on this list simply because of its significance within Hepburn's filmography. Before this project, Hepburn had taken a long absence from the world of filmmaking, primarily because the scripts handed to her weren't the kind of material she was interested in. But once you see the entirety of this movie, it's easy to catch why she was captivated by the script. It's also a treat to see Hepburn bring her signature grace to such an iconic character, especially when paired with the equally grounded Connery. Ultimately, "Robin and Marian" is an excellent example of Hepburn's range throughout her ever-evolving acting journey.
10. Paris When It Sizzles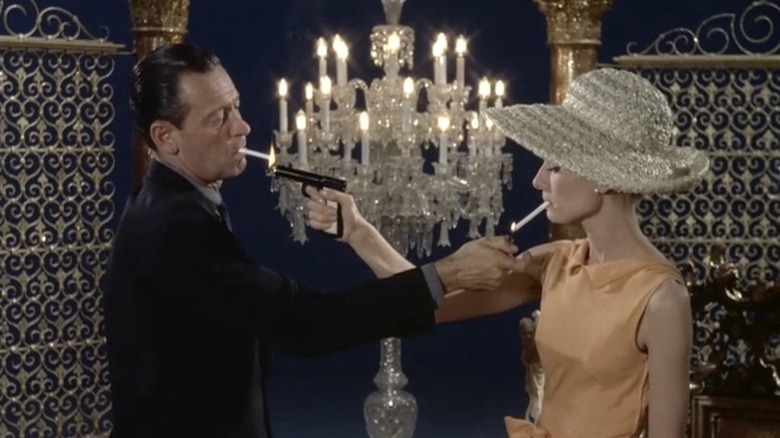 Reuniting with her "Sabrina" co-star, William Holden, "Paris When It Sizzles" allows Hepburn to flex her funny bone. In the film, Hepburn plays Gabrielle Simpson, a typist hired to help screenwriter Richard Benson (Holden) finish his latest project before its due date. As the pair begin to work, viewers see them analyze what makes a movie great in the most ridiculous, campy, and weirdly romantic ways, resulting in a film that loves to comment on Hollywood just as much as it does on relationships.
From its first frame to its last, it's easy to see why Holden and Hepburn make such a good match. They're both typically known for their dramatic strengths as performers. Still, when put side by side, they create a kind of cinematic explosion that's as absurd as it is adorable. Something that's made all the more fascinating when you're aware of Hepburn and Holden's real-life affair. Of course, this movie does have its flaws, especially with its not-quite-as-sharp conclusion. But despite its problems, "Paris When It Sizzles" warrants much more admiration than it often gets in the pantheon of classic Hollywood rom-coms.
9. Two For The Road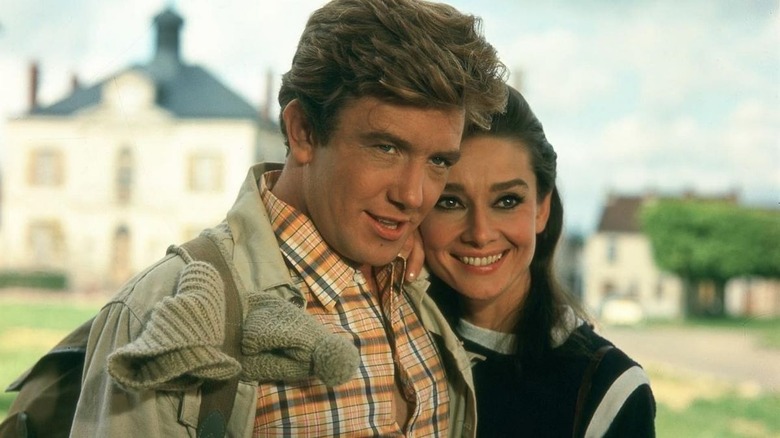 Directed by Stanley Donen, "Two for the Road" pairs Audrey Hepburn with Albert Finney as an unhappily married couple who travel through the south of France during a critical moment in their relationship. From their initial meeting to various other signature moments, the movie presents the pair's romantic journey in a modern nonlinear fashion — one that feels so fresh, you could have sworn the film only came out a few years ago.
Considering that she was going through her own real-life divorce at the time of filming, there's an authenticity to Audrey's performance in "Two for the Road" that is fascinating (yet painful) to examine. Much like the criminally underrated "The Last Five Years," this movie only works when the talent involved strips down all of their emotional barriers while filming. Hepburn pushes away her typically glamorous persona to instead give her character a more relatable aesthetic, resulting in a performance that is one of her absolute best.
8. The Nun's Story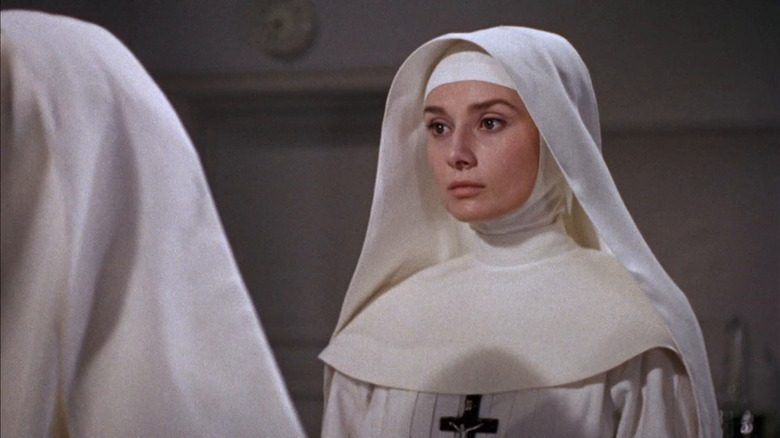 Based on the novel by Kathryn Hulme, Fred Zinnemann's "The Nun's Story" follows a young woman (Hepburn) who abandons her upper-class Belgian lifestyle to help those less fortunate than her. She's eventually sent to the Congo, where she takes on the task of training to become a nurse while constantly having her loyalty and devotion to her beliefs contested. From then on, audiences get to see Sister Luke's evolution throughout these significant challenges within her life, leading to a conclusion that is the definition of both harrowing and beautiful.
Considered one of her more underappreciated movies, Hepburn's performance in "The Nun's Story" truly is of the career-defining kind. Not only did her portrayal land her another Academy Award nomination, but it also garnered her the respect of her peers and critics — especially when it came to her taking home a BAFTA and other award wins. But pushing those recognitions aside, what makes Hepburn's portrayal of Sister Luke so fantastic is her willingness to break away from her usual bubbly persona. Instead, audiences get to see the actress in an incredibly natural and controlled state — one that clearly led to the more exciting choices she made throughout the rest of her career.
7. My Fair Lady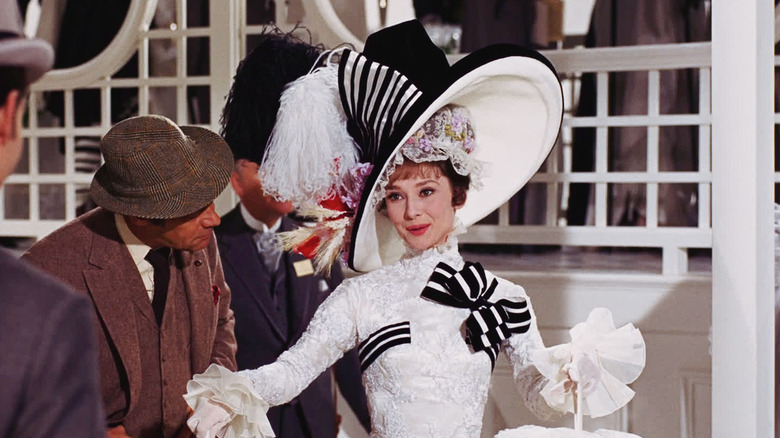 Based on the hit musical by Lerner and Loewe, "My Fair Lady" tells the story of Eliza Doolittle (Hepburn), who becomes involved in a bet between Professor Henry Higgins (Rex Harrison) and Colonel Hugh Pickering (Wilfrid Hyde-White.) The wager in question? Whether Higgins can transform the Cockney accented young woman into a lady of high society — including improving her speech and decorum. But what starts off as a silly venture evolves into a much more complicated situation, especially once Eliza changes the hearts and minds of those around her.
Featuring incredible set design, costumes, and performances, "My Fair Lady" still ranks among the most significant movie musicals of all time; yet, its most fantastic selling point is, of course, Hepburn herself. Sure, her singing portions may have been dubbed over in the post-production process, but that doesn't deter her from what is genuinely a magnificent comedic and theatrical performance — one that stands the test of time much better than some of the show's more problematic themes. Overall, despite its bumpy behind-the-scenes elements (including its awards season controversies), "My Fair Lady" should always be remarked as a delightful point in Hepburn's career.
6. Wait Until Dark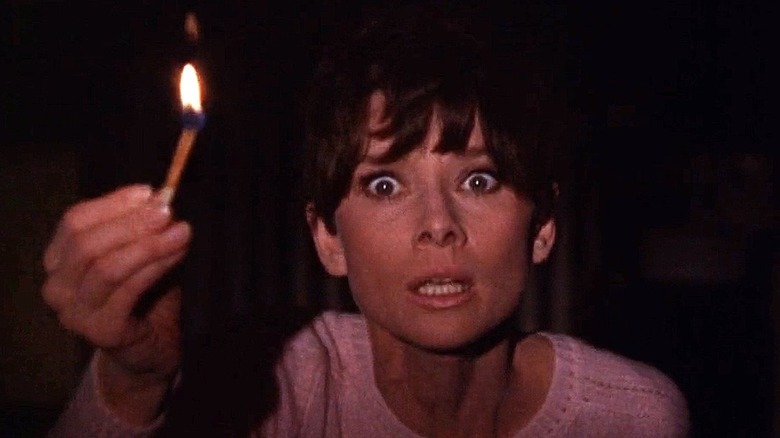 Perhaps the closest thing to a horror flick in Hepburn's career, "Wait Until Dark," tells the story of Suzy (Hepburn), a recently blind woman who (thanks to her husband) becomes in possession of a doll filled with heroin. Now with a group of criminals looking for said toy, Suzy gets wrapped up in the situation, leading her to fear when the thugs might strike. But like the great protagonists of thrillers past, Suzy (like Hepburn) isn't a leading lady to mess with.
Much like other movies on this list, "Wait Until Dark" again proves the range of Audrey's talents as a performer. Sure, the role of Suzy seems like old hat for Hepburn at first. But it is when the film gets towards its more intense sequences does Audrey really get to show why she was more than just a pretty face. Plus, getting to see Hepburn go one and one with Alan Arkin is absolutely terrifying, especially when paired with Charles Lang's haunting cinematography. Overall, if you're looking for a movie where Hepburn steps outside of her usual wheelhouse, then "Wait Until Dark" is a film you must see.
5. The Children's Hour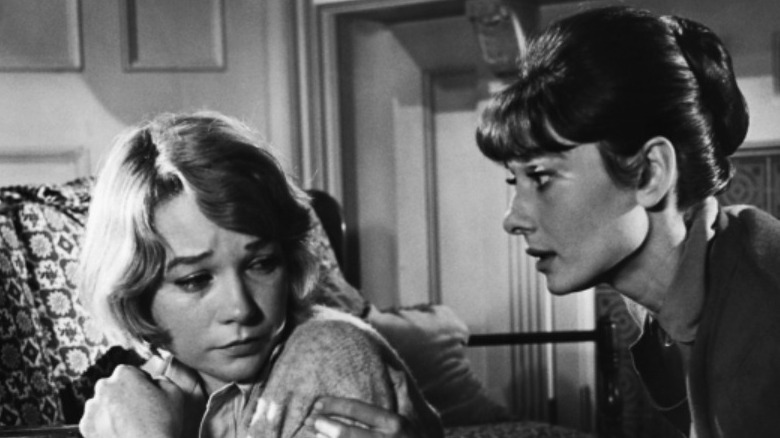 Adapted from the 1934 play of the same name, director William Wyler's "The Children's Hour" stars Hepburn with co-star Shirley McLaine as two bordering school teachers who are accused of being in a lesbian relationship. As the movie continues, audiences get to see the effect of this rumor and the way it transforms the two leading ladies' lives. From students dropping out of their school to their reputations on the line, the film doesn't shy away from showing the ever-changing dynamic between the pair.
While it certainly has its Hays Code era flaws, "The Children's Hour" deserves this high ranking because of how well it captures Hepburn at her most mature as an actor. Though many of the films on this list showcase her endless versatility, Hepburn's work here is a fantastic example of her evolution as a film star. Plus, her chemistry with McLaine is unmatched. These are two talents at fantastic points in their careers who are giving the kind of performances that deserve all the respect in the world. Sure, the film ends on a tragic note; however, it still holds significance for not only its attempts at depicting LGBTQ+ themes but for the incredible Hepburn performance it contains.
4. Roman Holiday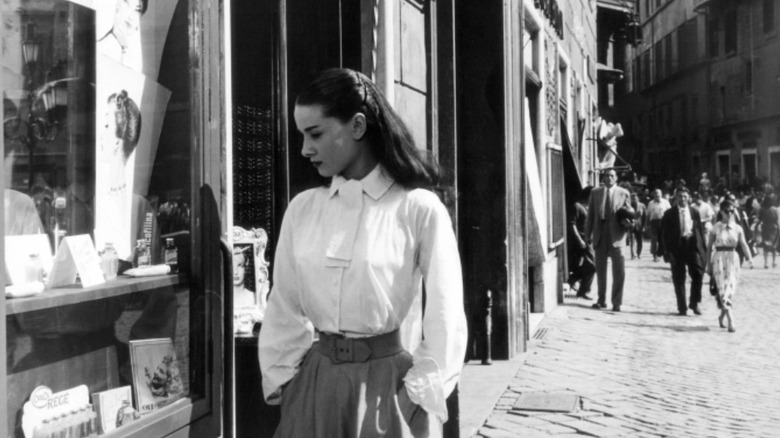 The movie that introduced audiences to Hepburn, "Roman Holiday," is the definition of a cinematic fairy tale. In the William Wyler classic, Hepburn plays a princess who dreams of escaping her routine life for something more exciting. A wish (once she escapes the watchful eye of her staff) comes true amid her visit to Rome. During her travels, she crosses paths with an American journalist (Gregory Peck), who accompanies the young royal on a tour of the area. Leading the two to not only have their lives be changed by their adventure but to fall in love in the process.
First and foremost, it would be an absolute crime to not put "Roman Holiday" near the top of this list. Why? Because it is the project that truly ignited the public interest in Hepburn herself. With her beautiful voice and graceful aesthetic, she was born to play this role; much like Cinderella's shoes, it fits her perfectly. Similarly, she's also well matched with Peck, making their significantly different screen personas a fantastic example of juxtaposition. Overall, if you want to learn why Audrey became such an icon, "Roman Holiday" is (obviously) the best place to start.
3. Funny Face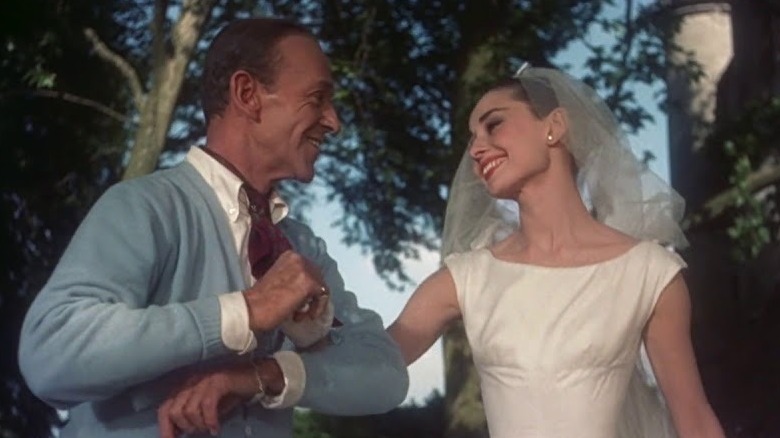 Filled with stunning fashion and even more excellent musical sequences, "Funny Face" is a joyous example of the magic Hepburn brought to so many roles. In the movie, she plays Jo Stockton, a book shop assistant who eventually becomes Quality Magazine's newest model, thanks to the talents of master photographer Dick Avery (Fred Astaire.) The movie then follows Jo and Dick (along with the magazine's editor, Maggie Prescott, aka Kay Thompson ) as they travel to Paris. But like any romantic musical comedy of this era, it's not too long before Jo and Dick fall for each other — leading to some crazy scenarios.
There's no denying that many of Hepburn's earlier movies had a "formula" to them, those being the ones where she transforms from a mousy young girl into a graceful figure. Yet out of all of them, "Funny Face" is easily the most colorful and fun example of these movies. Not only does Audrey shine (especially comedically) as Jo, but unlike many of her other much-older-than-her love interests, she actually has genuine chemistry with Fred. A fact that particularly comes into play during the film's photoshoot montage showcasing the pair's fantastic balance of humor and romance with each other. Plus, it's always a blast to see Hepburn with someone as electric as Kay Thompson, who (when they dance together) light up the screen as quite the quirky duo.
2. Charade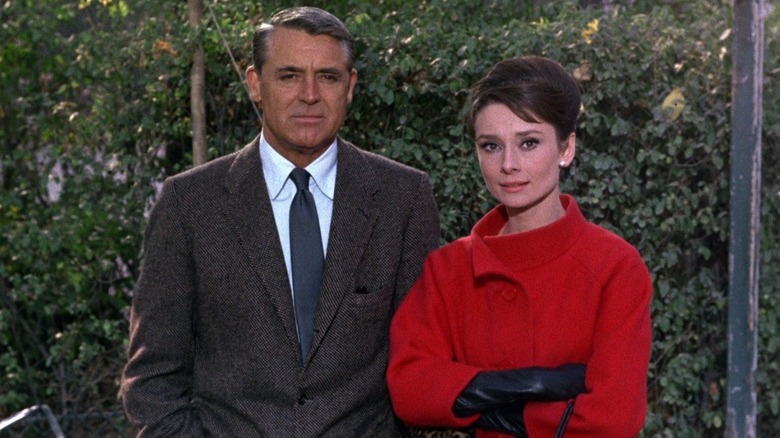 Known for its Hitchcock vibes, Stanley Donen's "Charade" is a romantic thriller filled with Hepburn's classy energy. In the movie, audiences follow Regina Lampert (Hepburn), a soon-to-be divorcee who discovers her husband has been murdered while she was on vacation. As the film continues, it becomes clear that Regina's life is on the line, especially once she realizes that her late-husband's "war buddies" are on the hunt for their friend's rumored fortune. Now on the run, Regina must try to outsmart the chaotic trio while uncovering the truth behind the mysterious new man in her life, Peter Joshua (Cary Grant), without getting murdered along the way.
Despite Grant's star power, it's clear that "Charade" is Hepburn's movie. Not only does she command the camera whenever she's in the frame, but Audrey's brilliant mix of intellect and beauty turns Regina into quite the captivating heroine. It's a combination that makes the character come across less like a damsel in distress and more like a modern woman who can take charge of any situation. Yet despite the acting excellence, this movie does have its awkward elements — particularly the pairing of Hepburn with (yet again) a much older leading man and its clumsy second act. But even with its less-than-flawless details, "Charade" still shines as a top-tier achievement in Hepburn's career. 
1. Sabrina (1954)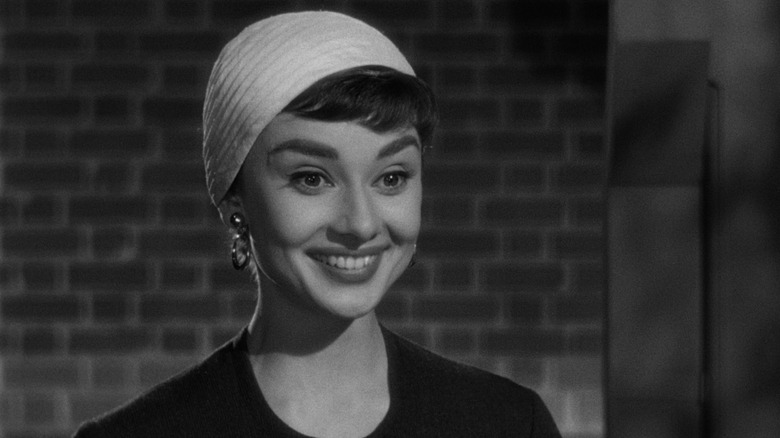 Directed by Billy Wilder, "Sabrina" is one of those movies that checks every entertaining box with ease. The film centers around Sabrina Fairchild (Hepburn), the daughter of the wealthy Larrabee family's driver. Mousy but strikingly beautiful, Sabrina has been infatuated with playboy David Larrabee (William Holden) since she crossed his path. But as David finally starts giving Sabrina the time of day, older brother Linus Larrabee (Humphrey Bogart) begins to take notice of the young girl's charms — all of which results in a rom-com filled with all the witty and glamour audiences have come to expect from Wilder.
Considered by many to be one of Audrey's signature roles, "Sabrina" deserves the top spot simply because it's the movie that defined Audrey's on-screen persona. For much like her other "Cinderella" story movies, it's a film that establishes why she was so good at playing down-to-earth beauties who transformed into glamorous women so well: because she's the definition of likable, and even more so, a symbol of hope and optimism. This makes it easy to see not only why Holden and Bogart's characters would fall under her spell, but also why audiences would too for decades to come.
Read this next: The 19 Greatest Movie Couples Of All Time Ranked
The post The 16 Best Audrey Hepburn Movies, Ranked appeared first on /Film.