The 14 Greatest Thrillers Of The 21st Century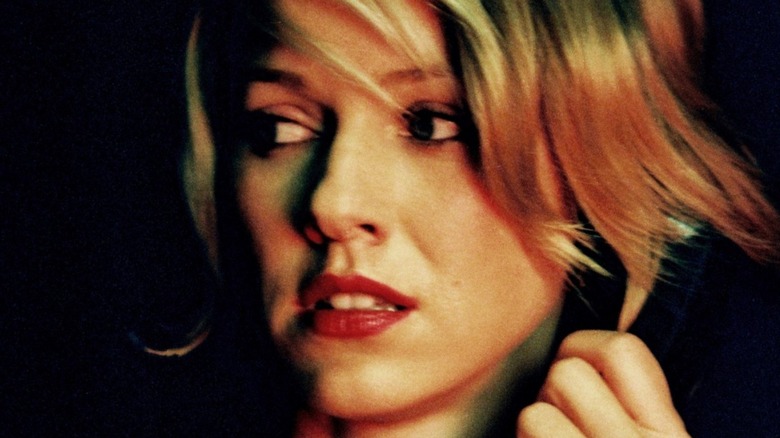 The thriller is one of the hardest genres to define, because thrillers cross over so much with other genres. From the erotic thriller, the psychological thriller, the cold war thriller, the detective thriller, and all the way through to the action thriller — and let's not forget to take a detour into the seedy underbelly of the neo-noir -- this really is the genre that has something for everyone. 
While the '80s and '90s were a heyday for erotic thrillers, the 21st century brought a fresh injection of neo-noirs and action thrillers to satisfy audiences seeking that frisson of danger, criminality, tension, and excitement that define the genre.
For the purposes of this list, I've tried to stay as true to a "pure" definition of the thriller as I can, which means that you will definitely not be finding any horror movies here. With that being said, here are the 14 best thrillers of the 21st century so far.
Memento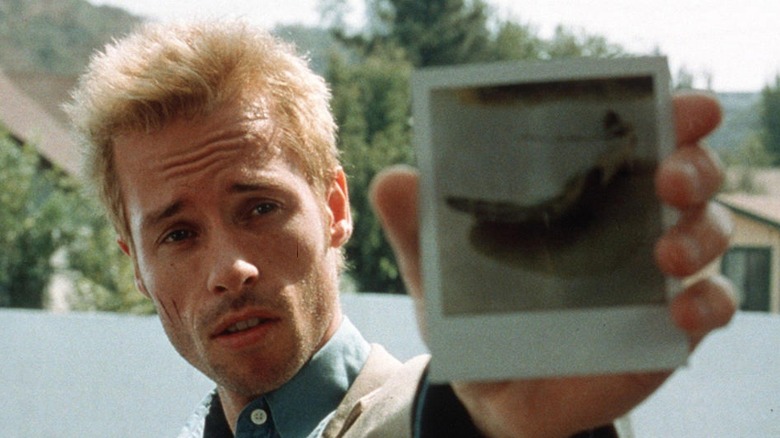 Something of a cult has grown up around director Christopher Nolan, thanks largely to his Dark Knight trilogy and heady sci-fi epics like "Inception," but there is a case to be made that he has yet to better his sophomore feature, which debuted over two decades ago. An LA neo-noir that is ingeniously plotted, "Memento" is a film about memory and amnesia that plays out in reverse, featuring a protagonist named Leonard (Guy Pearce) who cannot form new memories.
Fresh from "The Matrix," Carrie-Ann Moss and Joe Pantoliano co-star in this murder mystery, as Leonard follows clues that he leaves for himself on notes, Polaroids, and, for the most important information, tattoos on his body in an effort to identify the people who killed his wife and left him with short-term memory loss.
Although the screenplay, based on Nolan's brother Jonathan's short story, is an intricate puzzle, we wouldn't care about solving the mystery if it wasn't for the acting, especially by Pearce, who starred in one of the all-time great noirs, "L.A. Confidential," just a few years before. "Memento" was a fantastic thriller to kick off the new century.
Mulholland Drive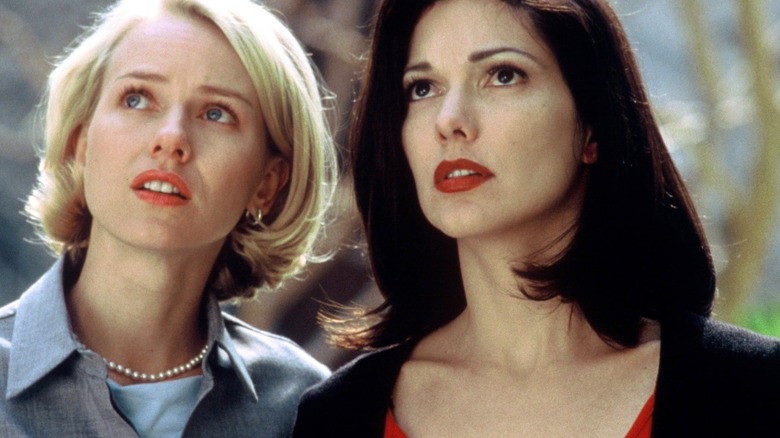 David Lynch is known for his mind-bending approach to noir, seen in the likes of "Blue Velvet," "Lost Highway," and obviously "Twin Peaks." The blurring of identities, doppelgangers, and the hazy line between actors and the roles they play are sources of fascination for Lynch, never more so than in his 2001 feature "Mulholland Drive."In the film, Naomi Watts plays the fresh-faced Betty, newly-arrived in LA from Canada with eyes full of stardust and hope. She arrives at her aunt's house and finds a mysterious woman there named Rita (Laura Harring), who has amnesia. Betty and Rita's investigation into the woman's real identity leads them to the apartment of someone called Diane — and her body.The final third of the film follows Diane, also played by Watts, and her struggles with her girlfriend Camilla, played by Harring. Watts' multiple performances in this film, not least when Betty attends an audition, are extraordinary. Support comes from Justin Theroux as a convincingly douchey director and classic Hollywood star Ann Miller, who plays Betty's landlady, Coco. "Mulholland Drive" is the weirdest film on this list, but would you expect anything less from Lynch?
In The Cut
While the 21st century has offered up a scarcity of erotic thrillers, a few rare gems have snuck through. The great director Jane Campion (who is, of course, from New Zealand) gifted us with a fantastically twisty New York-set thriller in the form of "In the Cut."The headlines at the time of film's release revolved around rom-com sweetheart Meg Ryan going nude and filming explicit sex scenes (while over 40), but there's so much more to this layered, complex work. Mark Ruffalo gives an enigmatic performance as Detective Molloy, who becomes entangled with Meg Ryan's Frannie when he investigates a series of gruesome murders. In a genius touch of casting, Jennifer Jason Leigh plays Frannie's free-spirited sister Pauline.Eventually, Frannie begins to suspect that Molloy might be the one committing the crimes, while also being strongly attracted to him. Kevin Bacon also has a brilliant cameo as Frannie's stalker. Unfortunately, Jane Campion films are few and far between, but thankfully we are getting a new one in 2021 after a 12 year wait!
Memories Of Murder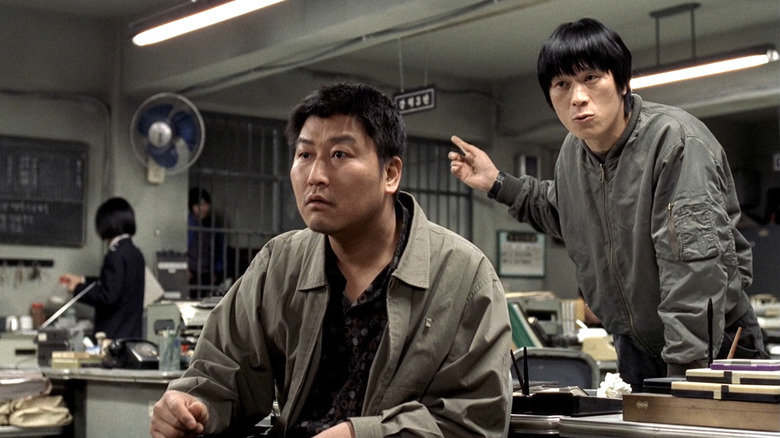 Oscar-winning director Bong Joon-ho has tackled many different genres, but one he handles particularly well is the crime thriller. "Memories of Murder" is based on South Korea's first confirmed serial killings, which took place in the late '80s.
The film follows two detectives who clash on how best to investigate the case. Park Doo-man (Bong's regular collaborator Song Kang-ho) is a local cop who is ill-equipped to take on such a complicated case, which requires forensic skills and equipment that they don't have. Seo Tae-yoon is a younger detective from the big city who is more professional and who does not believe in investigation methods such as "eye contact" and beating suspects.
Bong's signature humor is always present, no matter how dark the subject matter, and is exemplified here by dropkicks that always seem to come from nowhere and end with an embarrassing pratfall. Bong's framing and blocking is masterful throughout, with Seo frequently in the background or the corner of the frame, away from the main ensemble. The real-life case that inspired the film was finally solved in 2019, reminding us that those killed are not the only victims in a case such as this, but also those placed under suspicion and wrongly accused.
Collateral
Michael Mann is one of the best neo-noir directors of all time, with established classics including "Thief," "Manhunter," and "Heat" on his filmography, as well as the 21st century's "Miami Vice" and "Blackhat." Perhaps the zenith of his signature style was achieved in "Collateral," a taut thriller that unfolds over the course of one night in Los Angeles.
In it, Tom Cruise plays very much against type as a gray-haired and gray-suited villain named Vincent who takes Jamie Foxx's everyman cab driver Max hostage as he executes his "hit list." "Collateral" is one of the best LA movies ever, with the neon-drenched streets giving a dream-like veneer to the nightmare unfolding before Max's eyes, especially during the stunning coyote scene.
Cruise and Foxx's performances, and their dynamic with one another as their relationship shifts over the short time they share together, is what makes this so enthralling. Jada Pinkett Smith also delivers one of her typically scene-stealing supporting turns; her chemistry with Foxx is outstanding. Michael Mann is a master craftsman when it comes to constructing complicated characters in difficult situations that we cannot look away from.
A History Of Violence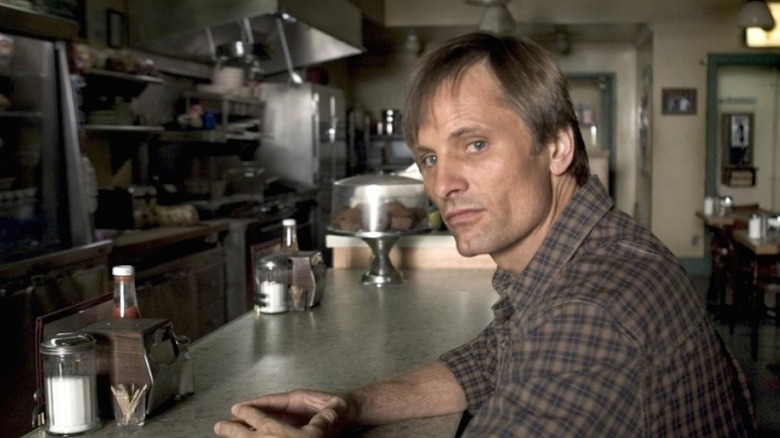 David Cronenberg made two incredible thrillers with Viggo Mortensen back-to-back -- "A History of Violence," which is based on a graphic novel, and "Eastern Promises," set in the Russian criminal underworld in London. The good news is that they have re-teamed once more, and that we have a new Cronenberg-Mortensen collaboration to look forward to.
In "A History of Violence," Mortensen plays Tom Stall, a seemingly perfect family man and the owner of a diner in small-town America. When the diner is held up, Stall displays a hidden and surprisingly violent side, expertly dispatching the robbers with aplomb. The resulting media attention brings an unwelcome visitor in Carl Fogarty (Ed Harris), who insists that he knows that Tom's real name is Joey and that he's from Philadelphia.
Tom tries to protect his family from the truth, but things unravel until he must confront both his past and his brother (William Hurt). Maria Bello is fantastic as Tom's wife Edie -- in addition to everything else, "A History of Violence" has some very memorable sex scenes. Cronenberg and Mortensen have made three amazing films together, and their fourth is hotly anticipated.
The Lives Of Others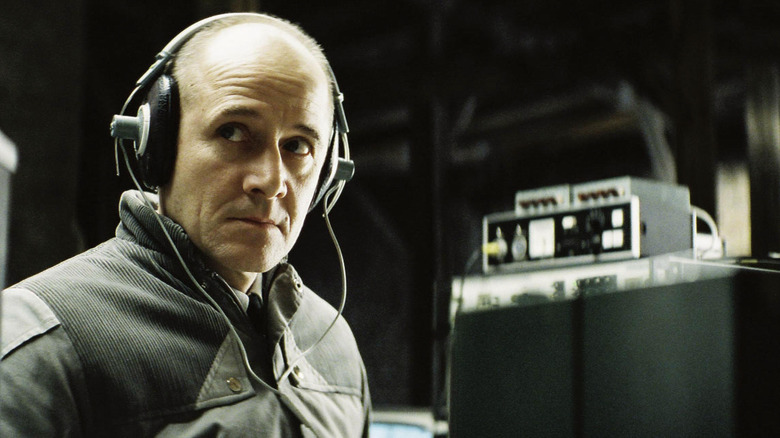 The Cold War thriller is one of the best and most exciting thriller subgenres, and can encompass everything from prestige dramas like "Tinker Tailor Soldier Spy" to the action movie "Atomic Blonde." As such, it's hard to choose just one, but I've gone for one of the first German films to address the period of time in the '80s when the Stasi (East Germany's state security service) was surveilling its own people for signs of disloyalty, or indications that they might be trying to flee to the West.
Ulrich Muhe, who was under surveillance himself as a theater actor in the '80s, plays Wiesler, a loyal Stasi agent who is ordered to spy on playwright Dreyman (Sebastian Koch, who starred in Paul Verhoeven's great war film "Black Book" in the same year). The more that Wiesler discovers about Dreyman and his girlfriend Christa-Maria (Martina Gedek), the more he is drawn to the couple, and he eventually starts to withhold information about them that he should be reporting.
There are some excruciatingly tense scenes as Wiesler feels the Stasi bearing down on Dreyman. He is desperate to intervene, but cannot reveal that he is trying to help the writer. Muhe, Koch, and Gedek give phenomenal performances in this edge-of-your-seat thriller.
Casino Royale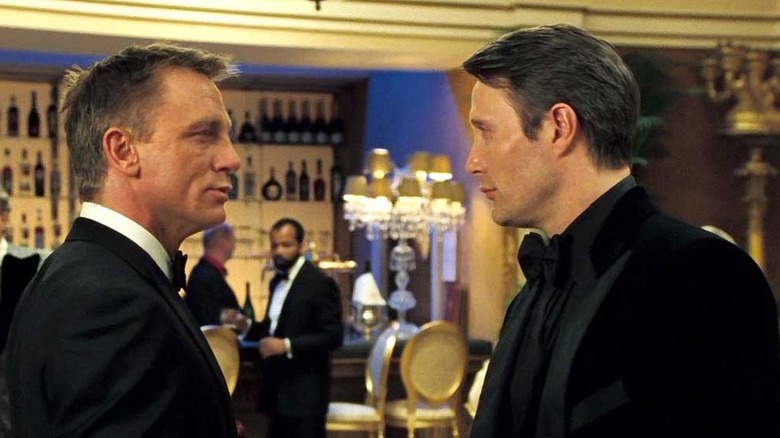 It feels remiss to make a list of best 21st century thrillers without including any entries from the hugely influential Bourne trilogy, on it, but arguably the best knock-on effect of the Bourne franchise was how it reinvigorated Bond. Daniel Craig's first outing as Bond remains his best.
If you haven't re-watched "Casino Royale" recently, it is easy to forget just how densely packed it is -- Bond travels to Madagascar, the Bahamas, and Miami before Eva Green's Vesper Lynd even shows up. Once the action moves to the Montenegro casino, things really kick up a gear, with Bond facing down Mads Mikkelsen's Le Chiffre across the poker table.
This film features a new style of Bond, one who has attachments, (particularly to Judi Dench's M, which was explored more fully in the brilliant "Skyfall"), one who participates in brutal violence, and one who is capable of falling in love. Craig's Bonds have suffered from never having a Bond girl as good as Green again, and Vesper has cast a long shadow over Craig's subsequent outings. 15 years later, "Casino Royale" absolutely holds up one of the best action thrillers of the 21st century.
Zodiac
Thrillers involving investigative journalists can go down the route of "All the President's Men" or "Spotlight" and really focus on the procedural aspect of the newsroom. Thrillers involving serial killers can take a darker, more sinister path and veer into horror territory, as in the likes of David Fincher's "Seven." One of the reasons that Fincher's "Zodiac" is regularly hailed as one of the best films of the 21st century is that it combines these two approaches very, very well.
Jake Gyllenhaal, Robert Downey Jr., and Mark Ruffalo star in the true story of cartoonist Robert Graysmith's fascination with the so-called Zodiac Killer, who terrorized Northern California in the late '60s. The most infamous scene can be summed up with "Not many people have basements in California," which is bone-chilling. John Carroll Lynch's performance as chief suspect Arthur Leigh Allen is also inedible, comparable to Cameron Britton's as Ed Kemper in Fincher's "Mindhunter" series.
Anthony Edwards and Chloe Sevigny are both brilliant in supporting roles. Ruffalo's performance as Detective Dave Toschi (who, in real life, influenced Steve McQueen in "Bullitt") with his custom holster, his bow tie, and his penchant for animal crackers leaves a huge impression, as does Gyllenhaal, who was in his mid-20s but plays Graysmith over the course of two decades.
Drive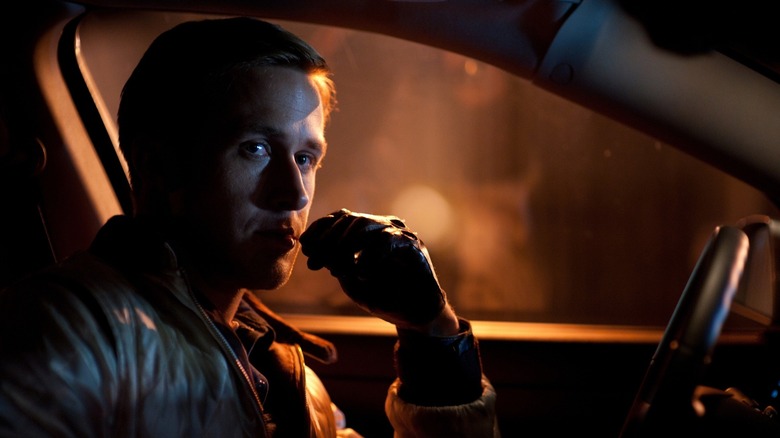 Ryan Gosling plays an unnamed character who is a stunt driver by day and a getaway driver by night in this slick thriller by Nicolas Winding Refn. Although the brutal violence, high-speed car chases, and the driver's iconic scorpion jacket all give this movie a veneer of cool, it's the relationship between the anonymous driver and Carey Mulligan's Irene that gives "Drive" a beating heart that we actually care about.
In addition, in one of his earlier roles, Oscar Isaac plays Irene's husband, who is released from prison and immediately causes problems for the driver. Christina Hendricks, Bryan Cranston, Ron Perlman, and Albert Brooks make up the quality supporting cast. Gosling's minimal dialogue (he says less than 900 words over the film's entire runtime) keeps the driver an elusive figure — he communicates almost entirely through his eyes, face, and body. While he can seem like an empty shell in professional circumstances, Irene brings the driver to life, and Gosling makes it clear that there is depth lurking below the surface.
Gosling would go onto star in "Only God Forgives" for Refn, a film in which he only has 17 lines. "Drive" is one of the coolest action thrillers of the century.
Locke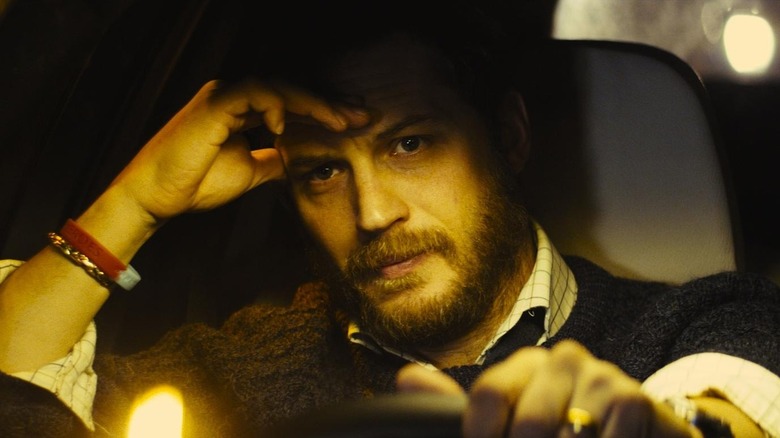 Like "Collateral," this British thriller takes place in a car over the course of one night, although the M6 (the road between Birmingham and London) is slightly less glamorous than downtown LA. "Locke" takes place in real time and stars Tom Hardy as Locke, the only person seen on screen throughout the film.
During the film's 90-minute runtime, Locke makes about 35 phone calls to work colleagues and family members, and talks to his deceased father. While the stakes might not be life or death and mostly revolve around a large concrete pour, writer-director Steven Knight manages to wring tension and high drama from Locke's stressful work situation, as well as the revelation that Locke is having a baby with a woman with whom he had a one-night stand.
Knight gathered some of the UK's finest actors, including Olivia Colman, Andrew Scott, Ruth Wilson, and Tom Holland, to play the people on the calls, which were recorded in real time. Of course, the entire thing hinges on Hardy's performance. He is magnetic as a man whose life is spiraling out of control even as he's stuck on a road that he must travel to face the consequences of his actions. "Locke" proves that you really can make a thriller out of any subject matter, up to and including concrete.
Nightcrawler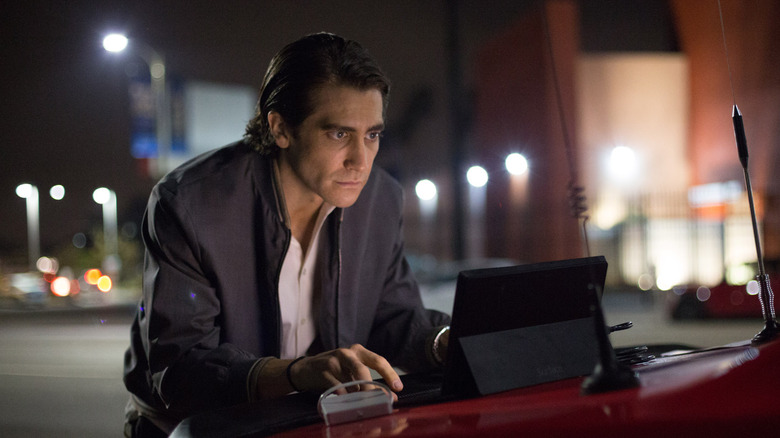 This list could have been half full of Jake Gyllenhaal movies. He's starred in many exceptional thrillers over the last 15 years, including Denis Villeneuve's "Enemy" and Tom Ford's controversial "Nocturnal Animals." But I had to narrow it down to just a couple of movies, so in addition to "Zodiac," I've selected the role that many people believe Gyllenhaal should have won an Oscar for: Dan Gilroy's "Nightcrawler."
In the film, Gyllenhaal plays Lou Bloom, a man so desperate to make it in the world of television crime reporting that he'll go to any lengths to get a story before his competitors, and who soon ropes his assistant, Rick (Riz Ahmed), into his increasingly murky methods. Rene Russo plays Bloom's main contact at the news station, buying footage from Bloom and pushing him to provide more graphic content.
Yes, this is yet another LA-set thriller -- the city's streets are the perfect location for pushing the boundaries of morality and ethics. Gyllenhaal lost a lot of weight to play Bloom, giving him a wild and hungry demeanor throughout. "Nightcrawler" is one of the best LA movies of the century so far.
You Were Never Really Here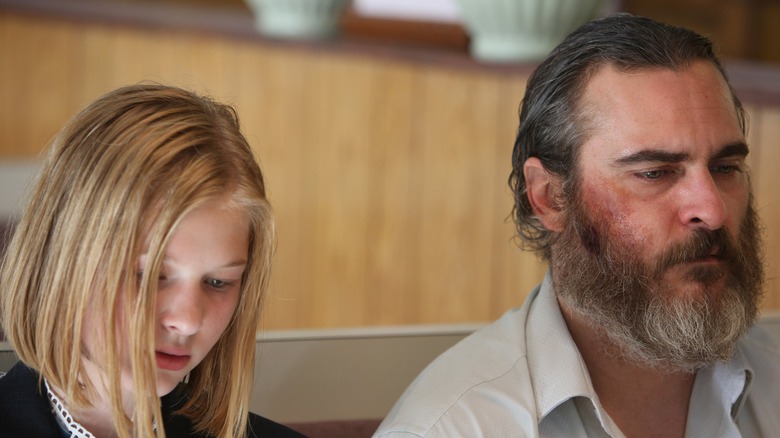 Lynne Ramsay made two independent dramas set in her native Glasgow ("Ratcatcher" and "Movern Callar") before making the US-set family drama-horror movie "We Need to Talk About Kevin" starring Tilda Swinton. Her follow up, "You Were Never Really Here," is set in New York and stars Joaquin Phoenix as Joe, a hit man who specializes in rescuing trafficked girls. Joe is traumatized from the abuse that he and his mother suffered from his father, as well as his time in the military.
A stand-out scene is one in which Joe storms a dwelling that is being used to hold the girls, and we see him entering different rooms and dispatching people with his hammer, via the building's CCTV cameras. Its soundscape, including the sound design, the '50s and '60s pop music, and Jonny Greenwood's score is probably the best aspect of the whole film. "You Were Never Really Here" has some brutal violence and a controversial ending, but Phoenix is a raw wound at its center, giving a performance that you cannot tear your eyes away from.
Destroyer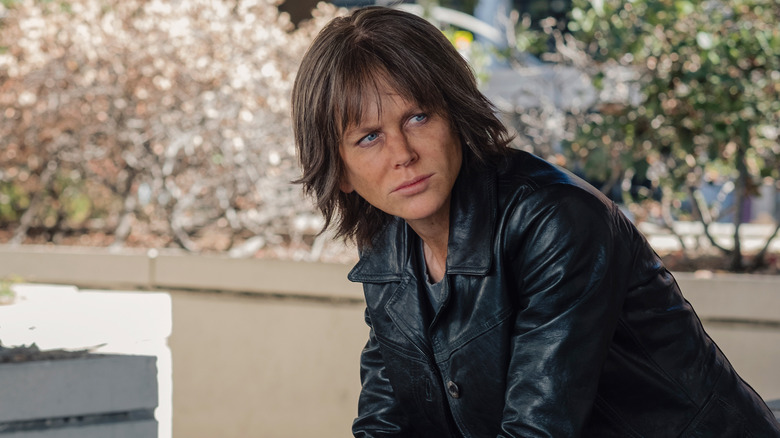 This list started with an LA-based neo-noir that has a complicated story structure and that plays around with time. It ends with one, too. In this brilliant detective thriller from director Karyn Kusama, Nicole Kidman plays Erin Bell, an alcoholic, disillusioned cop investigating a crime from her past. Instead of being set mostly at night like most LA noirs, the cinematography by Julie Kirkwood exaggerates the city's bleached-out, dry, and dusty days. The scratchy, uncomfortable score by Theodore Shapiro is another highlight.
Erin is a difficult, flawed, and selfish woman and mother, which is refreshing to see in a central female role. The narrative is split between the present day and flashbacks to a long time before, during which Sebastian Stan plays Erin's lover. As with "Memento," Erin pursues her past until the two strands of the narrative converge.
"Destroyer" was criminally underseen, as was Carol Morley's New Orleans-set noir "Out of Blue" from the same year, in which Patricia Clarkson plays a very similar role to Kidman's. "Destroyer" is a near-perfect example of a modern LA noir story, and one that deserved a much bigger audience.
Read this next: 12 Awesome Action Movies That Never Got Sequels
The post The 14 Greatest Thrillers of the 21st Century appeared first on /Film.