The 12 Best Zendaya Movies And TV Shows, Ranked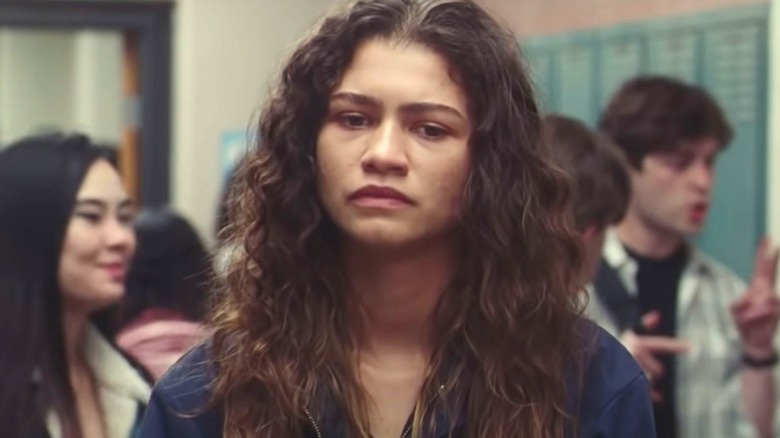 With two Emmys by the age of 26 and over 100 million Instagram followers, Zendaya is arguably one of the biggest celebrities on the planet — and she's just getting started. The multi-talented actress has already played several memorable characters, each one further cementing her status as a major star. From Lola Bunny in the "Space Jam" sequel to one of the most notable Spider-Man characters outside of Peter Parker himself, Zendaya's performances have made her one of the most sought-after young actors working today.
But before Zendaya became the icon we all know and love, she was a "Disney kid," starring in the popular Disney Channel series "Shake It Up." Since her screen debut in 2010, she's ascended from teen star to industry darling, adored by critics and audiences alike. With the smashing success of projects like HBO's "Euphoria," which she both stars in and executive produces, and Denis Villeneuve's "Dune," Zendaya has proven herself an unstoppable force, becoming a bonafide movie star before our eyes. These are the parts that made it happen.
Space Jam: A New Legacy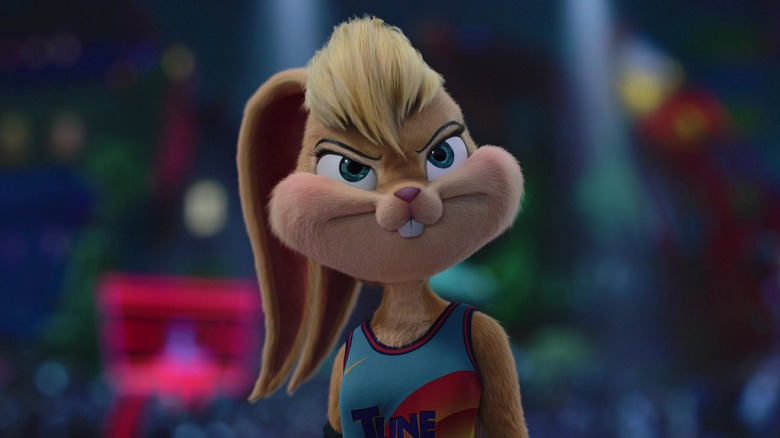 A standalone sequel to 1996's beloved "Space Jam," this 2021 live-action and animation hybrid sees Zendaya play Lola Bunny opposite LeBron James, who plays a fictional version of himself. After he gets sucked into the metaverse, the basketball legend must win a game against AI forces to save his son, and enlists the Looney Tunes squad as his team members. The film was critically panned, and has few redeeming qualities outside of the inevitable feelings of nostalgia that accompany the Looney Tunes characters and the novelty of seeing Lebron James flex his athletic abilities and surprisingly decent acting skills on screen.
Starring in a film poised for middling reviews seemed like an off-kilter move for Zendaya, who's known for her smart career choices, but once the star revealed why, the decision made sense. She was personally asked to join "Space Jam: A New legacy" by Ryan Coogler, the film's executive producer, and couldn't pass up a chance to collaborate with such a celebrated and singular voice in modern cinema. The chance to play a beloved cartoon character, a phone call from the esteemed "Black Panther" director, and her family's love for basketball led Zendaya to accept the role. While it's far from her best part, Zendaya's voice work as the bubbly and sporty animated bunny is the highlight of otherwise generic blockbuster fare.
Smallfoot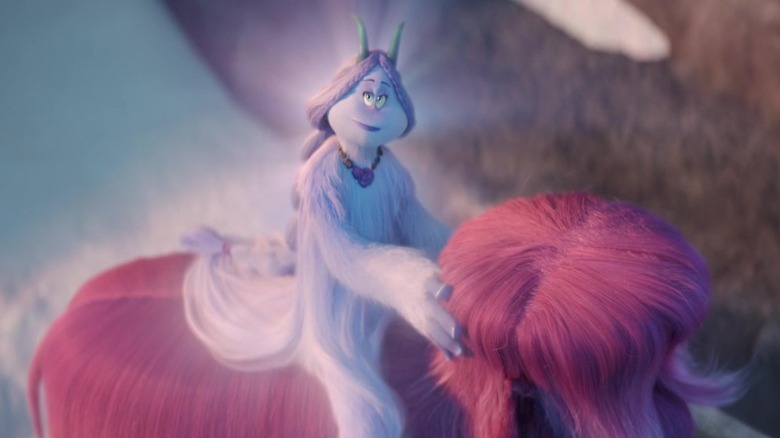 Zendaya is Meechee indeed. Yes, "Smallfoot" is the animated musical that spawned the meme heard around the Twitter-sphere. The children's feature from Warner Bros. follows a village of yetis on the Himalayan mountainside whose community is upended when one member, Migo (Channing Tatum), discovers a human. Raised with the belief that humans are a mythical species, Migo decides to see what else lies beyond his secluded village. The film was positively received, and it allowed Zendaya to show off her musical talents beyond belting out Disney Channel tunes. In the film, she sings the original song "Wonderful Life," a moving, catchy ballad that captures the film's overarching theme: expanding your horizons and stepping outside your comfort zone. 
While "Smallfoot" is by no means a masterpiece, the animated Himalayan mountains are dreamy, with pastel purple skies and snowy peaks that make for dazzling and inspired visuals. Zendaya holds her own among a star-studded ensemble that includes Channing Tatum, James Corden, and LeBron James (yes, again). Joining the film was a smart choice on Zendaya's part, allowing her to cater to her younger fans and showcase her musical talent as she began working on more adult projects.
The OA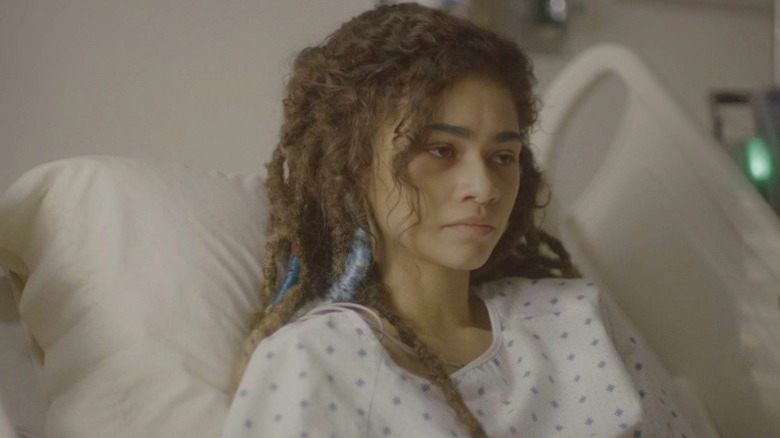 Netflix's "The OA" is, unfortunately, on the ever-growing list of shows with a passionate cult following that ended too soon. The series' cancellation after two seasons sparked petitions and feverish fan outrage, all to no avail. The sci-fi drama follows Brit Marling as the Original Angel, aka "The OA," a blind woman who reappears after going missing for seven years with restored eyesight, claiming she was in another dimension while she was away.  Zendaya appears in just three episodes of the series' second season, which debuted in 2019. She plays Fola, a puzzle enthusiast who is approached by a detective, Karim (Kingsley Ben-Adir), to help find another missing girl. 
While her appearances are brief, each of Zendaya's scenes is powerful, marking one of the first times that the actress sank her teeth into dramatic material. Her performance as Fola, a young girl who uses the world of competitive puzzling to escape her reality, gave us the first glimpse of Zendaya's ability to inhabit the darker parts of the human psyche. Fola's journey lands her in the hospital, where she admits to Karim that she wishes he hadn't saved her from death. Her vulnerability in the scene is deeply affecting, foreshadowing the depths she'd soon go to on HBO's "Euphoria."
K.C. Undercover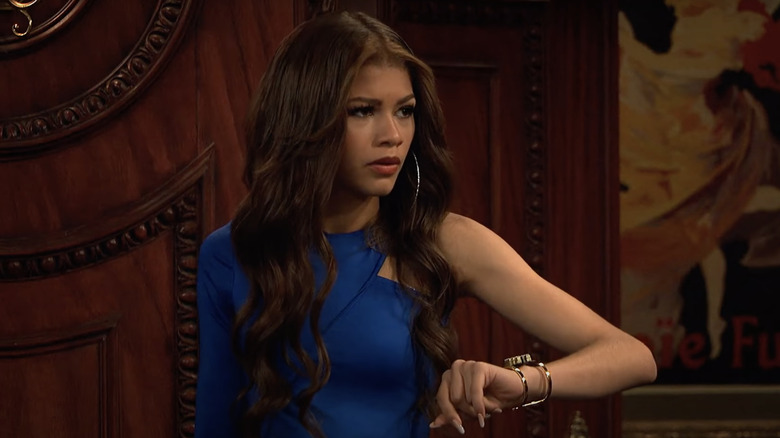 While it's a children's series, "K.C. Undercover" marks a significant step in Zendaya's transition to an adult actress. After playing the aspiring dancer Rocky Blue on "Shake It Up," Zendaya wanted to see a Black family on the Disney Channel and to show young girls that they could aspire to careers outside singing and dancing. At only 16 years old, she took a hands-on role as executive producer in addition to starring in the series as K.C. Cooper, a math genius and the daughter of a family of spies.
As K.C., Zendaya flexed her natural comedic abilities and showed that she's in the driver's seat of her career, willing to produce projects that she believes in as well as acting in them. The series was relatively short-lived, ending in 2018 after three seasons, but the series set itself apart from the slew of Disney shows following pop stars, teenage dancers, and wealthy hotel heiresses by showing children there are plenty of other paths they can follow.
Malcolm & Marie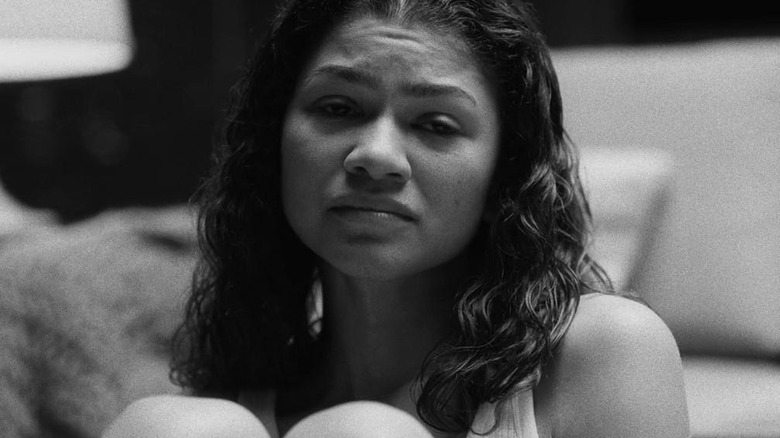 Early in the pandemic, when the world was fully shut down, a surprise shocked the internet: Zendaya, her "Euphoria" collaborator Sam Levinson, and John David Washington had secretly shot a movie in isolation. While "Malcolm & Marie" was kept top-secret until the first still dropped, Netflix quickly snatched up the highly-buzzed-about film for an awards-season release. Filmed in a secluded home, the film details an explosive night between a famous director and his actress girlfriend after he fails to thank her in his acceptance speech at an awards show. Zendaya delivers some of her best work in this film, its dialogue-heavy story allowing her and Washington, the movie's only stars, to show off their dramatic range. 
Zendaya delivers an especially intense and powerful monologue towards the end of the movie, wielding a knife as she tearfully asks Malcolm why he didn't cast her in his film. While her performance is impressive, Levinson's writing veers from tedious to pretentious. Malcolm seems to serve as a stand-in for Levinson, expressing the creator's frustrations with critics and the entertainment industry. While many expected "Malcolm & Marie" to be an awards-season contender, the film was a letdown. Even with its disappointing writing, however, Zendaya carries the film with an effortless grace, commanding the screen and infusing Levinson's dialogue with realism and poignancy.
Spider-Man: Homecoming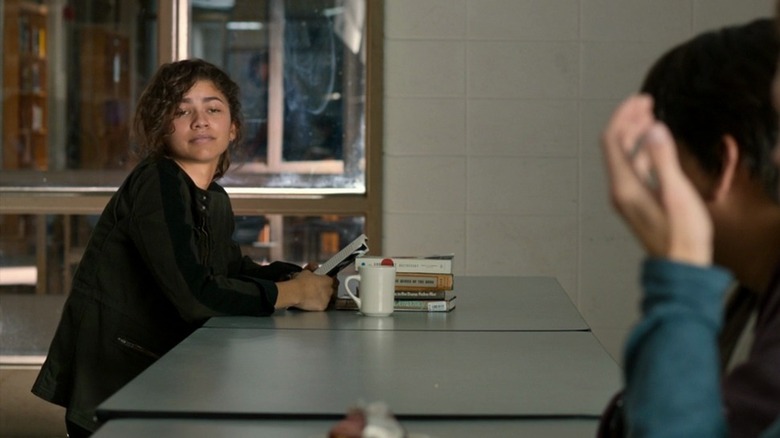 Marvel Studios' version of Spider-Man appeared in 2017 after two prior cracks at bringing the character to screen: the Andrew Garfield vehicle "The Amazing Spider-Man" and its sequel, and the fan-favorite trilogy from Sam Raimi. In the leadup to "Spider-Man: Homecoming," Zendaya was cast as a mysterious character known only as "Michelle," although many speculated that the rising star's role would be more significant. The first of Marvel's trilogy introduced Michelle as a quirky outcast, dancing around the periphery of the film and exuding an air of mystery. She observes Peter (Tom Holland) from afar, clearly growing suspicious about his real identity. While her part in this first film was minimal, her character is one of the film's greatest mysteries. 
In the final moments of "Spider-Man: Homecoming," Michelle tells Peter he can call her MJ, revealing that she's in fact this iteration's version of Mary Jane Watson, one of Spider-Man's two most famous partners. Her role in the subsequent films is far more substantial and nuanced, but in "Homecoming" she planted the seeds of her unique interpretation of the character and MJ's budding romance with Peter. It's the first part of a powerful romantic arc between MJ and Peter; with only a few short scenes, she manages to make her version of Peter Parker's love interest totally separate from Kirsten Dunst's beloved take.
Shake It Up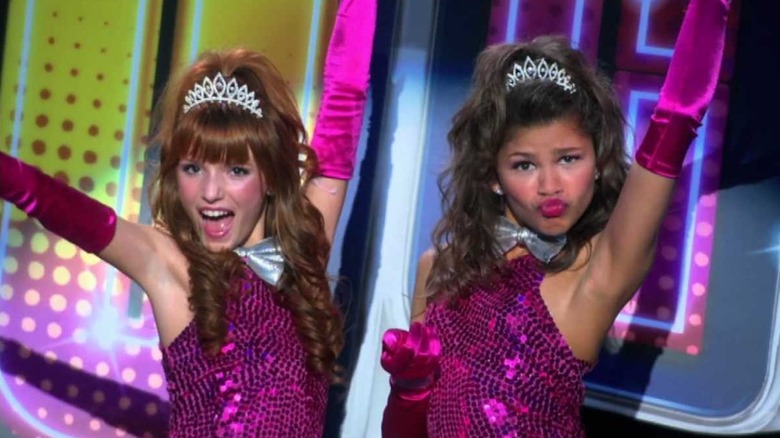 Before she was the multi-award-winning fashion icon we know her as today, Zendaya was the Disney Channel's Rocky Blue, a teenage dancer constantly getting into shenanigans with her best friend, Cece Jones (Bella Thorne). Performers on the local television program "Shake It Up Chicago," Cece and Rocky find trouble on and off the stage. "Shake It Up" is best-known for Zendaya and Thorne's musical numbers, which led to music videos and original songs by Thorne and Zendaya that are surprisingly catchy and helped catapult them both to teen stardom. 
"Shake It Up" displayed Zendaya's effortless sense of comedic timing, and the natural charm that's still present in even her most dramatic work. While "Shake It Up" is children's fare, it's an unabashedly fun time, thanks entirely to Zendaya and Thorne's chemistry; their comedic banter truly shines. The series was an excellent launchpad for Zendaya's career, cementing her as a triple threat with ample charisma and talent.
Spider-Man: Far From Home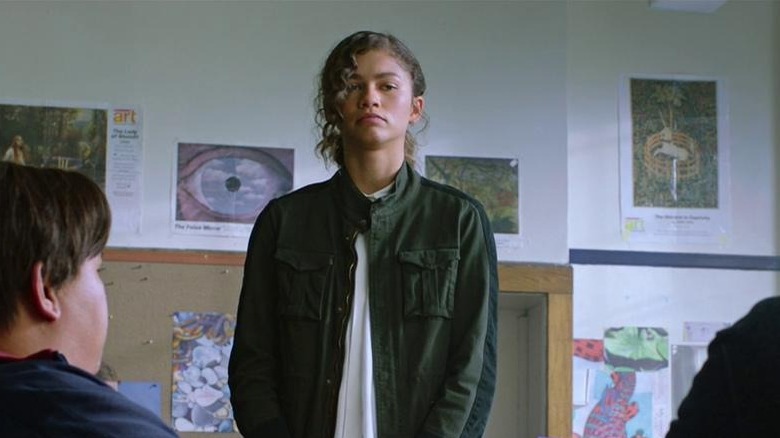 The second installment of Marvel and Sony's Spider-Man trilogy sees MJ become much more important to the central plot, emerging as Peter's love interest and a core member of his tightly-knit friend group. As the crew heads off on a field trip to Europe, teen romance and coming-of-age cuteness ensue, with Zendaya and Holland delivering the most hilariously awkward portrayal of young love. 
This version of MJ is a brightly refreshing subversion of the typical superhero love interest. Zendaya infuses the character with nuance and complexity, revealing more layers in every scene. MJ is unapologetically weird and acutely observant, figuring out Peter's identity before anyone else around him. She captures Peter's heart by being exactly herself. In the second film, Zendaya makes MJ entirely her own, her deadpan wit and softness around Peter making her version of the character stand out. During the film's final declaration of love, for example, Zendaya masterfully plays a critical moment for MJ, who's finally unafraid to reveal her feelings for Peter. It's awkward, funny, and moving, a tight-rope Zendaya walks with expert balance.
The Greatest Showman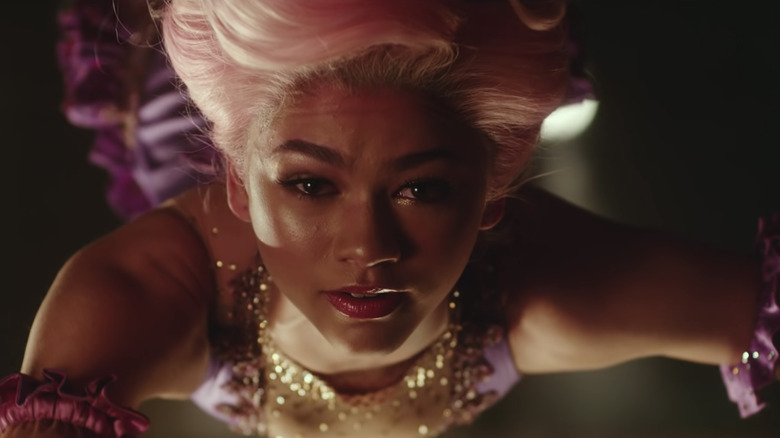 "The Greatest Showman" was a major success critically, commercially, and for Zendaya's burgeoning career. The film cemented her as a triple threat, and offered the best display of her multiple talents yet. It also allowed her to prove her dramatic chops in a way she hadn't before, as her character's romance with Zac Efron's Phillip Carlyle anchors the film in heart-shattering emotion. Here, Zendaya plays Anne Wheeler, a trapeze artist in P. T. Barnum's traveling circus who falls in love with Efron's playwright. 
In one of the film's most memorable musical numbers, "Rewrite the Stars," Zendaya and Efron perform a complex and dazzlingly impressive trapeze routine, soaring through the air as they sing. The sequence is a technical feat, showing Zendaya's impressive dance abilities and giving us the best display of her vocal talents yet. Toward the end of the film, Phillip lands in the hospital after a fire. In the emotionally heavy scene, Anne leans over his hospital bed, crying as she desperately conveys her love for him. The tear-jerking moment is a stunning display of Zendaya's talent, showing us that she can handle more serious, dramatic work.
Spider-Man: No Way Home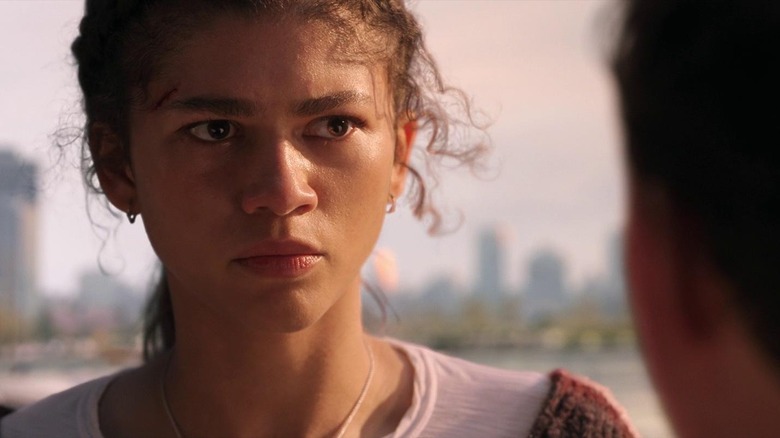 The final film of Marvel and Sony's Spider-Man series — for now, anyway — was the most successful of the three, not to mention one of the most successful Marvel films ever. This can largely be attributed to the film's premise, which united Holland's Spider-Man with Andrew Garfield's and Tobey Maguire's. Amid all the multiverse madness, Zendaya gets her most sizable work in the trilogy yet, revealing new sides to MJ as she falls deeper in love with Peter. Zendaya gets to utilize her brilliant comedic sensibilities in the film, and is responsible for several of the film's funniest moments. In the opening sequence, Peter swings MJ through New York City to escape the chaos below; she hilariously screams, squeezes her eyes shut, and wishes she was anywhere else. Her sheer terror epitomizes Zendaya's subversive take on the character, bringing both humor and realism to a truly ridiculous scenario. 
Zendaya's most dramatic work comes when MJ must say goodbye to Peter in the film's final moments, her voice trembling with the heavy realization that she may never see him again. After MJ's memory of Peter is erased and he visits her at her job, an air of remembrance lurks behind her eyes, faint but just present enough to give us hope for the characters. Zendaya conveys these complex emotions in mere moments with just her expressions, resulting in one of the film's most emotional scenes.
Dune (2021)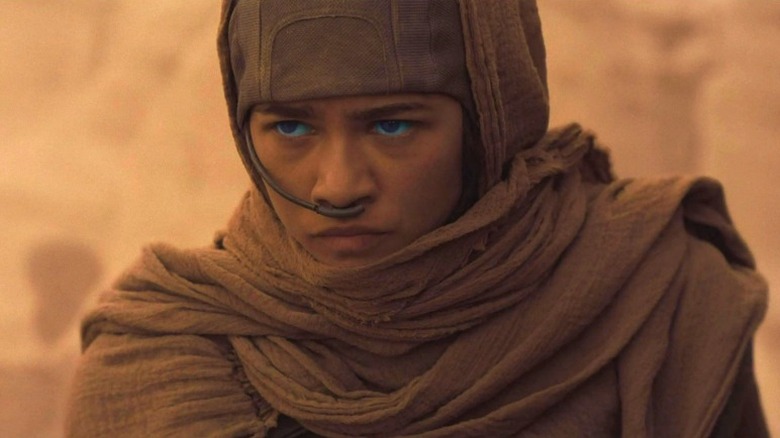 Adapted from Frank Herbert's legendary science-fiction novel, Denis Villeneuve's "Dune" was highly anticipated, with many wondering if even an accomplished director like Villeneuve could adapt the notoriously dense story for the screen. He quickly proved the naysayers wrong, delivering a haunting and dazzling epic that performed incredibly well both critically and commercially. 
With "Euphoria" and "Spider-Man," Zendaya established herself as one of the most famous young actors working today, and her casting as Chani created a large amount of buzz before the film's release. Then, "Dune" came out, revealing that Zendaya has a measly seven minutes of screentime, mostly as part of Paul Atreides' (Timothée Chalamet) dreams. However, while Zendaya's contribution to the first film is disappointingly small, fans of the book know that Chani's role in the series expands significantly. 
Still, Zendaya shines every moment she's on screen. Even in its brevity, her performance is incredibly powerful. Chani narrates the film's last moments, telling Paul that this is only the beginning of the journey. Her presence looms over the film as it looms over Paul, her haunting and captivating aura making a grand impression. As Paul learns the ways of Arrakis and his place in its future, Chani both guides and captivates him, and Zendaya succeeds in conveying her importance despite her limited presence.
Euphoria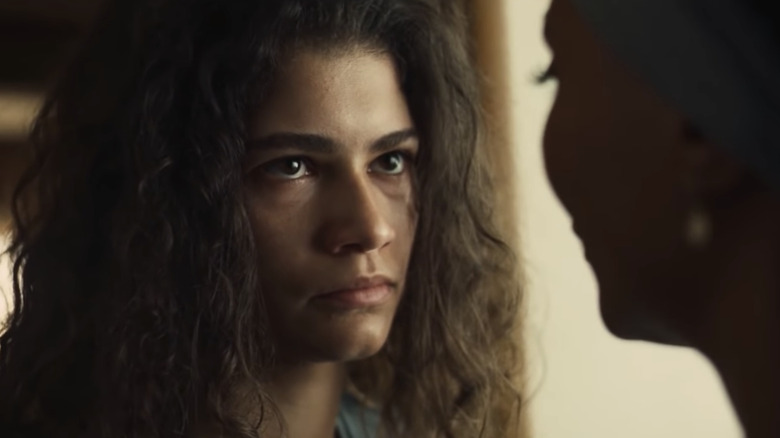 When "Euphoria, the HBO teen drama from Sam Levinson, debuted in 2019, it was surprising to see Zendaya attached to a project so dark and scandalous. But within minutes of seeing her portrayal of Rue Bennett, a teenager suffering from mental illness and drug addiction, any sense of trepidation melted away. Zendaya must perform the series' most intense, harrowing work, tasked with playing a character who could easily veer into unlikeable territory. Episode 5 of season 2 is undoubtedly the best work of Zendaya's career. In it, Rue attacks her mother (Nika King), spewing vicious insults as her sister (Storm Reid) watches in horror. One moment she's menacing, the next she's crumpled on the floor, crying and pleading for her mother to give her drugs back. 
Zendaya imbues Rue's cruelty with a sense of overwhelming pain, making each harrowing decision understandable and empathetic. Awarded 2 Emmys for the role, the universal acclaim she's received has propelled her to new heights as an actress. With such willingness to go to dark places and bring truth to her character's struggles, Zendaya's work as Rue demonstrates how far she's come and the overwhelmingly vast range she has as an actress. From her Disney Channel performances to her heart-shattering portrayal of addiction, Zendaya's body of work proves why she's one of the most loved and lauded young actors working today.
Read this next: The 14 Best Film Acting Debuts Of All Time
The post The 12 Best Zendaya Movies and TV Shows, Ranked appeared first on /Film.