Tales From The Box Office: Wild Wild West Was The Biggest Misstep Of Will Smith's Career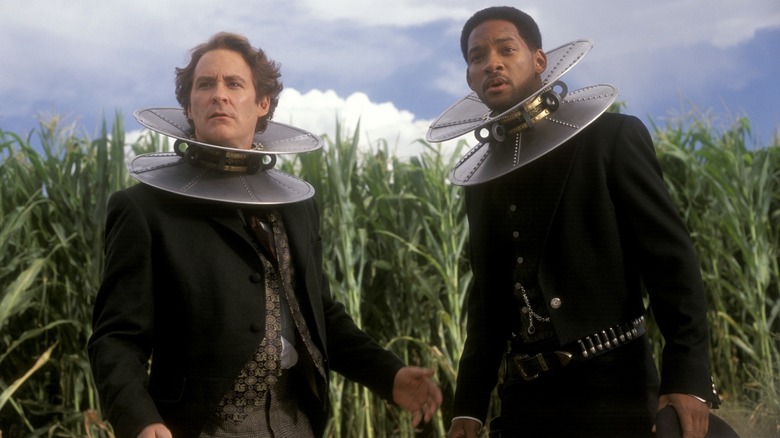 (Welcome to Tales from the Box Office, our column that examines box office miracles, disasters, and everything in between, as well as what we can learn from them.)
There are few stars who will ever (and I mean ever) know the level of success that Will Smith has in his career. Heck, there are artists who would be thrilled to have had a music career as big as his that led to a sitcom like "The Fresh Prince of Bel-Air." Yet, that was all just a preamble for an even bigger movie career, one the likes of which only a few people have ever seen. You're talking about Tom Cruise levels of superstardom. But no well-paved road is without its speed bumps and, for Smith, that speedbump came in 1999 in the form of his infamous flop, "Wild Wild West." And when it came, it came hard.
The run Smith had in the '90s was the stuff dreams are made of. "Bad Boys," "Independence Day," "Men in Black," and "Enemy of the State," all in a row. Not to mention his acclaimed performance in "Six Degrees of Separation" that kicked it all off. Now, that sort of success simply can't be sustained forever and a fall was going to come at some point. But the severity of flop that Smith suffered at a time when he was far and away the biggest movie star in the world? It's almost incomprehensible. Yet, that's exactly what happened. And it didn't have to be that way.
In honor of Smith's latest movie, Apple's "Emancipation," we're looking back at "Wild Wild West," how it came to be after a very long development process, what went wrong along the way, and what lessons can be gleaned from it all these years later. Particularly as, at one point, this was the biggest misstep of Smith's career. That is until the 2022 Oscars and "the slap" happened. Let's dig in, shall we?
The Movie: Wild Wild West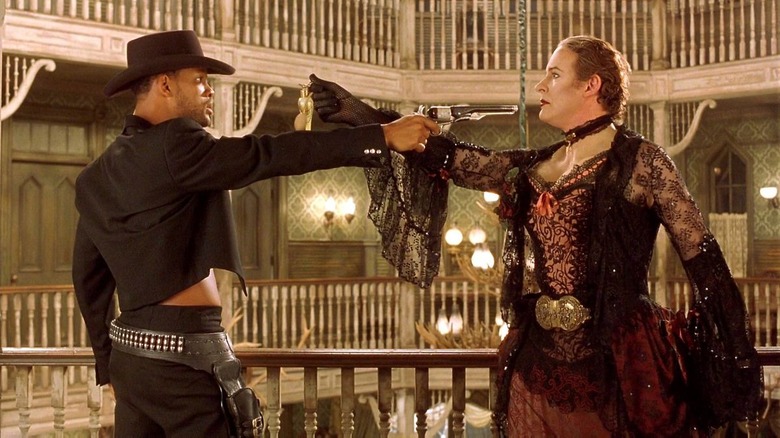 "Wild Wild West" started life as a TV show in the '60s but, as has often been the case in Hollywood, everything old becomes new again at some point. That point came in 1992 when Warner Bros. first obtained the rights to the show, ultimately intending to turn it into a blockbuster film. As is also often the case, the project spent several years in development hell. But the stars eventually aligned. Will Smith was coming off of a fairytale run at the box office, with "Independence Day" ranking as one of the biggest movies ever up to that point, and "Men in Black" shattering records. He seemed a natural fit for the role of Jim West — especially since Barry Sonnenfeld, who had directed "MIB," was in the director's chair. It all made sense on paper.
As for the other half of the equation? As the project was being developed, none other than George Clooney, the star of "Batman & Robin," was eyed to take on the role of Artemus Gordon opposite Smith. Ultimately, that role would be played by Kevin Kline after Clooney dropped out but, in 1999, having Smith and Clooney in the same movie? That's a dream duo for the ages. So, why did Clooney bail? In an interview from 1997, the actor said the following:
"We knew going into this that to make it work would be a stretch, but the opportunity to work with Will (Smith) and Barry (Sonnenfeld) was too exciting to pass up. Ultimately, we all decided that rather than damage this project trying to retrofit the role for me, it was better to step aside and let them get someone else."
One thing that is important to point out is that Smith always had dreams of becoming the biggest movie star on the planet. In his book, "Will," he talks a great deal about literally mapping out his career after the success of "Fresh Prince" to try and make that happen. Much of that had to do with not making the same kinds of movies twice. It was all about giving the audience something different. So yeah, a Western is pretty different from a political thriller like "Enemy of the State."
A Trip To The Old West Instead Of The Matrix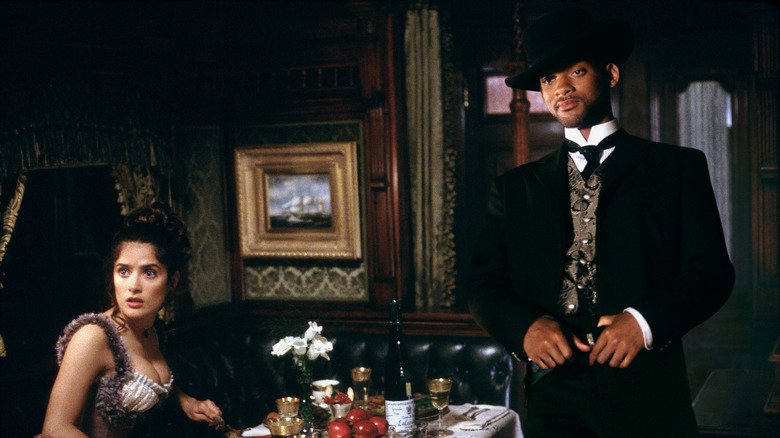 Smith, naturally, had other offers on the table when he was deciding what to do next. Rather famously, one of those offers came from the Wachowskis, who wanted him to star as Neo in "The Matrix." As we all know, that movie went on to become a groundbreaking, influential hit with no rival. And Smith straight-up turned it down to do "Wild Wild West" instead. So when we talk about the failure of this movie, this bit of context is crucial to understand. Smith, speaking in 2019, opened up a bit about this legendarily bad choice.
"After we made Men in Black, the Wachowskis, they came in, and they had only done one movie, I think it was called Bound, and they made a pitch for The Matrix. As it turns out, they're geniuses, but there's a fine line in a pitch meeting between a genius and what I experienced in the meeting. This is the actual pitch that they made for The Matrix. 'Dude, we're thinking like, imagine you're in a fight, then you jump, imagine if you could stop jumping in the middle of the jump.'"
Understandably, that pitch might have been tough to bet on in the room, and after that string of successes, why take the risk? Go with the sure thing, a Western! But if Clooney leaving wasn't a bad omen worth noting, there were other signs this train was destined to crash.
Jon Peters And His Giant Spider
"Clerks" director Kevin Smith has told the story many times, but he famously was hired by WB to write a script for "Superman Lives" in the '90s, with Jon Peters producing the film. Peters, as it just so happens, was also producing "Wild Wild West." Oh, and, really important here, Peters was obsessed with spiders and had been trying to get one in one of his blockbusters for years. As many of you may recall, "Wild Wild West" does indeed conclude with Kenneth Branagh's Dr. Arliss Loveless deploying a giant, mechanical spider. This did not go unnoticed by Smith when he saw the film.
"I was really reminded the next summer when I went to the movies and saw a movie that Jon Peters had produced, and it was called Wild Wild West. So, I'm sitting in the theater watching the movie and I'm like, 'Good lord, this is a piece of s***.' But then, all of the sudden, a giant f*****g spider shows up!"
So, just to recap. We had a movie that had spent several years in development hell, a giant movie star who dropped out, another giant movie star who passed on another gigantic hit to star in this instead, and a producer who forced his very strange agenda into a movie that didn't seem to suit it. Oh, and Warner Bros. let the budget balloon to an absolutely insane $175 million. What could possibly go wrong?
The Financial Journey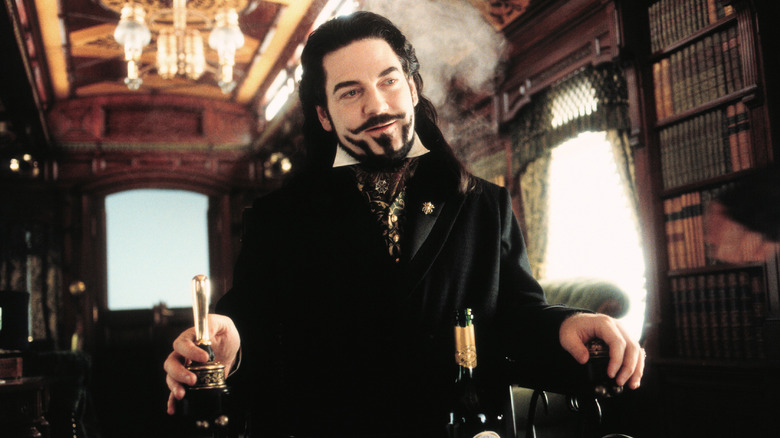 "Wild Wild West" opened in theaters on June 30, 1999, just in time to get in on the long Fourth of July weekend action. Given that Smith had earned the nickname "Mr. July" due to his summertime success, it seemed a good decision at the time. But one can only do so much when distributing a bad movie that cost way too much to make. For what it's worth, the film holds a mere 16% approval rating on Rotten Tomatoes. So yeah, not great. The good news? It topped the charts on its opening weekend, taking in $27 million ($36 across the long holiday frame). The bad news? That wasn't nearly enough for a movie that cost twice that much to produce.
The following weeks brought other big movies like "American Pie" and "Eyes Wide Shut" that would help extinguish any chance of digging this disaster out of a big, ugly hole. In the end, it wrapped up its domestic run with just $113.8 million. Internationally, it did even less, earning just $108.3 million for a grand total of $222.1 million. When factoring in marketing costs, WB was in the red in a big, bad way. A blockbuster disaster the likes of which we rarely see.
For Smith, some saving grace came from the movie's soundtrack, which featured the song "Wild Wild West." Like he did for "Men in Black," Smith and the studio wisely used his talents to promote the film with a catchy tune, one that ultimately made it to the top of the Billboard Hot 100 and helped his album, "Willennium," go multi-platinum. Even in failure, Smith found success on some level.
The Lessons Contained Within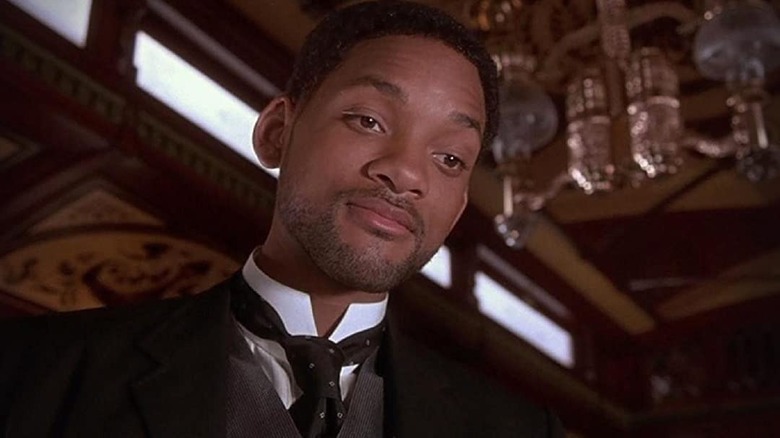 There are some pretty damn obvious lessons sitting here that so often accompany a big studio misfire. A $175 million budget for a Western? Come on now. Few movies of any kind should ever cost that kind of money — and we're not even adjusting for inflation here. It's evident that someone should have hit the brakes and it just didn't happen. There seemed to be an attitude of, "How could we fail?" given the pieces of the puzzle that were on the board. The line between confidence and foolish arrogance can be a thin one.
But let's look at the Will Smith of it all for a second. We're talking about a man who ascended the Hollywood ranks and, through hard work, dedication, and deliberate planning, actually achieved his goal of becoming the biggest movie star on the planet. And it all came crashing down in summer '99. But the man rebounded in a big way (following another misfire in "The Legend of Bagger Vance"). What followed for Smith were two other hits in the form of "Ali," which earned him an Oscar nomination, and "Men in Black 2," a massive hit sequel. It wasn't over for Smith, far from it.
So, looking at the here and now of it all, Smith is once again looking to rebound from what is likely the biggest misfire of his career to date — the Oscars slap. It was a highly public moment in the internet era that dismantled his carefully crafted image in the eyes of some of the public in a matter of seconds. Now, I'm not here to say whether or not Smith should be given another chance following that ugly transgression. Sure, maybe that slap really was the beginning of the end for him. Or maybe he'll find a way to overcome what, on the surface, seems like a career-ender. He's done it before and, if anyone can do it again, it's Will Smith.
Read this next: The 15 Best '90s Comedies Ranked
The post Tales From The Box Office: Wild Wild West Was The Biggest Misstep Of Will Smith's Career appeared first on /Film.