Superhero Bits: The Marvels Gets A Poster, Yet Another Hellboy Movie Reboot & More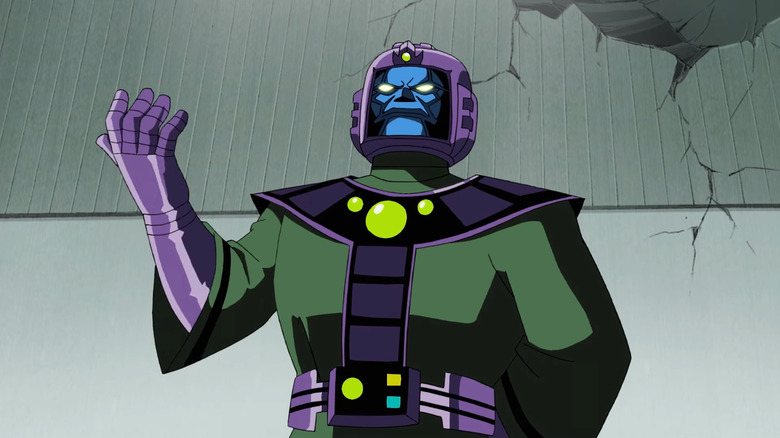 (Superhero Bits is a collection of stories, updates, and videos about anything and everything inspired by the comics of Marvel, DC, and more. For comic book movies, TV shows, merchandise, events, and whatever catches our eye, this is the place to find anything that falls through the cracks.)
In this edition of Superhero Bits:
"The Marvels" gets a poster (and new release date).
The Ninja Turtles are going to crossover with "Street Fighter."
Looks like another "Hellboy" movie is in the works.
"Suicide Squad: Kill the Justice League" gets an official prequel.
Suicide Squad: Kill Arkham Asylum Is A Prequel To Kill The Justice League
DC Comics has announced a new five-issue comic book miniseries titled "Suicide Squad: Kill Arkham Asylum." We've got some preview cover art there but the key thing here is that the book will be a prequel to the long-delayed, much-anticipated video game "Suicide Squad: Kill the Justice League," which is due to arrive later this year. Among many other things, it features Kevin Conroy's final performance as Batman. This book figures to offer a nice primer for what's to come. Look for the first issue on stands on May 30.
Watch The First Episode Of Moon Girl And Devil Dinosaur For Free
Marvel's latest animated series debuted earlier this month in the form of "Moon Girl and Devil Dinosaur" (read our interview with the cast here). It is airing on Disney Channel, while also streaming on Disney+. But for those who have yet to give it a shot, you can now stream the first episode in its entirety for free on YouTube. So, before committing to either tuning in weekly or signing up for Disney+, give it a risk-free taste, if you please.
Teenage Mutant Ninja Turtles Vs. Street Fighter Series Announced By IDW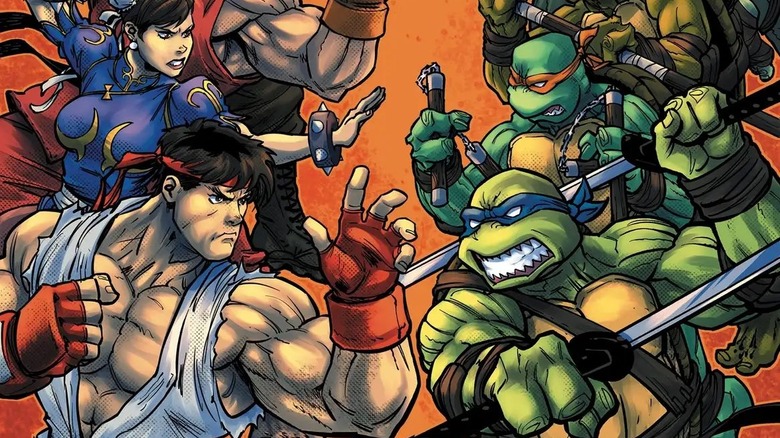 The Ninja Turtles are getting ready for a fight with a somewhat unlikely video game series in the form of "Street Fighter." You read that right! IDW has announced a new five-issue series titled "Teenage Mutant Ninja Turtles vs. Street Fighter" that is set to debut this summer. The book is written by Paul Allor with art by Ariel Medel and colors by Sarah Myer. As for the story at hand? The synopsis reads as follows:
Arriving in Atlantic City to compete in a prestigious fighting tournament, the Teenage Mutant Ninja Turtles quickly run afoul of the world-famous Street Fighter™ crew ... and their legendary Psycho Powered fighting forms! Both eager to show off their moves and prove their mettle in combat, the two teams instantly clash, sparking a crackling rivalry that can only be resolved with fists and steel (and maybe a Hurricane Kick or two). With tensions already maxed, the pressure mounts even further as both teams find themselves embroiled in a wave of mysterious disappearances plaguing the city. Could the tournament's mysterious benefactor be to blame?
"Teenage Mutant Ninja Turtles vs. Street Fighter" #1 hits shelves in May.
The Dark Knight Trilogy Build-A Wave From McFarlane Toys
The folks at McFarlane Toys have unleashed the new Build-A wave figures based on Christopher Nolan's "The Dark Knight" trilogy. Several of the figures from the line were teased over the past couple of weeks, but now the entire line is available from select retailers. The figures are going for $24.99 and are expected to ship in April. Those interested in picking one (or a few) of these bad boys up can find pre-order links by clicking here.
Marvel's Secret Invasion Series Adds Composer Kris Bowers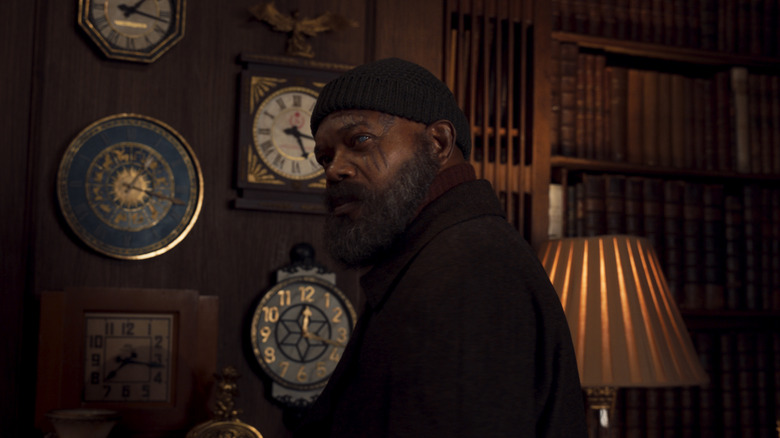 One of Marvel's biggest events of the year is actually going to be coming to the small screen on Disney+ in the form of "Secret Invasion," which is adapting the beloved comic book storyline of the same name. While we don't yet have a release date, it seems like things are moving right along, as Kris Bowers ("Bridgerton," "Green Book") has been added as the show's composer. According to Film Music Reporter, Bowers has already been hard at work on the soundtrack recently, putting a very important piece of the puzzle in place. With any luck, we'll have a release date locked in sooner rather than later but look for it sometime this year.
Funko Reveals New Pop! Figures (And Keychains) From The Flash Movie
The folks at Funko have unveiled some new items that will be hitting shelves timed to the release of "The Flash" movie, which hits theaters on June 16. As we can see, Michael Keaton's Batman, Ezra Miller's Flash, and Sasha Calle's Supergirl will all be getting Pop! figures soon, and each of the figures in question will also have a keychain available as well. No word yet on when the figures will actually be available to purchase but "notify me" links are available through Funko's website.
Looks Like Hellboy Is Getting The Reboot Treatment ... Again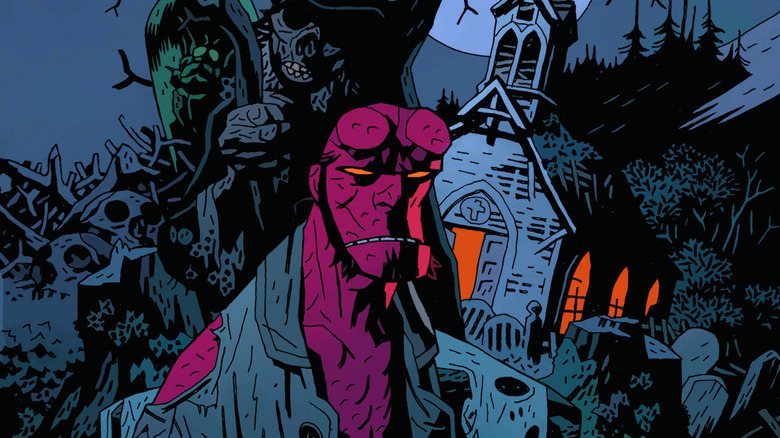 As reported by DiscussingFilm, "Hellboy" is once again getting a reboot on the big screen. Following the critical and commercial disappointment of the 2019 film starring David Harbour, Millennium Media has reportedly tapped Brian Taylor ("Jonah Hex," "Ghost Rider: Spirit of Vengeance") to helm a new film in the franchise. This time, the film will take inspiration from the 2011 Dark Horse storyline "Hellboy: The Crooked Man." Creator Mike Mignola is said to be helping to craft the story alongside author Christopher Golden. No word yet on casting or how soon the studio is looking to get this project moving, but it is very much worth noting that Dark Horse was sold to Embracer in late 2021. That could very well have motivated the reboot, as a means of maximizing the IP that exchanged hands in that deal.
Behold, The First Poster For The Marvels
Marvel Studios has released our first official look at this year's "The Marvels" in the form of the above poster for the film, which serves as a sequel to 2019's "Captain Marvel." The poster comes with the tagline, "Higher. Further. Faster. Together." which is in reference to the fact that Brie Larson's Carol Danvers will be teaming up with Teyonah Parris' Monica Rambeau and Iman Vellani's Kamala Khan, aka Ms. Marvel. Both of them are present on the poster, though the big thing is the release date at the bottom. The film is now due to arrive on November 10, 2023, which represents a pretty significant delay, given that it was previously set to arrive in July of this year. That does, however, give it more room to breathe, with "Guardians of the Galaxy Vol. 3" due to hit theaters in May. It is probably a good move. Though it also means we're probably going to have to wait a little longer for a trailer.
Avengers: Earth's Mightiest Heroes Episodes To Scratch That Quantumania Itch
Lastly, the Marvel HQ YouTube channel has uploaded a couple of episodes of the animated series "Avengers: Earth's Mightiest Heroes" that are seemingly being made available to help scratch the "Ant-Man and the Wasp: Quantumania" itch. With the film hitting theaters this weekend, the channel released "The Man in the Ant Hill," which features three stories centered on Ant-Man and Wasp, as well as "The Man Who Stole Tomorrow," which is a Kang-centric episode. Given that Jonathan Majors is bringing the villain to the big screen in "Quantumania," now seems like the perfect time for such a thing. 
You can stream "The Man in the Ant Hill" and "The Man Who Stole Tomorrow" for free on YouTube.
Read this next: The Most Powerful X-Men Villains Ranked
The post Superhero Bits: The Marvels Gets A Poster, Yet Another Hellboy Movie Reboot & More appeared first on /Film.