Supergirl Star Nicole Maines Is A Perfect Addition To Yellowjackets Season 2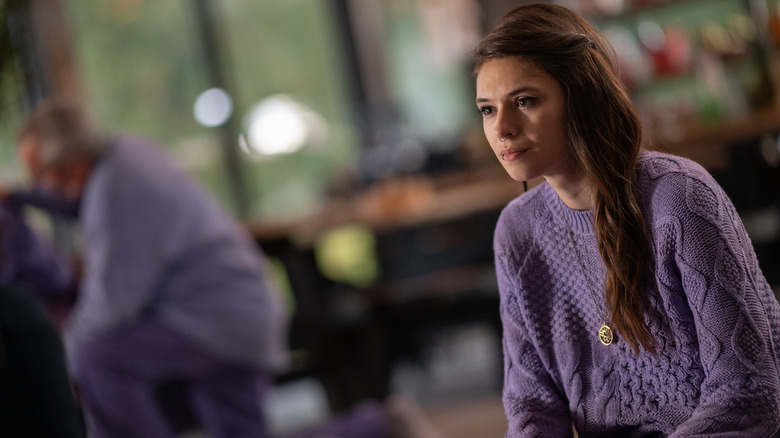 This article contains spoilers for "Yellowjackets" season 2.
While the promise of mysteries, criminal activity, cannibalism, and a story of survival may have gotten most "Yellowjackets" viewers in the door, it has been the complex, fascinating characters that keep folks coming back each week. The major characters of Shauna (Melanie Lynskey, Sophie Nelisse), Taissa (Tawny Cypress, Jasmin Savoy Brown), Natalie (Juliette Lewis, Sophie Thatcher), Misty (Christina Ricci, Samantha Hanratty), Lottie (Simone Kessell, Courtney Eaton), and Van (Liv Hewson, Lauren Ambrose) have given us two different timelines to become our beloved favorites, but there are plenty of supporting characters that audiences can't get enough of, and I'm not just talking about their teammates in the cabin.
It's sincerely impressive that "Yellowjackets," a show that prioritizes the stories of women above all else, managed to make a legion of fans (many of whom are queer) become obsessively protective of Shauna's himbo wifeguy Jeff (Warren Kole). And of course, who could forget the consistent comedic relief that comes from a character like Randy (Jeff Holman), the words of wisdom from Taissa's wife Simone (Rukiya Bernard), or the yet-to-be-solved mystery of what happened to Jessica Roberts (Rekha Sharma) after last season? As "Yellowjackets" reinvents the formula of a puzzle-box show, every character, no matter how small, plays an important part in the show's narrative.
After just four episodes of season 2, it's clear that the stand-out supporting role of the season is Lisa, played by the always-fantastic Nicole Maines.
Where You've Seen Nicole Maines Before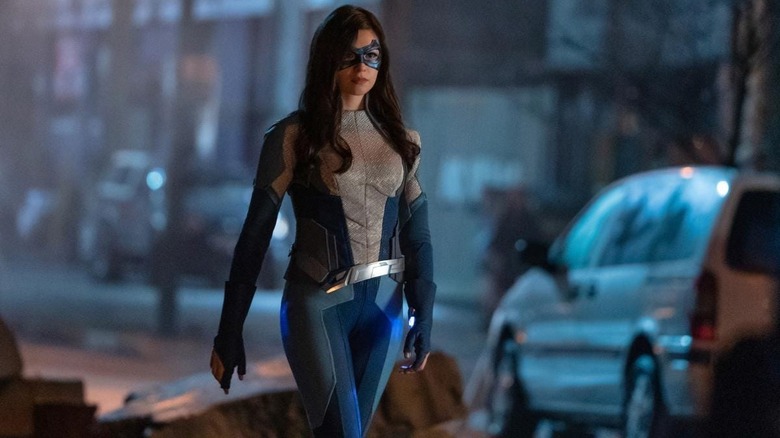 Nicole Maines made her acting debut in 2015 on an episode of "Royal Pains," but she was already a public figure before arriving in Hollywood. Maines first made headlines as a child, the titular Susan Doe in the landmark case Doe v. Regional School Unit 26, the first time a United States court ruled it to be unlawful to force a transgender student to use the bathroom associated with the sex they were assigned at birth rather than their gender identity. She was the subject of the book "Becoming Nicole: The Transformation of an American Family," and featured in the documentaries "The Trans List" and "Not Your Skin."
But everything changed in 2018 when Maines was cast as Nia Nal/Dreamer on the hit show, "Supergirl." Based on and depicted as an ancestor of the DC Comics character Nura Nal/Dream Girl, Maines becomes the first-ever transgender superhero shown on television, and the character later made her comic book debut in the DC Pride #1 issue "Date Night," which was also written by Maines. The character later appeared in "Superman: Son of Kal-El" #13, meaning Dreamer is DC Comics canon, baby!
Maines has also found great success in the horror genre, starring in the criminally underseen intersectional girl gang vampire flick, "Bit," and the Hulu teen horror-comedy, "Darby and the Dead." Considering "Yellowjackets" is a show about (possible) superhuman abilities, horrifying circumstances, and bursting with unapologetic queerness, adding Maines to the cast is a perfect fit.
All About Lisa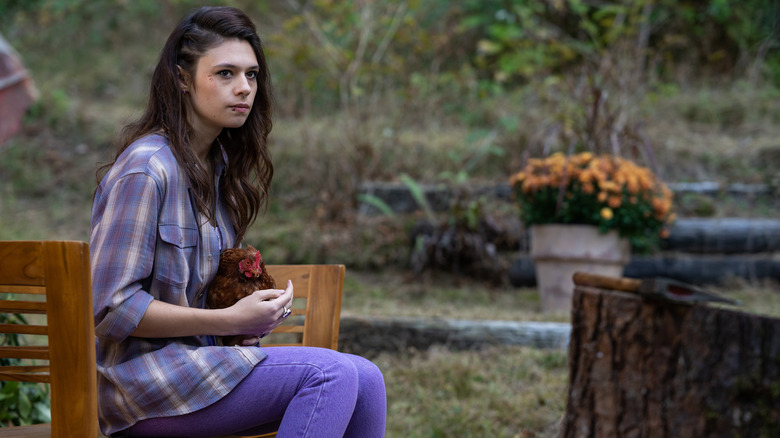 Nicole Maines plays Lisa on "Yellowjackets," one of the members of Lottie's so-called "intentional community" that has all of the trademark signs of a cult. The commune is overflowing with heliotrope-clad followers, but with the exception of "naked guy in animal mask ritual ceremony," "woman asking about lunch to snap Lottie out of a vision," or "woman crying in group therapy session," we really haven't gotten a chance to hear from any of Lottie's followers as to why they've all bought into her personal brand of self-help bulls***. That is, except for Lisa, who provides a much-needed perspective to not just Natalie, but to the audience as well.
Lisa is a young woman with a history of depression and suicidal ideations who has found comfort and healing during her time with Lottie. Tasked with taking care of Natalie after she was kidnapped by the community members, Lisa ends the second episode with a fork stabbed through her hand and into the side of her face. Natalie expresses an extreme act of violence in her attempts to escape the commune, but it's Lisa's response to the event that sparks massive change in Natalie.
Natalie, lest we forget, has had one hell of a traumatic life. Not only did she endure the plane crash with the rest of her teammates, but she also came from an abusive, broken home as a teenager. In the years following their rescue, Natalie turned to self-medicating with drugs and alcohol, bouncing in and out of rehab facilities ever since. Natalie is used to people treating her badly and thinking less of her, so when Lisa shows her genuine empathy, it rocks her world.
A Chance Connection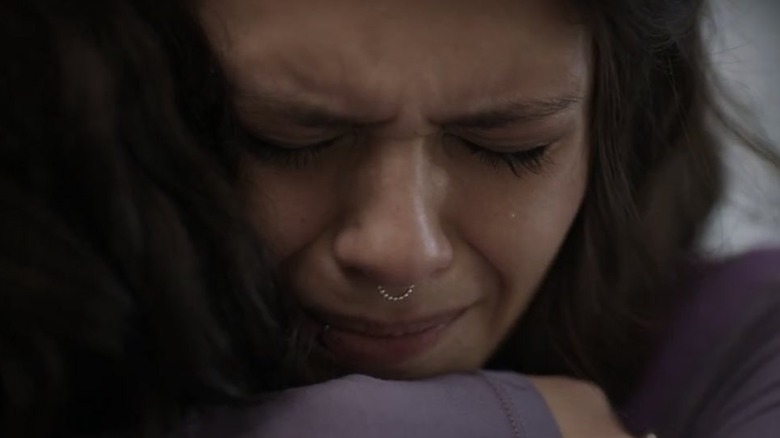 Lottie (or "Charlotte") gives Lisa a weapon, as well as the opportunity to harm Natalie in return for her stabbing. Together, they talk about Lisa's history of pushing down her anger; a result of being taken advantage of by people in her past. It genuinely seems like Lisa is going to explode with righteous aggression, but she instead drops the weapon, hugs her, and tells her that she understands why she did what she did and that she forgives her. Natalie is completely taken aback, but from that moment forward, the relationship dynamic drastically shifts.
Natalie volunteers to assist Lisa at a farmer's market, originally just so she had an excuse to get her hands on Lottie's keyring for the compound. During their one-on-one time, the pair make a pit stop at Lisa's family home, where Natalie witnesses her strained relationship with her mother and gains a deeper understanding of why someone like Lisa might seek out the assistance of someone like Lottie. Natalie knows what it feels like to be disregarded by a parental figure, and she certainly knows what it's like to feel like you have nothing left. After all, the first time she and Lisa met, Natalie was putting the barrel of a gun in her mouth. Natalie sticks up for Lisa in the face of her cruel mother, and the two ditch the farmer's market to stop by a bar for a drink where they discuss suicide in the way that only two suicidal people can. It's a small but deeply human moment and one that inspires Natalie to push aside her shot glass and stay sober. 
Lisa may not have struggled to survive in the woods like Natalie, but that doesn't mean she can't relate to her pain and help her work through it. She's a fantastic addition to "Yellowjackets" and I can only hope she makes it out of the show alive.
Read this next: Every Yellowjackets Main Character, Ranked
The post Supergirl Star Nicole Maines Is A Perfect Addition To Yellowjackets Season 2 appeared first on /Film.