Sam Richardson Is The Latest Addition To The Hocus Pocus Sequel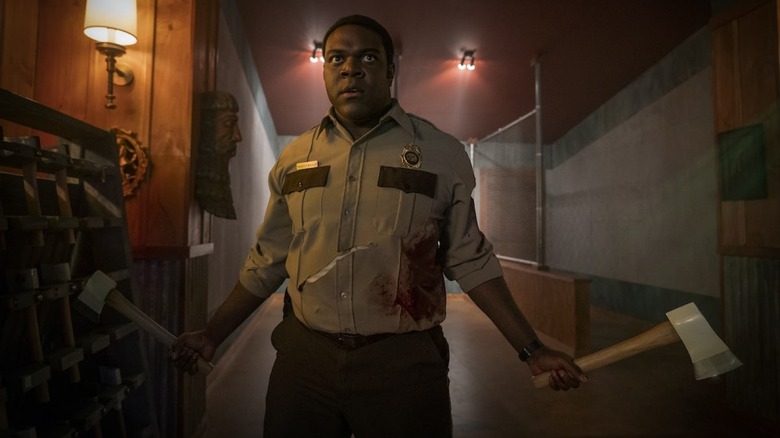 "Hocus Pocus 2" is continuing to come together behind the scenes at Disney, and another key piece of the puzzle has been put into place. The long-awaited sequel has enlisted the talents of Sam Richardson ("Veep"), who will become a new cast member mixing it up with the Sanderson sisters this time around.
According to The Hollywood Reporter, Richardson is in final negotiations to star in the sequel. Details on his role remain under wraps at this time. But he will join original cast members Bette Midler, Sarah Jessica Parker, and Kathy Najimy, who are returning as the trio of witches that were at the center of the original "Hocus Pocus." There is no word yet on how soon production will begin, but the movie is in the works for Disney+ and is slated to debut next year. So that means we'll likely hear much more very soon as cameras should begin rolling shortly.
It's a big role for Richardson whose career trajectory has been nothing but up as of late. He recently starred in the action flick "The Tomorrow War" alongside Chris Pratt, as well as the critically-acclaimed horror-comedy "Werewolves Within." Some of his other credits include "Detroiters," "Mike and Dave Need Wedding" dates, and "Bojack Horseman."
A Flop Turned Cult Classic
"Hocus Pocus" was originally released by Disney in 1993. At the time, it hardly made a splash, failing largely to connect with critics and flopping at the box office, taking in just $44 million. Yet, over the years, its audience grew, in no small part thanks to a constant rotation on cable, and it became a cult classic cherished by '90s kids. It is arguably one of Disney's most beloved '90s movies, period, which is truly saying something. In the original:
After moving to Salem, Mass., teenager Max Dennison (Omri Katz) explores an abandoned house with his sister Dani (Thora Birch) and their new friend, Allison (Vinessa Shaw). After dismissing a story Allison tells as superstitious, Max accidentally frees a coven of evil witches (Bette Midler, Sarah Jessica Parker, Kathy Najimy) who used to live in the house. Now, with the help of a magical cat, the kids must steal the witches' book of spells to stop them from becoming immortal.
At one point, Disney considered doing a remake of sorts without the original cast. Luckily, they thought better of it, and once Disney+ offered a new avenue to finally explore the sequel, things worked out.
Whether or not any of the other original stars will return remains to be seen. Anne Fletcher (The Proposal) is directing the film, with Lynn Harris producing. Adam Shankman, Ralph Winter, and David Kirschner are on board as executive producers.
"Hocus Pocus 2" does not yet have a release date but is expected to arrive in 2022.
Read this next: The 15 Best '90s Horror Movies Ranked
The post Sam Richardson is the Latest Addition to the Hocus Pocus Sequel appeared first on /Film.