Over 25 Valentine's Day Card Ideas to Make with Love
It's almost the middle of February, which means that Valentine's Day is right at your doorsteps. Unlike other years where you may have left preparations at the last moment, we hope that this year you'll have everything ready ahead of time, including Valentine's Day cards.
Of course, a good Valentine's Day card is not just a typical holiday card that's colors pink and red and colored in hearts, it's supposed to be a card that showcases your feelings towards the person you want to give it, and if you manage to choose well, this could make for a meaningful gift.
That's why we've decided to look at some of the best cards out there and take note of what makes them such great Valentine gifts or even just good cards in general:
---
Best Valentine's Card Ideas to Try This Year
For starters, we need to make one thing clear:
There's no such thing as the perfect Valentine's Day card!
For starters, it all depends on what the person receiving the card is like their tastes, and what relationship you have.
Because of that, a Valentine's Day card will only be as good as the effort you invest in making it, and it will greatly depend on how well you know the person.
That being said, bringing together a list of the best Valentine's Day card ideas was no easy task. Still, we did manage to bring together several entries that are bound to fit just about any scenario and satisfy any taste.
More so, don't forget that the entries on our list are merely suggestions, and you don't need to copy them to the letter. In fact, we encourage you to use the designs in our article as a source of inspiration and get creative all on your own!
Homemade Valentines Cards
Nothing says "I mean a lot to me" more than something you made yourself since it's the perfect way to tell that person that they're worth your time, effort, and learning a few extra skills just to bring a big smile on their face.
In the case at hand, if you want to make a good impression, try going for DIY Valentine's cards; they may not be as fancy-looking or as polished as storebought ones, but those rough edges are precisely what will make that person think of you whenever they look at it.
That being said, here are the best DIY Valentine's Day cards to make this year:
1. Pop-up Design Valentines Day Card
Over at Martha Stewart you'll learn how to make a classic, pop-up Valentine's Day card fit for anyone in you life that you love. Personalize, stylize and have fun in its creation!
2. Turtle Lingo – Valentine Card Idea
This card is absolutely charming and perfect for so many of us to give to the special people in our lives. Color it, embellish it and glitter this turtle to let that one person know how they "bring you out of your shell." (via HGTV)
3. Stitched Hearts Valentine's Day Card
If you're good with a needle, learn how to stitch these hearts to a card for a ultra handmade feel and special design. Check it out over at Eigenwerk Magazin.
4. Valentine's Day Cards with Hearts
These blushing hearts could be the perfect way to ask a crush to be your Valentine. You'll find this and a lot of other inspiration over at Neat and Tangled.
5. Heart Bouquet Valentine's Day Card Idea
Stampin' Mom of Four made this heart bouquet and we're swooning over it! We love designs with details and if you want to made something extra special, this is the card to try and recreate.
6. Sprinkle Love – Happy Valentine's Day Card
Sprinkle some love around with this card design from Lawnscaping Challenges. You'll have a lot of fun cutting out the whimsical hearts and creating the cascading style.
7. Button Heart Handmade Valentine's Day Card
American Crafts gives us this rad button card design! It's not only easy to recreate but will look more expensive and keepsake-worthy than a lot of other designs.
8. DIY Valentine's Day Card with Pipe Cleaner

If you hop back on over to Martha Stewart you'll be able to snag this adorable idea! Give your beau a big fat – pipe cleaner – kiss with this fun Valentine's Day card idea!
9. Broken Arrow Valentine's Day Card
There are so many possibilities when creating this card and who to give it to. We love the arrow's addition as well, making it usable long after the message is sent. (via No Biggie)
10. Shaker Valentine's Day Card Design
Use some paper scraps and turn them into a sweet "shaker" style polaroid card. If you visit Crafting Confessions, you'll find the directions and the inspiration!
Funny Valentine's Day Cards
A good sense of humor is something that a lot of people find to be very attractive, both men and women, so there's no harm if you want to bring in a few giggles along with your sweet romantic Valentine's Day card.
The best part about these types of cards is that they work regardless of what type of relationship you have with the other person:
New Relationships – if the relationship is fresh, it's a great way to show them that you can be funny.
Besides, a lot of people may feel a bit of peer pressure during Valentine's Day and may feel overwhelmed if the very first card you ever give them seems overly romantic and serious.
Ongoing relationships – if it's a relationship that's been going on for a while, the two of you probably have a lot of inside jokes by now, so it's a great way to showcase how much you know each other by now.
Without further ado, here are some funny Valentine's Day cards that you should consider:
11. Heart Strings DIY Valentine's Day Card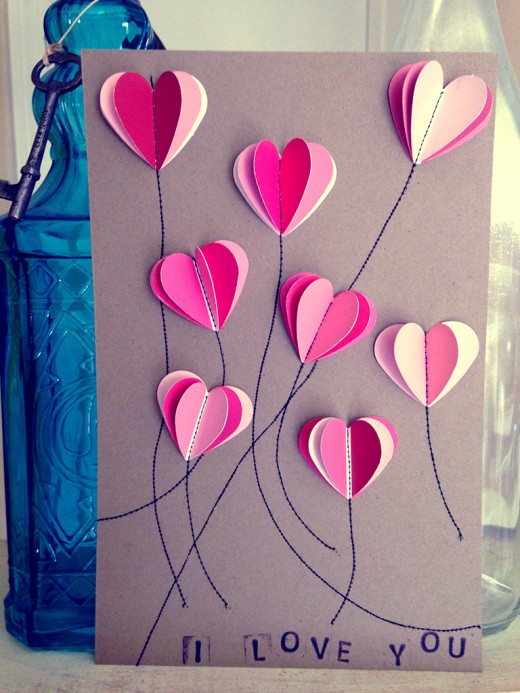 Handmade 4 Cards has some fanastic ideas when it comes to creating DIY V-day Cards and this heart strings ideas is one of the prettiest and most charming on the list!
12. Tic-Tac-Toe Funny Valentine's Day Card
At Vaneart Studio you'll grab a lot of great inspiration including this simple tic-tac-toe card that anyone can personalize for something they love and care for. Even the guys can dive into this design.
13. Perfect Fit Valentine's Day Card Idea
We're absolutely in love with this design from Real Simple. Give a romantic and quirky message to your love with this puzzle piece, "perfect fit" Valentine.
Valentine's Day Cards for Her
Love is a universal language, but there's no denying that men and women react differently when showcasing affection. That's why there are certain ways to make a Valentine's Day card appeal more towards men and ways that make them perfect for women.
Let's start with the best Valentine's Day cards for her:
14. Doily Heart Valentine's Day Card
No Biggie brings up this gorgeous doily heart card that's really hard not to love. Don't you think your mom or grandma would love to have this handmade beauty from you?
15. Sending Love – Valentine's Day Card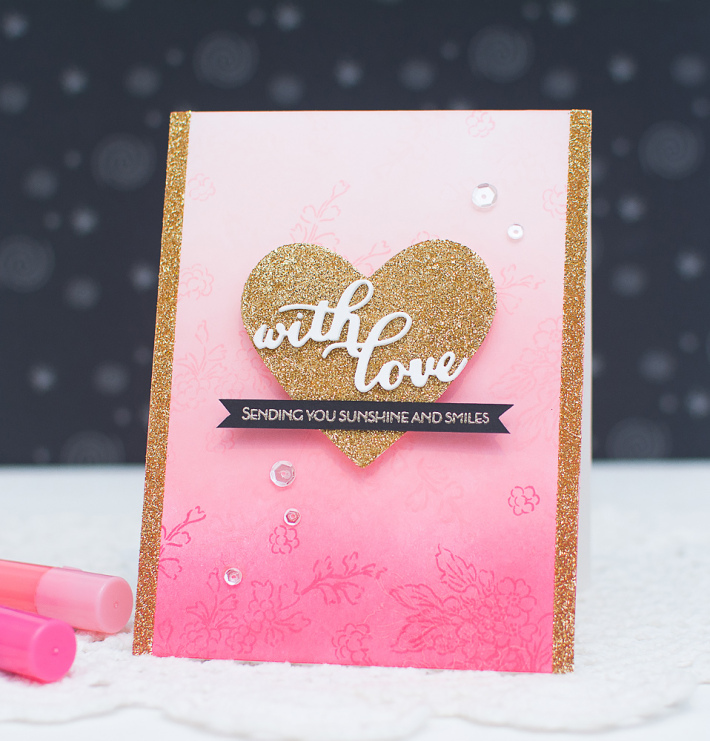 Mayoholic in Crafts gives us this gorgeous, sparkling heart that you can send off and surprise someone you love. Just imagine them opening this handmade piece after a trip to the mailbox.
16. Raining Love Valentine's Day Card
Downstairs Designs made a design that's my personal favorite of the bunch. Create a card that's "raining love" on one of your favorite people in your life!
Valentines Day Cards for Him
As mentioned earlier, men like knowing that they are loved as well, so if you're planning to make that special man in your life feel special, here are some perfect Valentine's Day cards that will make him blush right under his otherwise manly demeanor:
17. A Custom Card with Your Picture
Investing in precious moments together is more important than anything else, so a good way to remind him of the best times you've had so far together is to make a Valentin's Day card that includes pictures with both of taken from various occasions.
If the two of you have been together for a very long time, deciding which picture(s) to include in the card may seem difficult, but the key here is to use pictures taken on very special occasions:
First date

First trip together

A wedding photo, etc
This particular card idea is pretty popular primarily because you can easily make it as a DIY card by using cutouts from printed pictures of you two or working strictly in a digital environment.
Just use a photo editing tool to incorporate your photos into the card's design, and then simply print it as it is.
18. A Custom Card with Your Caricatures
If you loved the previous entry but want to try something that leans more funny than romantic, you could try a custom Valentine's Day card to include caricatures of the two of you since these will make him smile.
For example, this Etsy entry lets you create amazing cards that include caricatures of the two of you, and the card designs can be modified to suit a wide variety of special occasions, such as Valentine's Day, weddings, engagements, or anniversaries.
Suppose you like the idea but would prefer a more personal approach. In that case, you could also try using one of the many PC or mobile apps that can automatically create caricatures of the photos that you already have.
The idea is simple, yet it shows that you have a very positive opinion about how the two of you look together. He's going to like the card, especially if you remind him through the card message just how important he is to you.
19. Pixel Hearts Valentine's Day Cards
Check out these pixel heart cards from Minieoco! We love the modernism and innovation and the best part is that you can follow their template to recreate your own.
Valentines Day Cards for Kids
In most cases, it is the adults who reciprocate when it comes to showing affection on special occasions such as this one, but if you have kids, feel free to take the lead and let them create their own homemade Valentine's Day cards for their peers at school or in kindergarten.
It will be a great way to teach them how fun it can be to come up with your very own unique craft project while harnessing their creativity and imagination!
Just because they're children doesn't mean they don't expect a sweet and romantic message inside the Valentine's Day card. So, make sure to include a subtle but meaningful touch of romance in their cards as well – you can use simple but beautiful sentences such as "You're my sunshine" or "Thank you for always making me laugh."
Here are some perfect examples of Valentine's Day cards that your kids can make:
20. Kissing Hand Valentine's Day Card
This is a great idea to give to your little ones, especially if they're a fan of the children's book, The Kissing Hand. Find out the details over at Buggy and Buddy.
21. Glitter Hearts Valentine's Day Card Ideas
You'll have so much fun utilizing glitter or even some glitter paper when creating some of these 3-D sparkling hearts. Create something magical for your best pal, mom or sister with this design. (via Handmade 4 Cards)
22. Festive Banner Valentine's Day Cards
Create an adorable and festive banner for someone you love like this pretty design from Vaneart Studio. It's easy to recreate but also detailed enough to show off your skills!
Printable Valentines Day Cards
If you're not all that into papercraft or working with supplies like colored paper, costume jewelry, or glue, another great way to make a good-looking Valentine's Day card is to work with printable Valentine's Day cards.
If you do so, all you'll have to do is follow these easy steps:
Print your desired design on a piece of cardboard

Fold the printed cardboard in half

Write a sweet message on the inside
The best part about these types of Valentine's Day cards is that they are the perfect choice for those looking to blend DIY work while still attaining a store-bought look.
That being said, here are the best printable Valentine's Day card ideas that you can try out this year:
23. Make Your Own Designs
Suppose you're particularly good at either drawing or graphics design. In that case, it'll be very easy for you to create Valentine's Day cards that will be 100% original and made specifically for that special person in your life.
If you prefer digital art, go ahead and use a graphics editing tool like Photoshop, Illustrator, or GIMP, and when you're satisfied with what you've created, save it as a high-quality BMP to print it later.
If you prefer to draw by hand, simply create your design and then use a scanner to create a digital copy for later printing.
Sure enough, the only problem with designing your own Valentine's Day cards is that no matter how fast you can draw, a lack of inspiration can always stop you dead in your tracks.
Besides, when you realize that you can create a Valentine's Day card just the way you like it, you suddenly become a perfectionist and may end up wasting hours just to add details that may or may not go unnoticed.
24. Use Existing Templates
More and more people like to print their designs, so many merchants have shifted from selling physical Valentine's Day cards to selling the templates in digital forms that users can later print out to their heart's content.
The good news is that there are tens of thousands of designs out there, so there is very little chance of gifting someone a Valentin's Day card that they have received already.
However, unlike creating your designs, most websites offer no editing tools for you to tweak your Valentine's Day card templates, so you're stuck with what they have in their library.
On the other hand, if you don't have any time to spare and just want to get something printed as soon as possible, opting for a template may be your best choice yet.
One thing you may not know is that there are plenty of websites out there that offers free Valentine's Day card templates, and these include:
These websites are completely free, and they even offer some editing features for you to tweak the templates and make them suit your needs precisely.
What to Write In a Valentine's Day Card
The two main components of a good and impactful Valentine's Day card are the following:
The card's design

What you write inside the card
So far, we've listed plenty of designs for you to consider, so it's time we paid a little bit of attention to what exactly you'll be writing inside the cards.
For starters, keep in mind that the message inside the Valentine's Day card will have a greater impact than whatever the outside of the card looks like, so make sure that you pour most of your time and effort into the content.
You see, a message straight from the deepest bottoms of your heart will always be worth more than anything, so if you manage to compose a beautiful and meaningful message, you can get away with a simple pink Valentine's Day card.
Another thing to remember is that the impact of the message also depends on how much you know the person, so if you manage to write something that shows them that you truly understand how they tick, you'll be sure to deliver a knockout Valentine's Day card.
With that in mind, here are some tips and tricks to help you compose a meaningful message inside the Valentine's Day card:
Speak from the heart

Don't write messages that seem forced (especially in new relationships)

Be creative and witty

End the card with a heartfelt message
The Perfect Valentines Day Card Messages
The term perfect is relative, but since it's a word that's often used to refer to something flawless, there's no exception here because we would all like to create the perfect Valentine's Day card messages.
With that said, we've compiled a list of some examples to help you compose the perfect Valentine's Day card:
1. Write about Love and Affection
An easy way to compose a heartfelt message is by talking about love and affection.
Regardless of how well you know the person, this will work, so feel free to share your deepest feelings without worrying too much! After all… isn't this Valentine's Day?
"My favorite place is here with you, where time stands still and nothing else matters."
2. Compose a Poem
Not everyone is born a poet, but creating a rhyme that isn't too forced isn't too difficult either, and it's a great way to show that you went through some extra effort to create the perfect card.
Besides, you could always use the help of the good old "Roses are red…" poem to start your own, as the examples below:
Roses are red,
Violets are blue,
Valentine's Day's worth celebrating,
With someone like you!
3. Use a Poem from Their Favorite Author
If the person you're making the Valentine's Day card for is into literature, chances are you may feel like whatever you may end up writing may not be enough.
If that's the case, you could always try and find out who their favorite poet is and then use a poem of theirs that relates best to your current relationship.
This may seem like cheating at first, but the simple fact that you remembered who their favorite author is will be more than enough to show that person that you've put a bit of effort into the Valentin's Day card.
4. Write an Honest Heartfelt Message
If rhymes aren't exactly your thing, but you still want to write down what you feel about that special person in your life, then go ahead and do it.
It doesn't have to rhyme, it doesn't have to have a tempo, and it doesn't even have to be written using fancy words or stylish fonts; it just has to be sincere and from the heart.
Many people feel exposed when writing about their feelings. Still, if the person reading your Valentine's Day card message is the right one for you, they will appreciate the fact that you willingly opened up to them entirely.
---
Best Valentine's Day Cards: Closing Thoughts
We've arrived at the end of our article, but since we're not quite done yet, it's time for some final words.
We hope that you've enjoyed reading about the best Valentine's Day cards and that we managed to give you a starting point as to how you can create your very own card so that you can show that special person in your life just how important they are to you.
If you have other amazing ideas and would like to share them with the world, go ahead and leave us your suggestions in the comments section below, and we'll be quick to update our guide well before Valentine's Day arrives!
Don't forget that the perfect Valentine's Day card is one in which you invested time and effort, so get started designing and creating your card as soon as you're done with our guide!
Happy Valentine's Day, and good luck creating your cards!
The post Over 25 Valentine's Day Card Ideas to Make with Love appeared first on DIYs.com.