October 2022 Horoscopes and Book Recommendations
Reading the Stars by Book Riot will help you better understand how your zodiac sign shapes your reading life. Publishers Weekly calls Reading the Stars "an ideal gift for bookworms with a celestial bent." Through October 31, enter to win Book Riot's Reading the Stars with an Obvious State celestial print, notebook, and tote bundle.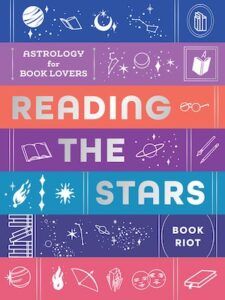 Welcome to Book Riot's October 2022 Horoscopes and Book Recommendations! We may be three quarters of the way through the year, but some of 2022's biggest books are yet to come. Which new October release should you add to your TBR? Let the planets be your guide! Check out your horoscope below for a glimpse at the month ahead, along with a book recommendation perfect for your sign.
Our dastardly dance with Mercury retrograde comes to an end on October 2nd, but another planetary change is coming at the end of the month to take its place. Mars retrograde will be in effect from October 30 through the beginning of next year. But this one isn't necessarily all bad! Mars rules ambition, motivation, and energy. That means that when it enters retrograde, all signs will find themselves stepping back from the action and doing a bit of introspective work. The last two months of the year are the perfect time to put your career on the backburner and focus on other aspects of your life in need of attention. But if you have any goals that need to be accomplished before the holidays, focus on them early in October before your energy and priorities shift with Mars.
---
Thanks for joining us for your October 2022 horoscopes and book recommendations! Looking for more books you'll love based on your sign? Check out your July, August, and September horoscopes and book recommendations!
!doctype>