Mother's Day and German Week: ALDI Finds week of 5/4/22
ALDI Finds for the week of 5/4/22 include German Week foods, gluten free pasta, Mother's Day flowers, and more. Check them out below, and let me know what you want to Find this week.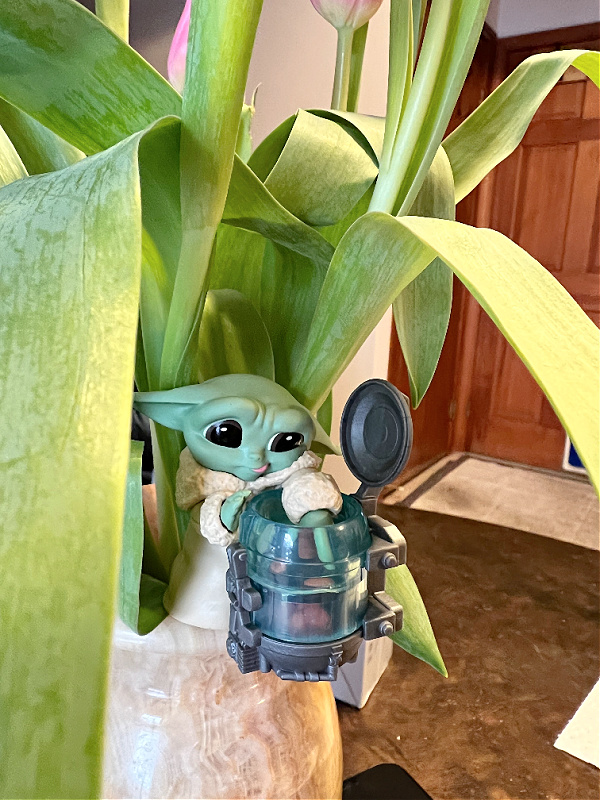 May the 4th be with you! Alas, Baby Yoda himself is not on offer at ALDI this week. But, I thought he'd be a thematic way to tell you about the pretty 10-stem tulip bouquets going on sale May 4 — as he's comfortably nestled within my own ALDI tulips from last time. (See price in store on these.)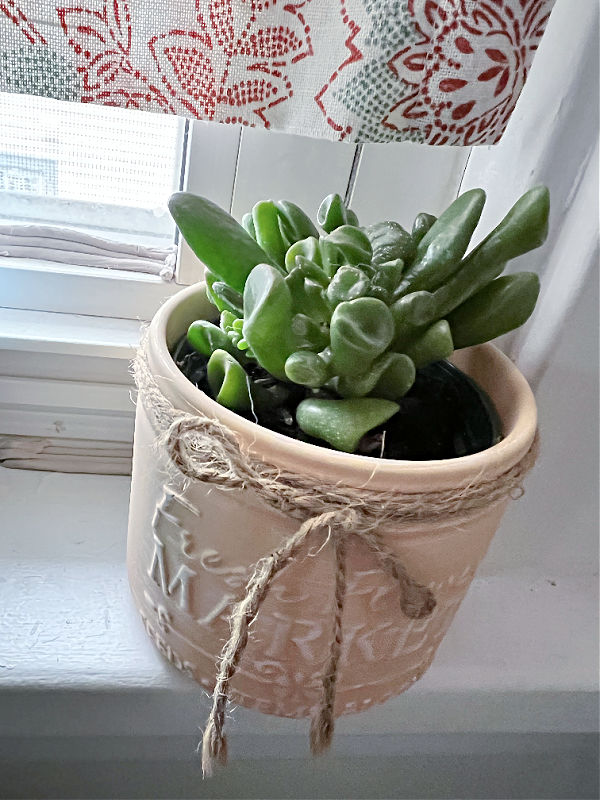 Speaking of Mother's Day plants and flowers, mason jar succulents are also back (again, see price in store). Other Mother's Day plants & flowers this week include:
8″ hydrangea, $12.99
5″ Easy Orchid, $5.99
Calla lily in can, $5.49
Mother's Day bouquet, $9.99
Premium Mother's Day bouquet, $16.99
You have lots of spring-y options for Mom, but shop early: These tend to go quickly.
Keep looking for seasonal Finds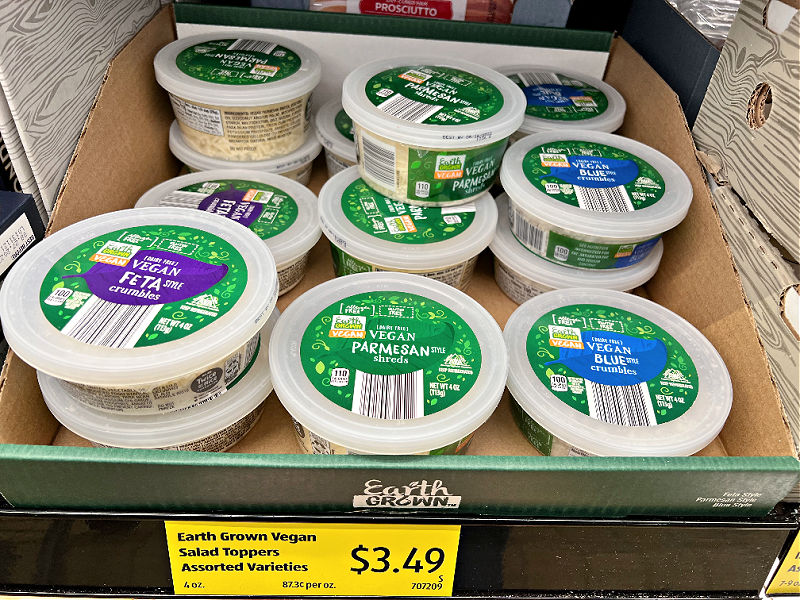 Also keep looking for seasonal spring Finds to keep trickling out into stores. I saw these Earth Grown vegan cheese crumbles and shreds yesterday (at $3.49 per container). See more deliciously fun spring ALDI Finds here.
Note that both advertised and unadvertised ALDI prices can vary by store and by region. Now, let's talk about the rest of the top ALDI Finds for the week of 5/4/22. You'll also Find some on 5/1/22 in Sunday ad markets, or if your store tends to put products out early.
Top ALDI Finds of the week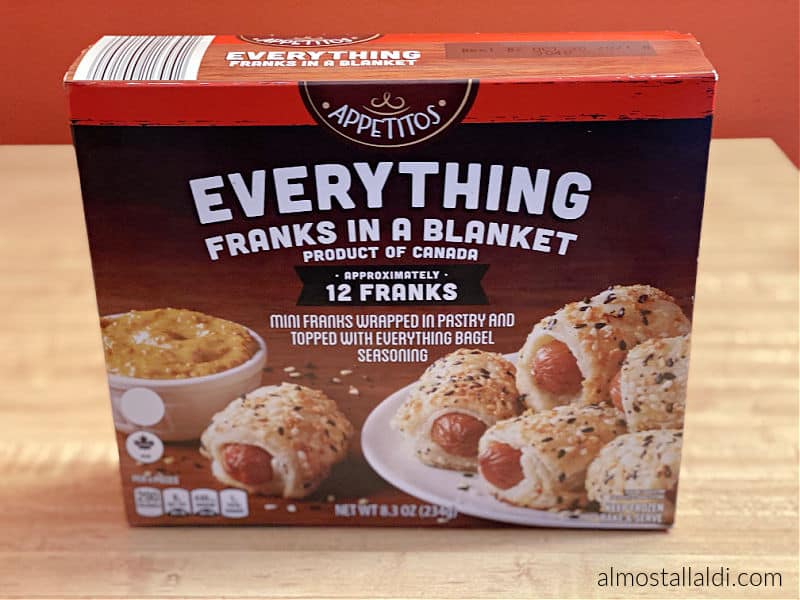 Look what's back again. To be honest: We tried the Everything Franks in a Blanket last year (when they were $3.99 per tiny box), and found them overpriced for what they are. Now, they're up to $4.49 a box — Draw your own conclusions, but I won't be buying any more. 🙂
Now, let's talk 10 ALDI food Finds (plus German Week Finds), as well as 25 non-food Finds (plus patio and garden Finds).
Top ten food Finds this week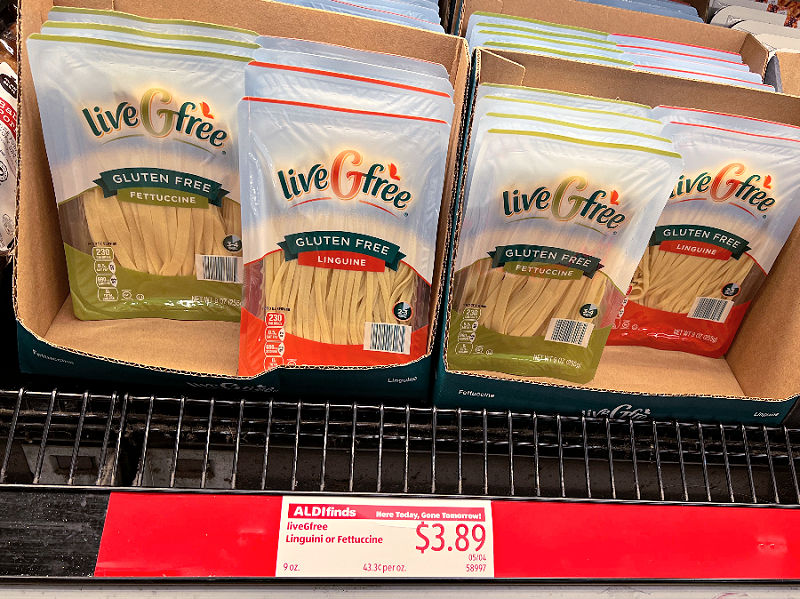 Gluten free folks: A couple of new refrigerated products for you this week! Food Finds for the week of 5/4/22 include:
Specially Selected Norwegian crispbread, $2.55
Buitoni Impossible ravioli, $6.49
Simply Nature organic chicken sausage in BBQ or green chile, $4.89
Fresh Fiesta taco kit, $9.99
Appetitos everything franks in a blanket, $4.49
Mama Cozzi's pepperoni or buffalo chicken stromboli, $2.99

Never Any fresh lamb loin chops, $9.99/lb

Fresh stuffed Atlantic salmon, $9.99
liveGfree linguine or fettucine, $3.89
liveGfree gluten free stuffed shells or lasagna roll-ups, $5.99
The gluten free refrigerated pasta seems to get good reviews, if you've been curious.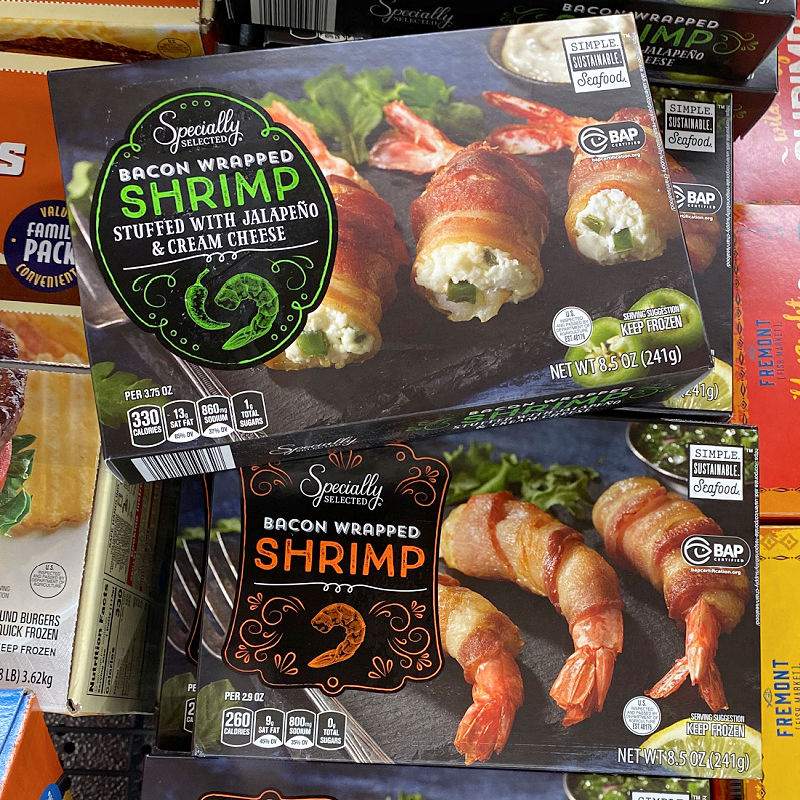 And doesn't this bacon wrapped shrimp look good… Choose from plain bacon wrapped, or bacon wrapped stuff with jalapeño and cream cheese (yes, please).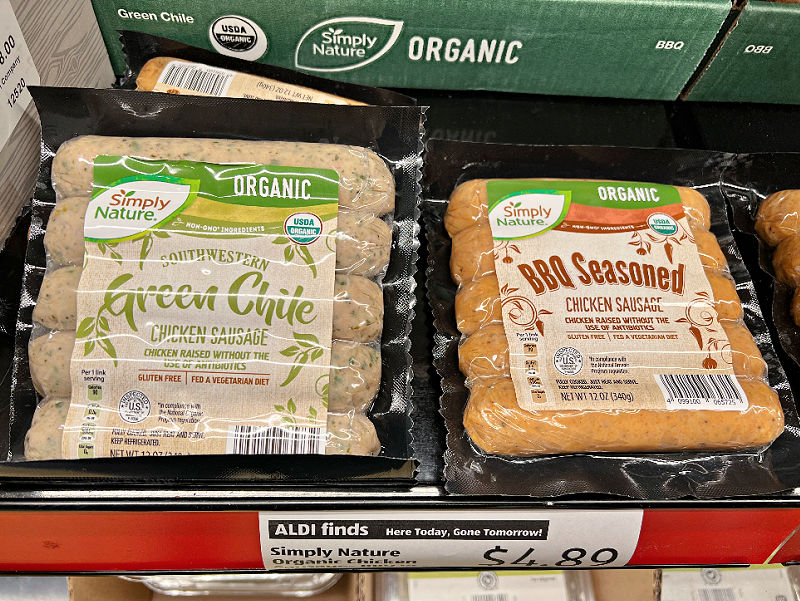 Those green chile sausages are also pretty tempting, but I figure we'd better eat our other pack of jalapeño smoked sausage from last week first.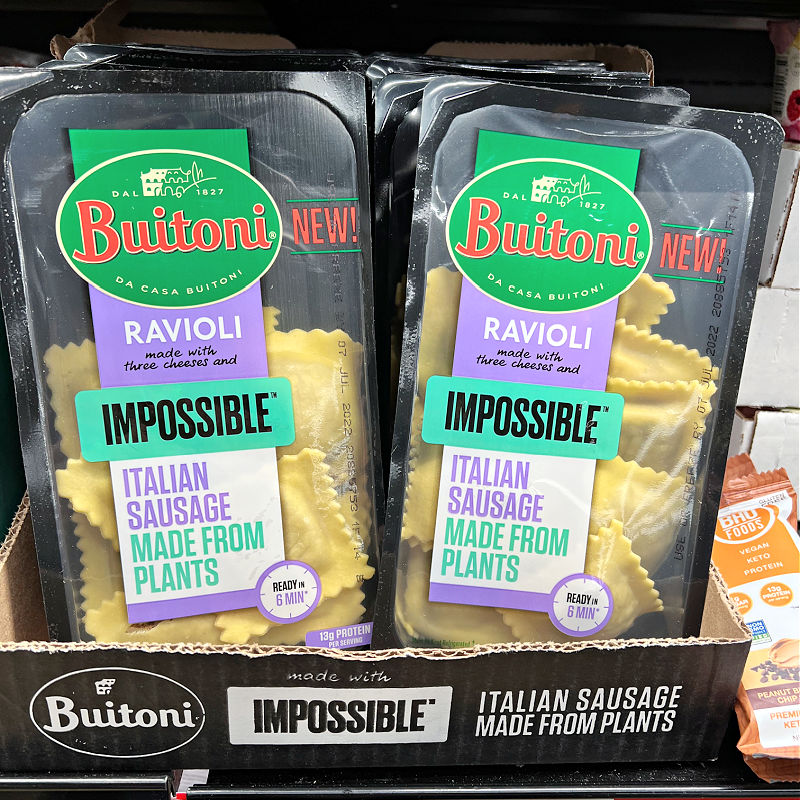 Lastly, note that this Impossible ravioli features a meat substitute –but is vegetarian, not vegan. Impossible products do tend to be pricy, which may be why only half of this pack is full. Impossible ravioli will run you $6.49 per 9 oz this week.
German Week Finds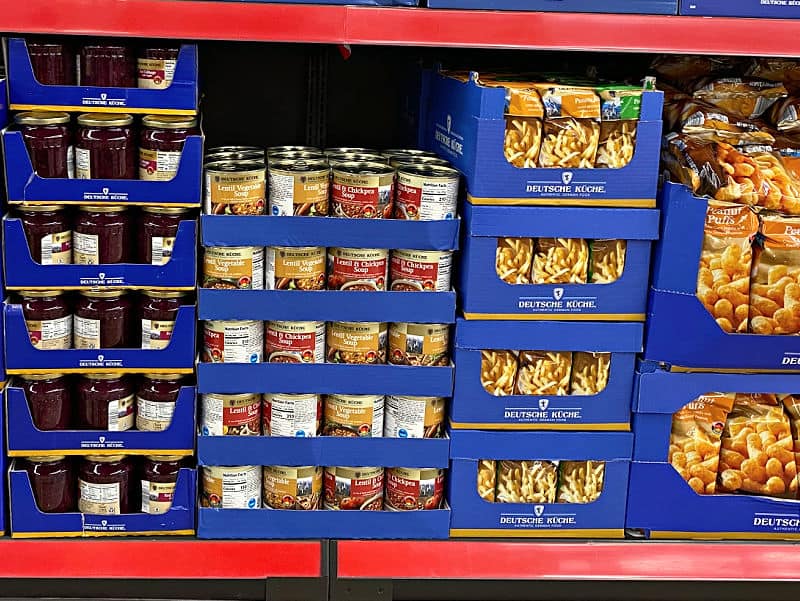 Oh, but you'll Find a lot more food items in this week's ad: Let's now Deutsche Küche it up, because ALDI German Week is back for spring 2022.
Frozen German Week Finds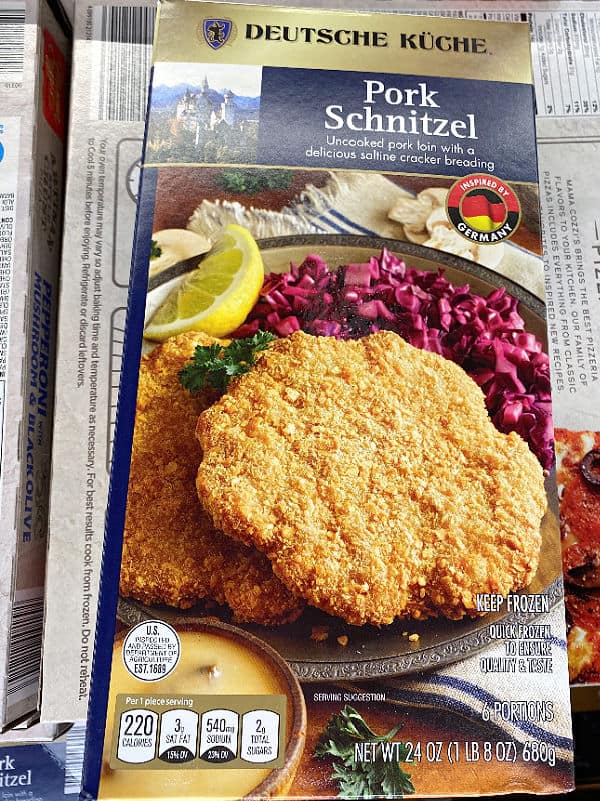 Let's start our exploration of German Week in the frozen section, where everyone's favorite Deutsche Küche pork schnitzel is back. This time, it will run you $8.99 per 24 oz package.
While you're over there, pick up some Deutsche Küche Bavarian soft pretzels or pretzel sticks at $4.49 a box. Other frozen ALDI German Week Finds for May 2022:
Deutsche Küche donauwelle or bienenstich indulgent cake, $3.79
Deutsche Küche strudel, $2.69
Deutsche Küche cabbage blend or warm potato salad, $2.69
Specially Selected German mousse cake, $7.49
(The pretzels are good!)
Pantry German Week Finds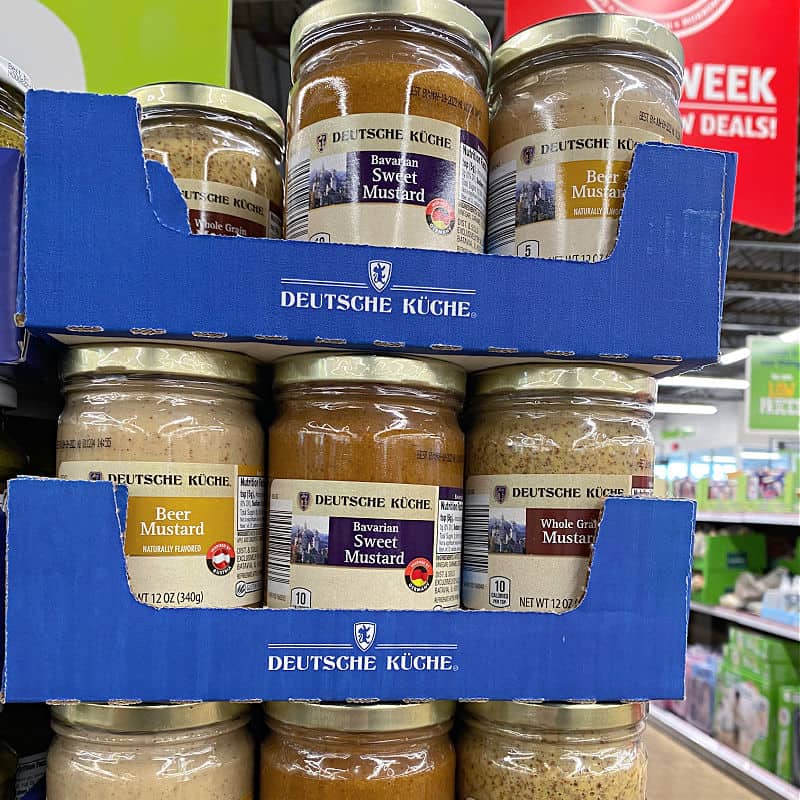 Also stock up on pantry items and snacks this German Week. On offer this time:
Deutsche Küche potato sticks, $1.49
Deutsche Küche peanut puffs, $1.99
Deutsche Küche milk or dark chocolate covered wafers, $2.49
Deutsche Küche dark or milk chocolate wafer rolls, $1.99
L'Oven Fresh pretzel breadsticks, $2.99
L'Oven Fresh pretzel bagels, $2.29
Deutsche Küche lentil vegetable or lentil chickpea soup, $2.19
Deutsche Küche müesli, $2.99
Deutsche Küche German style red cabbage with apples, $2.49
Deutsche Küche egg spaetzle, $2.99
Deutsche Küche European mustards, $1.95
The whole grain mustard is pretty good, too — try it with those frozen pretzels.
Top twenty-five non-Food Finds this week
Moving on to non-food Finds, playground balls are back for spring. If you have your heart set on laughing tears, though, note that the preview ad shows different emojis this time than in my older photo above. Other non-food Finds:
Huntington Home 5'x7′ reversible area rug, $39.99
Crane utility tote, $9.99
WORKZONE 3-step folding step stool, $49.99
Huntington Home 3-drawer rolling cart, $25.99
Huntington Home triple pour scented wax melts, $1.69
Huntington Home macaron candle collection, $7.99
Huntington Home cocktail candle, $4.99
Huntington Home candle snuffer, wick trimmer, & dipper set, $14.99
Huntington Home essential oil, $4.99
Huntington Home accent fragrance warmer, $4.99
Huntington Home spa candle, $4.99
Ambiano mini waffle maker, $9.99
Easy Home true HEPA desktop air purifier & fan, $39.99
Auto XS car seat cover kit, $19.99
Serra Ladies' block heels or wedges, $14.99
Serra Ladies' wedge sneakers, $14.99
Crane adult memory foam trainers, $13.99
Crane pop-up soccer goals, $19.99
Crane playground ball, $4.79
Hinkler canvas art, $6.99
Little Tikes infant to toddler swing, $23.99
The Clever Factory good grades workbook, $4.99
Igloo Books padded board book, $4.99
Hinkler premium puzzle book, $4.99
Heart to Tail orthopedic pet mat, $16.99
I'm going to be looking for that utility tote, probably!
Patio and garden Finds
Spring is sprung, so our outdoor & garden Finds continue this week. Look for:
Belavi kids' stacking sling chair, $14.99
Belavi 30-lumen solar spotlight, $6.99
Belavi steel solar light, $4.49
Belavi grill gazebo, $149.99
Belavi outdoor rattan sectional, $449.99
Gardenline telescopic watering wand with gutter blaster, $12.99
Belavi garden lantern, $14.99
Gardenline garden kneeler and seat, $19.99
Belavi spiral solar lanterns, $7.99
Belavi 2-pack outdoor toss pillows, $16.99
Belavi 18″x30″ outdoor accent mat, $9.99
Range Master BBQ frying pan or roasting pan, $19.99
Range Master tongs, spatula, or brush, $3.99
My store didn't yet have any of these out; I'll add more photos when available.
What's Up with ALDI Finds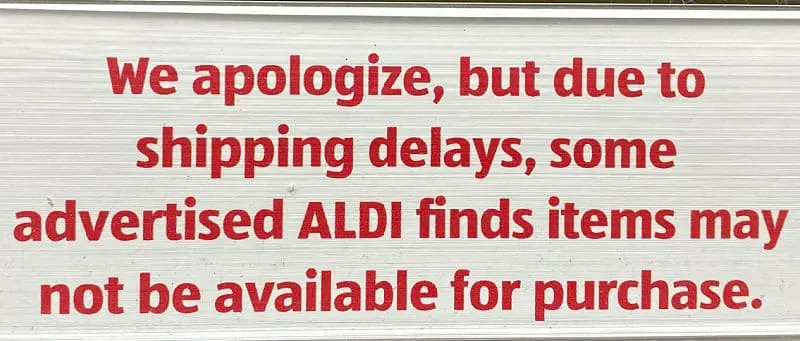 What's up with ALDI Finds? Well, these are limited time special buy items that are available in stores only while supplies last. So if you spot something you like, be sure to pick it up while you can.
Before shopping for new Finds this week, you might wish to visit the ALDI Finds product delays page. Because of ongoing shipping delays and materials shortages affecting ALDI and many other retailers, certain advertised products may not be available in all locations.
Finding the Finds
Where do you Find all of this week's special buys?
Check out the "ALDI Finds" and current weekly ad tabs (or mobile menu choices) on the ALDI site to window shop from home.
If you're planning an in-store shopping trip, use their online ad to help determine what you'll grab and purchase if you do see it in the store.
Products mentioned in this post were either spotted in store or are from the ads starting 5/1/22 in Sunday ad markets, 5/4/22 in Wednesday ad markets. What caught your eye among this week's ALDI Finds?