In the same way, future historians considering why Sweden holds the improbable distinction of being the only western democracy to have both its prime minister and foreign minister assassinated in modern times – or why a racist gunman killed 77 people in Norway in 2011 – will find clues to the forces behind those events in crime novels written at least a decade earlier.
The Czechoslovakian writer Josef Škvorecký (1924-2012) created, in Inspector Boruvka of the Prague Homicide Bureau, a policeman profoundly indebted to Holmes in both hyper-intelligent rationalisation of crimes and near-clinical melancholy. And the newest super-sleuth in publishing – Nesbø's Norwegian private eye, Harry Hole – also allusively combines addiction with an almost supernatural ability to see into the minds of criminals.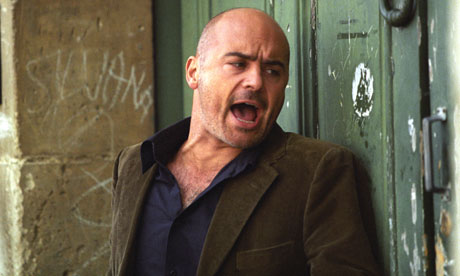 Andrea Camilleri's Inspector Montalbano (played by Luca Zingaretti in the TV series) questions what it means to be a good policeman. Photograph: BBC/RAI Radiotelevisione Italiana
In describing the main remit of my inquiry as postwar crime fiction, I meant the second world war. And the conflict of 1939-45 has an understandably large presence in books written from the differing perspectives of Britain, France, Holland, Germany and Italy. More surprising, though, was the dawning realisation that even books set beyond the reach of that period seemed to have a significant relation with some other military standoff, as if postwar wounds were a natural driving force of the murder novel.
Inevitably, though, it is scar tissue from the great global battles of the 20th century that runs through European crime fiction. Both Maigret and Poirot are war veterans: David Suchet laments that the limp from the Belgian's wound is the only characteristic he has failed to incorporate in his ITV portrayal. In the Van der Valk stories, on both page and screen, it was common for the solution to lie in whether victims or suspects had been collaborators or resistance fighters during the Nazi occupation of Holland.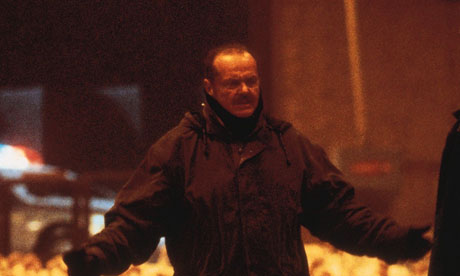 Jack Nicholson as the compromised cop in The Pledge. Photograph: Warner Bros
The implication of this anecdote – that crime fiction depends on readers' respect for the investigator – poses a challenge to mainstream British crime fiction, in which there is an overwhelming assumption that justice will ultimately be done. With very rare exceptions – in one of PD James's novels, Dalgliesh is forced to accept that the real villain has evaded blame – the crime is correctly and satisfyingly solved. And yet, from the Birmingham Six to Hillsborough, via recent allegations of police complicity with tabloid journalists and earlier failures to investigate the paedophilia of Jimmy Savile, there are frequent worrying suggestions that the British police have been less reliably straight than their counterparts in fiction.
The pressure to ignore the real perpetrator, or to pin the crime on a false suspect, is even greater for characters who serve as police officers in a police state. The Russian writer Boris Akunin addresses this dilemma – albeit through the distancing device of historical parallel – in his series about a 19th-century police officer, Erast Fandorin. But it was Škvorecký who, from his North American exile, most eloquently expressed the dilemma of the investigator encouraged to turn a blind eye. Inspector Boruvka's problem in Soviet-controlled Czechoslovakia, he wrote, was that "the whole country was a crime scene" in which mass murders were regularly carried out by the government. From his reading of Conan Doyle and others, Škvorecký understood that the classic homicide puzzle depends on violent death being an exceptional event. That is why the English genre – from Christie to James and Rendell – has often involved bodies being stumbled on in rural communities, guaranteeing a dissonance between order and disorder.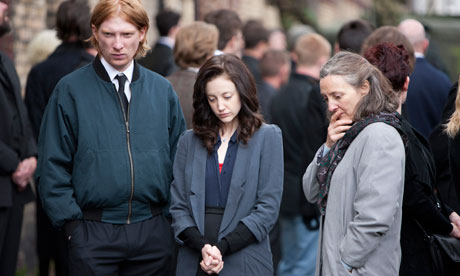 Tom Bradby's Shadow Dancer with (left to right) Domhnall Gleeson, Andrea Riseborough and Brid Brennan. Photograph: Jonathan Hession
It's notable, though, that even in settings where a redemptive ending is unlikely, the central investigator is invariably on the side of right. However pressured or frightened Boruvka, Rogas, Montalbano or Zen may be, they at least attempt to do the right thing. Even at its most sophisticated, the genre seems to reflect a belief that order will be restored.
Conan Doyle and Freeling have the effect of a siren blaring in the head of any crime writer who, bored with a hero, considers sending them to Switzerland either literally (the Reichenbach Falls) or metaphorically, now that Zurich is code for euthanasia. Although, strangely enough, it is a Swiss detective who dies most decisively and irretrievably: almost the first thing we learn about Inspector Barlach of the Bern Police is that he has terminal cancer, which is why there are only two books about him. Killing a cerebral investigator in a Swiss canton may be another of Dürrenmatt's dark jokes.
At the Crime Writing Festival in Harrogate this year, Jo Nesbø, currently the world's bestselling crime writer, admitted that he knows exactly how many Harry Hole novels there will be. The front row, containing staff from his publisher, leaned forward nervously, but Nesbø refused to disclose the number. A keen crime-reader I know believes that it will be 10: the number of career cases investigated by the godfather of Scandinavian detective fiction, Martin Beck, and the number of books to which Stieg Larsson intended his Millennium sequence to stretch until his early death confined Lisbeth Salander to a trilogy.
Another Stockholm phenomenon – the Swedish Academy, which awards the Nobel prize for literature – ignored Gide's suggestion that the honour should go to Simenon. And such is the continuing snobbery against the genre that the Belgian's employment of crime fiction may have been held against him, as it may also have hobbled Dürrenmatt and Škvorecký, equally worthy candidates for the range of their writing. But, though sniffed at by literary history, crime writing, from Christie to Nesbø, has an enviable record of capturing the history of our times.