Keep Calm and Game On with the Ottawa Public Library
The Ottawa Public Library is back to share some of their favourite books for ages 3 to 13. This month's post was submitted by Sarah Godding and Kristina Roudiy, Children's Program Assistants at the Alta Vista Branch.
---
Games can bring us together. They can unite us with a common goal: VICTORY! They can open our world, bringing in new skills, habits, people and places. Games can encourage us to be better than we were yesterday; to jump higher and run faster. We can even escape into games at times when other areas of our lives may be challenging. But the most important part about games is that we PLAY them. When we play a game, we are moving beyond an outcome and we allow ourselves to enjoy the moment. Below are some stories about games; how to play them, how they're created, and how they have shaped the lives of those who play them. GAME ON!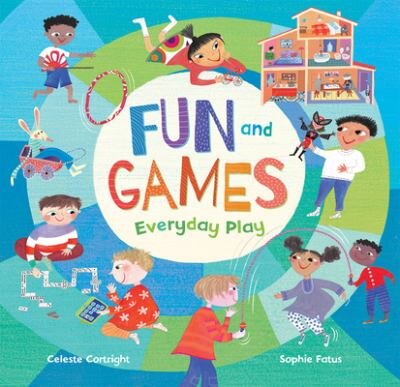 1- Picture book : Fun and games : everyday play / Celeste Cortright. Published in 2020. For ages 3-6
In this colorful rhyming picture book, we meet a group of children playing games from around the world. Each double page features a game or a toy, for example: a dollhouse, dominos, a tangram (a 7-piece square puzzle) and spinning tops. Children might recognize a familiar game (hide-and-seek!) and/or (re)discover an activity they're less familiar with. The end of the book provides a bit more information about the cultural origins of the games. This book will inspire children to have fun on their own or with friends!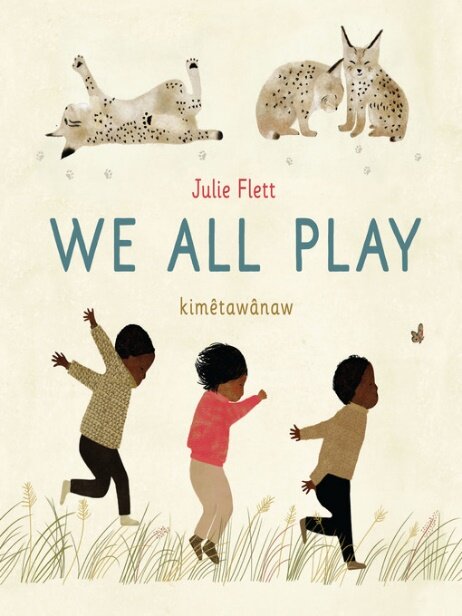 2- Picture book : We all play : Kimêtawânaw / Julie Flett. Published in 2021. For ages 2-7
Julie Flett is a Cree-Métis author and illustrator, known for her works in children's literature centered around the life and cultures of Indigenous Canadians. The Ottawa Public Library has her children's books in English, in French and in Cree. This is her latest title. It shows beautiful illustrations of animals at play: velvety brown rabbits jumping across the page; chirping birds; a fox approaching a turtle near the edge of the page; swimming whales... And then a group of small children appears, leaping, jumping and lying on their backs in tall grass. "We play too! kimêtawânaw mîna" they say. Which is based on the Cree teaching of wahkohtowin, interconnectedness and play. The book shows animals and humans embracing play in similar ways (snakes slide, while children slide... down a snowhill!) and ends with everyone "slowly, side by side" falling asleep. Also includes a glossary at the end, with the Cree names of the animals, all of whom are from "Turtle Island" (North America).
*This title is also available at the Ottawa Public Library as an e-book.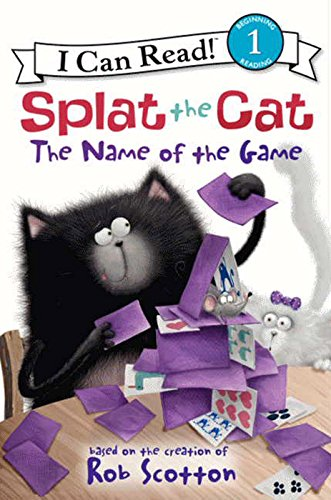 Splat the Cat is a well-loved children's book character. He appears in 18 different Early Reader books, enabling children to read about his adventures all by themselves! In this book, Splat the Cat has planned a really fun playdate with his friends Spike and Plank. Except that things start to go wrong for him! He loses every single game... and can't seem to find a good hide-and-seek spot in the house. How will the playdate end? Will Splat end up having fun with the others or remain cranky? Read the book to find out!
*This title is also available at the Ottawa Public Library as an e-audiobook, and as a French Early Reader called : Je lis avec Splat : On joue?
This picture book makes you travel back in time and meet the first woman to win an Olympic gold medal in track and field. Betty Robinson was only 16 years old, in 1911, when she won the gold in Amsterdam for the 100-yard dash. But a few years later, while training for the 1932 Olympics, a plane crash left her in a wheelchair with a crushed left leg that was shorter than the right. Doctors told her she would never walk again... What they didn't know was that Betty had great determination, not only to walk but to run again. Read this book to find out if she eventually healed, competed in other Olympic games or won more gold! A great story of athletics, feminism, resilience and teamwork. Young readers intrigued by the Summer Olympics in Tokyo (launching July 23rd, 2021!) will be inspired by this biography and will feel encouraged to also pursue their dreams. In the same style, we also recommend this brand new picture book biography about tennis players Serena and Venus Williams.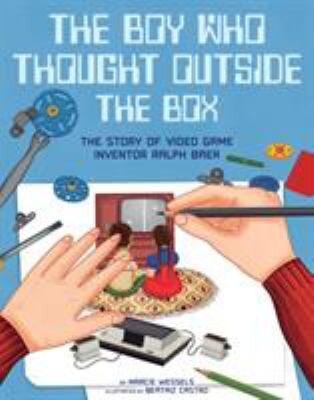 5- Illustrated book : The boy who thought outside the box / Marcie Wessels. Published in 2020. For ages 6-10
This is the story of "The Father of videogames", Ralph Baer, who was born in 1922 and began playing with electronics as a child. His Jewish family lived in Nazi-controlled Germany and eventually emigrated to the United States. There, Ralph pursued his passion for learning, building and inventing. He built radios out of spare parts while doing his military service, and then started working for NASA.  In this book, you'll learn what inventions Ralph contributed to over the years. He did face rejection and meet people who did not believe in his inventions, but that didn't prevent this passionate inventor from eventually releasing the first ever home game console. A fun portrait of a lesser-known inventor whose work has had a tremendous influence on our modern-day world. We recommend it to young (and older!) video game fans.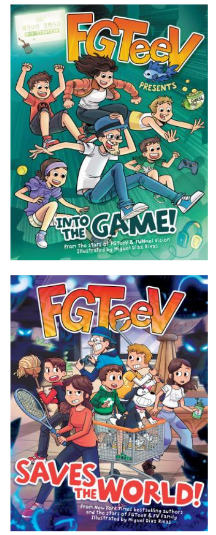 6- Into the game / Miguel Diaz Rivas. Published in 2020. For ages 9-12

7- FGTeeV saves the world! / Miguel Diaz Rivas. Published in 2021. For ages 9-12
This is a new graphic novel series based a real gaming family YouTube channel. In these two volumes, you get to know the whole family through their videogame adventures: Duddy, Moomy, Lexi, Mike, Chase, and Shawn. In the first volume, the parents get accidentally sucked into a video game, so the four children jump into the console to rescue them. Except that a giant crab seems to follow them everywhere... What is the link between a crab and their missing parents?! In the second volume, the family brings their game controller to the store to get it fixed, after the game they were playing froze. What they didn't expect was that a wrong click on the controller would cause all the characters from the Zombie Battles game to show up in the real world! The family will now have to fight villains and their own avatars in order to save the world.
This book is a collection of 100 original dares that will help boys expand their worldview, inspire more respect toward girls and non-binary kids, and generally develop a healthier idea of manhood. The introduction does specify not to try and do the dares all at once, but to work through them slowly! Here are a few examples:
·       Dare to include girls in sports
·       Dare to ask a friend to teach you something they're good at
·       Dare to watch a movie about someone who's different from you
·       Dare to be a leader
Being a boy isn't just about building forts or beating the high score on a video game or being tough. It's about being true to yourself, treating everyone fairly, and helping those around you. The text thus covers a wide range of topics, such as toxic masculinity, stereotypes, emotions and media consumption. The book wraps up with a glossary and a resource page for parents entitled "Letter to friends & family."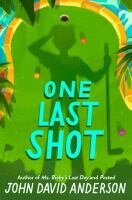 9- Chapter book : One last shot / John David Anderson. Published in 2020. For ages 8-12
For as long as he can remember, Malcolm has never felt like he was good enough. Not for his parents, who have always seemed at odds with each other, with Malcolm caught in between. And especially not for his dad, whose love for competitive sports Malcolm has never shared. That is, until twelve-year-old Malcolm discovers miniature golf. Maybe it's the way in which every hole is a puzzle to be solved... or the windmills and waterfalls that decorate the course... or maybe the slushies at the snack bar? But whatever the reason, something about mini golf just clicks for Malcolm. And best of all, it's a sport his dad can't possibly obsess over. Or so Malcolm thinks! Soon, he is signed up for lessons and entered in tournaments. Malcom hopes that if he can win the tournament, his parents might reconcile. Along the way, he finds unexpected friends at the local course, including Lex who helps him navigate the ache of divorced parents. The book is divided into 18 chapters, one for each hole of the championship game. As in his previous books, the author chose to blend a tough topic with humour, so you'll find yourself cheering and laughing along with Malcom. An excellent story for middle school readers.
*This title is also available at the Ottawa Public Library as an e-book and an e-audiobook. Enjoy!
Our love of games can really take hold of us. It can usher in feelings of passion and devotion. It can become a source of culture and community! Simply put, being a fan can be a big deal! This is a lovely guide to help young enthusiasts navigate and understand the role of the fan. Just as being a player of a game teaches you and helps you grow, so too can our appreciation for a game and its players. This passion can expand our world and challenge us. From comic book collecting to video games, there are so many ways to share and celebrate with the things that you love.
By the way, did you know that July-August 2021 is all about Summer Reading Club (SRC) Fun? View the Library's promotional video. Visit this OPL blog post to find out about the Youth Library Programs being offered, as well as ways to participate in TD SRC. Visit your local OPL Branch to receive a free Summer Reading Club Kit. Have a great Summer!