Julia Quinn, The Queen Of Romance Novels, Is Back With A New Book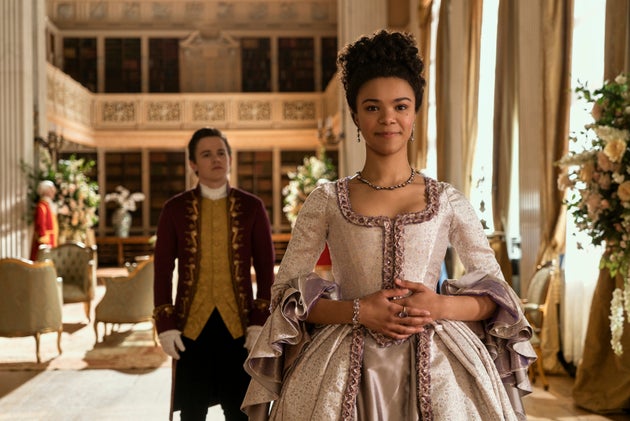 Sam Clemmett as Young Brimsley and India Amarteifio as Young Queen Charlotte in "Queen Charlotte: A Bridgerton Story."
Queen Charlotte: A Bridgerton Story, a prequel to and spinoff of the über-popular Bridgerton Netflix series and books, premiered on Netflix Thursday. The Shondaland show follows Queen Charlotte's early reign and the beginnings of her relationship with King George III.
Unlike the original Bridgerton show, Queen Charlotte was not adapted from a bestselling book by series author Julia Quinn — this time, Quinn and Shonda Rhimes co-wrote the book version of Queen Charlotte's story, which releases on Tuesday.
The collaboration is clearly a testament to the well-made match between the two writers. Avon Books, the publisher of Quinn's Bridgerton series, said the book will be "centered on Queen Charlotte's rise to prominence and power." The prequel tells the story of how the young queen's marriage to King George III sparked both a great love story and a societal shift. Though Charlotte and George were real historical figures, Quinn notes at the beginning of the book that her new work is one of fiction. 
Queen Charlotte is the glorious result of a circuitous journey: It's a story inspired by a script, which was inspired by a Netflix series, which was inspired by a book. (TV and film writers, including those who worked on Queen Charlotte: A Bridgerton Story, are currently on strike over pay and working conditions.)
Bridgerton was a sweeping success, an inescapable pop culture phenomenon. More than 82 million households around the world watched the first season, smashing Netflix's own initial predictions and likely many others.
It took Hollywood far too long to take authors like Quinn seriously, likely because they were writing romance novels. But numbers don't lie: Seventeen million Bridgerton books have sold in the US alone, and the romance genre makes more money than any other in publishing, with a reported $1.44 billion in sales per year. 
Yet, there remains a dismissiveness when it comes to romance literature and shows that give us a happily ever after and swoonworthy moments. I discovered the romance series during the COVID-19 pandemic, and Bridgerton became a lifeline into a happier place. 
"We all need methods of dealing with our traumas," said Jennifer Mrozek Sukalo, a well-being expert with a background in behavioural science. "And turning to art — or more specifically romance novels in this case — provides a happily-ever-after version of reality to pull yourself out of a hypervigilant state." So, reading romance novels like Quinn's series can offer more than just passing entertainment. 
I spoke with Quinn via Zoom to discuss her career, the inspiration behind Queen Charlotte, where she likes to visit in London and her own personal hopes for her platform. 
Even with romance being such a huge seller in the book world, why is there an ongoing stigma when it comes to enjoying romance, in either the shows we watch or the books we read? 
I think a lot of it is sexism. In our society, we devalue the female, and these are books that are written primarily by women, read primarily by women and edited primarily by women. So there's that. But I also think we don't tend to place value on art that elevates happiness as a worthy goal. Instead, it has to be some kind of quest. Or it has to be edgy and dark. It makes me wonder: Why, historically, have we not celebrated the books and shows that focus on love and human connection?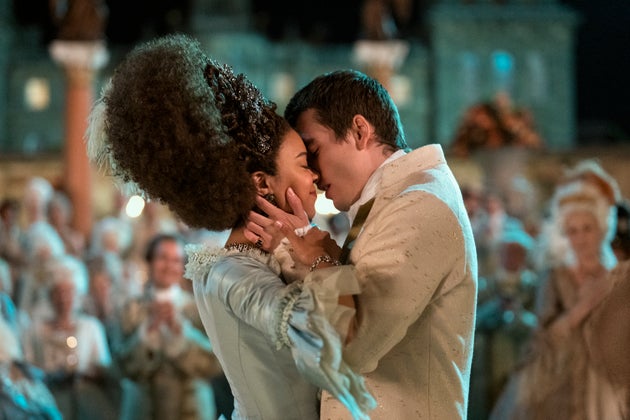 India Amarteifio as young Queen Charlotte, Corey Mylchreest as young King George in "Queen Charlotte: A Bridgerton Story."
And shows that offer that sort of turmoil are great, too, but that escapism and happiness of romance books and shows like Bridgerton is a worthy goal.
Yes! Look, I love the edgy and dark shows, too. I love Succession. I love Beef. I loved Kleo. But I also want shows like Bridgerton, shows that present intimacy as something to be cherished, not as a transaction. I suppose it's ironic because in Bridgerton, you've got the marriage mart and the ton, which are actually very transactional, but deep down people are looking for love and the connection, not the transaction.
We want a happily ever after, and the Bridgerton books are known for having them — but most of us, especially Americans who loved "Hamilton," know that King George does not have one in real life. He was notoriously referred to as "Mad King George," and his rumoured mental illness was believed to have been caused by a hereditary physical disorder called porphyria. How do you write Charlotte and George's love story if we all know what it becomes later on? 
[Laughs] I did not turn to Hamilton for my research on King George. Although I do love his song. He's not onstage much, but when he's there, he owns it.
With Queen Charlotte, it was a very different project for me because we know what happens to King George, and we know they aren't going to have the same kind of happy ending you normally get in my books. I knew this going in, which was part of why I ended up structuring the book to highlight the romance as much as I could. Even though the book itself wasn't going to be a romance in the way that my other books are, I wanted the romance to be a big part of it.
Viewers of the show know these two characters have a complicated relationship. In Season 1 of Bridgerton, Golda Rosheuval, who portrays Queen Charlotte, gives this complex and stunning performance with James Fleet, who portrays the older version of King George. Charlotte is summoned to meet her husband for dinner. She's been told he's having a more lucid moment. And you see these glimpses of such a deep love between the two of them and a history, and then when George begins to angrily fall into an episode of delusions, you feel such strong emotions for Charlotte. And how before this she had been shown as a volatile and self-consumed queen, it's obvious her life is much more complicated. Their love is so much more complicated. 
That's what I love about the new show and the book. You see the origins of their story. You see what has led to that moment and it's wonderful. I mean, it's heartbreaking, but it's also wonderful. We do see the love. And you know, at least the way the book ends, it feels happy. Maybe because I stuck to that earlier timeline and we don't see George when his condition has worsened. And it kind of does end on a hopeful note, which maybe is a little gaslighting, but the fact is, Charlotte and George absolutely loved each other, and she never stops loving him. You see flashes of George's love for Charlotte, too, when he has these moments of lucidity later on. And so you know that his love for her is still there, too.
Queen Charlotte doesn't have a storyline in the original Bridgerton books — so which came first, the show or the book? Who inspired who? 
Shonda called me to tell me that Netflix had greenlit the show, and then I suggested that I write a novel based on it. But later I found out that she had the same idea. So we were kind of both simultaneously coming up with it.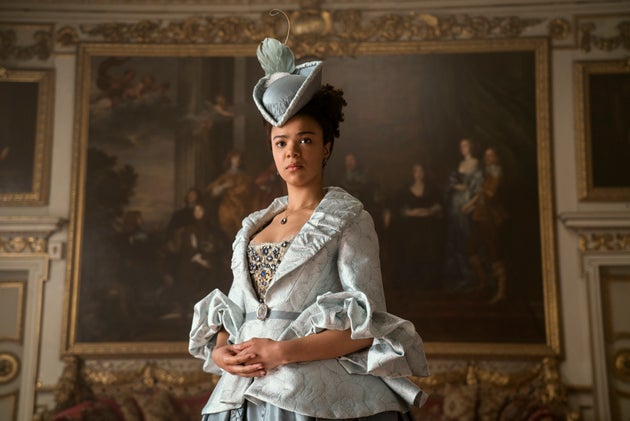 "Bridgerton" author Julia Quinn said showrunner Shonda Rhimes suggested she write a novel about young Queen Charlotte.
I did not write the original story arc, though. I got the scripts from Shonda, and then I had to figure out how to break them down and rebuild them as a novel. With the book, you get to find out what people are thinking in more detail. You get some added context. For example, in the show there's the wedding scene between Charlotte and George, and you see them dancing and it's beautiful and romantic. But in the book you get to see what they were talking about, and you can see them getting to know each other a little bit more. And so you just get more of these moments fleshed out. But the bones of the story, Shonda wrote that.
How was it to write the book from the script? 
It was a completely new writing process for me. I've never worked with source material before. I also had to break down the architecture of a television script and then rebuild it into a novel. Scripts have lots of short scenes, for example, and I needed to rework them into longer chapters. Plus, I had to decide whose point of view each scene should be in. It was a fascinating puzzle, which was great because I love puzzles!
In the Netflix series, Queen Charlotte is certainly scheming and plotting amongst the ton, but also seems easily manipulated by Lady Danbury. And yet, in the new book it feels like we're seeing a Charlotte that is more cunning and more of a strategist. In a scene where Charlotte is detailing her outfit before being presented to King George's court, she is so versed in her knowledge of what she's wearing and uses that as a weapon, so to speak. Was the chapter where Charlotte is threatening to harm herself with a whale corset your art historian background peeking through? 
That was all Shonda! I knew about those things, whalebone corsets and the lace, but in terms of the whole idea where she [Queen Charlotte] says, "a whale died so I could look like this," and, "I could be sliced and diced by my undergarments." That was all Shonda. And honestly, my focus was history of architecture, not art. So I don't I don't really think of myself as a historian. You're giving me more props than I deserve on that end.
Aside from his less-positive historical nicknames, like "Mad King George," we also know he was passionate about science. And a very curious man. Do you feel like your background or your interest in science helped develop more into the character?
A lot of who George is is in the show already. I certainly did more research on him, in part because I'm so interested in it. And when I was in London last summer, I did go see an exhibit of his scientific instruments at the London Science Museum. 
In a recent interview with the Today show, you recommended several books for your fans, but I'm curious about any shows in the romance genre you're looking forward to. 
Yes! Vanessa Riley's "Island Queen" was optioned by Julie Anne Robinson, who directed the first episode of Bridgerton. And actually, Adjoa Andoh, who plays Lady Danbury in Bridgerton, narrates the audiobook and is adapting the book with Julie. I really hope it makes it to the screen, because I think it would be amazing. I was super excited when The Hating Game came out, because I loved that book. And I know that Penny Reid has a project in development for the Winston Brothers. That's going to be great. 
And do you feel like Bridgerton helped convince Hollywood to look to romance books for more material? 
I hope so. I think to some extent it opened doors, because after the success of Bridgerton, Hollywood like, wait a minute, we have this whole source material over here that nobody's been tapping. 
But period pieces are expensive. Hopefully producers will look at "Bridgeton" and think, maybe they can pay off. But the cost is definitely a huge investment. So I think that's why we are seeing more contemporary romance in development. 
Will there be a Lady Danbury book at some point? 
I don't know. Before the show, I always said, I'm not going to go back and write her story because she's on the record as saying her husband was an idiot. So, there's not much to work with there. But one-fourth of Queen Charlotte is from young Lady Danbury's point of view, and I loved being able to explore her in that way.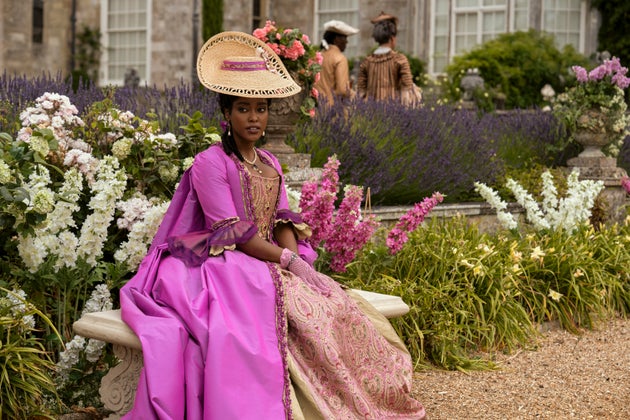 Arsema Thomas as young Agatha Danbury in "Queen Charlotte: A Bridgerton Story."
I know you were just in London for one of the premieres. Any recommendations on favorite spots in London?
One of them is the London Transport Museum, which of course isn't Regency. But I love it. I'm so fascinated by mass transit. I also love walking around through the parks, through Hyde Park and Green Park and St James's Park. Oh, and Regent's Park, too. They're all so beautiful.
And then, of course, you can't go to London without having afternoon tea. At least I can't. My new favorite is The Lanesborough Hotel, where they had the official Bridgerton afternoon tea and have just started the official Queen Charlotte afternoon tea as well. If you're looking for something more modern and funky, I also love Sketch, which was recommended to me by Nicola Coughlan. Finally, Fortnum and Mason is always a classic.
I also recommend — you have to put in the caveat that the last time I did this was over 20 years ago when I lived in London for a brief period of time — I did a lot of tours with London Walks. Looking back, it was a great way to experience London. And at least when I did it, they were not expensive. 
Oh, and finally, it's a little bit out of town, but Hampton Court Palace is spectacular. I got a private tour because Bridgerton was filming there; I was literally led around by the woman who had the giant ring of keys. Plus, on the way to the palace, you can stop in Richmond and see the "Ted Lasso bench. I did that. I got my picture taken.
I've read that you give away 100 copies of your novels to US veterans and service-members each Veterans Day. An author I spoke with one night at dinner, Katie Graykowski, who writes Texas romances, mentioned that she has a male veteran following that surprised her. But realised it had to do with boxes of books that had been shipped to service-members stationed during the Iraq war. This particular group of guys that became her fans loved being able to read something that was happy with romance, and fall into a series that wasn't just a standalone book. Have you had a similar experience? 
I don't come from a family with a very strong military connection. My grandfathers were both a little too old for World War II. So it's just not in our family background. But then my brother-in-law served in the Marines and suddenly I became aware of the military in a way that I hadn't before. Certainly not in the same way as a military spouse, but the feeling of having a loved one in a very dangerous situation. He did a tour in Iraq and two in Afghanistan.
And I just wanted to say thank you. That's all. I just thought, how can I say thank you? To the active duty people, and to veterans and to the military spouses. So, every year on Veterans Day, I give away a hundred books. It's something that gives me a tremendous amount of joy, as a way to give back. I've also done a couple of USO virtual events as well, which have been really fun. 
How is your experience with the USO events?
The USO events have been incredible. The host reads off where the people are located; it's just incredible how far flung they are. And when we announce on social media that the Veterans Day book event is about to happen again, and this has been 11 or 12 years going now, inevitably somebody will post and say something like, "I won one five years ago," and they might talk about how much reading helped them during their deployment or their spouse's deployment. To be able to thank people for their service in that way — I'm so grateful. 
Do you have any other plans to use your platform for activism?
I'm very concerned about the creep of authoritarianism in much of the Republican Party. Florida in particular seems to be leading the charge to restrict our basic rights and freedoms. And so when I was asked to keynote the 100th Anniversary Celebration of the Orange County Library in Orlando, I decided that I would donate my entire honorarium toEquality Florida, which is the state's largest civil rights organisation dedicated to securing full equality for the lesbian, gay, bisexual, transgender and queer (LGBTQ) community.
What's next for Quinn? 
Good question! I really need to figure that out myself …