In one fateful night, their worlds collide in ways no one saw coming… Road to the Mansfield (An Express Investigations Prequel) by CB Laurence
"This was a great first book to a series. It gives background on all the characters in such a way that is concise but in depth. I felt like I had all the information on each one to picture them and their struggles. I am looking forward to the next book and finding out how the tragic night transpired and how they all play into it."
JD Ottinger, Amazon
Three stories. One destination.
A swamp rat-turned lady, a hotshot southern attorney, and a small-town dreamer endure life's cruel twists on the way to Hollywood's swanky Mansfield Supper Club.
Louisiana, 1927. A brutal fate sweeps seventeen-year-old Francie Roubideaux from the Louisiana bayou to the iron rule of Miss Claire in New Orleans. She survives using her daddy's wits and mama's grace, but fickle fortune isn't done with her yet….
Illinois, 1937. Rose Donovan's dreary small-town life takes a turn when a New York City music man whisks her away to Hollywood. But soon she's torn between addictive passion and another man's arms…and more than Rose's heart is on the line.
Georgia, 1936. A rising star on the Atlanta legal circuit, Beau Hartwell is the envy of every lawyer in the city…until his past desperately comes to call. Can big-city Beau handle backwoods justice, or will the case break more than his career?
On one fateful night, their worlds collide in ways no one saw coming…
As the final, jazzy strains dissolved from the airwaves, the sound of enthusiastic applause rocketed Rose back to Bidler. "Good gravy, Mr. Fender! You scared me half to death!" Clutching her chest she spun around to glare at her boss, but Mr. Fender wasn't there.
In the doorway stood the most handsome man Rose had ever seen. Rain dripped from a well-pinched camel fedora and matching trench coat hanging on the cherry hat rack. His slick, jet-black hair and tan complexion accentuated strong features. He could have seemed intimidating, but at the moment, the edges of his mouth curled in a sweet smile, exposing deep laugh lines. "Sorry, miss." The baritone voice fit him perfectly. "I didn't mean to alarm you."
Stunned silent by the surprise audience, Rose gawked as if she had never seen another human being in her life.
His midnight eyes, amused and sparkling, held Rose's wide-eyed stare. He crossed the room in long, easy strides. "You are amazing—" Pulling his eyes from hers, he read her name tag. "Rose." He brushed aside a stray lock of her hair before lacing his fingers into the shiny, brunette ribbons surrounding her face. His thumb made lazy circles along her cheek. "Beautiful."
Completely captivated, Rose couldn't move.
His heavy-lidded gaze followed his caress as it lingered under her chin, traveled down the soft curve of her neck, and played in the magnetic hollow of her collarbone. Her hand trembled in his as he raised it to his lips. "May I have this dance?"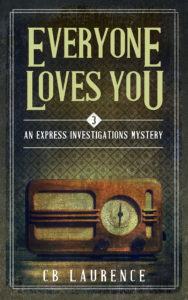 Somewhere in the hazy background, Rose heard music. His left arm snaked around her tiny waist, his hand nestled in the arch of her back. He pulled her closer. Like two pieces of the same puzzle, they swirled across the floor in an effortless rhythm.
He crooned softly to the music, the deep timbre of his voice igniting every nerve ending.
Rose caught a glimpse of her reflection in the store window. In this dark stranger's arms, she appeared radiant, sensuous…wanton. Suddenly frightened, she stiffened against him and pushed away.
"Uh-uh, Rose." His lips grazed her ear, and he strengthened his hold on her. "Dance with me."
She shook uncontrollably as if all at once every cell became aware she was locked in an embrace with a very strong, total stranger. Her breath came faster and faster in panicked waves as she pushed on the solid wall of his chest. "Please, leave me alone."
"Are you sure that's what you want?"
The simple question caught Rose off guard. She honestly didn't know. Her body, heart, and soul wanted to dance with him forever, but her brain insisted. She nodded. "Let me go."
He released her and placed his hand over his heart. "I'm a passionate man, Rose. If I've frightened you, please accept my humblest apologies."
CB 
had threatened to write the Mansfield stories for twelve years after being inspired by the Reba McEntire video for 'Because of You.' In 2020, she finally birthed the books. (Thank you, COVID) The Mansfield books launched The Express Investigations Series.
After bouncing around the country, CB settled in Phoenix for twenty years, but now connects to wi-fi in Texas. She lives with her seven-pound Yorkie, Benji, who rules her life with an iron paw.
Author's Giveaway
a Rafflecopter giveaway