Holiday Gifts For Kids: The Winners One Month Later
It's hard to believe Christmas was one month ago and I say that because, at least for me, it feels like Christmas was a million years ago. The new year came at us fast and January has been a bit of a beast!
I adore the holidays with a fiery passion and realize I should probably just move on but then I had an idea for a blog post that I thought might interest those of you with little ones. Hopefully it's a post that might prove helpful  for the future when various birthdays pop up for the kiddos in your life throughout the year.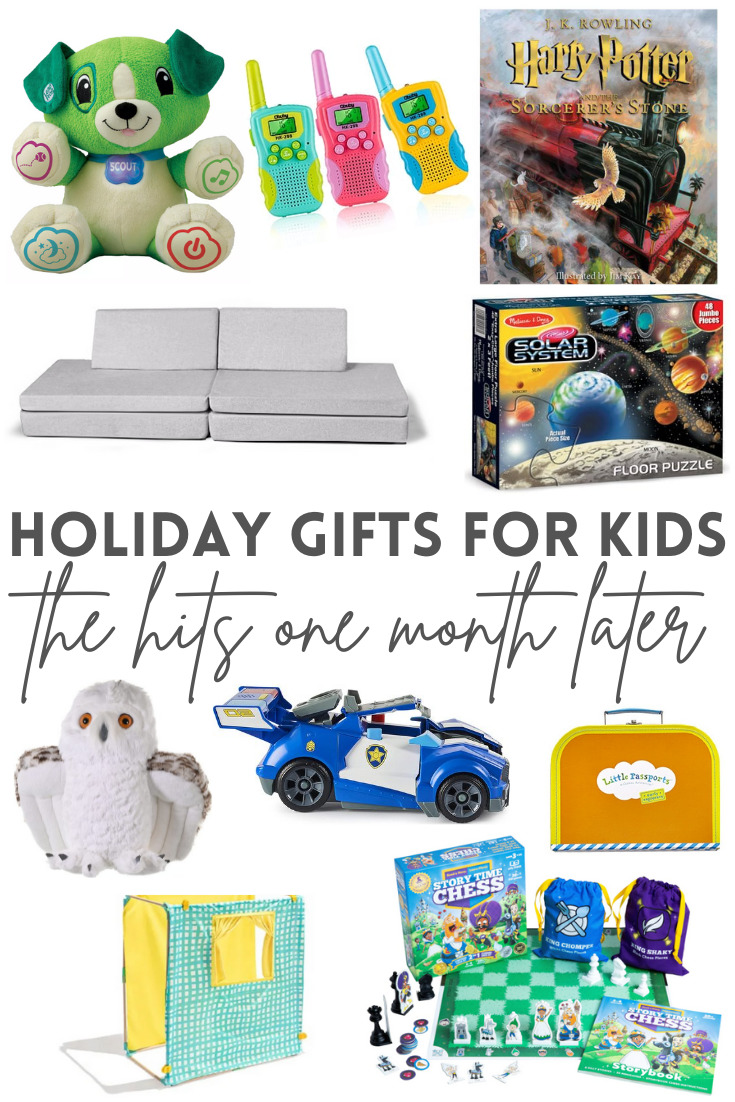 On the blog today I'm diving into sharing the "holiday hits" from our boys' Christmas this year. These are the gifts and surprises they received from me and Ryan, family and friends that really seemed to blow them away. And by that, I mean these are the toys and books they're reaching for regularly one month later. If a toy is a hit one month later that generally is a good sign and means it will likely stand the test of time and continue to be put to good use as the months continue. Let's hope that's the case at least!
Christmas Gifts For Kids: The Winners One Month Later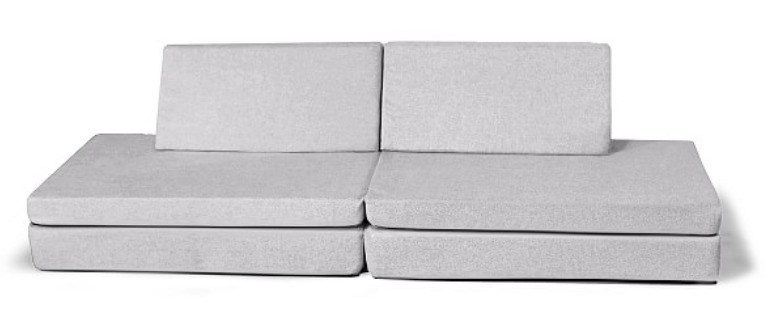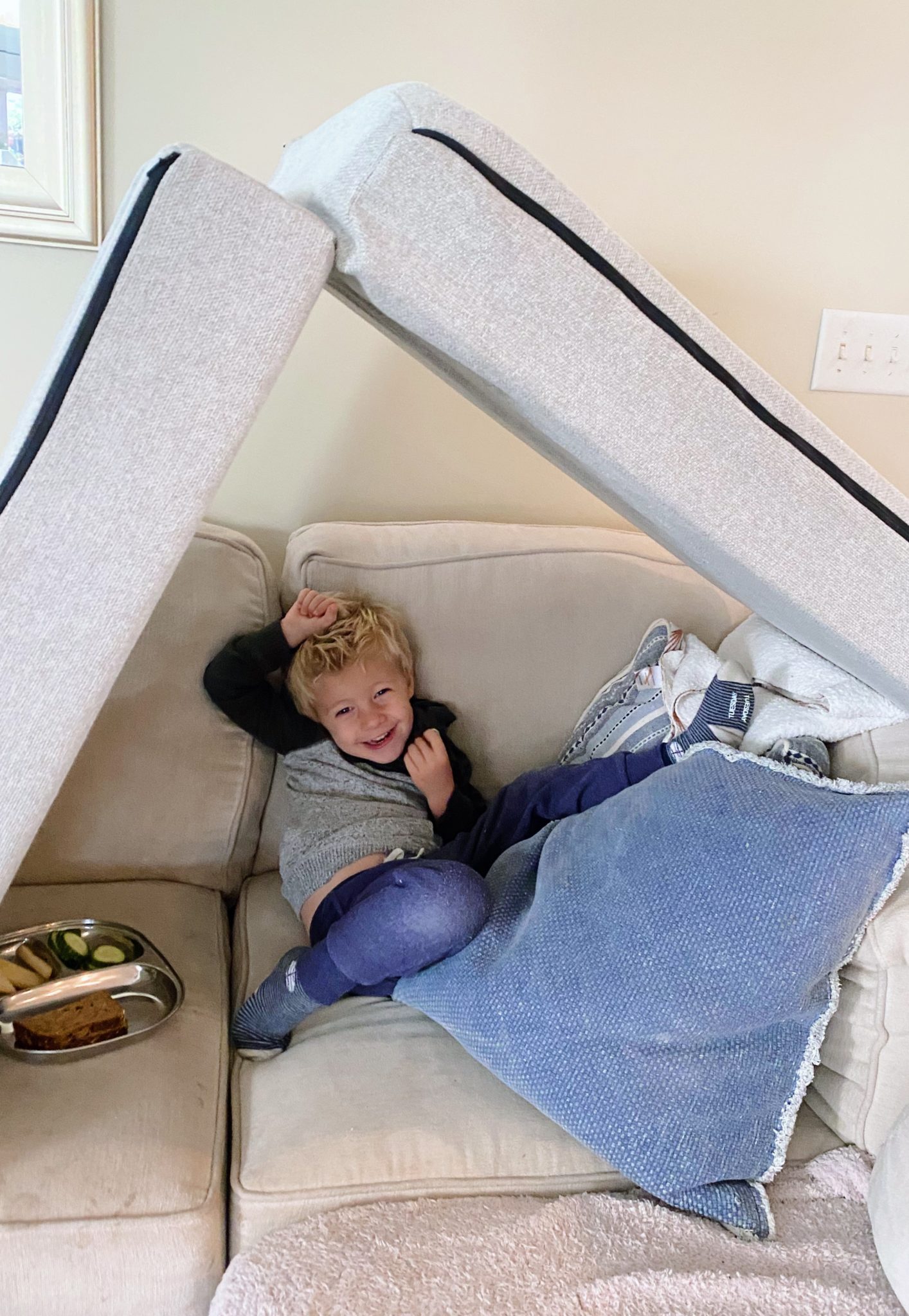 Who loves it? Chase (6), Ryder (3), Rhett (1) 
This was the boys' "big gift" of Christmas and is truly the gift that keeps on giving! The Blocksy Couch is Pottery Barn Kids' take on the always sold-out Nugget couch and has proven to be the hit of Christmas for all of our boys. They play with these cushions in some capacity every single day!
The cushions are incredibly versatile and made to be used in a myriad of ways. Our boys have used them to create forts, caves, obstacle courses, animal hide outs, reading nooks, race tracks with super-long ramps and more. They're amazing for cultivating imaginative play and I cannot recommend them enough!
Also, it should be noted that the cushions can be removed and treated for any stains and messes. I have first hand experience with this already and can assure you they clean up really well. I've only needed to wash them once so far but it was after a pretty big poopy disaster so I can say with confidence that the fabric is great for kids!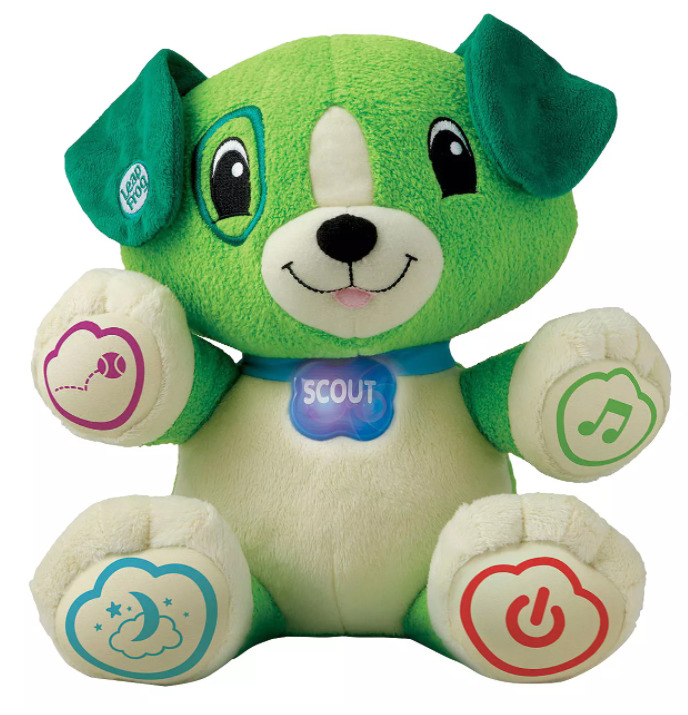 Who loves it? Rhett (1) 
This "gift" was actually a hand-me-down from a friend so it was new to Rhett (and our family) and possibly the biggest hit of Christmas for our littlest guy! Scout sings, lights up, plays learning songs and lullabies and talks about emotions, numbers, colors and counting. Rhett loves this little dog and carries it with him all over our house. I've even seen Ryder gravitate toward Scout a time or two. There's clearly a reason it has 9,000+ positive reviews on Amazon!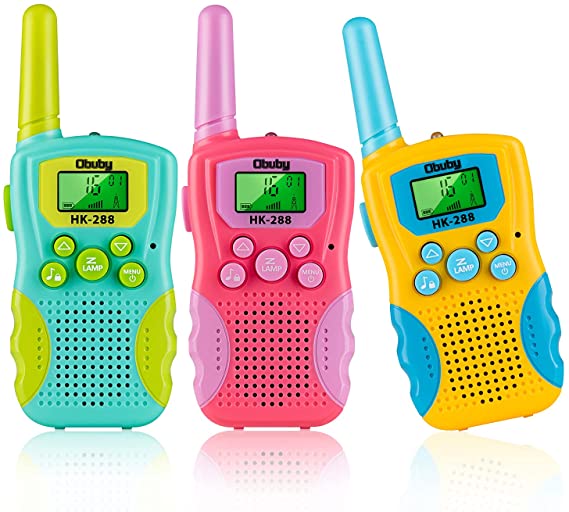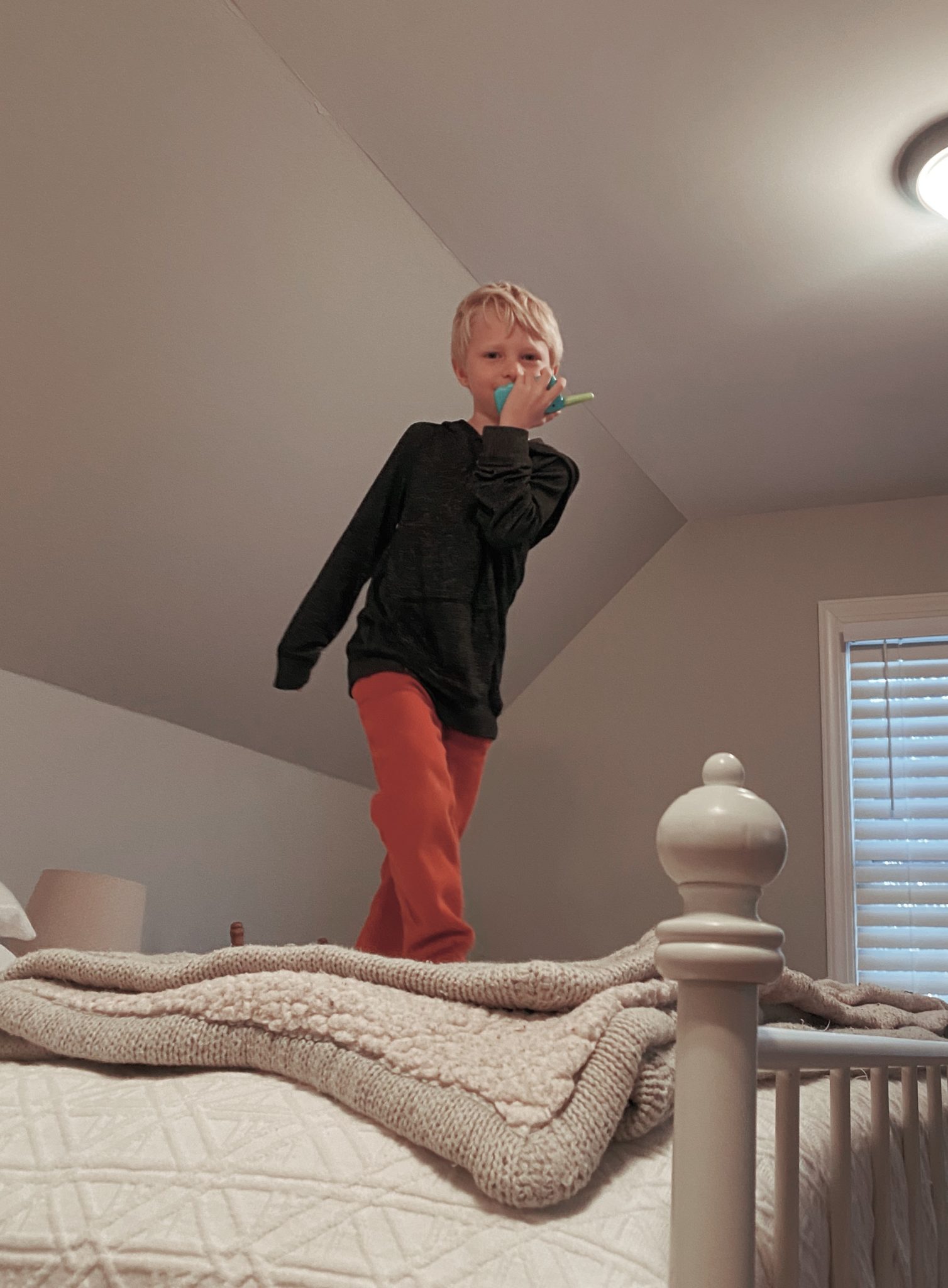 Who loves it? Chase (6), Ryder (3)
We had walkie talkies for the boys a few years ago that they loved but, like many cheap kid toys out there, they broke. Womp, womp. When my sister mentioned getting a three-pack of walkie talkies for the boys for Christmas I said go for it and, as anticipated, they loved them all over again!
The big kids use their walkie talkies all the time to communicate with each other throughout the house but also as pretend radios for various imagination games. (At 16-months old, Rhett just likes pressing all of the buttons.) They also got the biggest kick out of talking with my parents on their walkie talkies when my parents had the third walkie talkies in their car when we were driving to the same place at the same time during our Florida trip.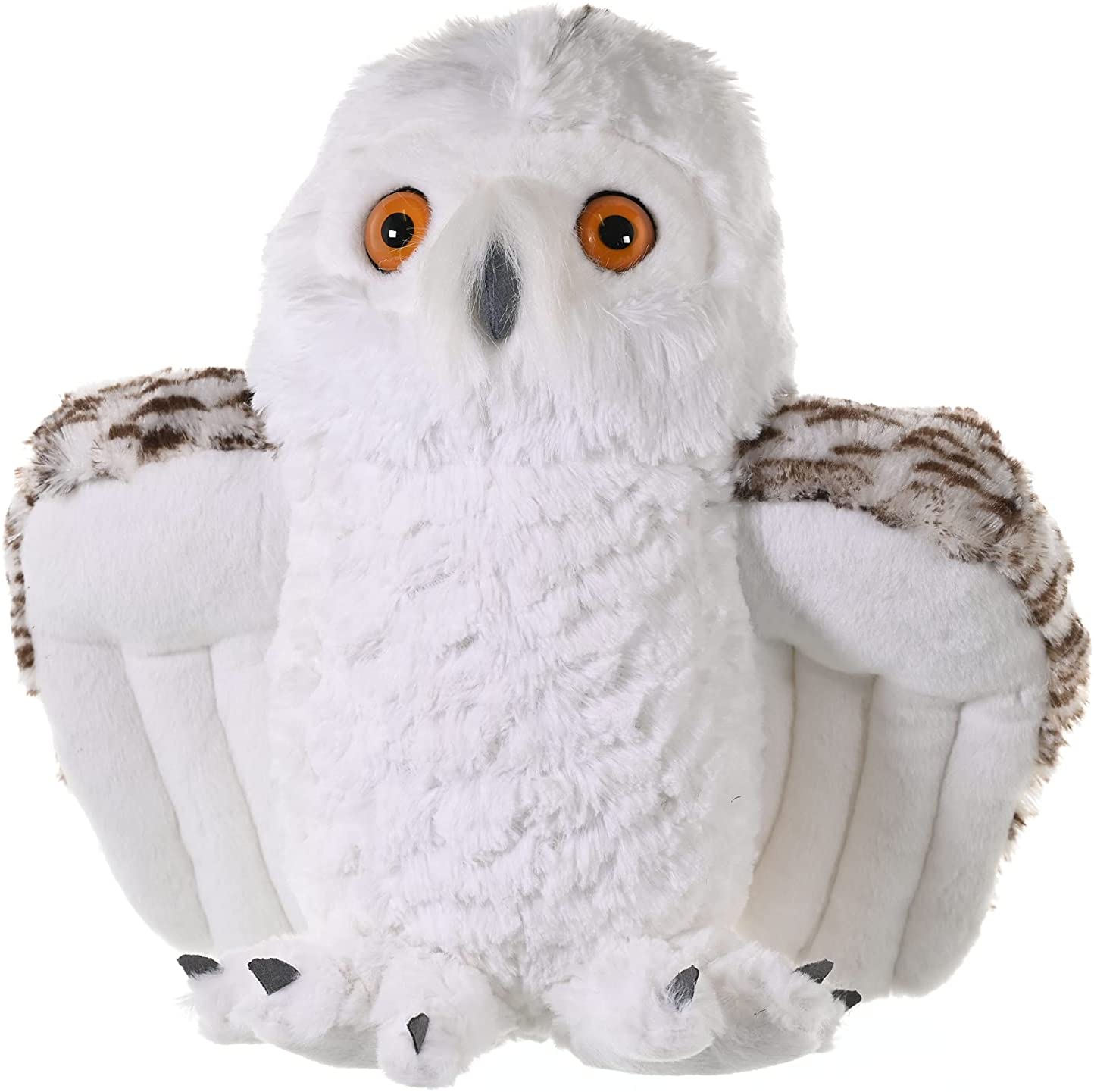 Who loves it? Chase (6), Ryder (3)
This was one of the top items on the boys' wish lists this year. Chase wanted a snowy owl after reading about Hedwig in Harry Potter and Ryder loves everything Chase loves, so we knew he'd be all about a new stuffed animal friend, too. I found these two snowy owls on Amazon and we've been super impressed with the quality! They're incredibly soft and rather large and the boys immediately thought they were the coolest. They both sleep with their owls every single night and regularly incorporate them into various imaginative play scenarios.
Also, as a side note, we've loved quite a few Wild Republic stuffed animals over the years and have found them to be high-quality every time. They are made with super-soft fabric and often look incredibly realistic which make the boys love them all the more!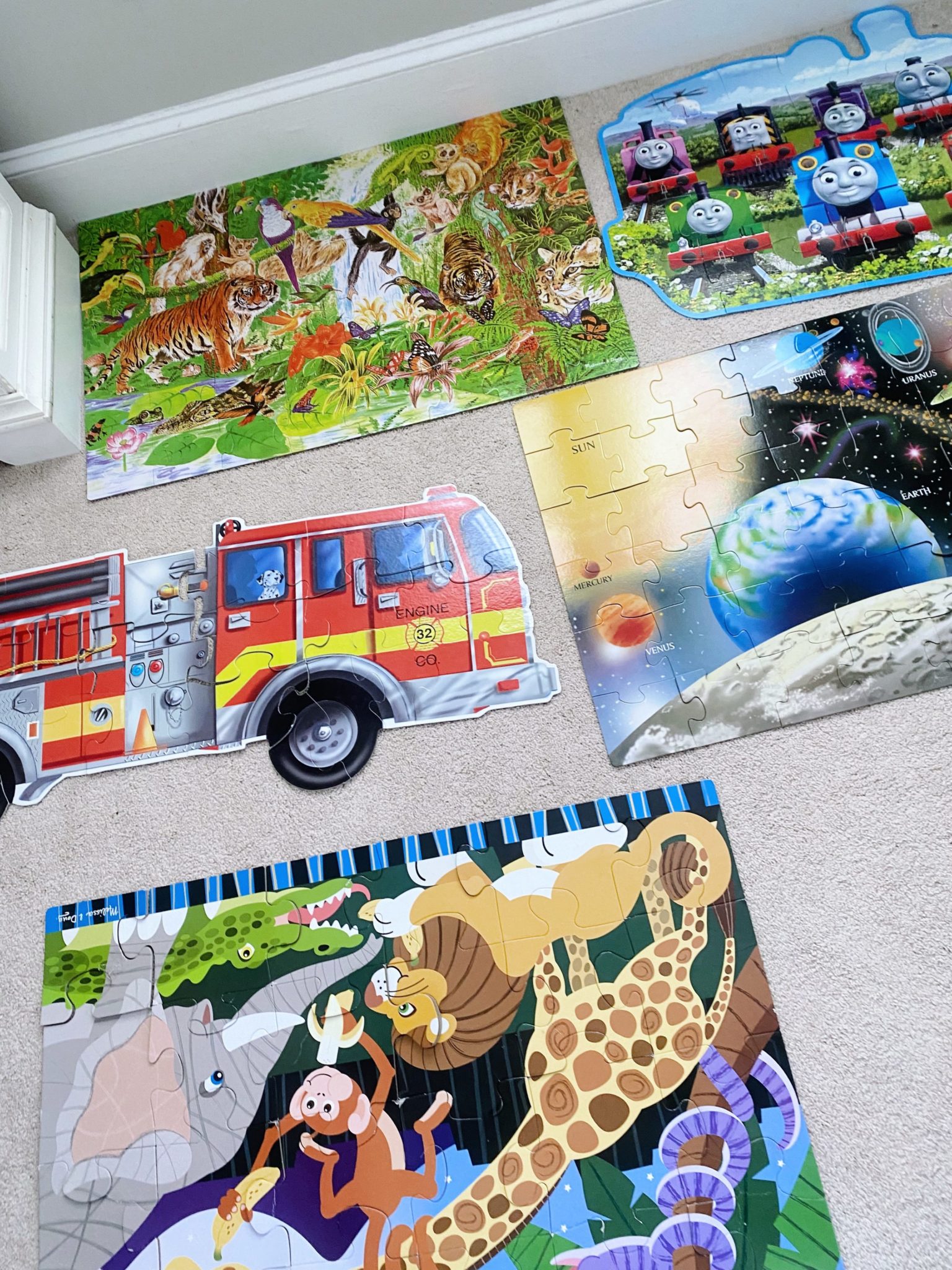 Who loves it? Chase (6), Ryder (3)
Rewind to my life before kids and I would've thought puzzles would be the kind of thing kid would do one time and ignore in the future. I never could've anticipated our boys' love for puzzles. They work on puzzles several times a week both together and by themselves. Our whole family knows that Ryder in particular is our big-time puzzler and he was gifted with two large floor puzzles (this space puzzle + this rainforest puzzle) and both of the boys have been doing them on repeat over the course of the past month. (Note: We've has some luck finding decent floor puzzles at consignment shops!)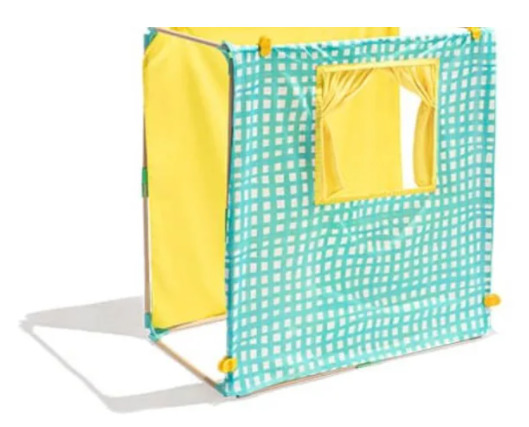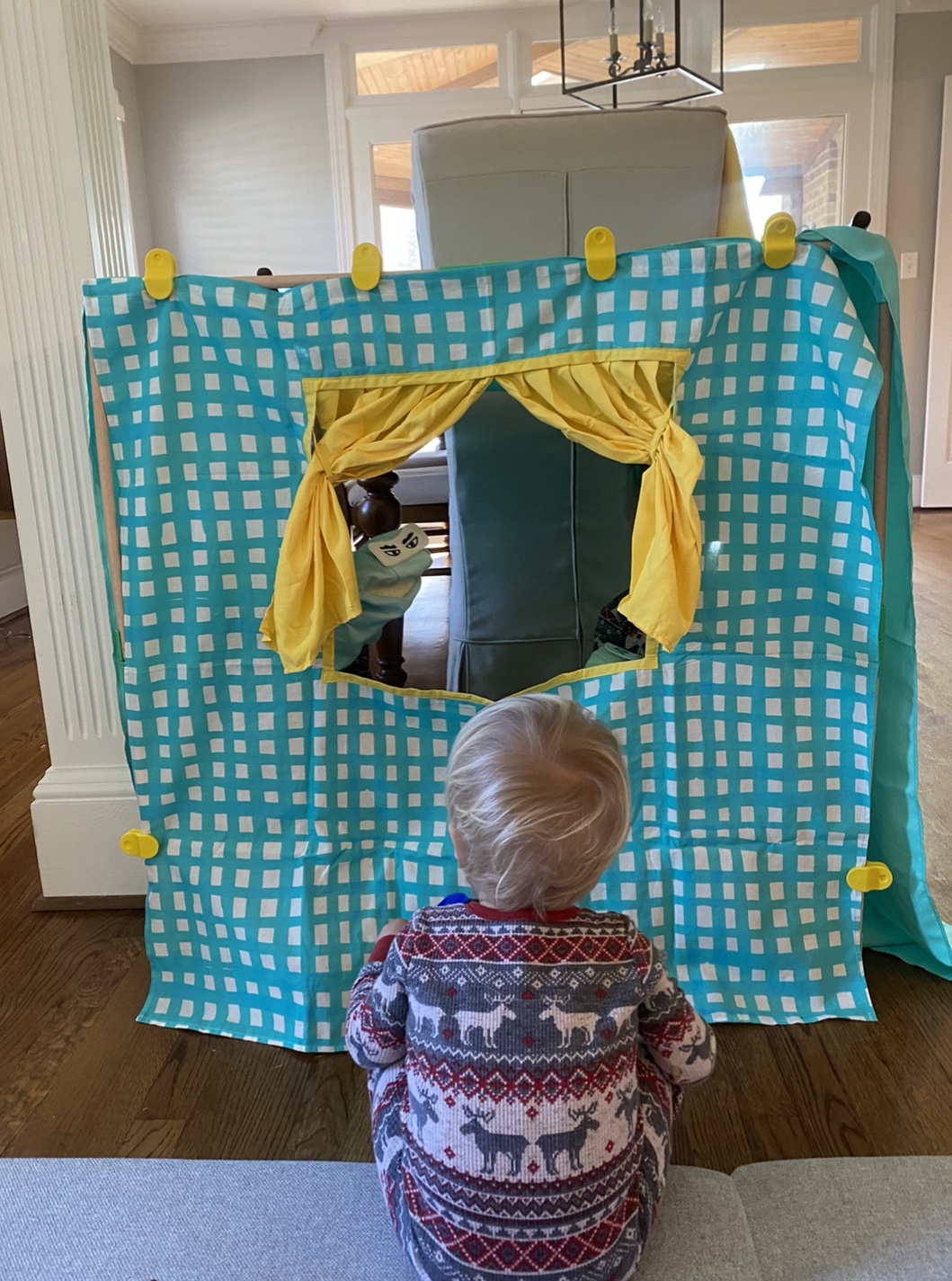 Who loves it? Chase (6), Ryder (3) 
I saved a few items from Ryder's recent LOVEVERY subscription delivery (a wonderful birthday gift for him from my mom) and wrapped them up for him to open on Christmas morning. This fort + puppet show set was one of the items I saved and it continues to receive a lot of love from the boys. The quality is fantastic (the poles are made of solid wood) and they've used this to build forts and put on countless puppet shows since Christmas morning.
Little Passports + Science Junior
Who loves it? Chase (6), Ryder (3)
When one of these deliveries arrive in the mail for the boys, it feels like Christmas all over again! Little Passports and Science Junior are subscription deliveries that allow children to explore new places and learn about our world through activities, stories, experiments and art projects. It's an interactive gift our family enjoys doing together and I'll occasionally hide the deliveries away for a rainy day activity or a day when the boys don't have school and we might be looking for something a little more involved to do together. Chase and Ryder have been doing them for a few years and my mom and mother-in-law renewed their subscriptions for Christmas which was such a treat.
Who loves it? Chase (6)
Chase is huge into Harry Potter right now and when I mentioned this on the blog, many of you encouraged us to check out the illustrated editions. He is absolutely loving them and was thrilled to receive the third illustrated book for Christmas! They're incredibly well done and while I was initially worried that the pictures would detract from his imagination and the images he created in his head as we read the story together, they've only served to increase his excitement surrounding the stories since he enjoys peeking ahead and making guesses about what is coming next. He also adores this Harry Potter wand my mom got for him!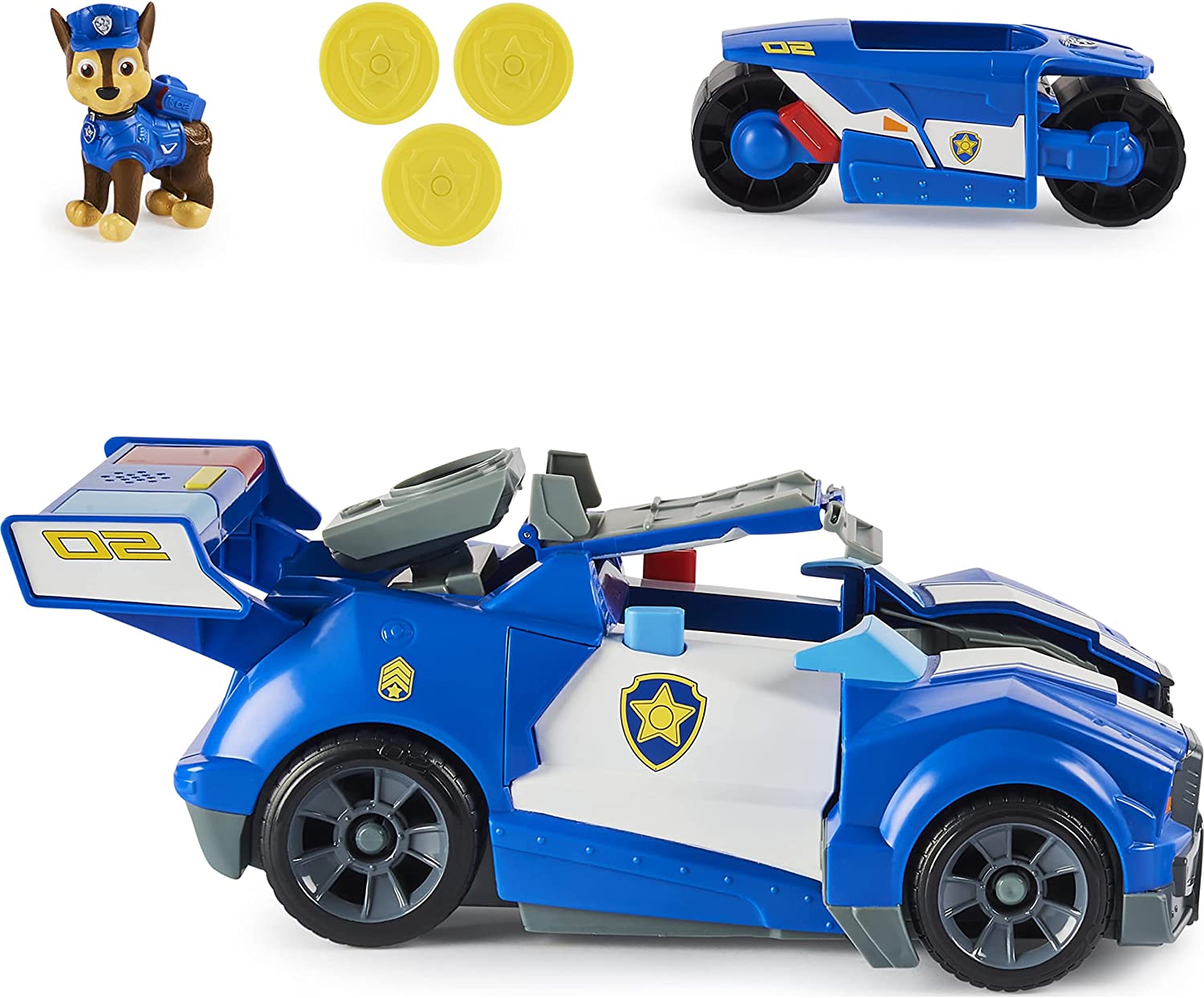 Who loves it? Ryder (3) 
There are some gifts out there that, while wonderful, when opened they might not get a huge reaction. And then there are gifts like this Paw Patrol car that get the most enthusiastic reaction the moment the wrapping paper is ripped away. This car with a built-in motorcycle and launching discs elicited the best reaction from Ryder on Christmas morning and proved that anything Paw Patrol + Car related will always be a hit with our boys.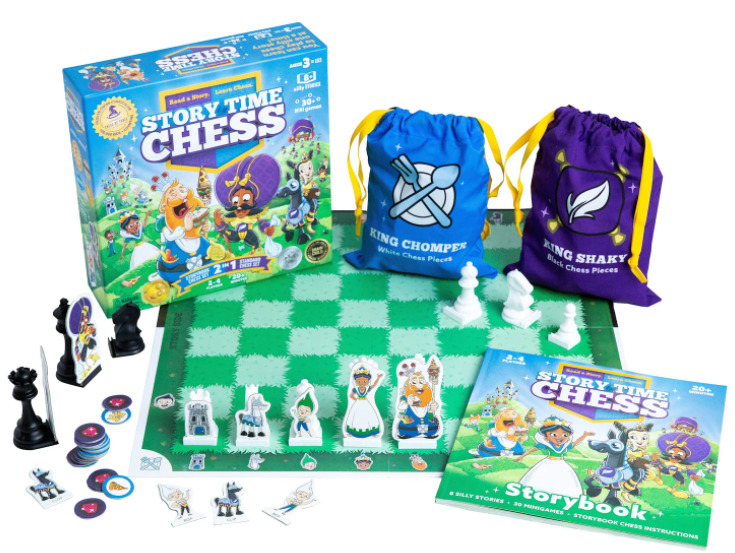 Who loves it? Chase (6)
This was such a unique gift Chase received from my mom. As a kid who loves games and stories, Storytime Chess is the best of both worlds. It uses characters, stories, activities and imagery to help younger children learn the moves, strategies, and language of chess. It's incredibly creative and Chase is always dying to play!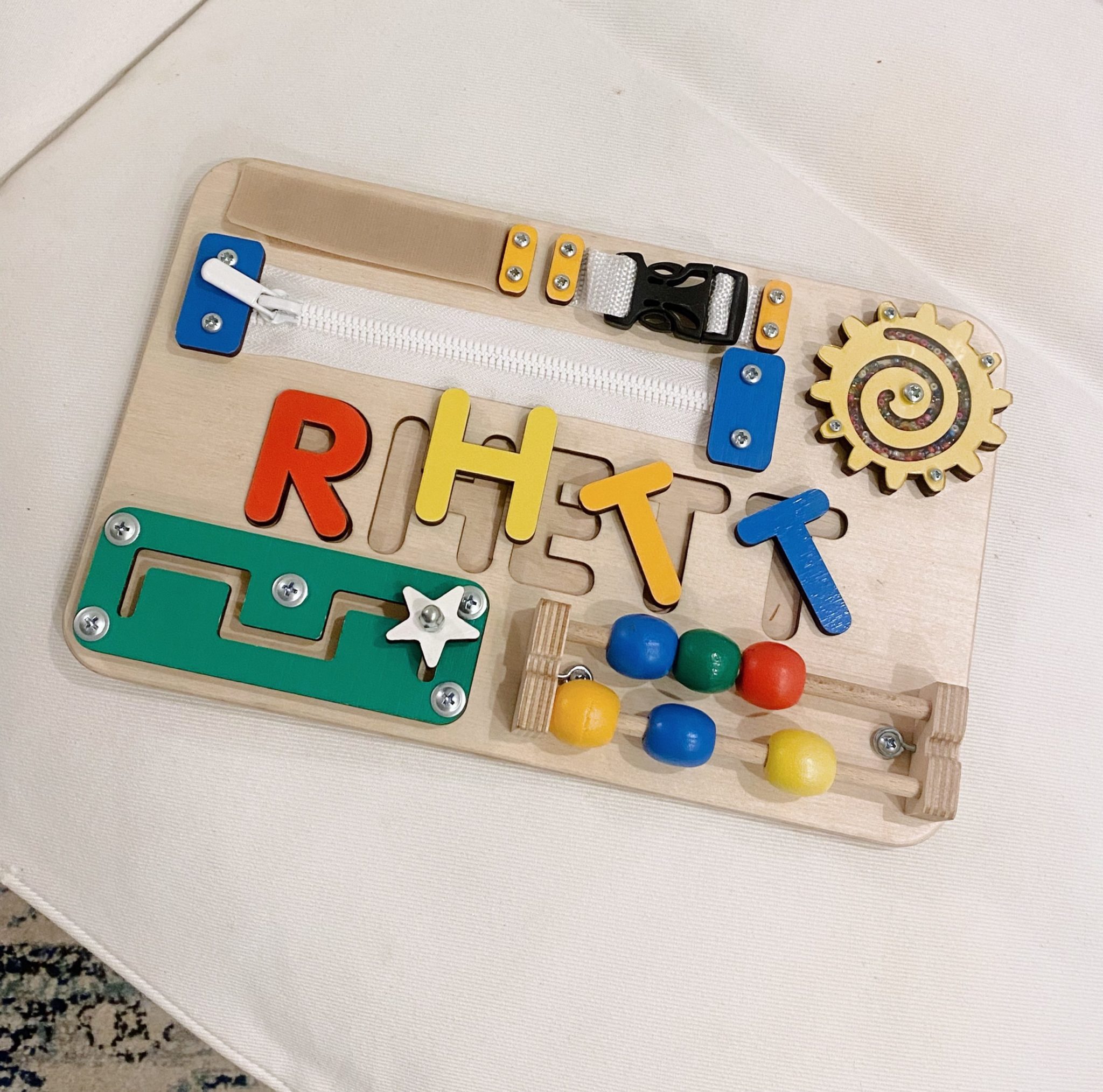 Who loves it? Rhett (1) 
My sister knocked it out of the park with this busy board for Rhett's Christmas gift this year! Leslie and I are admittedly obsessed with Etsy when it comes to finding unique gifts for each other's children (we gave Callie this personalized stepping stool this year which was also a hit!) and Rhett's personalized busy board was her latest winner!
The busy board has proven to be a toy I've found Rhett fiddling with over and over again. We also packed it in the car during our road trip to Florida and it kept him entertained for nearly 20 minutes which is an eternity in Baby Land.
Shop This Post

Question of the Day
What holiday gifts continue to be hits with the little ones in your life? 
The post Holiday Gifts For Kids: The Winners One Month Later appeared first on Peanut Butter Fingers.