Glass Onion: A Knives Out Mystery Clip Invites Its Suspects To Solve A Puzzle (And A Murder)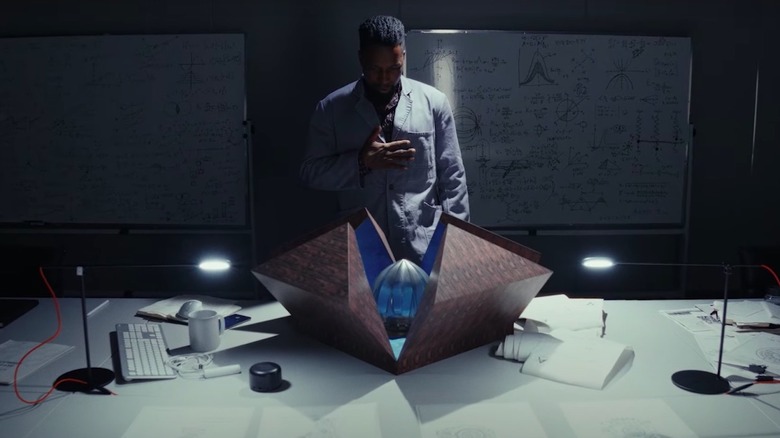 It's getting closer and closer to "Glass Onion" time, and honestly, it's also getting harder and harder to wait for it. "Glass Onion: A Knives Out Mystery" had its world premiere screening at the Toronto International Film Festival a few weeks back, but the reality is, most of us have yet to see the full film. However, now we have a new trailer to sink our teeth into.
The new addition to the "Knives Out" universe follows Daniel Craig's Detective Benoit Blanc as he "travels to Greece to peel back the layers of a mystery involving a new cast of suspects," according to Netflix.
Craig is the only returning cast member from the original film — makes sense considering the chain of events of that story — but the ensemble cast this time around is just as exciting. Edward Norton, Janelle Monae, Madelyn Cline, Dave Bautista, Kate Hudson, Leslie Odom Jr., Kathryn Hahn, and Jessica Henwick round out the supporting players.
Solve The Puzzle Of Glass Onion: A Knives Out Mystery Clip
Who invites their friends to solve their own murder? Apparently the mysterious "Miles," who sends invitations to his private island in the form of puzzles to all his friends and soon-to-be murder suspects. The clip is a zippy, entertaining watch, and one that whets our appetites for a sequel that is apparently even better than the first movie.
Rian Johnson returns to direct from a script he penned himself. He also produced the film alongside Ram Bergman. Johnson previously opened up about his decision to expand the "Knives Out" universe into more films — a move inspired by the wonderful world of mystery queen Agatha Christie. Johnson wrote in a Twitter thread in June 2022:
"Something I love about Christie is how she never tread water creatively. I think there's a misperception that her books use the same formula over and over, but fans know the opposite is true. It wasn't just settings or murder methods, she was constantly stretching the genre conceptually. Under the umbrella of the whodunnit she wrote spy thrillers, proto-slasher horrors, serial killer hunts, gothic romances, psychological character studies, glam travelogues."
He added, "When I made 'Knives Out,' that's what excited me about the prospect of making more mysteries with Daniel as Benoit Blanc — to emulate Christie and have every film be like a whole new book, with its own tone, ambition, reason for being... and (ta dah) title."
"Glass Onion: A Knives Out Mystery" arrives on Netflix in the United States on December 23 following a limited theatrical release in November.
Read this next: 20 Movies About Time Travel Ranked Worst To Best
The post Glass Onion: A Knives Out Mystery Clip Invites Its Suspects to Solve a Puzzle (and a Murder) appeared first on /Film.