Get to Know You Activities for the First Week of School
The first week of school is the perfect time to start establishing your classroom community! Get to know you activities are a great way to do this because it's a fun way for elementary school students to learn more about their peers.
Here are three super simple get to know you activities for the first week of school!
1. CLASS WORD SEARCH
A class word search is a great way for your whole class to learn each other's names during the first week of school! Not only is it a fun morning work activity for the first week, but it also helps your elementary students get used to the idea of morning work if that is something new.
Here are the steps on how to make the class word search (steps 4-6 are not necessary but add a more personalized touch):
Google "free word search maker"
Choose a word search creator that works for you. I've used the one linked HERE before.
Follow the steps on the website to generate your word search
Take a screenshot of just the puzzle (no title or names at the bottom.)
Insert a screenshot into an 8.5X11 Powerpoint slide
Type your students' names and give the word search a title in a fun font of your choice!
2. FIND SOMEONE WHO
This icebreaker activity is perfect for the first week or two of school. "Find Someone Who" is an easy way for students to get to know their new classmates. Plus, they get up and MOVE!
Playing is easy! Students go around the room looking for classmates who fit each category. When they find someone who fits the description, they either write their name in the box or have the classmate sign their name. Once they have filled all of the boxes, they are done!
You can extend this to have students find two classmates who fit each description. Make sure to encourage them to talk to everyone and avoid filling in one student's name for many boxes! Give them a limit of two boxes for each person.
Grab this easy get to know you activity for free by entering your info below!
3. DESIGN A NAME TAG
This is another super simple get to know you activity! During morning meeting in the first few days, read The Name Jar. Here's the synopsis:
Being the new kid in school is hard enough, but what happens when nobody can pronounce your name? Having just moved from Korea, Unhei is anxious about fitting in. So instead of introducing herself on the first day of school, she decides to choose an American name from a glass jar. But while Unhei thinks of being a Suzy, Laura, or Amanda, nothing feels right. With the help of a new friend, Unhei will learn that the best name is her own."
This read-aloud can spark many great discussions about students' names and how they got them, the importance of pronouncing people's names correctly, and how our names are such an important part of our identity.
After the read-aloud, give students a piece of cardstock paper and have them fold it "hot dog" style so it can sit upright when finished. You can do this activity with an index card too!
Then, students write their names and draw three or more pictures that represent who they are or their favorite thing about themselves.
hobbies
sports they play
where their name came from/who they're named after
pets
favorite subjects
When everyone has designed their nameplate to reflect themselves, have students share in a community circle, small groups, or with a neighbor. This will help students share about themselves and what's important to them.
For the remainder of the week, students can keep their nameplates on their desks for others to see and get to know their classmates better and maybe make some new friends who share the same interests!
This will also help you learn names quicker because the name is easily seen propped up on the student's desks and has little pictures to remember them by!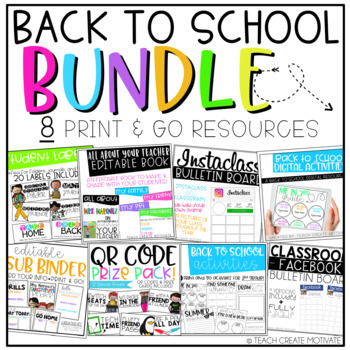 Back to School Bundle
Want a one stop shop for BTS?! This bundle includes all my BTS themed resources at a discounted price!! Please see each resource below to know exactly what you are getting!
Included in this bundle:
1. Back to School Pack
2. Editable Substitute Binder
3. All About Your Teacher Editable Book
4. Student Label Pack
5. QR Code Prize Pack
6. InstaClass Bulletin Board
7. Facebook Bulletin Board
8. Digital Back to School Activities
I hope this gave you some ideas for fun icebreaker activities for the beginning of the year to add to your lesson plans! The first days of school can be so nerve-wracking for our students. Adding in a simple activity or two to help with those first day jitters may be just what they need to have a great school year!
Pin the image below to revisit this post later!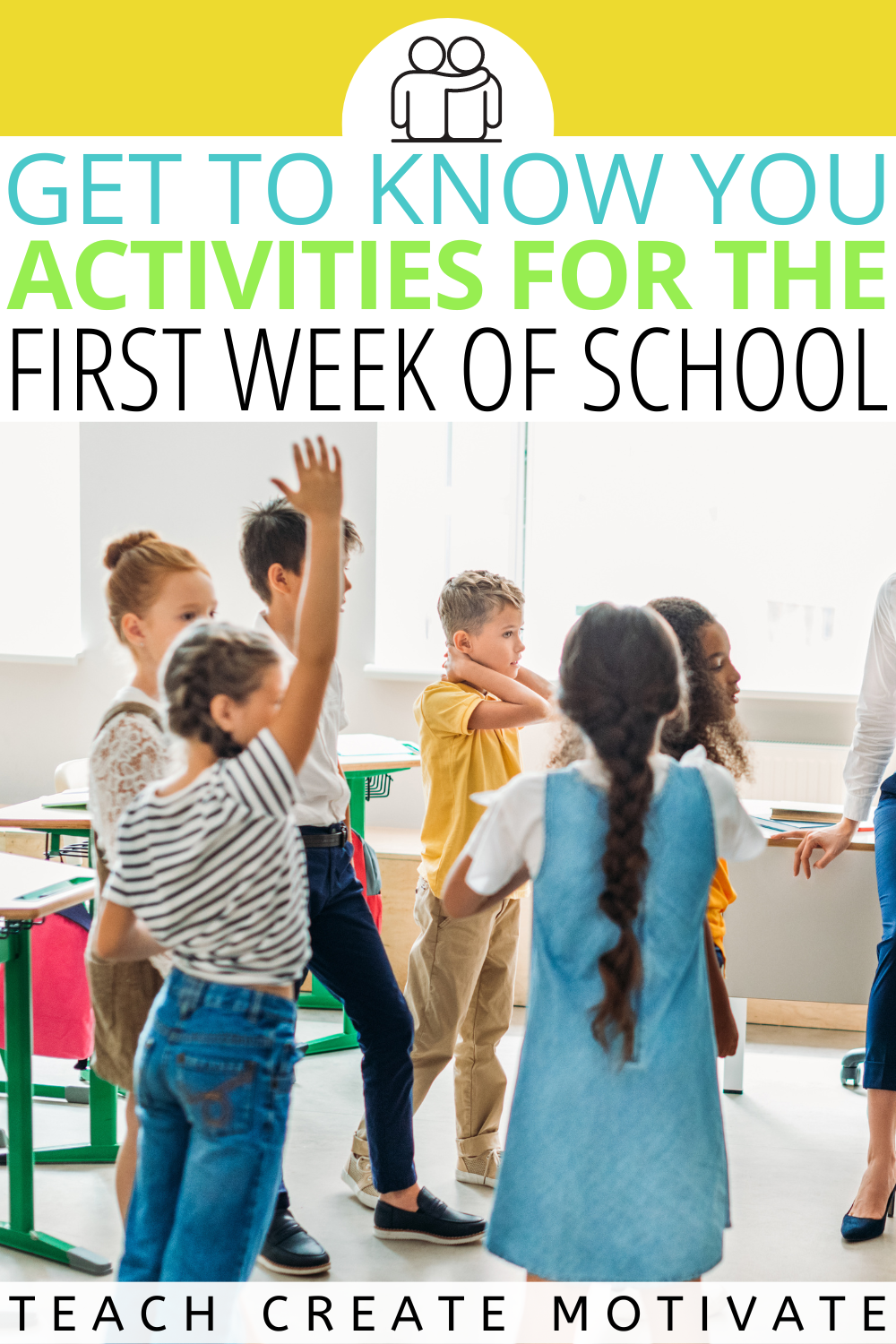 The post Get to Know You Activities for the First Week of School appeared first on Teach Create Motivate.