From KISS to crafting: The best themed cruises for 2022-2023
You come to hear the music, to pursue a hobby or to follow a celebrity; you return for the community of people sharing a common passion. Themed cruises offer the unique opportunity to find your people and explore the world with them — all while enjoying an incredible schedule of onboard activities and entertainment.
A themed cruise is a special-interest sailing, based around interests like food and wine, sports, hobbies like dancing or crafting, popular films and TV shows, lifestyles and music.
They can take over the whole ship or have an organized group join a regular itinerary but offer special events exclusive to participants. First-timers are lured by the chance to meet or listen to their favorite celebrities or to improve their skills in a favorite pastime. However, they quickly discover that the best part of a themed cruise is immersion in a community of like-minded individuals.
Theme cruises foster a warm, friendly atmosphere onboard where the conversation is easy because you begin with an established connection. Days and nights of shared interests and experiences on board can lead to meaningful connections that can last a lifetime.
What's better than being surrounded by your people, partying the night away and then retiring to your own private cabin that's just an elevator ride away? Not much — except perhaps a chance encounter with your celebrity crush at the ship's buffet, a no-holds-barred Q&A with your favorite actors or musicians or a small-group class with a rising star.
From a KISS concert to a crafting masterclass, these are some of the best themed cruises coming up in the next year.

For more cruise news, reviews and tips, sign up for TPG's cruise newsletter.
Note: As standard on all big-ship cruises, fares for themed cruises include several complimentary dining options. Alcohol and soda will cost extra, with package deals available depending on the cruise line and the charter company; tours and excursions in port cost extra as well. Pricing is based on two people sharing a cabin.
Music-themed cruises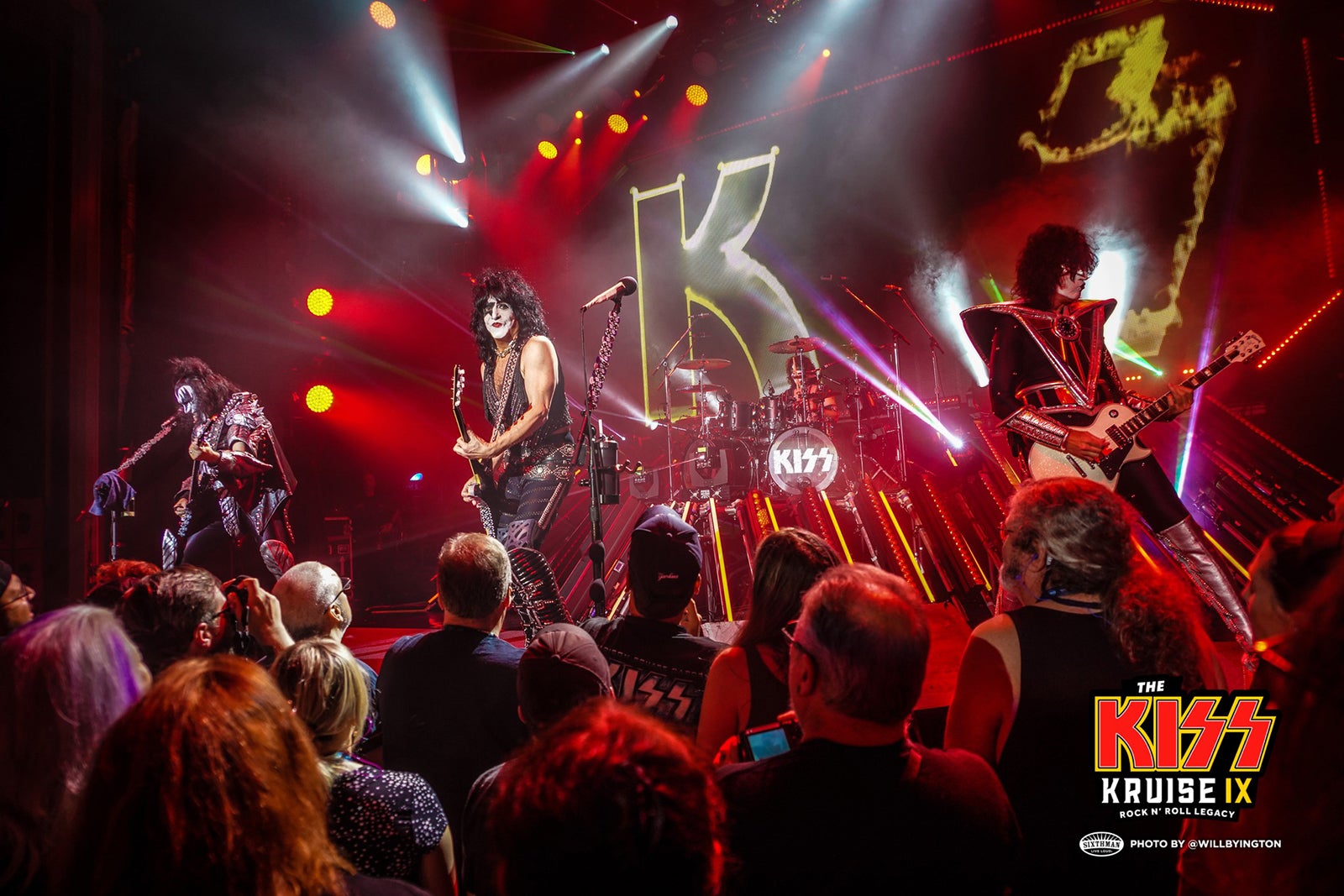 The KISS Kruise XI on Norwegian Jewel, Oct. 24-29 and Oct. 29-Nov. 3, 2022
After 11 years, the wildly popular KISS Kruise will offer its final two sailings this October, giving you one last chance to rock 'n' roll all night with the band itself at sea.
You'll find the famed music icons performing, hosting events and attending special meet-and-greets on both departures. The top-tier music acts, however, change out for each cruise, with a lineup that will include Dokken, Warrant, Black Label Society, Sebastian Bach and many more rock 'n' roll icons.
Leave extra space in your bag to bring home a piece of history from the band's expo of rare memorabilia. The second cruise is already sold out. However, there is still availability for the first week. Find pricing and reservations on the KISS Kruise website.
Soul Train Cruise on Holland America Line's Nieuw Amsterdam, Jan. 29-Feb. 5, 2023
People all over the ship, join hands! The Soul Train Cruise returns for its 10th sailing this January with more than 50 live performances from soul music legends.
This is your chance to join more than 2,000 soul music fans for a week filled with all the joy of those timeless tunes. This year's artist roster features soul music legends and tribute acts including Babyface, George Benson, The Commodores, The Spinners, Peabo Bryson, Evelyn "Champagne" King, Midnight Star and Deniece Williams.
When you're not boogieing down on the dance floor, sign up for celebrity-hosted wine tastings, game shows and other activities. The cabins are booking quickly and many are waitlist only.
Find pricing and booking information on the Soul Train Cruise website.
The Outlaw Country Cruise 7 on Norwegian Pearl, Feb. 21-27, 2023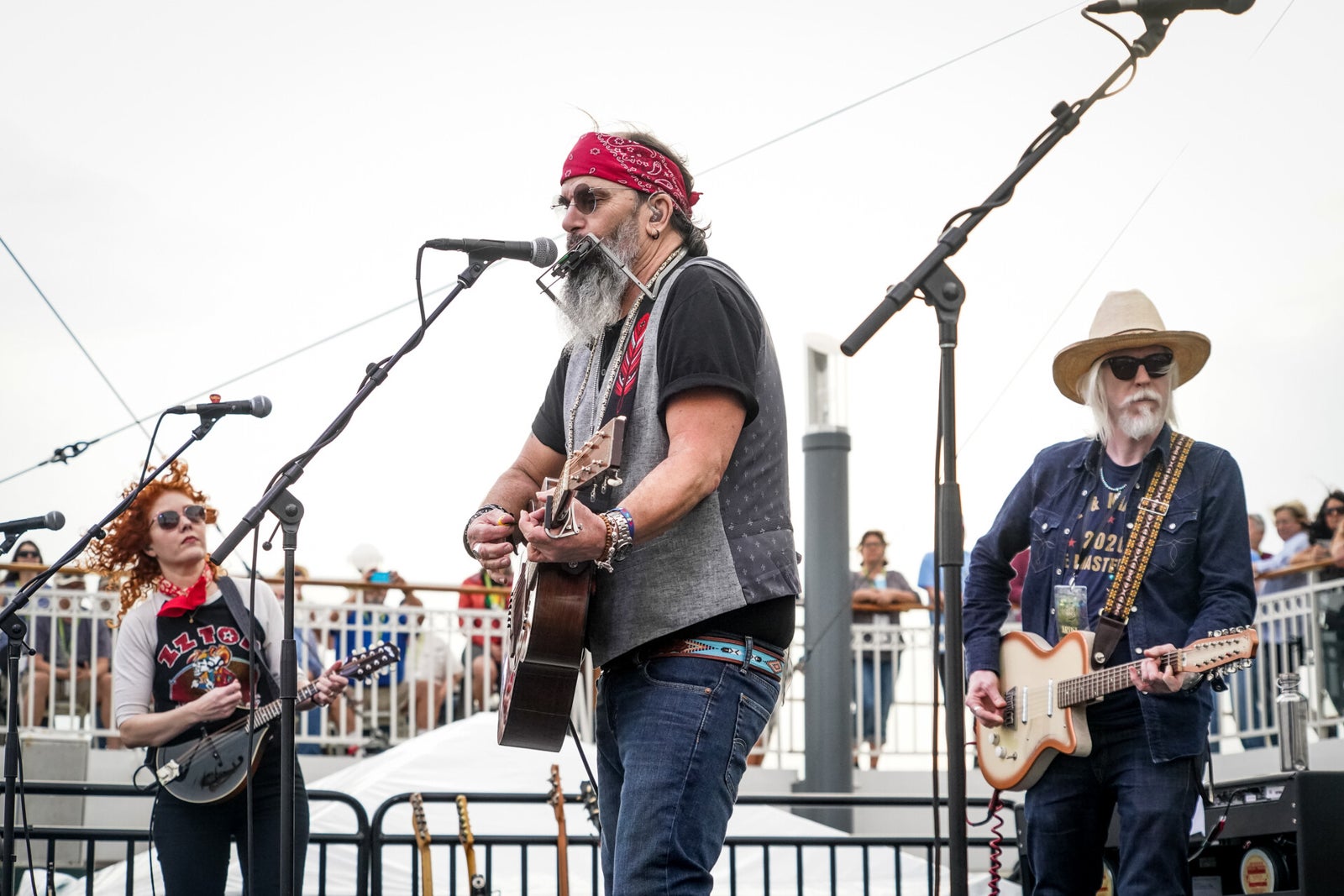 Boot scoot your way to the middle of the ocean for the seventh Outlaw Country Cruise along with some of country music's greatest stars.
It's a honky-tonk week at sea as The Mavericks, Lucinda Williams, Steve Earle & The Dukes, Ray Wylie Hubbard, Old 97s and more join the ranks of musicians set to perform.
Expect plenty of hootin' and hollerin' during themed costume nights, meet-and-greets, game shows, a belly-flop competition and bingo games. The ship is almost sold out, so book soon or you'll be left two-stepping shoreside.
Reserve your spot on the Outlaw Country Cruise website.
The Ultimate Disco Cruise on Celebrity Summit, Feb. 25-March 2, 2023
Feel the signature electric baseline and get ready to be swept away by the intoxicating beats of The Ultimate Disco Cruise, a disco-lovers paradise at sea.
The days of lining up outside of Studio 54 are long gone. This cruise features more than 40 live shows that will transport you back to the days when the music made you move. Legends from that era, as well as tribute acts, are set to perform on the 2023 cruise. They include Kool & The Gang, Billy Ocean, Taylor Dayne, Sister Sledge, Tavares, Norma Jean Wright and Luci Martin.
For pricing and booking information, visit the Ultimate Disco Cruise website.
The Flower Power Cruise on Celebrity Summit, March 23-30, 2023
Hippies have it good on the Flower Power Cruise as some of the greatest music legends of the late '60s and early '70s bring their groovy vibes to sea.
Relive the glory days of peace, love and flowers in your hair on board this weeklong sailing. The 2023 lineup includes Herman's Hermits, Felix Cavaliere's Rascals, Micky Dolenz, The Yardbirds, The Buckinghams, The Grass Roots and others from that era. Tribute bands will also play all the hits. The cruise is currently sold out. However, there is a waitlist.
Related: Music cruises to set sail on the high seas in 2022 and 2023
Film- and TV-themed cruises
Star Trek: The Cruise on Royal Caribbean's Navigator of the Seas, Feb. 24-March 3, 2023
Sail long and prosper! Take the best of a sci-fi con, extend it for a week, add in perfect tropical weather and you've got Star Trek: The Cruise.
Few franchises have as devoted of a fan base as Star Trek and all their love for the series floats this cruise. Set for its sixth sailing this February, the cruise is an immersive getaway with an impressive roster of cast members and creatives who have been a part of Star Trek since its inception. 
This year's cruise welcomes fan favorites including Kate Mulgrew, Doug Jones, Sara Mitich, Michelle Hurd, Jonathan Frakes, Brent Spiner, Marina Sirtis, Denise Crosby and many more.
Join in the merry mayhem as these sci-fi legends offer dramatic performances, comedy shows, Q&As, screenings, interactive games and other events and activities that will make your days at sea fly by.
The upcoming cruise is nearly sold out, with very limited availability. Beam on over to the Star Trek: The Cruise website for the latest pricing, availability and waitlists. 
Golden Fans at Sea: The Golden Girls cruise on Celebrity Summit, April 8-23, 2023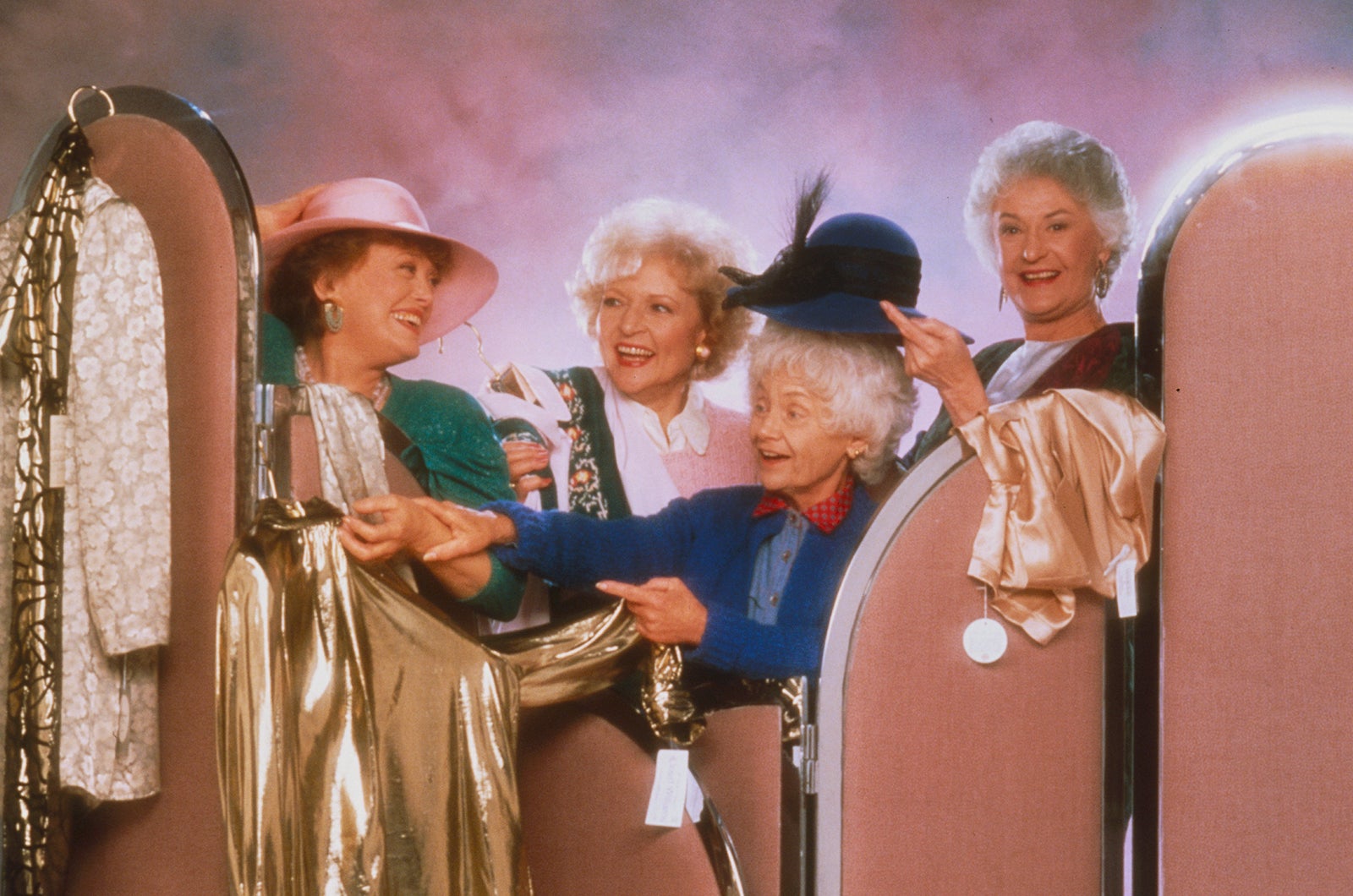 Picture it: Sicily…but you're on a ship in the Gulf of Mexico, surrounded by 2,000 cheesecake-loving, caftan-draped Dorothys, Roses, Blanches and Sophias.
Not your grandmother's cruise as much as it's a cruise for those who love wise-cracking old broads, the Golden Fans at Sea is the ultimate getaway for the popular TV show's dedicated fan base.
Highlights of the cruise include guests like Stan Zimmerman, one of the creators and head writers of the series; Melinda McClanahan, Rue McClanahan's sister; and Marsha Posner Williams, a producer of The Golden Girls, who has many stories to share about her time working on the show.
You'll find pricing and a booking form for the upcoming April cruise on the Golden Fans at Sea website.
Themed cruises for hobbies and special interests
The Gothic Cruise on MSC Divina, Sept. 18-25, 2022
A vacation for goths by goths, The Gothic Cruise is the first and original gothic cruise with a history that dates back to its inaugural group sailing in 1989.
Delightfully macabre, Gothic Cruise 2022 is not a full-ship charter but a specialty group onboard. Seek out group members at three special theme nights set for 2022 including a SpookEasy roaring '20s party, a Campy Goth evening (think Addams Family) and Clash of Our Titans, a party to don your best Greek mythology wear. Ego Likeness and The Gothsicles will perform live as well.
Find pricing and book your cabin on the Gothic Cruise website.
Meow Meow Cruise on Carnival Paradise, Oct. 27-31, 2022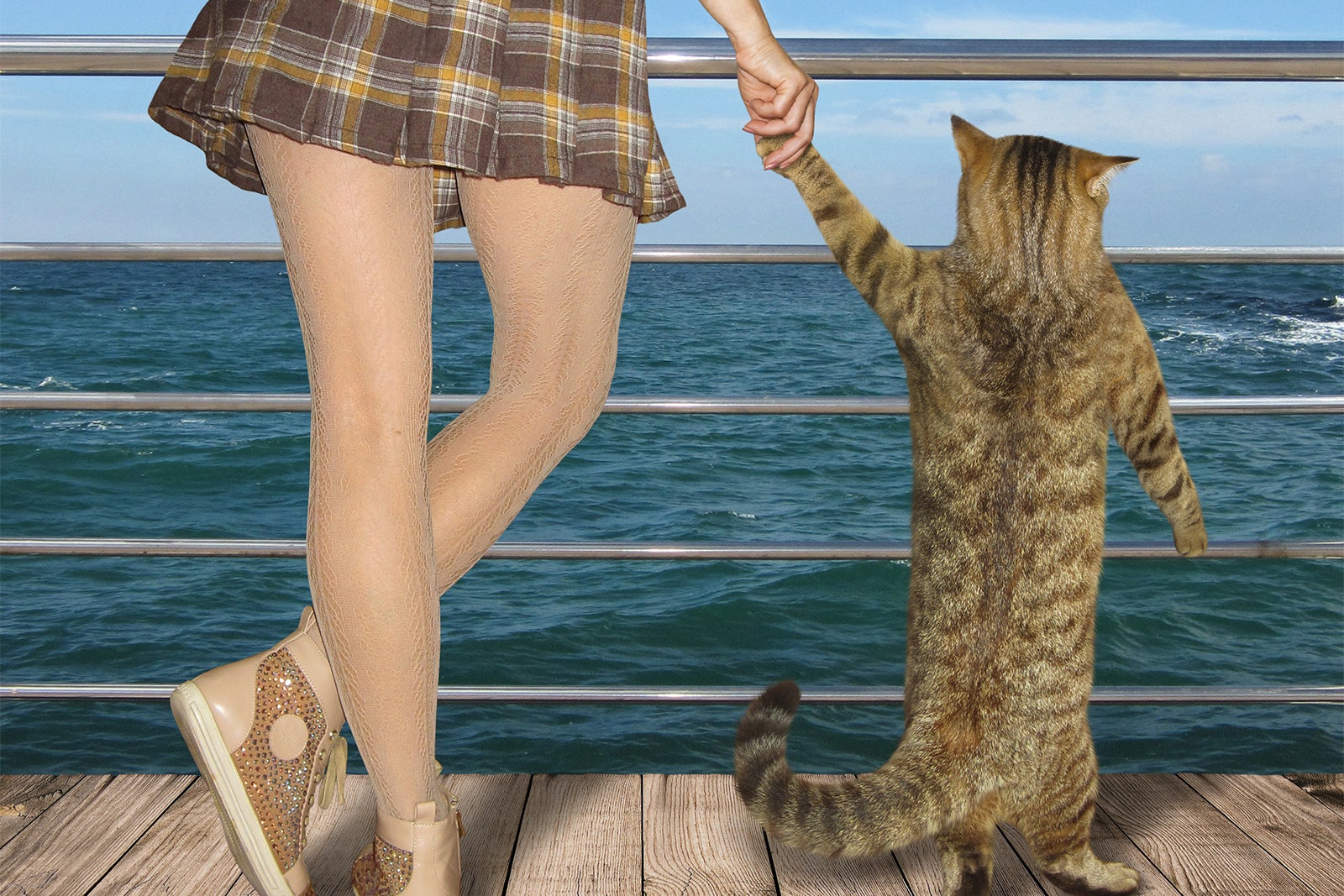 Yes, there's a cruise for cat lovers and yes, it's the purrrrfect escape to the tropics.
The ultimate beeline for feline frenzy, Meow Meow Cruise is the rare meeting spot for the cats-loving community. While your furry friends won't be able to join you on the trip, photos, videos and stories of your cats will be catnip to a most-attentive litter.
This is not a full-ship charter, so you'll find your group at the many events planned throughout the cruise including a first-day meet-and-greet, group dining, a cocktail mixer and a kitty-themed scavenger hunt.
Find pricing and reserve your cabin on the Meow Meow Cruise website.
JoCo Cruise on Holland America Line's Nieuw Amsterdam, March 5-12, 2023
A gamer's paradise in paradise, JoCo Cruise began in 2011 when singer/songwriter Jonathan Coulton's songs about geek culture fostered a community of capital "N" Nerds.
Join more than 2,000 gamers on a vacation where nearly every tabletop game invented is available to play. You'll have 24-hour access to a ton of games onboard. That's key when your daily planner fills up quickly with the cruise's many workshops, craft sessions, panel discussions, themed parties and other entertainment. 
One of the most unique aspects of this themed sailing is the passenger-led "Shadow Cruise," which allows the community to create and promote passenger-led workshops, training and special interest meet-ups.
You don't need to roll a dice or solve a puzzle to book your spot. Just head over to the JoCo Cruise website for pricing and availability. 
Cruise & Crop crafting cruises, multiple voyages and dates
Dream Vacations hosts the Cruise & Crop crafting cruises, with more than two dozen craft-themed cruises set to sail in the next few years.
These experiences offer the chance for people from around the world to meet, swap ideas, share art and inspire creativity. Many of the sailings are themed around scrapbooking. However, you'll find many shared artistic interests including card making, quilting, knitting, jewelry and photography.
Find the complete list of sailings and featured crafts, along with pricing and reservation details, on the Cruise & Crop website. 
Sports-themed cruises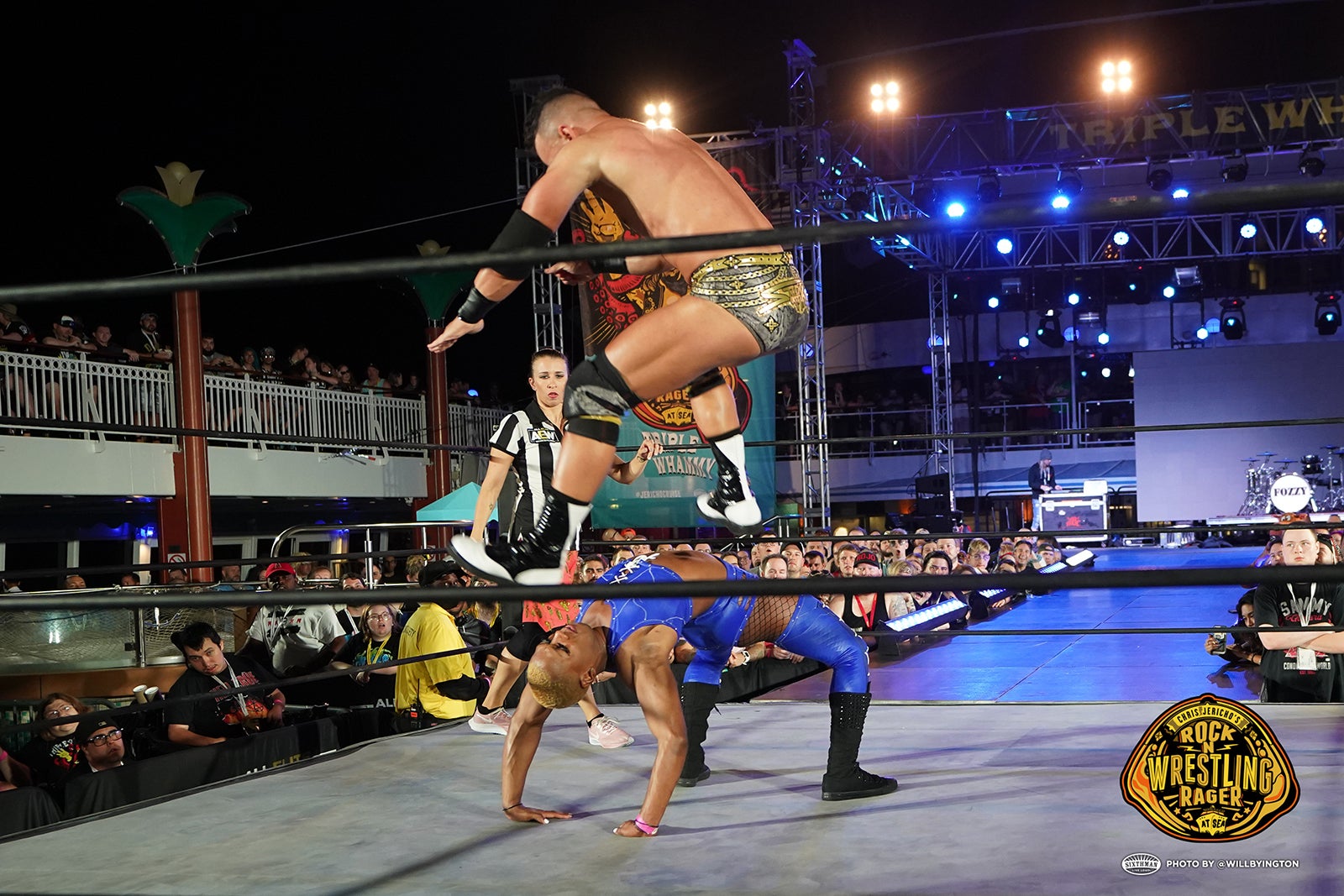 Chris Jericho's Rock 'N' Wrestling Rager at Sea on Norwegian Pearl, Feb. 2-6, 2023
Are you ready to rumble?! Rock 'n' roll and wrestling engulf Norwegian Pearl for four high-octane days of All Elite Wrestling matches, music concerts and many special events with your host, wrestler and musician Chris Jericho.
The ship's 2023 lineup features Jericho's band, Fozzy, Quiet Riot, Royal Bliss, Raven, Priss and Gutter Candy. Expect many opportunities to engage with your favorite wrestlers, meet Chris Jericho and attend live podcast recordings.
Details on pricing, availability and how to book your spot are on the Rock 'N' Wrestling Rager at Sea website. 
Faithful Cruise, a San Francisco 49ers cruise, on Royal Caribbean's Liberty of the Seas, March 10-14, 2023
It takes a special sports fanbase to inspire a cruise getaway, but San Francisco's 49ers have found their own.
The crowd at Levi's Stadium takes to the open ocean on the third-annual, four-night Faithful Cruise. More than 15 49ers legends will be on board, including Jesse Saoly, Guy McIntyre, Tim Collier, Dennis Brown, Ian William, Joe Staley and Steve Wallace.
Revisit highlights from the team's victories, prove your devotion to the team through trivia and games, and get autographs from your favorite players.
Find out how much it will cost to score a cabin on the Faithful Cruise website.
Azamara's PerryGolf cruises, multiple voyages and dates
A few select itineraries on Azamara were made with the adventure golfer in mind. The cruise line has partnered with PerryGolf for its specialty golf cruises that visit more than 80 courses around the world each year.
It's all about the convenience when you cruise on a golf-specific itinerary. Your golf equipment is handled and set up in advance so you can just show up and tee off. Your green fees, cart fees and gratuities are covered along with an on-course lunch and a round of drinks at the clubhouse after.
Back on board, the line hosts social gatherings where you can trade tips and find your next golfing group.
Find sail dates and pricing on Azamara's website.
Bottom line
The list of specialty cruises goes far beyond the ones mentioned above.
In addition to one-off sailings hosted by travel agencies and themed-cruise companies, you can also find lifestyle-themed cruises offered by charter companies multiple times a year. These include LGBTQ charter cruises; religious cruises for Jewish, Christian and Mormon travelers; and sex, swingers and nude cruises for adults. 
Ultimately, no matter what floats your boat, you can probably find a cruise for it. Even if you're not an avid cruiser, an itinerary themed around your interests is worthwhile for both a fun getaway and a chance to connect with your people.
Planning a cruise? Start with these stories:
Featured photo by Earl Gibson III/WireImage/Getty Images.