Family & Home Christmas Gift Guide – Gifts for the Family to Enjoy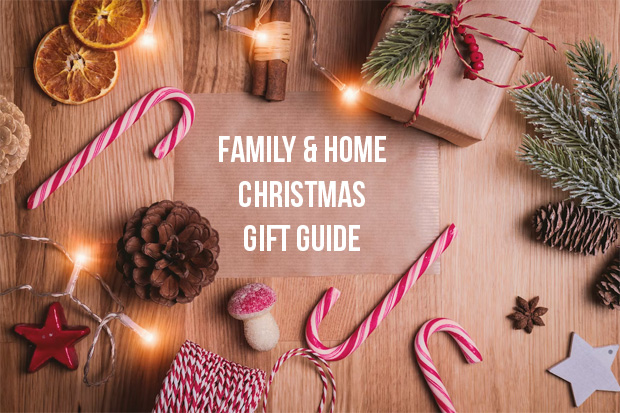 Family & Home Christmas Gift Guide – Gifts for the Family to Enjoy 2022
When I'm planning my Christmas gifts for the year, I always like to have some gifts that are for the whole family to enjoy and use. After all, Christmas is a time to spend together with your loved ones! In this Christmas gift guide, I've gathered some gift ideas for the family household. You'll find things like family games and some useful and beautiful items for the home. Read on to find out more.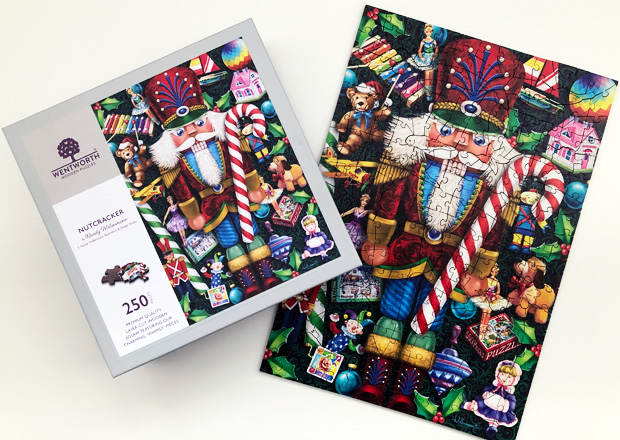 Christmas Themed Jigsaw from Wentworth Wooden Puzzles
We have a bit of a Christmas jigsaw tradition in my family. We like to add a new jigsaw puzzle to our growing collection of Christmas Jigsaw Puzzles every year. We like building puzzles together as a family and I highly recommend this as a Christmas activity to do with your family. Screen-free fun that is perfect for quality time.
Wentworth Wooden Puzzles make the very best jigsaw puzzles – they're high-quality, precision laser cut wooden jigsaw puzzles with chunky, irregular pieces and themed whimsies (shaped pieces) for each puzzle. Their premium quality puzzles are made using wood from sustainably managed forests and produced here in the UK, in the heart of the British Countryside. The box is made with recycled materials and all packaging is completely plastic free.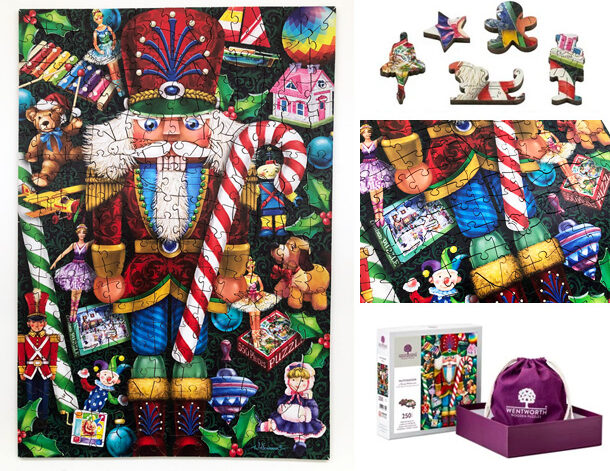 Wentworth Wooden Puzzles have a new range of seasonal jigsaw puzzles for Christmas and we have this amazing Nutcracker one in 250 pieces. It's also available in 40, 140, 500 and 1,000 pieces.
This design is so colourful and fun, and the nostalgic theme is perfect for Christmas! The large nutcracker is surrounded by candy canes, Christmas trinkets, toys, games, teddies, dolls, jigsaw puzzles and more. It's such a great jigsaw puzzle to enjoy over the Christmas holidays with your family.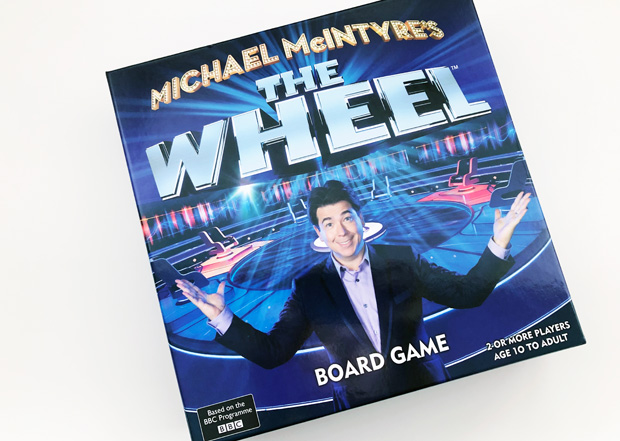 Michael McIntyre's The Wheel Game
If your family loves a quiz game, then check out Michael McIntyre's The Wheel Game. This is a new addition to the Rascals range of board games and the game is based on the very popular BBC TV game show that Michael McIntyre hosts.
The game features a large mechanical spinning wheel that works similarly to a spinning top and over 570 questions. You can play the game in teams or as individuals and it's recommended from age ten onward. We've played it with our kids who are a bit younger, and most questions are suitable for them too which makes it a good family game.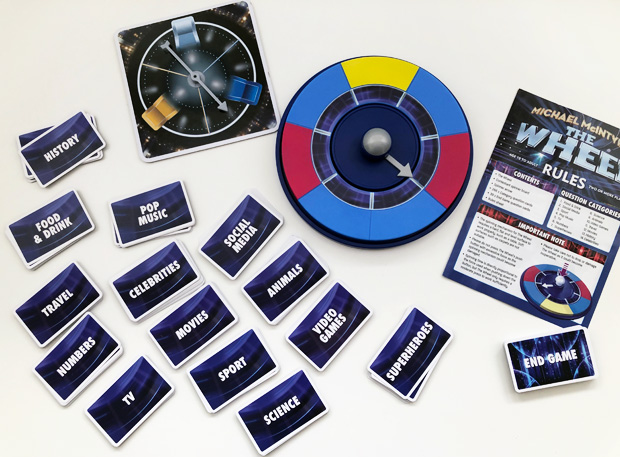 The aim of the game is to be the first team or player to complete your own wheel by answering a question from each of the seven chosen categories (before starting, you choose 7 from the 14 available categories). If you land on a red space when spinning the wheel, you're shutdown and thrown off the wheel for the round. If you land on yellow, you get to answer an easier question.
It's a fun family game that's quick and easy to learn and great for anyone who loves a knowledge quiz game! It's available to buy from John Lewis or from Amazon here.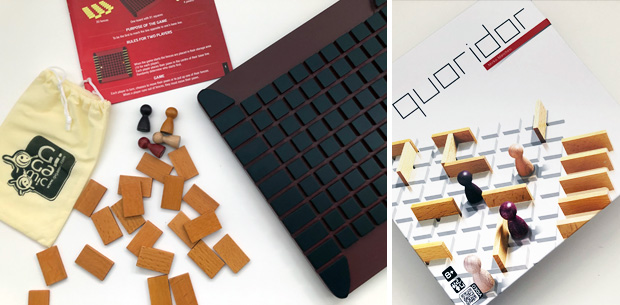 Quoridor Classic Maze Game
Here's a new family favourite of ours – Quoridor Classic, a brilliant maze game. It's a beautiful varnished and engraved wooden game board with 20 beech barriers and 4 beech pegs. The game's aim is for the players to reach the opposite line first but there's a bit of a problem… the opponents can set barriers to slow you down and stop the route you were planning to take. The rules are that you can choose between doing one step or adding a barrier when it's your turn. You need to leave at least one free passage for your opponent to use.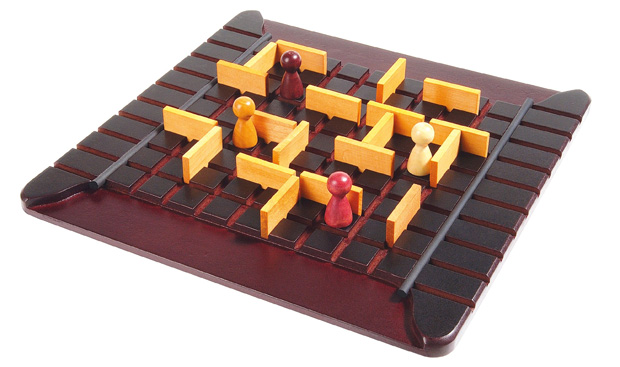 It's a great game that can be enjoyed by the whole family with 2 or 4 players at a time. I love that it's a beautiful wooden game – it's great quality and I'm sure it's going to last and become one of those games that my family will keep forever and play for many, many years to come. It's available to purchase from all good Hobby Stores and from Amazon here.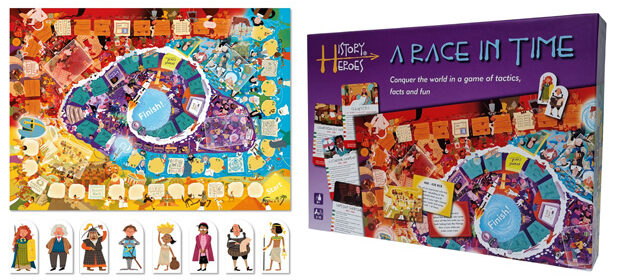 History Heroes A Race In Time Board Game
Next up, the perfect family quiz game for history lovers! A Race In Time by History Heroes is a fun and educational, illustrated board game where you answer questions about 120 amazing history heroes as you travel through the ages.
"From Aristotle to Angelou, from Caesar to Columbus, A Race in Time takes you on a blast through history from the sandswept ancient Egyptian pyramids to the steam-powered locomotive. Can you assemble the best team to stop global warming? Solve world hunger? Win the Olympics? What happens when you put together Spartacus, Leonardo da Vinci and Frida Kahlo to produce the next entertainment blockbuster?"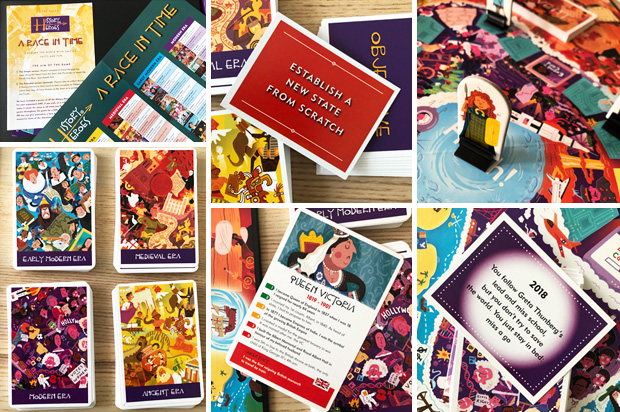 You start the game with 5 History Heroes cards and pick up more and discard along your way. On your way around the board, you collect History Heroes cards by answering quiz questions. The game offers questions of different difficulty levels – answering the easiest question lets you move one space, answering the hardest question lets you move six steps and the same for the numbers in between. You can also complete optional, secret objectives with your crew. The Event cards can help you move forward but they can also do the opposite and stop you!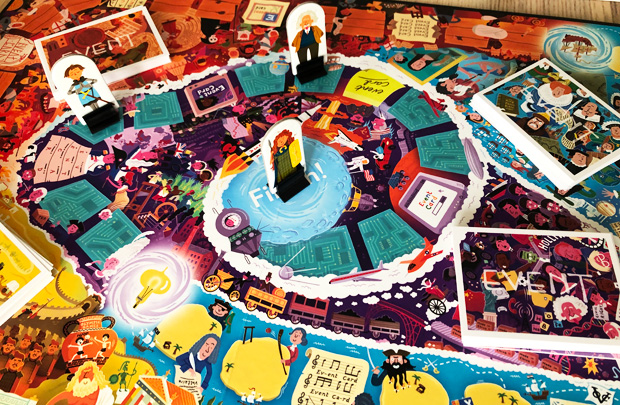 The aim is to reach the finish line first with the best 5 History Heroes in your hand and the players make this decision. It's a fun and exciting game for history lovers aged 8 and beyond. The game is suitable 2-8 players and includes a colour poster of the History Heroes that you can use for the game, 120 History Heroes cards with 840 facts to choose from, 8 playing pieces of famous people from history as well as the instructions with the game rules. A Race In Time is available to purchase from www.historyheroes.co.uk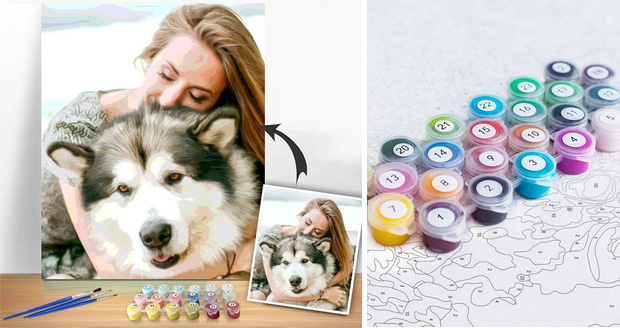 Paint By Number Custom Paint By Numbers Art Project
Looking for a crafty project for the family to enjoy? Check out Paint By Number and their custom paint by number kits for adults. You can choose from hundreds of pre-made designs or upload your own photo to create your very own custom paint by numbers kit.
Paint By Number converts your photo into the perfect paint by numbers canvas and sends it straight to your home, complete with all the paints you need for your image (neatly organised and clearly labelled) and paint brushes so that you can get started straight away.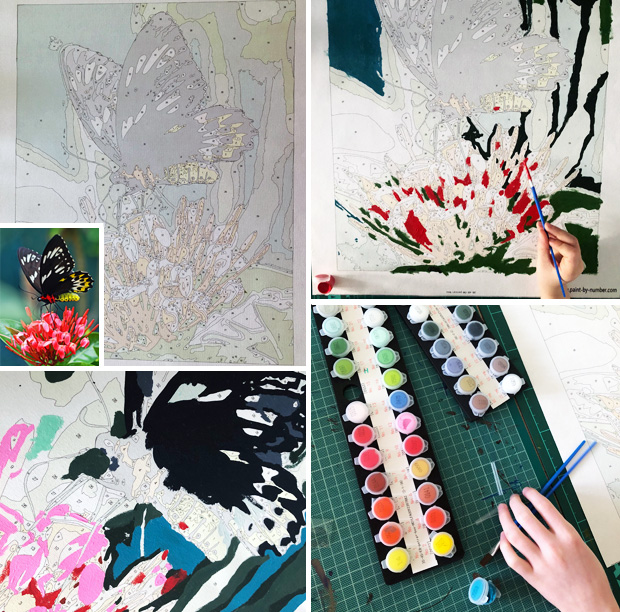 What a wonderful and fun gift idea! You could get a favourite family photo, a photo of the family pet, or something from an important event such as a wedding or a family holiday.
The big kids and I are currently working on this butterfly painting and doing it as a family project, taking turns to paint.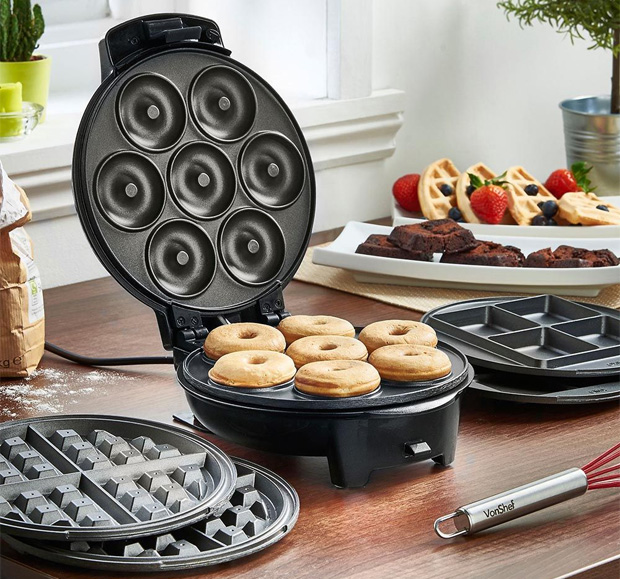 VonShef 3 in 1 Doughnut, Brownie & Waffle Maker
If your family has a sweet tooth, you need this amazing machine in your kitchen! This clever VonShef 3 in 1 Doughnut, Brownie & Waffle Maker is a brilliant tool – as the name suggests, it enables you to make doughnuts, brownies and waffles with ease, using just one compact machine.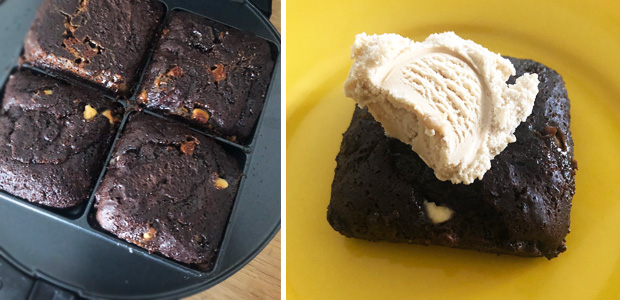 Choose between making 7 mini doughnuts, 4 brownies or 4 waffles (or 1 large waffle) at a time by switching out the interchangeable mini plates. They are all non-stick for easy food removal and cleaning and the plates easily click in and out. Having a waffle iron with removable plates is a game changer – it makes the clean-up a breeze! We love that we can make brownies and doughnuts too!
Portmeirion Botanic Garden Harmony Oven Glove
Another item for the kitchen – this gorgeous Botanic Garden Harmony double oven glove from Portmeirion would make a lovely gift for a stylish foodie. It's a great quality oven glove in a print that looks so good! I love that the print is on both sides of the oven glove too and the contrasting trim looks great as well.
The oven glove looks great on display, hanging on the handle of your oven, and provides excellent protection for your hands when transferring hot pots and pans from the oven to the table. There are other coordinating items in the Botanic Garden Harmony range too.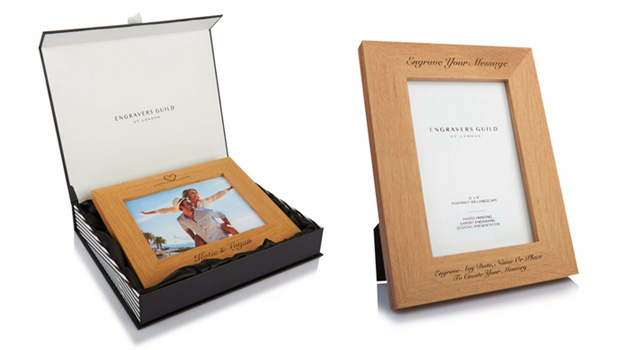 Engravers Guild Personalised Photo Frame
Engravers Guild specialises in making beautiful personalised gifts of all kinds so that you can easily create gifts that are extra special. Having things personalised just adds that extra touch and makes the gift truly unique. Engravers Guild has a wonderful and large range of different Personalised Photo Frames that make lovely gifts.
Here you can see the Solid Oak Personalised Photo Frame which is a stylish option. You choose between portrait or landscape orientation and add precision laser engraving in the font of your choice at the top and/or at the bottom. You can add names, locations, dates or a special quote, for example. The frame comes delivered in a luxury gift box which is perfect as it means it's ready to be gifted – just pop a photo in the frame and you're ready to present the frame to your loved one.
Indoor Christmas Lights from Lights4Fun
Christmas time is the time for festive indoor lighting to create a cosy environment at home. Lights4Fun have a wide range of TruGlow® Candles and other Christmas lights that would make perfect homeware gifts this Christmas. Something for the whole family to enjoy!
We have the TruGlow® White LED Glass Candle Trio and the Wooden Candle Bridge and they look amazing! The glass candles look so realistic and elegant. They are crafted from hand-poured real wax and feature a "just lit" finish to make them look like real candles. The sleek glass looks very stylish and modern and the flickering LED flame instantly adds a cosy glow and a relaxing ambience. The candles have a 6-hour timer and run on 2 AA batteries per candle.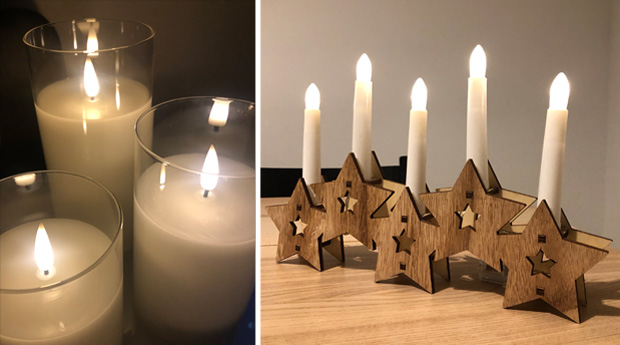 Being Swedish, I have a soft spot for wooden candle bridges at Christmas time. In Sweden, most families place one in each window of their home during the Advent season and it adds some much needed light to the dark winters. This beautiful wooden candle bridge features a star design and 5 white candles with warm white LED flames. It looks great in windows, on sideboards or as a table centrepiece. It has a discreet battery pack for the 2 AA batteries so that you can put it anywhere.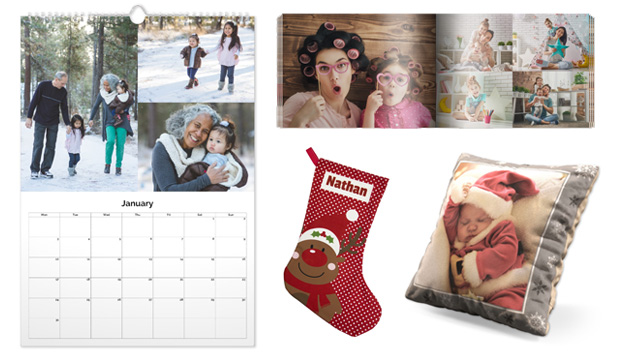 ASDA Photo Gifts for the Home
ASDA Photo has a huge collection of personalised photo gifts that you can easily create and order on their website. Whether you want to make a photo book with your family's favourite photos from the year, make a family calendar for the new year or create some festive Christmas cushions or personalised stockings – you can do it all with ASDA Photo.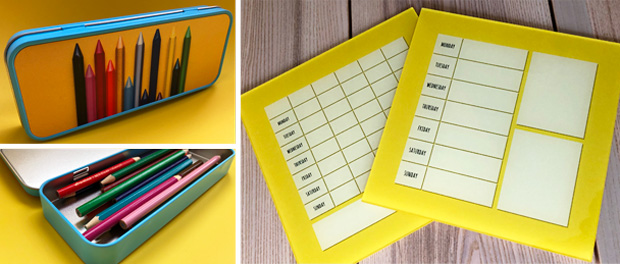 This year, I created some personalised pencil tins for the kids, some photo magnets of the children's drawings to give to grandad and these personalised family wall planners. You can make them in a colour like I did or upload a photo for the background and there are several layouts and sizes to choose from. I've made one to use as a meal planner as I'm hoping to get better at meal planning and one as a family schedule so that we can easily see who's doing what each day. You can add names or photos to these too.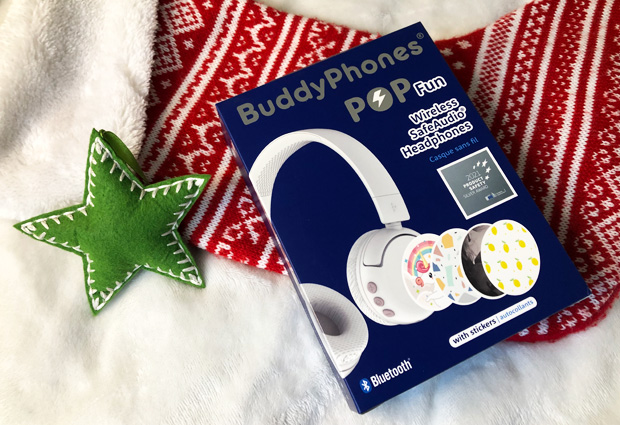 Though Christmas is a time to spend together, it's also important that everyone has some time to themselves. This can definitely help keep the peace if you have several children – siblings definitely need a bit of time apart to do something on their own. Making sure everyone is equipped with their own pair of good quality headphones makes this much easier as children can enjoy watching a film or show on a tablet, playing a video game or listening to music or an audio book.
BuddyPhones POP Fun are wireless kid-proof and kid-safe headphones that have great sound but also protect the delicate hearing of children with the volume limited to 85/94dB. They're available in a bunch of different colours and each pair of headphones comes with a selection of stickers so that you can personalise your headphones. Children love this aspect! These headphones are comfortable to wear and can be used wirelessly or wired in.
Have a wonderful Christmas and enjoy spending quality time with your family, playing games and having fun in your cosy home!
Collaboration. Features some gifted samples.
The post Family & Home Christmas Gift Guide – Gifts for the Family to Enjoy appeared first on A Mum Reviews.