Every Single Thing That Has Gone Wrong With The Flash Movie (2004 – 2022)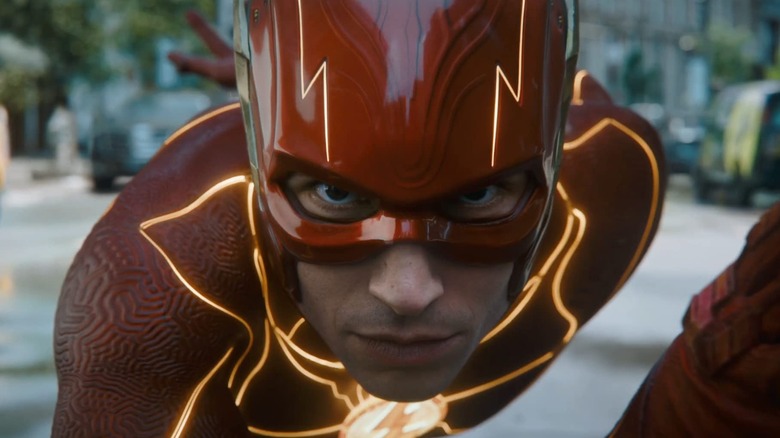 Few movies have been both as eagerly anticipated and as deeply troubled as "The Flash." Despite being one of DC's most popular superheroes, bringing the Scarlet Speedster to the big screen for a solo adventure has proven to be a major challenge -- and that's saying the very least of it. The attempts date way back to the '80s, when superstar comic book writer Jeph Loeb was developing a script for a film that would have focused on the character. Yet, at every turn, something has gone wrong and prevented an adaptation from seeing the light of day.
As it stands, Warner Bros. has a completed movie that stars Ezra Miller in the lead role as Barry Allen, with Andy Muschietti ("It") in the director's chair. To seal the deal, Michael Keaton is reprising his role as Batman. But Miller has had a string of concerning and highly public troubles that have made the $200 million blockbuster a headache for the studio. There's always a possibility that "The Flash," despite being pretty much done in its current form, may never see the light of day. And even if it does, it will be tainted in some way due to Miller's off-screen troubles, even with an apology.
Why does this movie seem to be cursed? How far back does this curse extend? We're going to go over a timeline of every single thing that has gone wrong, from the earliest attempts at getting "The Flash" made right up through Miller's current troubles that have thrown the film into turmoil. 
2004 - David Goyer Signs On To Write And Direct The Flash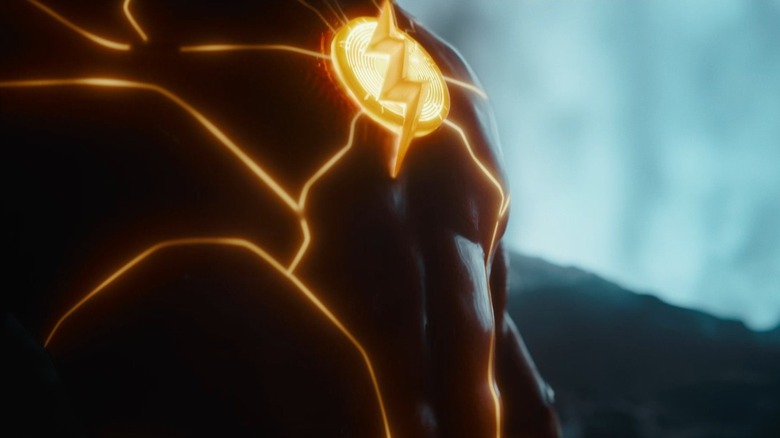 After writing "Batman Begins" for director Christoper Nolan, Warner Bros. signed David Goyer to direct "The Flash" way back in 2004, before Christian Bale's run as Batman even officially got underway. Goyer would remain a huge part of the DC Universe for years to come, penning movies like "The Dark Knight" and "Man of Steel." In 2007, Goyer released a statement on the matter, which reads as follows:
"I am sad to say that my version of 'The Flash' is dead at WB. The God's honest truth is that WB and myself simply couldn't agree on what would make for a cool Flash film. I'm quite proud of the screenplay I turned in. I threw my heart into it, and I genuinely think it would've been the basis of a groundbreaking film. But as of now, the studio is heading off in a completely different direction."
His iteration seemingly never even got close to actually happening.
2007 - Shawn Levy Signs On To Direct The Flash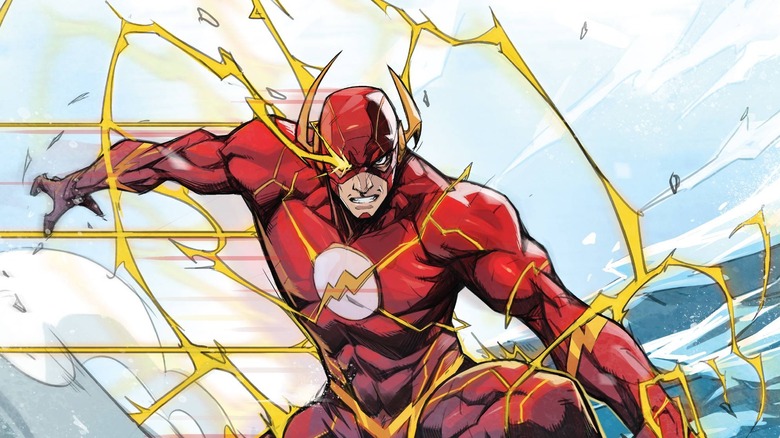 After sitting on Goyer's shoulders for a few years, Warner Bros. then turned to Shawn Levy ("Night at the Museum") to take over the director's chair for the project. Unfortunately, his already successful franchise for Fox would end up taking him away, as Levy would depart the DC adaptation to helm "Night at the Museum: Battle of the Smithsonian" instead. Alas, another short-lived iteration never came to be.
2007 - David Dobkin Signs On To Take A Crack At The Flash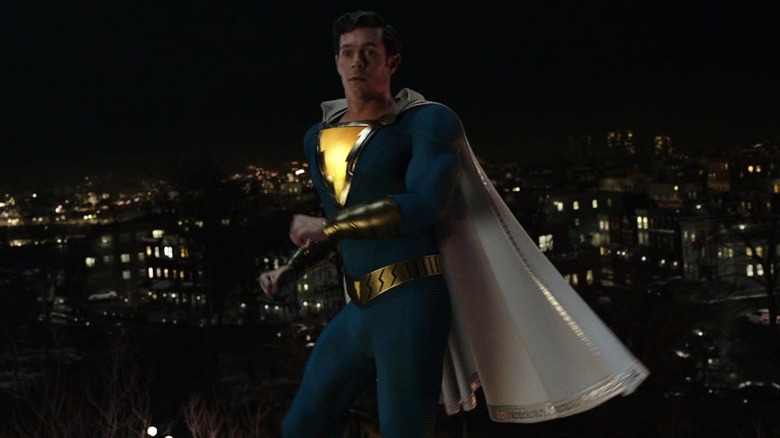 Levy's time with the film was short-lived as David Dobkin ("Wedding Crashers") signed on to helm the flick in 2007. Speaking with MTV News at the time, the filmmaker also confirmed that it was intended to be a spin-off of George Miller's ill-fated "Justice League: Mortal":
"It's designed to work as a spin-off from ['JLA'], so we're honoring the story and we're working in tandem with the storytelling. I think we'll just have to see how the movie does and how it works off it, but it certainly would be a movie that comes after 'Justice League.'"
Adam Brody had been on board to play Flash in Miller's film, so it is likely he would have reprised the role in this version as well. But when "Justice League: Mortal" got scrapped, everything changed.
2008 - The Writer's Strike Gets In The Way Of Progress Being Made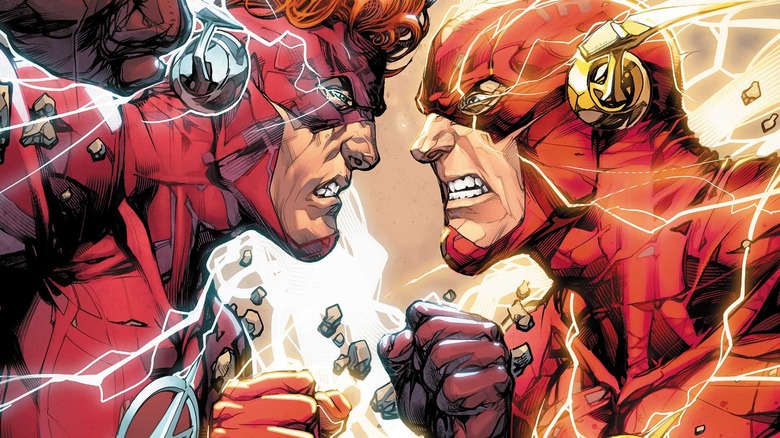 Things got a bit more serious when Charles Roven joined the project as a producer. Unfortunately, the Writer's Guild of America went on strike in 2008 and that messed up things in Hollywood pretty badly at the time. "You know, we're stuck right now with the writer's strike. We've got a writer, we've got a director, we just gotta wait until the strike's over," Roven said at the time. If the writer's strike hadn't happened, would "The Flash" have moved forward in another iteration? It's hard to say, but this definitely hurt matters at the time.
2009 - Charles Roven Departs The Flash, Screenwriter Dan Mazeau Chimes In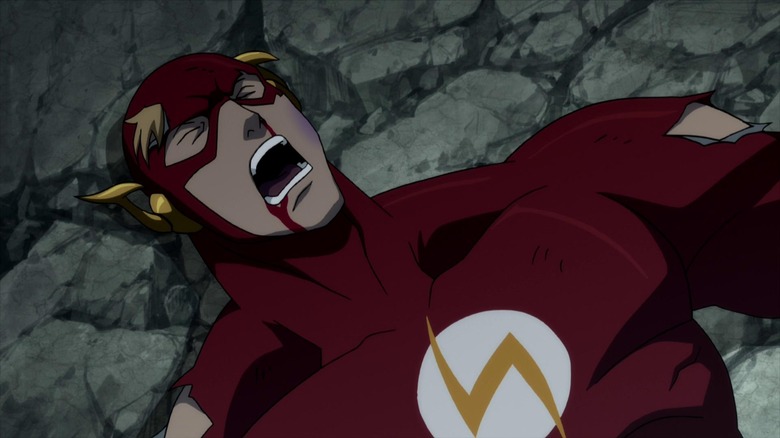 At some point, Warner Bros. felt they needed to go another way with the development. Speaking in 2009, Roven explained that he was no longer involved with the project and that the studio wasn't confident enough in what they had to give the green light:
"I was involved at one point with The Flash. And Warner Bros. came to me and said, 'The work that you've been doing hasn't yet resulted in something that any of us, including the filmmaking team, feel could be greenlit as a movie. We're trying to accomplish something that takes into account the entire, rich DC character world, and we'd like to pull it back. That doesn't mean that you aren't going to be a part of it. We just want to take a different kind of approach. Do you mind if we try that?'"
At that same time, writer Dan Mazeau ("Wrath of the Titans") was working on a script with comic book writer Geoff Johns ("Flashpoint") said to be consulting. "The Flash has not been hobbled. Everything is moving forward as planned," Mazeau explained. "I'm still writing the script. Geoff Johns is still consulting. Flash fans have no cause for concern, and -- IMO -- lots to be excited about," Mazeua said at the time. But the studio would move on from all of that excitement before long.
2010 - Green Lantern Writers Are Hired To Write The Flash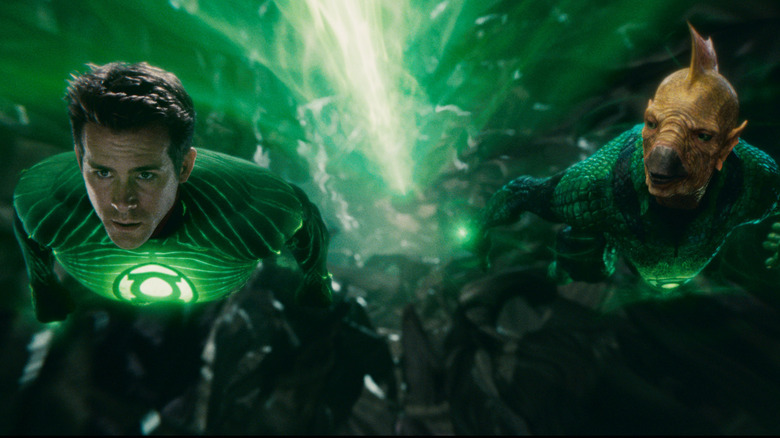 In 2010, before "Green Lantern" turned out to be a disaster for everyone involved, the film's writers -- Greg Berlanti, Michael Green, and Marc Guggenheim -- were hired to write "The Flash." Their script was said to be based on Geoff Johns' run in the pages of DC Comics, but after what happened with "Green Lantern," this version was never going to move forward. Berlanti did go on to make "The Flash" for The CW though, and was the chief architect behind the Arrowverse.
2013 - Batman V Superman Announced At Comic-Con, The DCEU Begins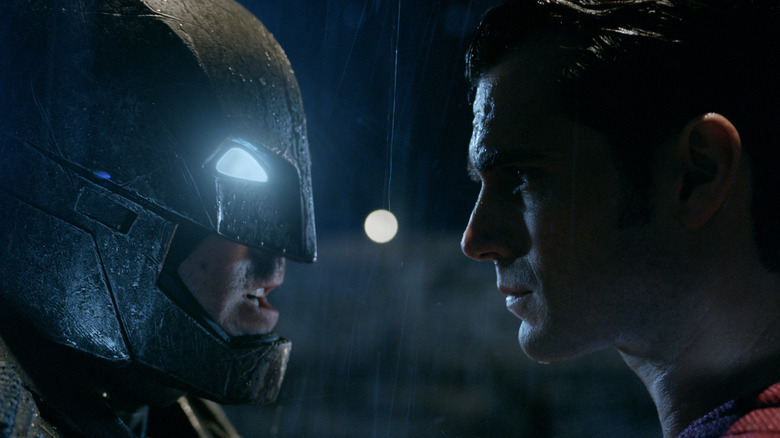 Following the release of "Man of Steel" and the success of Marvel's "The Avengers" in 2012, Warner Bros. decided to go all-in on a DC cinematic universe, with director Zack Snyder as the architect. "Batman v Superman" was officially announced at the 2013 San Diego Comic-Con. At that time, tentative plans were to release "The Flash" in 2016. But since this was a new cinematic universe, which we now know as the DCEU, this was yet again going to be a different incarnation than what had come before.
2014 - The Flash Premieres On The CW, Beating The Movie To The Punch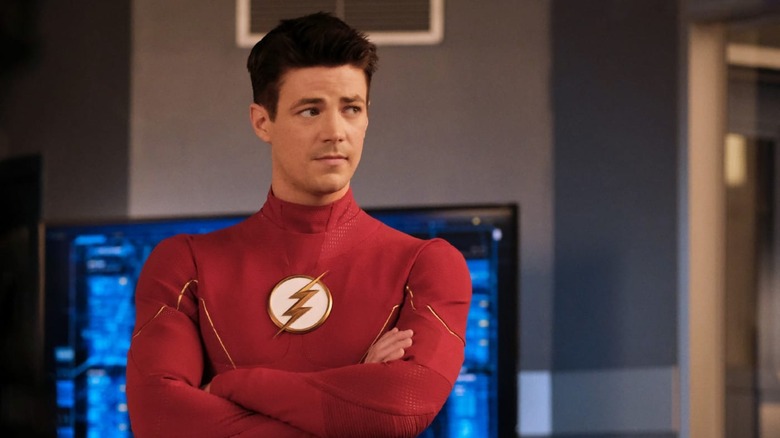 After successfully launching "Arrow," The CW doubled down on bringing DC heroes to the small screen with "The Flash," which debuted its very first episode on October 7, 2014. Greg Berlanti developed the show alongside Geoff Johns, with Grant Gustin starring as Barry Allen. Berlanti never got to make his movie, but he brought a version of the character to the screen that endured for nearly a decade, beating the movie to the punch by years. Nearly 200 episodes of the show will have aired by the time Miller's movie arrives in theaters.
2014 - The DCEU Movie Slate Revealed, The Flash Gets 2018 Release Date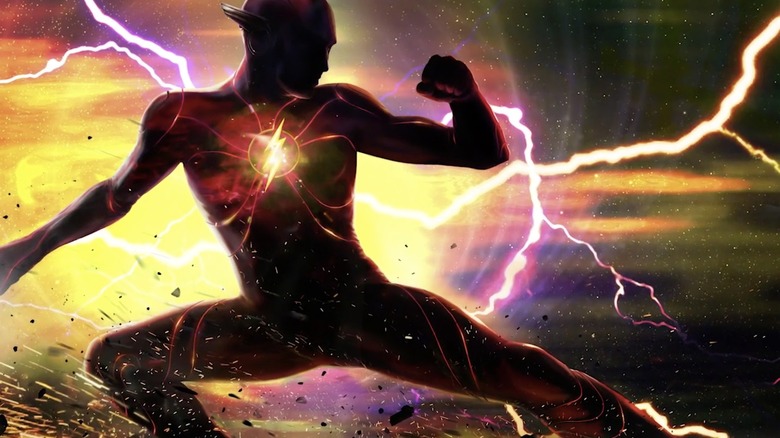 After announcing "Batman v Superman" at SDCC, Warner Bros. decided to try and play catch up with Marvel in the cinematic universe game by announcing a full, flashy slate of movies in the middle of October 2014. That initial slate included "Batman v Superman: Dawn of Justice," "Suicide Squad," "Wonder Woman," "Justice League Part One," "The Flash," "Aquaman," "Shazam," "Justice League Part Two," "Cyborg," and "Green Lantern." Several of those movies never came to pass, but the plan was to have "The Flash" in theaters in 2018. Assuming things stay on track currently, they will have missed that target by five years.
2014 - Ezra Miller Is Cast As Barry Allen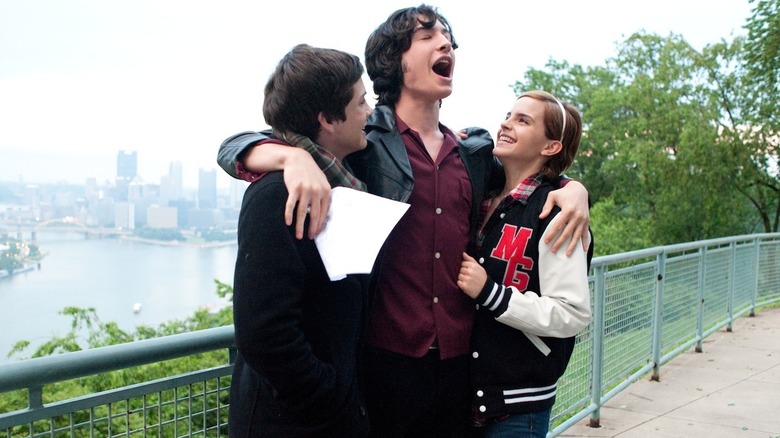 Around the same time that initial DCEU slate was announced, Warner Bros. revealed that then-rising star Ezra Miller would star as Barry Allen. They would debut in "Justice League" (after a brief cameo in "Batman v Superman") before taking center stage in a solo film. Despite a great deal of trouble since then (which we'll get into), Miller still remains our Flash as of this writing.
2015 - Phil Lord And Chris Miller Board The Flash, But Leave To Make Solo Instead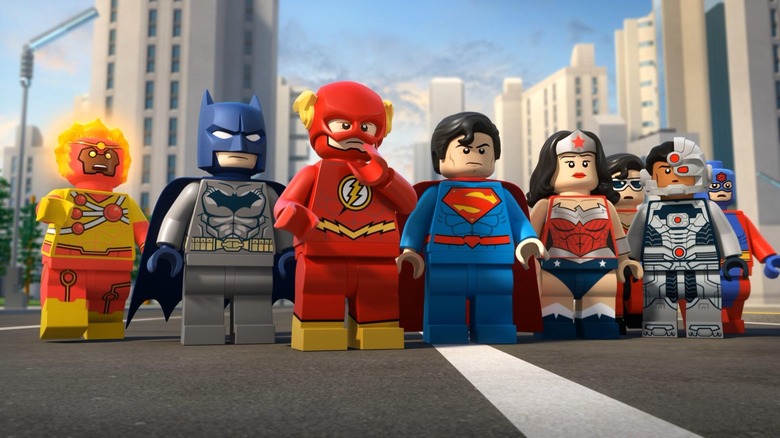 Following the success of "The LEGO Movie," Phil Lord and Chris Miller were tapped by Warner Bros. to at least write "The Flash" and possibly direct the movie as well. They were hot directors around town at that point and had their choice of projects. After spending a little bit of time with the film, the pair opted to go make "Solo: A Star Wars Story" for Lucasfilm instead, before being fired from that job after filming was 75% of the way done. Interestingly, Lord and Miller also met with Warner Bros. about the film once again after being fired from "Solo."
2015 - Seth Grahame-Smith Boards The Flash As Director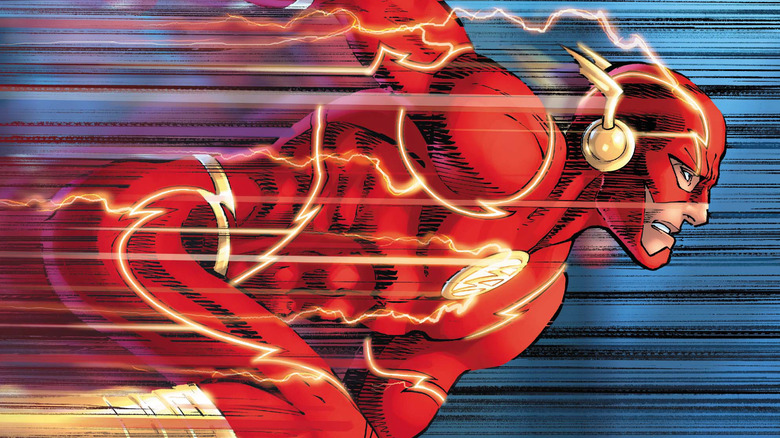 In October of 2015, nearly a year after the DCEU slate announcement, it was revealed that Seth Grahame-Smith ("Abraham Lincoln: Vampire Hunter") would make his feature directorial debut with "The Flash." Or, at least that was the plan. The filmmaker was going to be working from Lord and Miller's treatment, but he would also depart the project in early 2016 over what was only referred to as creative differences.
2016 - Rick Famuyiwa Fills The Director's Chair For The Flash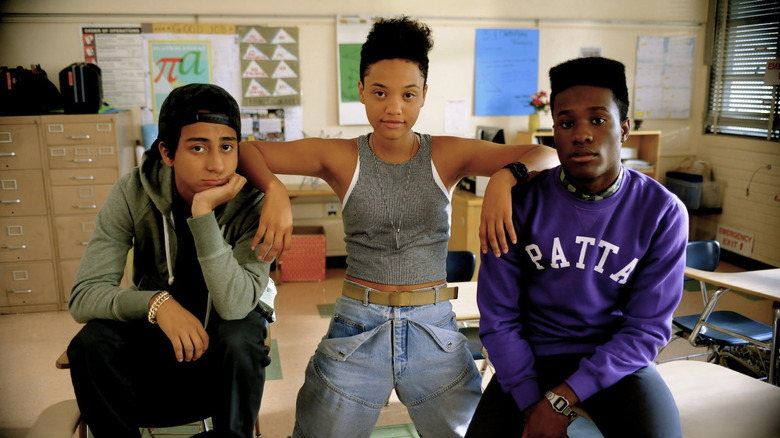 After finding success with his movie "Dope," Warner Bros. selected filmmaker Rick Famuyiwa to fill the vacant director's chair left behind by Grahame-Smith. This once again gave "The Flash" new life, with the filmmaker set to work with the script that had been left behind. Though he would undoubtedly add his own touches to it. Famuyiwa's most important contribution was getting Kiersey Clemons cast as Iris West opposite Miller. Filming was supposed to begin in 2016.
2016 - The Flash Loses Its Release Date To Tomb Raider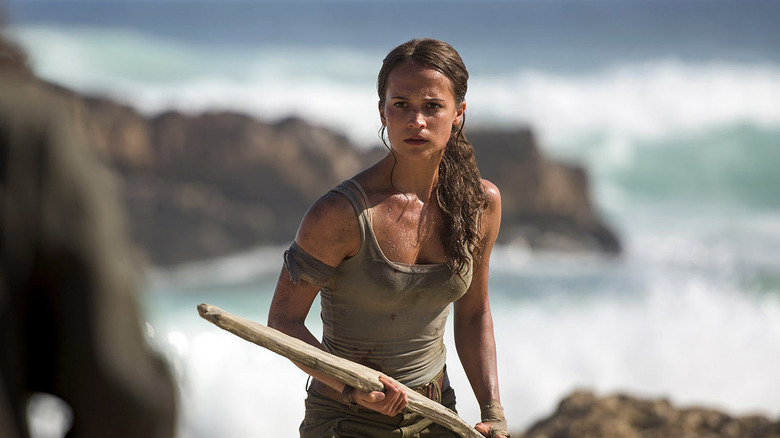 Even though the cast was starting to come together and a director was working on the film, Warner Bros. decided to give the March 2018 release date set aside for "The Flash" to the "Tomb Raider" reboot headlined by Alicia Vikander. That left the film without a release date.
2016 - It's Revealed That Ray Fisher Is Supposed To Star As Cyborg In The Flash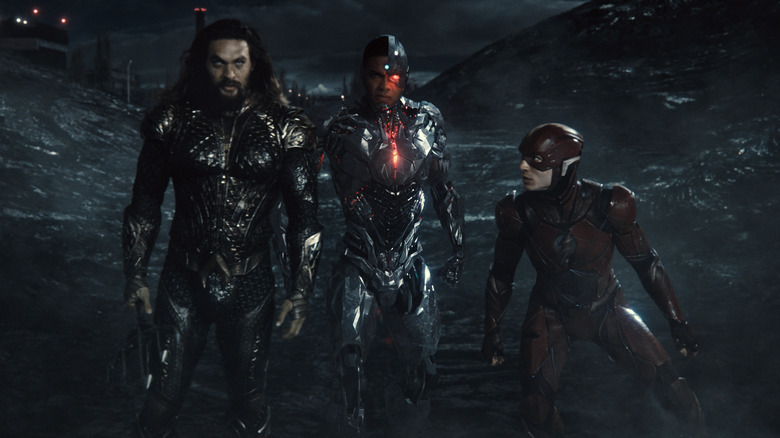 Famuyiwa's version of the film would have seen Ray Fisher reprising his role as Cyborg, a detail that was revealed in August 2016. This would have turned the film into a two-hander, with Miller and Fisher building upon the chemistry they were supposedly developing onscreen in "Justice League." Or, at least that was the idea. Little did anyone know the mess that was brewing behind the scenes with that film.
2016 - Rick Famuyiwa Leaves The Movie Just Ahead Of Production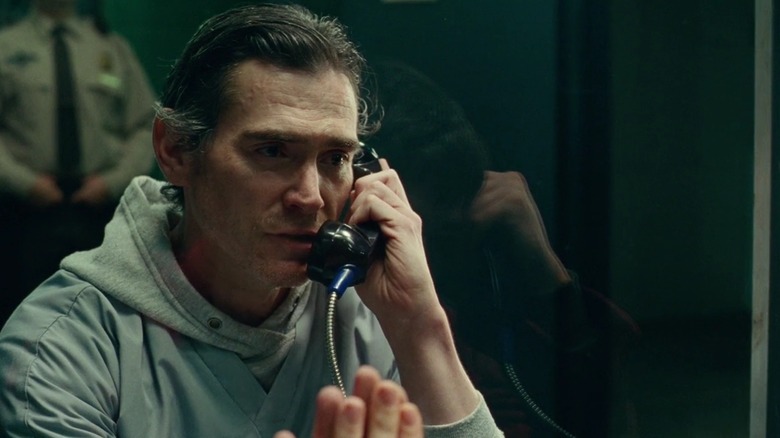 With a cast that now included Billy Crudup as Barry Allen's father (Crudup and Clemons even filmed cameos for "Justice League"), things were looking up. Pre-production was happening in early October of that year, but Famuyiwa soon departed as director. At the time, the filmmaker released a statement that read as follows:
"I was also excited to work with Ezra Miller, who is a phenomenal young actor. I pitched a version of the film in line with my voice, humor and heart. While it's disappointing that we couldn't come together creatively on the project, I remain grateful for the opportunity. I will continue to look for opportunities to tell stories that speak to a fresh generational, topical and multicultural point of view."
And so the film was put on hold again.
2017 - Joby Harold Is Hired To Write A New Script For The Flash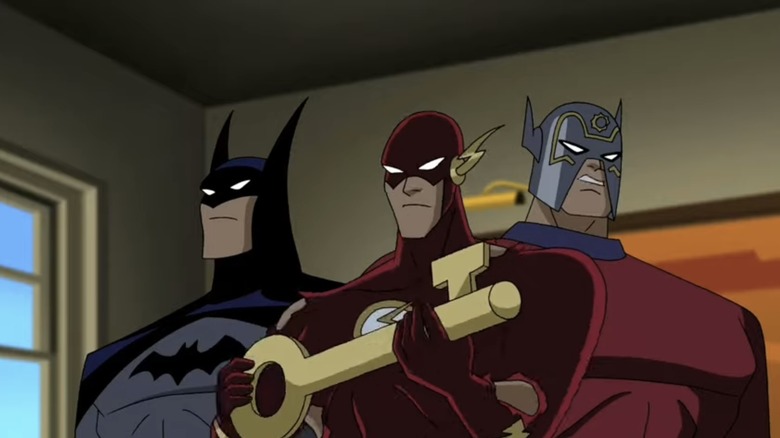 After Famuyiwa departed, Warner Bros. decided to go with a page-one rewrite and start over from scratch. Joby Harold ("King Arthur: Legend of the Sword") was picked to take on this rewrite in January 2017.
2017 - A Draft Of The Flash Is Turned In, Several Big Directors Turn It Down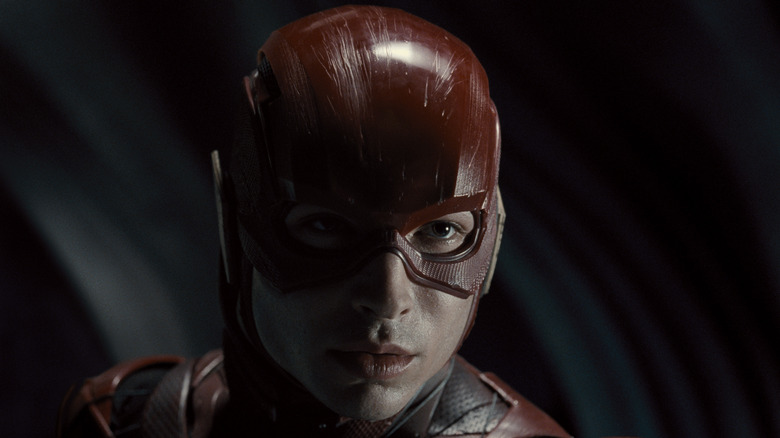 Harold made quick work of getting a draft of "The Flash" script turned in and Warner Bros. set about getting a director to take the reins. The studio was aiming high, but Robert Zemeckis ("Back to the Future"), Matthew Vaughn ("X-Men: First Class"), Sam Raimi ("Spider-Man"), Marc Webb ("The Amazing Spider-Man"), Ben Affleck ("The Town"), and even Jordan Peele ("Get Out") all turned it down.
2017 - The Flash Movie Is Titled Flashpoint At SDCC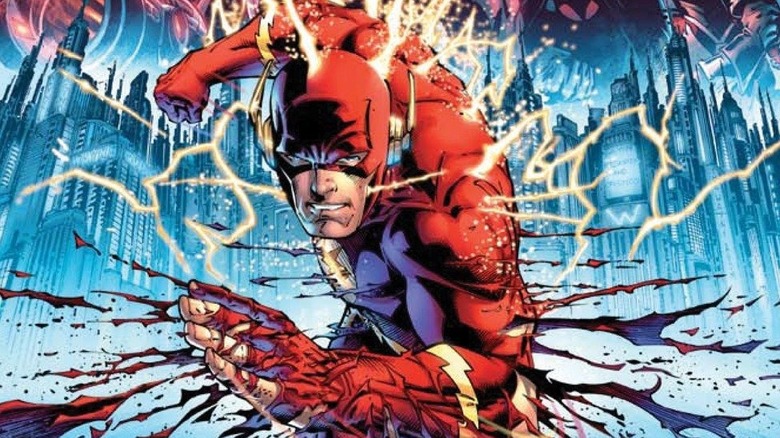 Despite technically not having a director at that time, Warner Bros. decided to reveal at San Diego Comic-Con in 2017 that "The Flash" movie would be titled "Flashpoint." This was important, as that comic book storyline saw Barry Allen messing with the timeline of the DC Universe and accidentally creating an alternate version of reality. While the title would ultimately be dropped, it seems major elements of this storyline managed to stick all the way through to the current iteration of the film. Batman was also confirmed to appear in the film at this time.
2018 - John Francis Daley And Jonathan Goldstein Sign On To Direct The Flash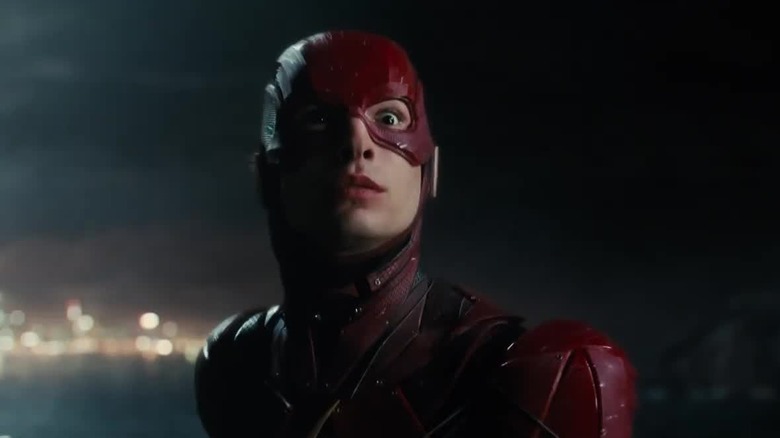 In January of 2018, John Francis Daley and Jonathan Goldstein ("Game Night") were the latest filmmakers hired to take on the film, which was still titled "Flashpoint." Later that year, the title was changed back to "The Flash."
2018 - Ezra Miller's Commitments To Fantastic Beasts Delay Filming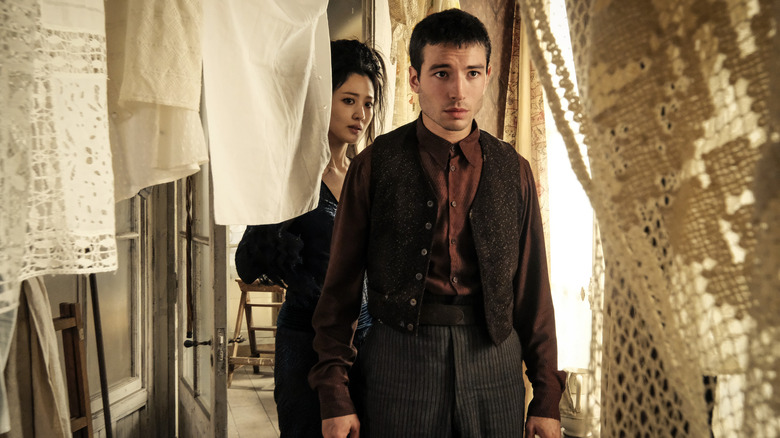 At this time, the hope was to get filming going in early 2019 to make a 2021 release date. Unfortunately, Ezra Miller also had commitments to "Fantastic Beasts: The Crimes of Grindelwald," which meant filming had to be delayed once again.
2019 - Ezra Miller And Grant Morrison Start Writing A New Script For The Flash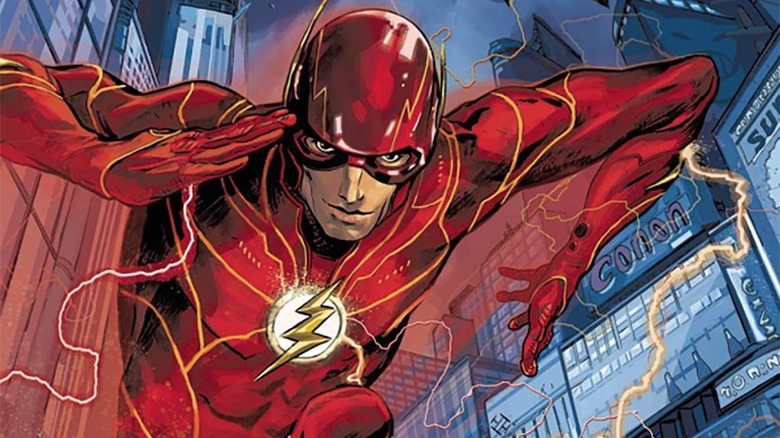 After years of chaos, Ezra Miller stepped up to the plate to personally write the script. In March 2019, Miller recruited famed comic book writer Grant Morrison to help pen a screenplay for "The Flash." However, had very little time to do it and Warner Bros. preferred Daley and Goldstein's take. Ultimately, the studio rejected the script that Miller and Morrison put together. Miller's deal for the role was set to expire in May of that year, but Warner Bros. convinced them to stay on board even after this script didn't pan out.
2019 - Daley And Goldstein Depart The Flash, Andy Muschietti Takes Over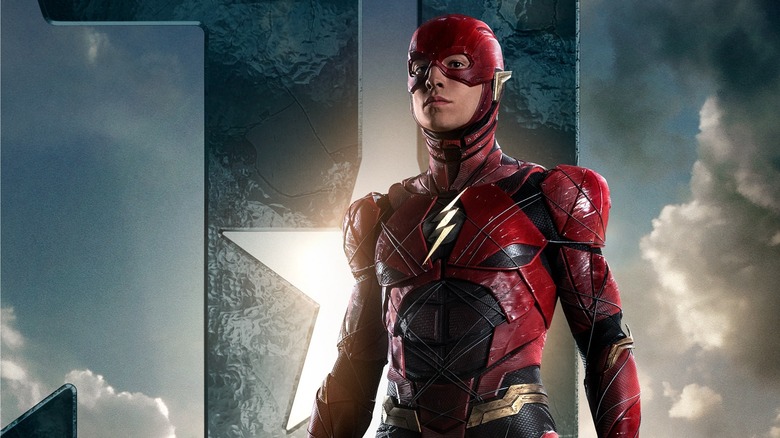 In the summer of 2019, a lot happened with "The Flash" in a very short window. Daley and Goldstein quietly departed the project after working on several drafts. In their stead, Andy Muschietti ("It") was courted to fill in the director's chair and he ultimately signed on. Muschietti made a ton of money for Warner Bros. with "It" and "It Chapter Two," so his hiring made sense. Around this time, Christina Hodson ("Birds of Prey") was also hired to write yet another new screenplay. These were the pieces of the puzzle that finally came together to get the film made.
2019 - The Flash Gets A New Summer 2021 Release Date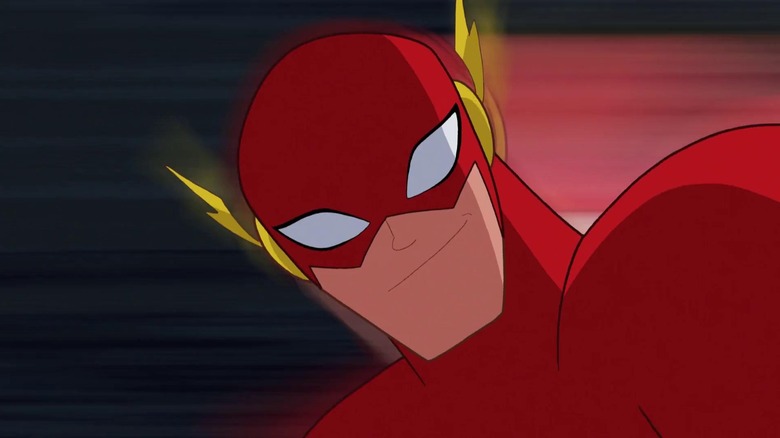 In December 2019, mere months before a global pandemic was set to bring Hollywood to a grinding halt for more than a year, Warner Bros. set "The Flash" to be released on July 1, 2022. However, shortly thereafter, the release date would move forward to June 3, 2022. The world had other plans though.
2020 - The Pandemic Hits, Hollywood Is Shut Down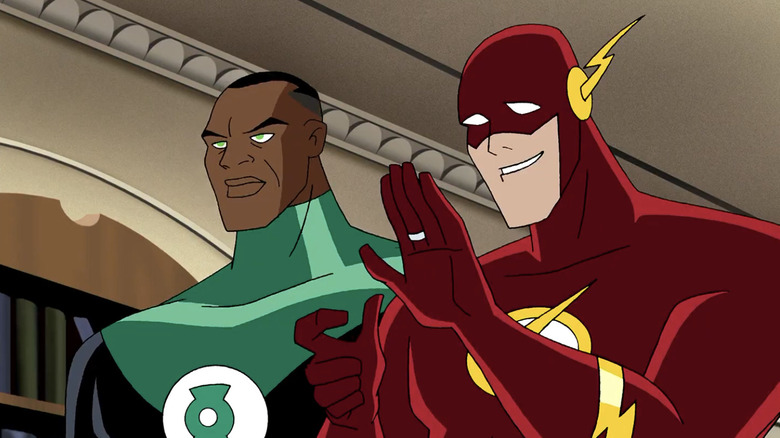 In March of 2020, the COVID-19 pandemic hit North America and just about everything was shut down. Movie theaters were closed for months on end. Film production was nearly impossible. This caused even further delays for "The Flash."
2020 - Michael Keaton's Batman Returns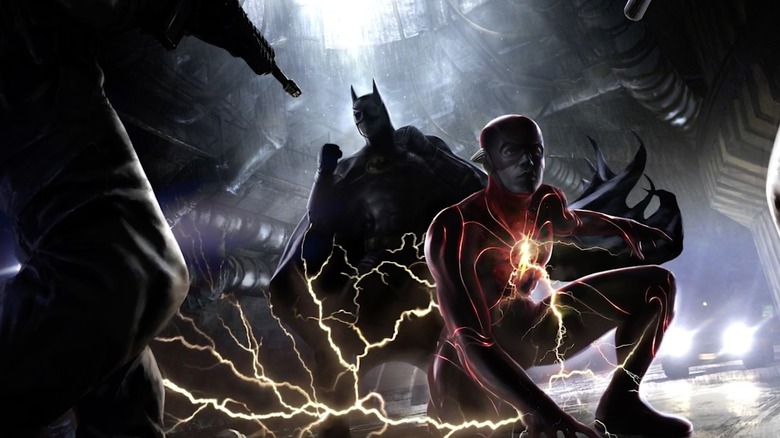 Perhaps the biggest shocker yet came in June 2022 when it was revealed that Michael Keaton, who had previously starred in "Batman" and "Batman Returns," was set to reprise his role as Bruce Wayne in "The Flash." This was going to open up the DC multiverse in a huge way and gave the film an even bigger hook than it had previously.
2020 - The Snyder Cut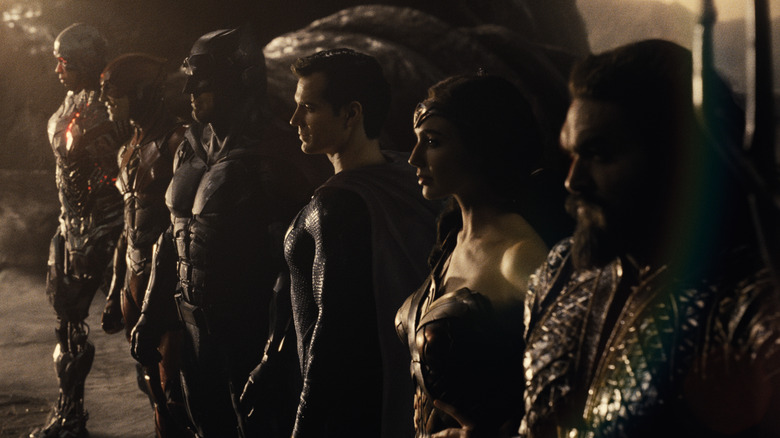 The release of "Justice League" in November 2017 caused all sorts of problems for DC Films. Joss Whedon had taken over as director, overseeing huge reshoots of the film after Zack Snyder departed. For years, fans called on Warner Bros. to "release the Snyder Cut" of the film. And that was just the tip of the iceberg. Ray Fisher aired very public grievances against executives at the studio, including Whedon. In May 2020, it was announced that Snyder would indeed be completing his vision, with "Zack Snyder's Justice League" being released as a four-hour film on HBO Max. Much of this overshadowed "The Flash" during this period.
2021 - Filming Begins On The Flash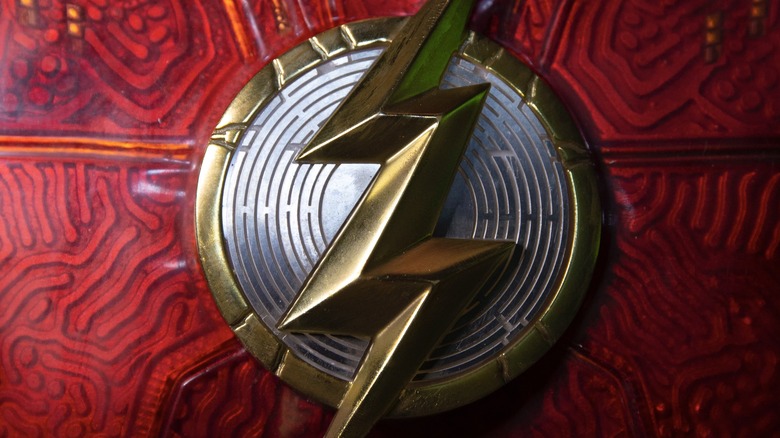 Despite all of the mess and suffering too many delays to count, filming actually began on "The Flash" in April of 2021. This would, in theory, allow the film to stay on target for a summer 2022 release. That too would not come to pass. However, Andy Muschietti did manage to get the film in the can, with filming officially wrapping in October of that year.
2022 - The Flash Shifts Release Date Yet Again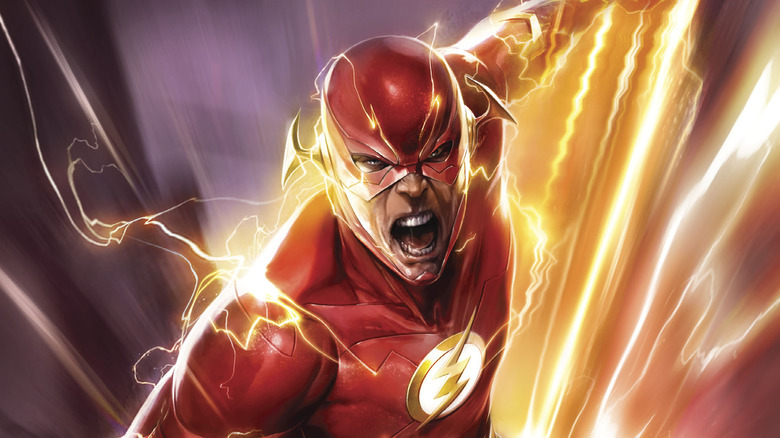 In March of 2022, just months after filming had been completed, Warner Bros. announced that "The Flash" would be delayed a full year to 2023. Ultimately, this proved to be a decision that bought the studio some valuable time, as Ezra Miller would go on to become a huge problem for the massive blockbuster.
2022 - Ezra Miller's Public Troubles Become Impossible To Ignore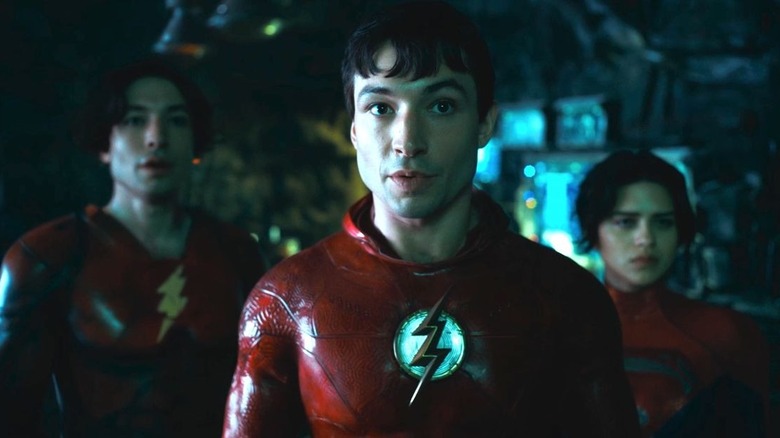 Ezra Miller's troubles really began back in 2020 when a video of the star surfaced online that seemed to show them choking a fan outside of a bar. But it was largely dismissed shortly after it debuted. Unfortunately, this was just the very tip of the iceberg. Things started getting odd again in January 2022 when Miller released a video on social media (that was promptly deleted) in which they threatened the KKK. In both March and April of 2022, Miller got into legal trouble in Hawaii and was arrested twice: once for disorderly conduct and harassment, and another for second-degree assault.
Things only get worse from there. In June of 2022, Miller was accused of grooming Tokata Iron Eyes, who met the actor when she was just 12. To top it all off, Miller was charged with felony burglary in August of 2022. This is the briefest of brief recounts of Miller's transgression and there is certainly more to it. But it all paints a picture and has left Warner Bros. in a precarious situation. Unless Miller can get their act together, this movie may never actually hit theaters.
"The Flash" will hit theaters on June 23, 2023. Maybe.
Read this next: Joker's Wild: Ranking The Cinematic Versions Of The Clown Prince Of Crime
The post Every Single Thing That Has Gone Wrong With The Flash Movie (2004 – 2022) appeared first on /Film.