Did Maurice Sendak Hate Children? And Other Pointless Questions
It started with a quote Danika shared with me from a 1977 interview with Arnold Lobel, the children's author-illustrator known for Frog and Toad Are Friends. (As an aside, I think it's very important that you take this quiz to find out if you are Frog or Toad. I'm Toad.)
"But people assume that because you write children's books you have a special rapport with children. It's not so. Some of the greatest people in children's books, both past and present, have never been near a child […] Sendak, I don't think, has ever been within two feet of a child. He doesn't have any children in his life. Writing is something else again. You take it out of the child in yourself. It doesn't mean to write a children's book you have a special rapport with children on a social level."

Interview with Roni Natov and Geraldine Deluca, The Lion and the Unicorn vol. 1, no. 1
I find the sentiment — that writing for children only requires having been one — wonderful, but something about his description of Maurice Sendak nagged at me, though I couldn't quite identify what it was. The quote went on to describe Hans Christian Andersen, who wrote many of the most famous and enduring fairytales outside of the Grimms' collection and whose statue in Central Park frequently has children sitting on it, thus: "[He] was a fussy, prissy, old maid of a bachelor, and I don't think he would have children anywhere within 10 miles of him." (I wrote about Andersen's queerness, along with some of his contemporaries, in my article about The Great Unrequited Literary Crushes of the 1800s.)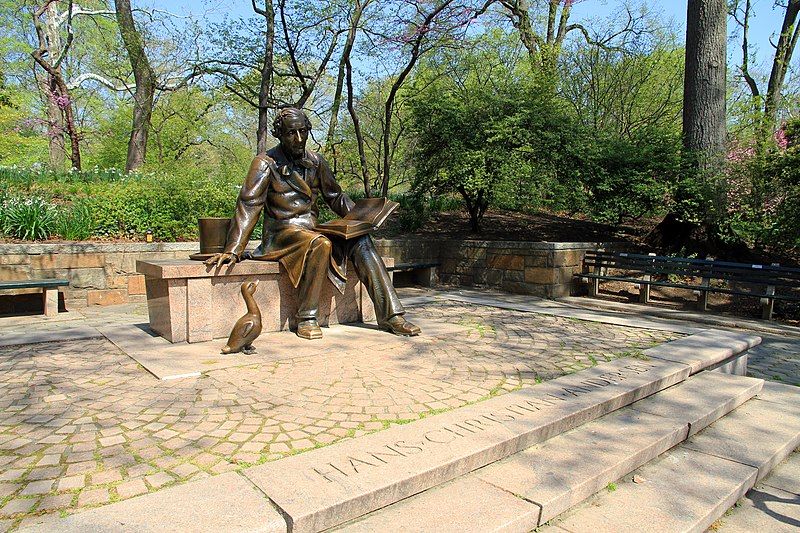 Ahh. All three of these men were queer. Perhaps that's the connecting thread. But something was still nagging me, some unidentified piece of the puzzle I'd created in my own head. So I did what I usually do when I need unspecified information: I started on Wikipedia. I find the people's encyclopedia an excellent jumping off place for any subject when I want to go deeper but haven't yet figured out the direction of my dive. The citations and further reading sections usually help me to land on a source that helps me figure out where I want to be. 
The Wikipedia page for Maurice Sendak — and the page for Arnold Lobel, while I was there — brought me to a third name that made me feel as though I had found the missing puzzle piece behind the couch: Ursula Nordstrom. I knew her name thanks to reading Maria Popova's site The Marginalian as well as this biographical piece by Jeffrey Davies. 
A children's book editor at HarperCollins and a lesbian, Nordstrom worked with many of the children's book authors and illustrators whose work forms the children's literature canon we all grew up with: in addition to Sendak and Lobel, she nurtured the careers of Margaret Wise Brown (11 facts about her and 10 more), E.B. White, Louise Fitzhugh (further reading: Sometimes You Have to Lie), Ruth Krause, and Crockett Johnson, among many others. Krause and Johnson were married (to each other), as was White (not to Crocket or Johnson), but Brown and Fitzhugh were also queer. Is a pattern emerging? But then, Nordstrom also promoted the work of Shel Silverstein, a straight man and a big old slut (affectionate), so perhaps it wasn't that, either. 
Stuck on the question of whether Sendak — and, by extension any and all of these other authors — liked children, I scrabbled for any indication one way or another. Having children of one's own is in no way an indicator of whether a person likes children (and indeed, I can think of many parents who like their own children but no others), but it was somewhere to start. Krauss and Johnson had no children; Silverstein did, but didn't raise them. Lobel had two children, and clearly adored them (there's a wonderful anecdote from his daughter about the stories he'd make up for them); he came out as gay when they were teenagers, but seems to have waited until they were adults to separate from their mother.
Sendak was childless and lived with his partner, Eugene David Glynn, for 50 years (until Glynn's death in 2007), and while I can find plenty of evidence that he was a cranky adult who'd had an unhappy childhood — a great deal of his family was murdered in the holocaust — I also found quite a bit to support the idea that he adored children, at least in concept if not necessarily up close. I've watched a few interviews with him, and personally I think he tends to come across as a person with a hard shell who is filled with wonder at the world. If he disliked being around other people, it's perfectly reasonable to assume children were included in that group (the group being, essentially, everyone), and he had nothing against them specifically. 
I can't help but wonder if the belief that Sendak hated children — again, the group for whom the vast majority of his career was spent making art — is borne of the horrible (and mistaken) belief that gay men are either pedophiles or hate children. It is, perhaps, an extension of the accusations that bloomed in the late 20th century about Lewis Carroll, another children's author who never married. The rumors that he had sexual feelings toward 11-year-old Alice Liddell have persisted despite a thorough lack of evidence to back them up (and plenty to contradict them — an excellent source is playwright Karoline Leach's book In the Shadow of the Dreamchild; coincidentally, Leach also wrote an adaptation of Andersen's The Snow Queen). Between Carroll and Andersen, whose stories were written arguably for himself (and his crushes) and not for children at all, there is a wealth of easy-to-misinterpret history that, especially combined with garden variety homophobia, might add up to this (again, awful) perspective on gay men, especially those who write for children. 
Did Maurice Sendak hate children? Doubtful. If he did, would he have found such delight in Jim eating the postcard he drew for him?
On the other hand, he did once say, in his final on-camera interview (via The Marginalian), "I don't set out to write for children. I don't consciously set out to write a book for some imaginary child. I just write the book because I have to…I don't have any audience in mind except my own pleasure." If anything, he was writing for his own inner child (as suggested by Lobel in the quote that started this all), and it seems that he loved him.
In the end, the only children's book author-illustrator I am positive liked children is Eric Carle, who created an entire museum for them. Maybe I set out to answer the wrong question. Now, if you will excuse me, I am going to go listen to one of my favorite Maurice Sendak stories, Kenny's Window, which is read by Tammy Grimes and has been my favorite audiobook for my entire life. You can listen to it on YouTube.
!doctype>