Cover Reveal News This Week: February 17, 2023
One very easy way to learn about and discover new books and authors is through the cover reveal. This was not a possible avenue of discovery before the age of book talk on the internet, and in an era where visuals are becoming more and more important — and indeed, book cover designers are taking the reality of the online world into account when determining how to create a book's image — covers can do a lot of service for readers. In this new weekly feature, we'll round up some of the most interesting cover reveal news from the prior week.
These cover reveal news posts will share the covers, any credits to artists and designers given with the reveal (something which should be standard practice but still is not), and then the book's publication date and description. That information will all come from Amazon, as they have the most robust and update descriptions at the time of cover reveals. Reveals sometimes happen 6, 9, or even 12 months in advance of an actual release.
Use these reveal posts to build up your TBR, to preorder titles that catch your fancy, or to begin placing library holds/requesting titles for purchase at your library. There will be something for everyone here, crossing genres and categories of reading interests.
This week's roundup includes a queer, gender-bent Jane Austen, a feminist Beowulf, a twist on Lizzie Borden, and so much more.
Let's dive in.
[TAG0]
All The Fighting Parts by Hannah V. Sawyerr; Art by Rachelle Baker, Design by Micah Fleming (September 9)
Sixteen-year-old Amina Conteh has always believed in using her tongue as her weapon—even when it gets her into trouble. After cursing at a classmate, her father forces her to volunteer at their church with Pastor Johnson.  
But Pastor Johnson isn't the holy man everyone thinks he is.
The same voice Amina uses to fight falls quiet the night she is sexually assaulted by Pastor Johnson. After that, her life starts to unravel: her father is frustrated that her grades are slipping, and her best friend and boyfriend don't understand why the once loud and proud girl is now quiet and distant. In a world that claims to support survivors, Amina wonders who will support her when her attacker is everyone's favorite community leader. 
When Pastor Johnson is arrested for a different crime, the community is shaken and divided; some call him a monster and others defend him. But Amina is secretly relieved. She no longer has to speak because Pastor Johnson can't hurt her anymore–or so she believes.
To regain her voice and sense of self, Amina must find the power to confront her abuser—in the courtroom and her heart—and learn to use all the fighting parts within her.
[TAG1]
Beholder by Ryan La Sala, Cover art by Mishko; Design by Maeve Norton (October 3)
No one survived the party at the penthouse. Except Athan.
Athanasios "Athan" Bakirtzis has made it far in life relying on his charm and good looks, even securing an invitation to a mysterious penthouse soiree for New York City's artsy elite. But when he sneaks off to the bathroom, he hears a slam, followed by a scream. Athan peers outside, only to be pushed back in by a boy his age. The boy gravely tells him not to open the door, then closes Athan in.
Outside the door, the party descends into chaos. Through hours of howls, laughter, and sobs, Athan stays hidden. When he finally emerges, he discovers a massacre where the corpses appear to have arranged themselves into a disturbingly elegant sculpture―and Athan's mysterious savior is nowhere to be found. Athan―the only known survivor―is now the primary suspect.
In a race to prove his innocence, Athan is swept up in a supernatural mystery, one of secret occult societies and deadly eldritch horrors with rather distinctive taste. Something evil is waking up in the walls of New York City, and it's compelling victims toward violence, chaos, and self-destruction. Bound to him by a mysterious hereditary power, Athan has felt this evil hiding behind his reflection his entire life, watching him. Waiting. Now, it's taking over.
[TAG2]
Emmett by L.C. Rosen; Art by Allison Reimold, Design by Patrick Hulse (November 7)
Emmett Woodhouse, handsome, clever and rich, with a comfortable home and happy disposition seemed to unite some of the best blessings of existence and had lived nearly eighteen years in the world with very little to distress or vex him.
Emmett knows he's blessed. And because of that, he tries to give back: from charity work to letting the often irritating Georgia sit at his table at lunch, he knows it's important to be nice. And recently, he's found a new way of giving back: matchmaking. He set up his best friend Taylor with her new boyfriend and it's gone perfectly. So when his occasional friend-with-benefits Harrison starts saying he wants a boyfriend (something Emmett definitely does NOT want to be), he decides to try and find Harrison the perfect man at Highbury Academy, the candy-colored private school they attend just outside Los Angeles. 
Emmett's childhood friend, Miles, thinks finding a boyfriend for a guy you sleep with is a bad idea. But Miles is straight, and Emmett says this is gay life – your friends, your lovers, your boyfriends – they all come from the same very small pool. That's why Emmett doesn't date – to keep things clean. He knows the human brain isn't done developing until twenty-five, so any relationship he enters into before then would inevitably end in a breakup, in loss. And he's seen what loss can do. His mother died four years ago and his Dad hasn't been the same since. 
But the lines Emmett tries to draw are more porous than he thinks, and as he tries to find Harrison the perfect match, he learns that gifted as he may be, maybe he has no idea what he's doing when it comes to love.  
Modern and very gay, with a charmingly conceited lead who is convinced he knows it all, and the occasional reference to the classic movie Clueless, Emmett brings you lush romance all while exploring the complexities of queer culture—where your lovers and friends are sometimes the same person, but the person you fall in love with might be a total surprise.
[TAG3]
Fatima Tate wants to be a baker AND enjoy some innocent flirting with her hot friend Raheem—but her strict Muslim parents would never approve of either…
Seventeen-year-old Fatima Tate, aspiring baker (100% against her conservative parents' wishes), leads a pretty normal life in Albuquerque: long drives with BFF Zaynab, weekly services at the mosque, big family parties, soup kitchen volunteering (the best way to perfect her flaky dough recipe!), stressing about college.
But everything changes when she meets a charming university student named Raheem. Knowing the 'rents would FREAK, Fatima keeps their burgeoning relationship a secret… and then, one day, her parents and his parents decide to arrange their marriage. Amazing! True serendipity!
Except it's not amazing. As soon as the ring is on Fatima's finger, Raheem's charm transforms into control and manipulation. Fatima knows she has to call the whole thing off, but Raheem doesn't like to lose. He threatens to reveal their premarital sexual history and destroy her and her family's reputation in their tight-knit Muslim community.
Fatima must find the inner strength to blaze her own trail by owning her body, her choices, and her future. Combining the frank authenticity of Elizabeth Acevedo and the complex social dynamics of Ibi Zoboi, FATIMA TATE TAKES THE CAKE is a powerful coming-of-age story that gives a much-needed voice to young Black Muslim women.
[TAG4]
In a world locked in eternal winter and haunted by prophecy, a young boy trains for years to become the Chosen One, only for another to rise and claim his place in the start of an unmissable epic from a rising star in fantasy. 
The northlands of Crua are locked in eternal winter, but prophecy tells of the chosen child–who will rule in the name of their God, and take warmth back from the South. Cahal du Nahere was raised to be this person: the Cowl-Rai, the saviour. Taken from his parents and prepared for his destiny.
But his time never came.
When he was fifteen he ceased to matter. Another Cowl-Rai had risen, another chosen one, raised in the name of a different God. The years of vicious physical and mental training he had endured, the sacrifice, all for nothing. He became nothing.
Twenty years later, and Cahal lives a life of secrecy on the edges of Crua's giant forests–hiding what he is, running from what he can do. But when he is forced to reveal his true nature, he sets off a sequence of events that will reveal secrets that will shake the bedrock of his entire world, and expose lies that have persisted for generations.
[TAG5]
Hatchet Girls by Diana Rodriguez Wallach (October 10)
Set more than one hundred years after the Borden murders, this propulsive, supernatural thriller imagines what might happen if history repeated itself today. Perfect for fans of Kara Thomas and Courtney Summers!
When Mariella Morse accuses her boyfriend, Vik Gomez, of murdering her wealthy parents with an axe, the town is quick to believe her. It doesn't help that Vik is caught standing over her parents' bodies with blood on his hands, unable to remember anything about the night in question.
But Vik's sister, Tessa, knows that Vik would never be capable of such a gruesome crime. Haunted by the mistakes she made that led her family to move to Fall River, MA in the first place, she sets out to prove her brother's innocence.
Tessa's search for answers will lead her into a sprawling, notoriously cursed forest, where she and Mariella must face a darkness that has lurked within their town since before the days of Lizzie Borden—the original axe murderess of Fall River.
[TAG6]
He Who Drowned The World by Shelley Parker-Chan; art by Jung Shan (August 22)
How much would you give to win the world?
Zhu Yuanzhang, the Radiant King, is riding high after her victory that tore southern China from its Mongol masters. Now she burns with a new desire: to seize the throne and crown herself emperor.
But Zhu isn't the only one with imperial ambitions. Her neighbor in the south, the courtesan Madam Zhang, wants the throne for her husband―and she's strong enough to wipe Zhu off the map. To stay in the game, Zhu will have to gamble everything on a risky alliance with an old enemy: the talented but unstable eunuch general Ouyang, who has already sacrificed everything for a chance at revenge on his father's killer, the Great Khan.
Unbeknownst to the southerners, a new contender is even closer to the throne. The scorned scholar Wang Baoxiang has maneuvered his way into the capital, and his lethal court games threaten to bring the empire to its knees. For Baoxiang also desires revenge: to become the most degenerate Great Khan in history―and in so doing, make a mockery of every value his Mongol warrior family loved more than him.
All the contenders are determined to do whatever it takes to win. But when desire is the size of the world, the price could be too much for even the most ruthless heart to bear…
[TAG7]
In Charm's Way by Lana Harper; Art and Design by Viki Lester (August 22)
A witch struggling to regain what she has lost casts a forbidden spell—only to discover much more than she expected, in this enchanting new rom-com by New York Times bestselling author Lana Harper.
Six months after having been hit by a power surge that nearly obliterated her memory, Delilah Harlow is still picking up the pieces. Her once diamond-sharp mind has become shaky and unreliable, and bristly, self-sufficient Delilah is forced to rely on friends, family, and her raven familiar for help. In an effort to reclaim her wits and former independence, she casts a dangerous blood spell meant to harness power with healing capacities.
While the spell does restore clarity, it also unexpectedly turns Delilah into an irresistible beacon for the kind of malevolent supernatural creatures that have never before ventured into Thistle Grove. One night—just as things are about to go terribly sideways with a rogue succubus—a mysterious stranger appears in the nick of time to save Delilah's soul.
Gorgeous, sultry, and as dangerous as the knives she carries, Catriona Quinn is a hunter of monsters—and half-human, half-fae herself, she is the kind of sly and morally gray creature Delilah would normally find horrifying. Though Delilah balks at the idea of a partnership, she has no choice but to roll the dice on their collaboration. As the two delve deeper into the power that underlies Thistle Grove, they uncover not only the town's hidden history but also a risky attraction that could upend Delilah's entire life.
[TAG8]
All her life, Zofia has found comfort in two things during times of hardship: books and her best friend, Janina. But no one could have imagined the horrors of the Nazi occupation in Warsaw. As the bombs rain down and Hitler's forces loot and destroy the city, Zofia finds that now books are also in need of saving.
With the death count rising and persecution intensifying, Zofia jumps to action to save her friend and salvage whatever books she can from the wreckage, hiding them away and even starting a clandestine book club. She and her dearest friend never surrender their love of reading, even when Janina is forced into the newly formed ghetto.
But the closer Warsaw creeps toward liberation, the more dangerous life becomes for the women and their families—and escape may not be possible for everyone. As the destruction rages around them, Zofia must fight to save her friend and preserve her culture and community using the only weapon they have left—literature.
[TAG9]
A Power Unbound by Freya Marske; Cover Art by Christine Foltzer, Design by Will Staehle (November 7)
Secrets! Magic! Enemies to. . .something more?
Jack Alston, Lord Hawthorn, would love a nice, safe, comfortable life. After the death of his twin sister, he thought he was done with magic for good. But with the threat of a dangerous ritual hanging over every magician in Britain, he's drawn reluctantly back into that world.
Now Jack is living in a bizarre puzzle-box of a magical London townhouse, helping an unlikely group of friends track down the final piece of the Last Contract before their enemies can do the same. And to make matters worse, they need the help of writer and thief Alan Ross.
Cagey and argumentative, Alan is only in this for the money. The aristocratic Lord Hawthorn, with all his unearned power, is everything that Alan hates. And unfortunately, Alan happens to be everything that Jack wants in one gorgeous, infuriating package.
When a plot to seize unimaginable power comes to a head at Cheetham Hall―Jack's ancestral family estate, a land so old and bound in oaths that it's grown a personality as prickly as its owner―Jack, Alan and their allies will become entangled in a night of champagne, secrets, and bloody sacrifice . . . and the foundations of magic in Britain will be torn up by the roots before the end.
[TAG10]
Iris Kelly Doesn't Date by Ashley Herring Blake; Designed by Katie Anderson, Art by Leni Kauffman (October 24)
A fake relationship after a horrible one-night stand is anything but an act in this witty and heartfelt new romantic comedy by Ashley Herring Blake.
Everyone around Iris Kelly is in love. Her best friends are all coupled up, her siblings have partners that are perfect for them, and her parents are still blissfully married. And she's happy for all of them, truly. Iris doesn't want any of that—dating, love, romance. She'll stick to her commitment-free hookups, thanks very much, except no one in her life will just let her be. Everyone wants to see her settled down, but she holds firmly to her no dating rule. There's only one problem—Iris is a romance author facing an imminent deadline for her second book, and she's completely out of ideas.
Perfectly happy to ignore her problems as per usual, Iris goes to a bar in Portland and meets a sexy stranger, Stefania, and a night of dancing and making out turns into the worst one-night stand Iris has had in her life. To get her mind off everything, Iris tries out for the lead role in a local play, a queer retelling of Much Ado About Nothing, but comes face-to-face with Stefania, whose real name turns out to be Stevie. Desperate to save face in front of her friends, Stevie asks Iris to play along as her girlfriend. Iris is shocked, but when she realizes the arrangement might provide her with some much-needed romantic content for her book, she agrees. As the two women play the part of a happy couple, lines start to blur, and they're left wondering who will make the real first move….
[TAG11]
Raise a glass to Cece Barton, a widowed single mom and recent L.A.-to-California-wine-country transplant who suddenly finds herself at the center of a murder investigation in this sparkling new mystery series from Agatha Award-winning author Maddie Day.
As the manager of Vino y Vida Wine Bar in Colinas, Cecelia "Cece" Barton's first Alexander Valley harvest is a whirlwind of activity. Her twin sister, Allie Halstead, who owns a nearby Victorian bed & breakfast, is accustomed to the hustle and bustle of peak tourist season. But Cece barely has a moment to enjoy her new home in between worrying about her estranged college-age daughter, juggling her responsibilities at the bar, and navigating the sticky politics of the local wine association. Just when it seems things can't grow any more intense, Colinas is rocked by a murder within the wine community . . . and Cece is identified as a possible suspect!
With her reputation and her livelihood on the line—and the Sonoma County deputy sheriff breathing down her neck—Cece has no choice but to open up her own murder investigation. Tensions are already high in the valley, as a massive wildfire creeps toward Colinas, threatening homes, vineyards, and the vital tourist trade. And now, with a murderer on the loose, and Cece's sleuthing exposing the valley's bitterest old rivalries and secret new alliances, Colinas feels ready to pop! But with Allie's help, Cece is determined to catch the killer and clear her name before everything she's worked so hard for goes up in flames.
[TAG12]
The Scarlet Alchemist by Kylie Lee Baker, Designed by Kathleen Oudit and Gigi Lau, Photograph by Lillian Liu (October 3)
Zilan dreams of becoming a royal alchemist, of providing for her family by making alchemical gold and gems for the wealthy to eat in order to stay young forever. But for now, she's trapped in her impoverished village in southern China, practicing an illegal form of alchemy to keep food on the table—resurrecting the dead, for a price.
When Zilan finally has the chance to complete her imperial exams, she ventures to the capital to compete against the best alchemists in the country in tasks she'll be lucky to survive, let alone pass. On top of that, her reputation for raising the dead has followed her to the capital, and the Crown Prince himself seeks out her help, suspecting a coming assassination attempt.
The more Zilan succeeds in her alchemy, the more she gets caught in the dangerous political games of the royal family. There are monsters lurking within the palace walls, and it's only a matter of time before they—and secrets of Zilan's past—catch up with her.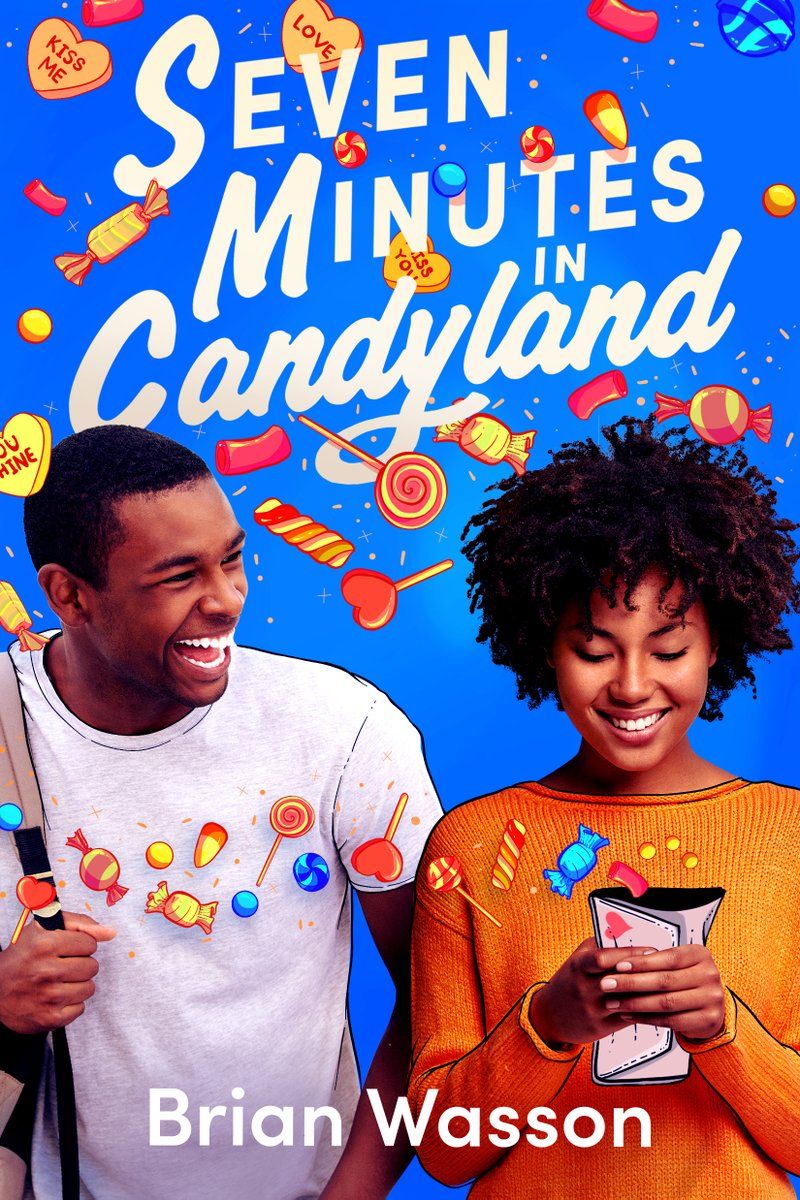 Seven Minutes in Candyland by Brian Wasson, Art by Donna Adi, Designed by David Curtis/Laura Mock (December 12)
Sophomore Kalvin Shmelton has finally perfected his underground candy-selling hustle at school. He keeps his prices reasonable, his inventory fresh, and himself out of the drama. But when a heartbroken Sterling Glistern—Kal's longtime crush— barges into the storage closet where he keeps his candy supply, a new source of income unexpectedly presents itself: relationship therapist. Sure, he only meant to help Sterling realize she's been dating a jerk—and maybe win her over—but news spreads fast that Kalvin's not just the master of sweets…but hearts, too! And as the son of two famous therapists, he leans into this newfound reputation and the money that comes with it.
The truth, however, is that Kalvin's parents' "perfect" marriage is crumbling. He was supposed to woo the girl of his dreams, fix his parents' relationship, and lend a listening ear to a school-full of heartbroken teens. But a jealous boyfriend, a vengeful competitor, and Kalvin's own growing ego threaten those plans, forcing Kal to rethink all he thought he knew about friendship, family, and love.
[TAG14]
Shield Maiden by Sharon Emmerichs (October 3)
Both epic and intimate, Shield Maiden is the brilliantly imagined retelling of Beowulf from the perspective of a fierce young woman reclaiming her power.
Fryda has grown up hearing tales of her uncle, King Beowulf, and his spectacular defeat of the monstrous Grendel. Her one desire is to become a shield maiden in her own right, but a terrible accident during her childhood has thwarted this dream. Yet still, somehow, she feels an uncontrollable power begin to rise within herself.
The last thing Fryda wants is to be forced into a political marriage, especially as her heart belongs to her lifelong friend, Theow. However, as foreign kings and chieftains descend upon her home to celebrate Beowulf's fifty years as the king of Geatland, the partnership begins to seem inevitable.
That is, until, amidst the lavish gifts and drunken revelry, a discovery is made that threatens the safety of Fryda's entire clan – and her own life. Incensed by this betrayal, Fryda resolves to fight for her people no matter the cost. As a queen should. As a shield maiden would.
And as the perilous situation worsens, Fryda's powers seem only to grow stronger. But she is not the only one to feel the effects of her new-found battle-magic. For, buried deep in her gilded lair, a dragon is drawn to Fryda's untamed power, and is slowly awakening from a long, cursed sleep…
[TAG15]
Spin a Black Yarn: Novellas by Josh Malerman (August 15)
Five harrowing novellas of horror and speculative fiction, from the singular mind of the New York Times bestselling author of Bird Box.
Josh Malerman is a master weaver of stories—and in this spine-chilling collection he spins five twisted tales from the shadows of the human soul:
A sister insists to her little brother that "Half the House Is Haunted" by a strange presence. But is it the house that's haunted—or their childhoods?
In "Argyle," a dying man confesses to homicides he never committed, and reveals long-kept secrets far more sinister than murder.
A tourist takes the ultimate trip to outer space in "The Jupiter Drop," but the real journey is into his own dark past.
In "Doug and Judy Buy the House Washer," a trendy married couple buys the latest home gadget only to find themselves trapped by their possessions, their history… and each other.
And in "Egorov," a wealthy old cretin murders a young man, not knowing the victim was a triplet. The two surviving brothers stage a savage faux-haunting, playing the ghost of their slain brother, with the aim of driving the old murderer mad.
[TAG16]
The Spirit Glass by Roshani Chokshi (September 15)
Corazon yearns to finally start training as a babaylan (a mystical healer and spirit guide) under her powerful guardian, Aunt Tina. As soon as her magic awakens, Corazon plans to bring her parents back from the dead and no longer have to rely on a soul key to allow visits with her their ghosts for a few hours every Saturday night.
But when a vengeful ghost steals Corazon's precious key, the fragile balance between the human world and the spirit world is thrown out of whack. Aunt Tina reveals that if Corazon wants her magic to awaken, then she just lay the ghost to rest by fashioning a new soul key. 
With her rather bloodthirsty gecko companion, Saso, Corazon embarks on a quest through the spirit realms. But they must move quickly, for  if the ghost gets  through the spirit glass, all hope will be lost.
Roshani Chokshi pays tribute to her Filipino heritage in this book that has all the magic, sparkle, and heart that made her Aru Shah series a fantasy classic.
[TAG17]
Super Boba Cafe by Nidhi Chanani, Color by Sarah Davidson (October 24)
A sweet and magical new middle-grade graphic novel about a boba café, an earthquake-causing monster, and an unforgettable summer
In the fog laden hills of San Francisco sits a sleepy independent boba café. Run by Jing Li and guarded by her kitty Bao, it comfortably fades into the background. But inside the boba café, there's a secret. Jing is the keeper of the monster of San Francisco. Each day she prepares one giant boba for nine hours to feed it.
When Jing's granddaughter, Aria, comes to stay with her for the summer she makes it her mission to turn the café around. Aria is quickly aided by Bao, who gives birth to eight perfect kittens. Aria spreads the news of the boba cat café on social media and overnight it is overrun with excited customers. Each day Nainai Li (Grandma Li) finds reasons to close the café but the demand only increases.
When she opens, the hill monster is left hungry and small earthquakes begin to plague the city. When Aria secretly follows her Nainai to the hill monster cave she isn't sure what awaits. Will Aria be able to reason with the monster or become its new favorite meal? Or will she disturb its underground existence and cause the Big One?
---
Other Book Riot New Release Resources
All the Books, our weekly new book releases podcast, where Liberty and a cast of co-hosts talk about eight books out that week that we've read and loved.
The New Books Newsletter, where we send you an email of the books out this week that are getting buzz.
Finally, if you want the real inside scoop on new releases, you have to check out Book Riot's New Releases Index! That's where I find 90% of new releases, and you can filter by trending books, Rioters' picks, and even LGBTQ new releases!
!doctype>