Back to School Inspiration for Librarians
Twelve-year-old Jama likes elephants better than people and while her classmates gossip—especially about the new boy, Leku—she takes refuge at the watering hole outside her village. There she befriends a baby elephant she names Mbegu, Swahili for seed. When Mbegu's mother, frightened by poachers, stampedes, Jama and Mbegu are blamed for two deaths—one elephant and one human. Now Leku, whose mysterious and imposing father is head ranger at the conservancy, may be their only lifeline. Inspired by true events, The Elephant Girl is a moving exploration of the bonds between creatures and the power of belonging.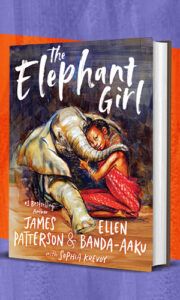 It's back to school season! Notebooks full of blank pages, the smell of freshly sharpened pencils, new sneakers, empty halls waiting to be filled with students again. For me, and many educators, the new year starts in the rest of the world's Quarter 3, not in January. The idea of going back to school has always given me butterflies, and one of the joys of working in education is the thrill and promise of a new school year. There are endless possibilities! Opportunities for change! Hope for the future! There are new students and teachers to meet.
Alright, I get that my enthusiasm might not be the same back to school feeling that other educators are experiencing. Many people are burnt out, even after summer break. Maybe because of summer break. Perhaps the idea of getting back in the school building with looming faculty meetings, training, and professional development are making you less than excited. Or maybe you're like the writer side of me and the blank page (or empty library) is daunting. Where do you even start when there is so much to do? Sometimes the idea of endless possibilities makes all possibilities feel impossible. It's time to narrow our focus. Here are some ways to kickstart your school year, some ideas to get you started. Sometimes when the blank page is staring back at you, all you need is a little prompt to get the creative ideas flowing.
I hope that some of these ideas get your creative cogs turning. Please reach out on Twitter to let me know if you tried any of these or if you have any ideas of your own you want to share! One of my favorite things about being in the librarian community is how generous everyone is with their willingness to collaborate. If you're interested in reading more about libraries, you should read about how lost library books found their way home or how one rioter grew as a school librarian post shut down world.
!doctype>