An Exhaustive Timeline Of The Rock's Black Adam Movie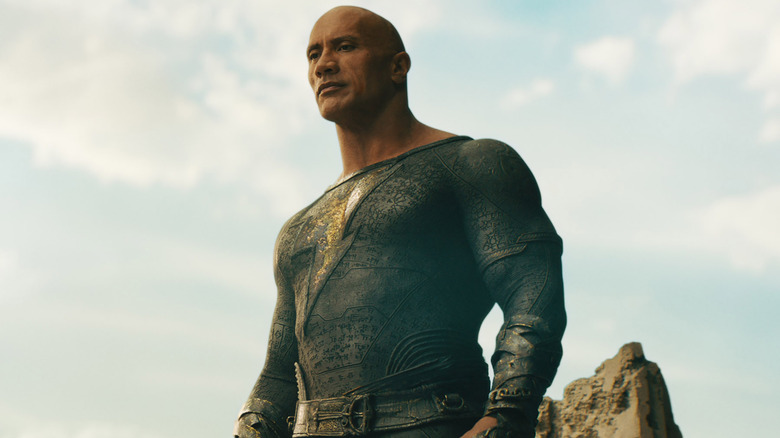 After what seems like forever (and ever, and ever), "Black Adam" is hitting theaters this weekend. It's the conclusion of a journey that goes back a long time, with the project kicking around the halls of Warner Bros. in some way, shape, or form for well over a decade. More to the point, Dwayne Johnson, back when he was pretty much only known to the general public as The Rock, has been attached to the role for ages. In most cases, when someone is attached to a part for over a decade, the project is destined to fall apart. Yet, somehow, this one managed to stay together and Johnnson is getting his day in the sun, bringing the DC Comics anti-hero to life in live-action for the first time.
This all goes back to 2007 when John August began scripting a "Captain Marvel" Marvel (no, not that Captain Marvel), which turned into "Shazam!," a movie that went through quite a few iterations before becoming a reality itself in 2019. So, what happened in the 15 years between 2007 and 2022? How many times did The Rock assure us that this movie was going to happen and that he was going to play Black Adam? We're going to go over all of that in exhaustive detail. Buckle up, dear reader.
2007 - The Rock Reveals He's Playing Black Adam, Not Shazam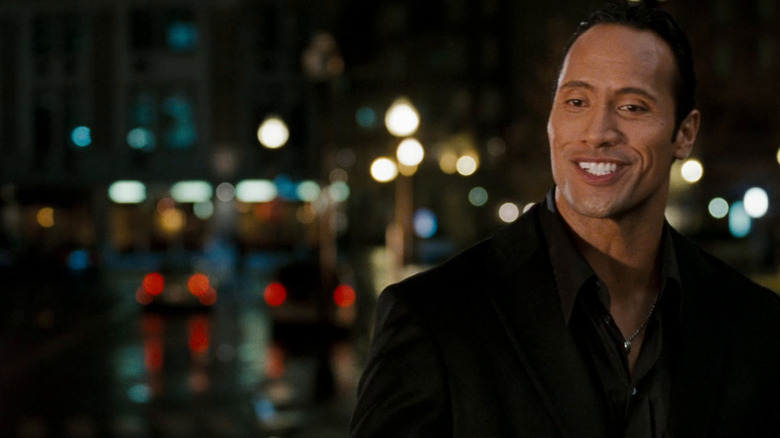 Believe it or not, it was on this very website way back in November of 2007 where the news of Dwayne "The Rock" Johnson playing Black Adam broke. At the time, it had been rumored that the wrestler, who was transitioning into acting, was up for the role of Captain Marvel/Shazam. However, it was during the junket for "Southland Tales" where he revealed that things had changed:
"Not Shazam but Black Adam, that's now very clear. He's a character that I can't wait to play. When they first approached me about playing Captain Marvel, they said there is also this interesting character too called Black Adam. This was about a year ago on the set of Get Smart. I said 'Oh, Okay, Great.'"
And thus began a 15 year journey.
2009 - Bill Burch Updated On The Rock's Black Adam Casting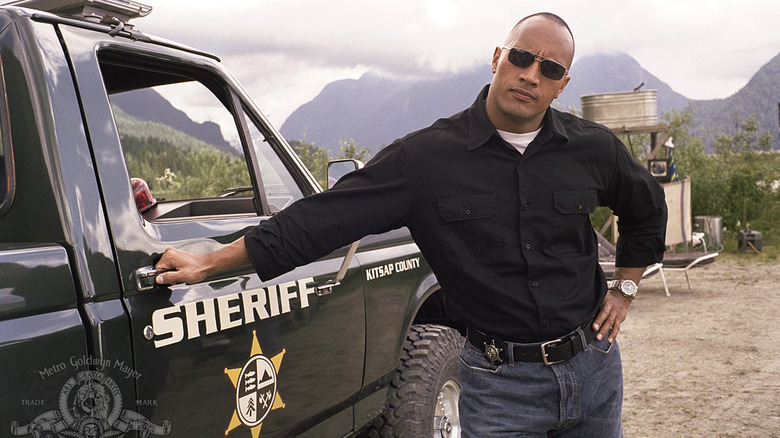 The internet worked very differently all those years ago. Back then, social media wasn't all-encompassing and superhero movie casting wasn't at the forefront of everyone's minds. Plus, The Rock hadn't become Dwayne Johnson -- biggest movie star in the world. In short, not everyone was asking him at all times about Black Adam and the "Shazam" movie. But in 2009, then-writer Bill Burch provided a little update on the topic of Johnson's casting, saying the following:
"My rule of thumb is that no actor is committed to do a movie until the first day of shooting is over with. I know that ['Shazam' Director] Pete Segal and Dwayne have a relationship that was solidified when Pete directed 'Get Smart.' As far as him being committed? I'm sure it'll all depend on the script."
Then, we went dark for a few years before this ever even came up again. Then Johnson put together a string of hits, turning him into a full-on star.
2013 - The Rock Reveals He Had Meeting With DC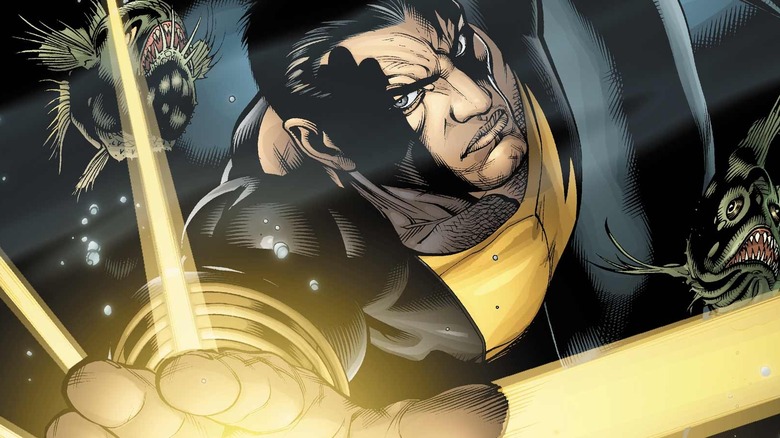 As "Shazam" spent more time in development hell, Johnson went about becoming a big movie star. Then, things got interesting again in December 2013 when the wrestler-turned-actor shared a tweet, proclaiming that he had met with DC and that things were going to change in 2014. This was just as the DCEU as we know it was taking shape following the release of "Man of Steel" earlier that year. "We just had a big meeting w/ Warner Bros CEO re: DC 2014 we will partner up and create the cool bad assery," Johnson said at the time.
2014 - The Rock Says He's Putting His Heart And Soul Into Black Adam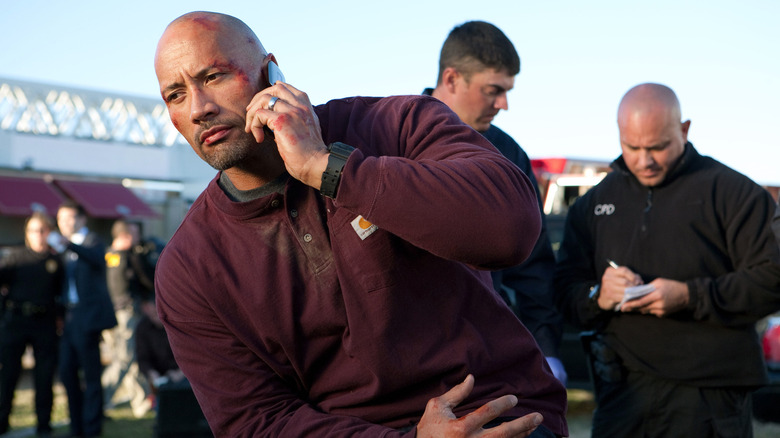 Given Johnson's tweet and the proliferation of superhero cinema, Black Adam and "Shazam" started getting a lot more attention around this time. Bear in mind, this was already seven years after the initial casting reveal. While promoting "Hercules" during the summer of 2014, Johnson once again addressed the topic, this time speaking to the press directly. "I am putting my heart and soul and my bones into this role," Johnson said at the time. He didn't have much else to add, but it confirmed he was still dedicated to bringing the character to screen.
2014 - The Rock Confirms He's Playing Black Adam, For Real This Time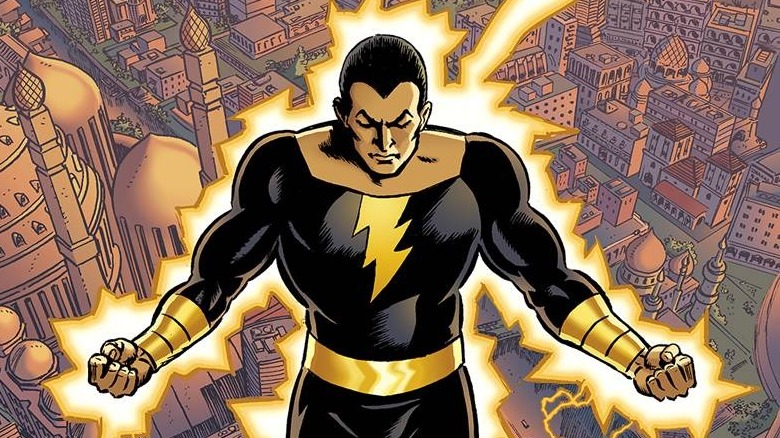 In September 2014, things got very real as Darren Lemke boarded "Shazam" as a screenwriter, giving the film new life. But in the trades, it was also reported that Johnson was officially on board to play the role of Black Adam in the film, with the idea being that he would be the main antagonist, duking it out with the titular hero. At that time, Johnson once again took to Twitter to confirm the news. "'Kneel at his feet or get crushed by his boot.' My honor to become.. #BlackAdam #TheAntiHero #DCComics," he said. It is important to note that this is the first time he positioned Black Adam as an anti-hero as opposed to a straight-up villain, which is something that would permeate all the way through to the movie's release.
2017 - Dwayne Johnson's Somewhat Mysterious Meeting With DC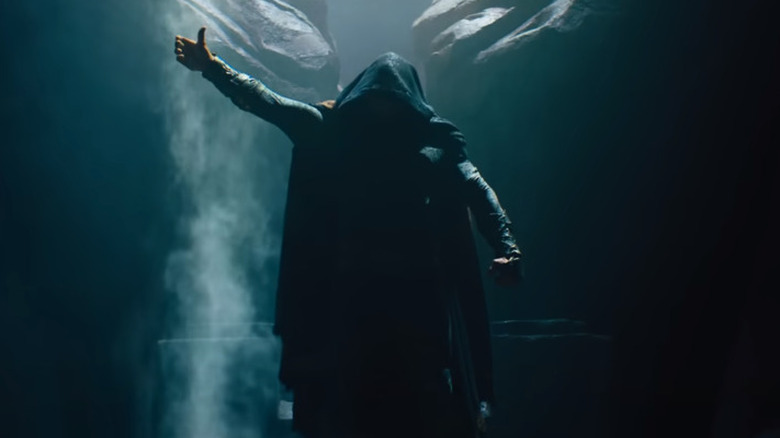 Again, after Lemke's hiring and the highly-public confirmation that Johnson would play Black Adam, things went quiet for a little while. "Batman v Superman" underperformed while "Suicide Squad" over-performed against terrible reviews, and "Justice League" was still on the way. It was an odd time for DC. In January 2017, Johnson took to Instagram to reveal that he had a meeting with DC, ensuring that things were cooking behind the scenes:
"Had a very cool and strategic meeting with the heads of DC about their entire universe. As a hard core DC fan, to get a real sense of the tonal shifts and developments coming in these future movies has me fired up. Something we, as DC fans have all been waiting for a very long time. Hope, optimism & FUN. Even when talking about the most ruthless villain/anti-hero of all time finally coming to life. Prepare yourselves DC Universe."
This statement was a bit mysterious, but it wouldn't be long before that mystery was unraveled. The Rock was a big star now and plans changed to reflect that.
2017 - It Is Revealed That Black Adam Is Getting His Own Movie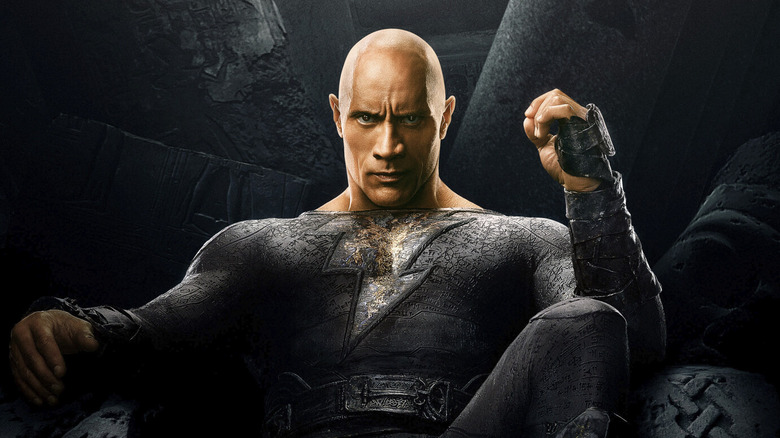 Mere days after Johnson's somewhat mysterious Instagram post went up, it was revealed on January 19, 2017 that Warner Bros. had expanded their plans. Not only was a "Shazam!" solo movie going to happen, but a "Black Adam" movie starring The Rock was now happening as well. In the decade since Johnson first said he was going to play the part, his star power grew so much that the studio decided to give an unfamiliar comic book villain a solo movie, almost entirely based on the power of the star in the lead role.
2017 - The Rock Teases The Black Adam Movie, Hints At Future With Shazam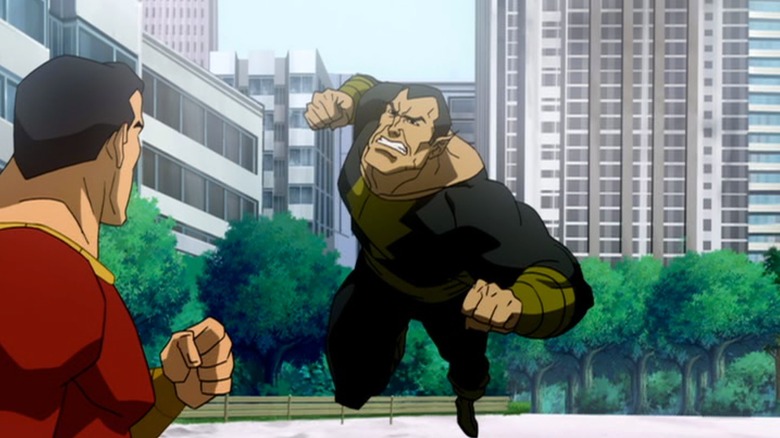 With a "Black Adam" solo movie happening and The Rock having a steady stream of big projects to promote, the time came where he began talking about this role a lot. In May of 2017, Johnson spoke with MTV about the expansion of this corner of the DC universe:
"We've had great discussions with Geoff Johns over there at DC. This is a really, really fun, cool time for DC right now because they're really in a process of truly world building, and building out. We're seeing that with Wonder Woman and Aquaman, and we have a few surprises down the line. So what we decided to do was actually create a scenario where Black Adam is having his standalone movie, Captain Marvel/Shazam will have his standalone movie, and then we're building our world up that way and then we can come together at some other point."
At this point, the talk was still very much about having Black Adam face off with Shazam. Amazingly enough, that talk has died down a great deal, even though he was originally going to be the villain in the "Shazam" movie.
2017 - The Rock Assures Black Adam Is Happening, Teases Superman Fight
While promoting "Baywatch" in May 2017, Johnson went out of his way to say that "Black Adam" was "definitely" happening and that this wasn't just some project that got announced, destined to go nowhere. But the really intriguing thing that happened at that time was the actor being asked about a potential showdown with Superman. This would become a big question -- even in the week leading up to the release of the movie. But at the time, he said, "One fine day... that's coming. That's in the cards." Confidence and persistence.
2017 - The Andy Muschietti Instagram Post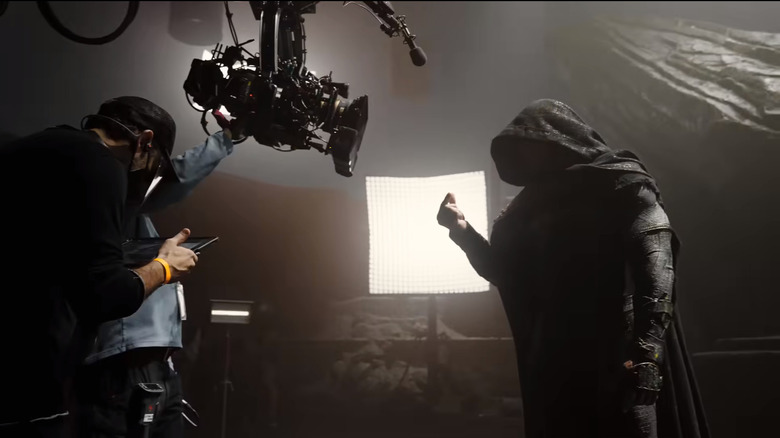 In September 2017, Johnson was hyping up the release of "It" on Instagram just as director Andy Muschietti's Stephen King adaptation was about to break a ton of box office records. Johnson was mostly being a hype man for Muschietti, but he left a little bit of room to read between the lines and speculate within his post. "Most of all congrats to director, Andy Muschietti for making such a defining film. You knocked it outta the f****** park! Great talking with you man and we're gonna have some fun working together down the road." At the time, speculation ran rampant that Muschietti was in line to direct "Black Adam." Ultimately, he would go on to direct "The Flash" instead.
2017 - The Suicide Squad 2 Rumor Involving Black Adam Emerges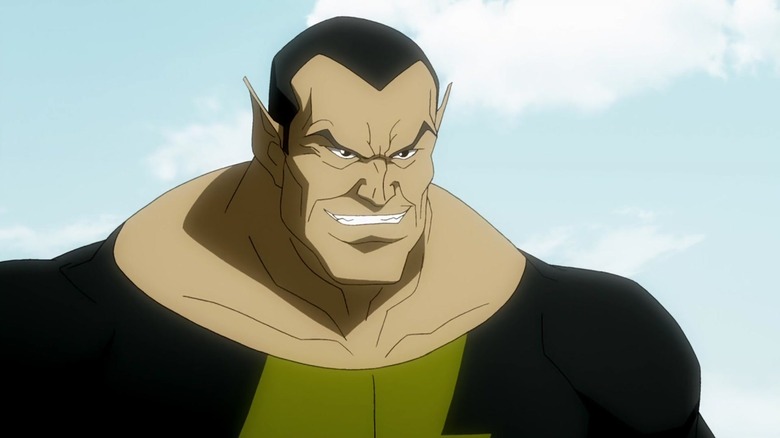 Long before James Gunn would step in to direct what would become "The Suicide Squad," various plans for "Suicide Squad 2" came and went. One such plan, as revealed by The Wrap in November 2017, involved Black Adam. At the time, the outlet stated that "the current plan for the sequel was for the members of Suicide Squad to be tasked with tracking down a weapon of mass destruction. That weapon? Black Adam himself." Not to get personal here, but I always thought that idea was cool AF. But beyond that, it seems some seeds of this idea stuck, as the Justice Society has to stop Black Adam in the movie as it exists, with Viola Davis returning as Amanda Waller.
2018 - The Rock Confirms He's Not In Shazam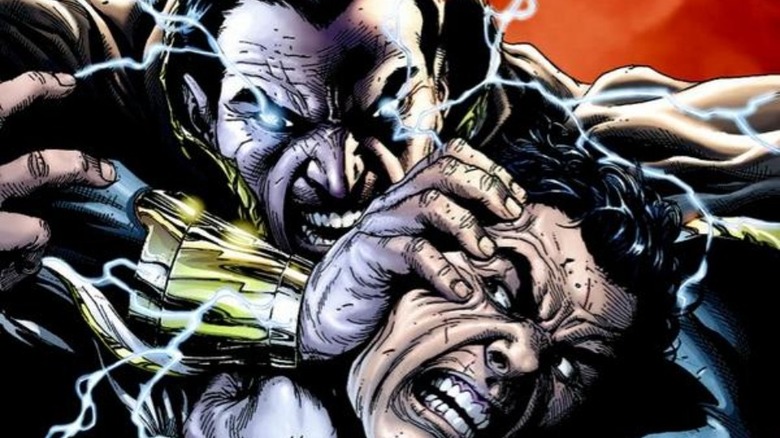 Even though a "Black Adam" movie was happening, it didn't mean for sure that The Rock wasn't going to be in "Shazam." However, in July of 2018, Johnson confirmed that he would not be in "Shazam" and, instead, reiterated that the hope was that they would meet up in a crossover film down the road.
"I'm not in that one. It's Shazam and Black Adam and, with the way the DC universe works, we should -- in theory -- meet up on the big screen. But who knows."
And that was that. But Johnson had his reasons for keeping these characters separate.
2018 - Dwayne Johnson Optimistically Says Black Adam Is A 2019 Movie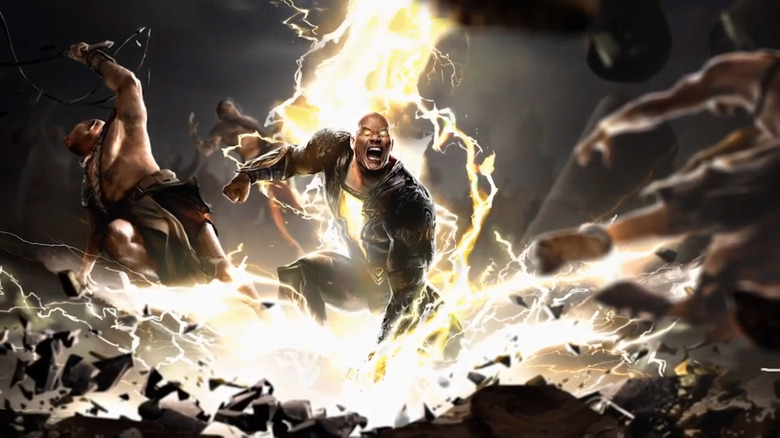 While promoting "Rampage" in April 2018, Johnson started to sound especially optimistic about the "Black Adam" movie, discussing the script and when filming might actually begin. Speaking with Yahoo, Johnson said, "The script came in, it's great, we're working on it. If things come together in the way we anticipate them coming together, that feels like a 2019 movie." That, obviously, didn't come to pass. In fairness, the pandemic certainly had a lot to do with stretching out the timeline by a couple of years. Most importantly, this started a period of "will they/won't they" when it came to actually starting filming.
2018 - The Rock Treads Water, Saying Black Adam Is Coming Along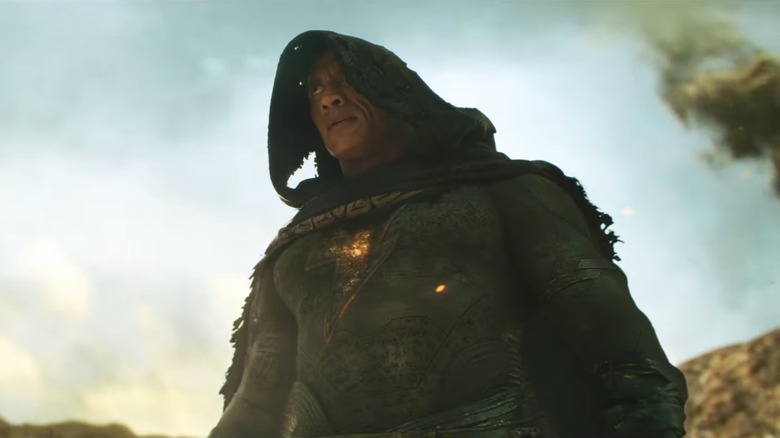 In July 2018, Johnson had to give an update on "Black Adam" even though there wasn't all that much to say. Chatting with Variety, the actor was clearly treading water while trying to make things sound very positive, as he is known to do. The man is nothing if not positive in public. Anyway, he said:
"Black Adam is coming along. The script is coming along. I'm very happy with it. That's a project that obviously you want to take your time [with]. I think it's in a very exciting time now, with DC, because there's some rejiggering going on. There's reconfiguration going on. There's looking at the macro map of the DC universe. And I know those guys are working diligently at DC and Warner Bros too, working closely with our producers too, to see how Black Adam unfolds in the universe."
Indeed, this was in the wake of the failure of "Justice League" at the box office and before "Aquaman" shocked everyone with its success.
2018 - The Rock Once Again Says Filming Could Begin Soon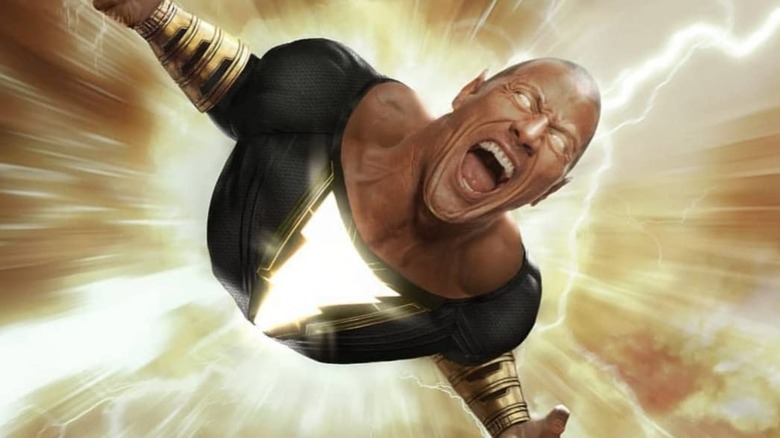 Again speaking in July 2018, Johnson discussed the prospect of filming "Black Adam" in late 2019. The problem is, at the time, Johnson was exceptionally busy, filming a "Jumanji" sequel and his thriller "Red Notice," among other things. He said:
"Early next year right now it looks like I'm going to be shooting Jumanji, and then after that if everything goes well I'll shoot a movie called Red Notice with Rawson Thurber again, with Gal Gadot, and another actor yet to be named. But Black Adam possibly at the end of next year. It's coming along great, the script is coming along great we're very happy with it."
More than anything, this felt like a period of relative uncertainty with the film, despite an air of confidence.
2018 - Producer Hiram Garcia Gives A Meaty Update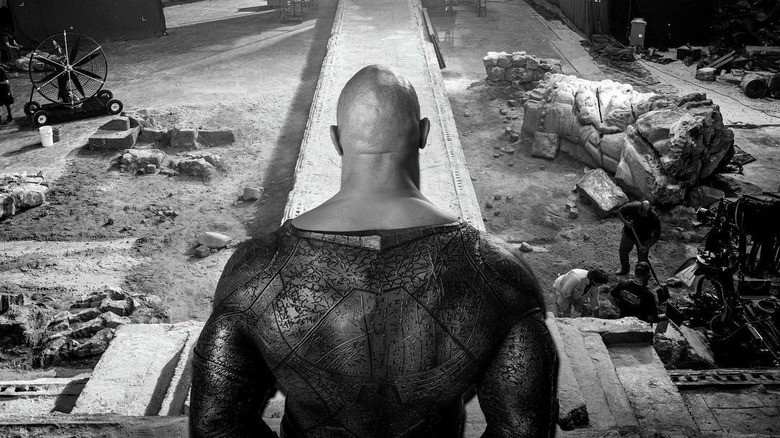 Johnson's long time producing partner Hiram Garcia offered a pretty sizable update on the project in August 2018. Speaking with Collider, the producer reiterated that the film was "definitely" happening and that everyone was excited about it. The biggest thing mentioned at the time was the tone, something that seemingly stayed consistent right up to the final product:
"We just got our latest script [from Adam Sztykiel]. We're doing some revisions on it. We're extremely excited about it, the studio's very excited about it. And I'm telling you man, as a comic book fan, when this thing comes out, it is going to be amazing (laughs). This is the fanboy in me talking to you, it's going to deliver on the goods of everything you'd want to see Black Adam do, he's going to be doing in this film. Especially when he's not a boy scout. Especially when he's got edge to him. Like, he's not the boy scout superhero, he's the guy that's like, okay, you cross him? Well, I rip your head off, and then I move on to the next guy."
As we've seen in the trailers, yes, Black Adam is more than happy to kill people even when the Justice Society doesn't want him to.
2019 - Jaume Collet-Serra Boards Black Adam As Director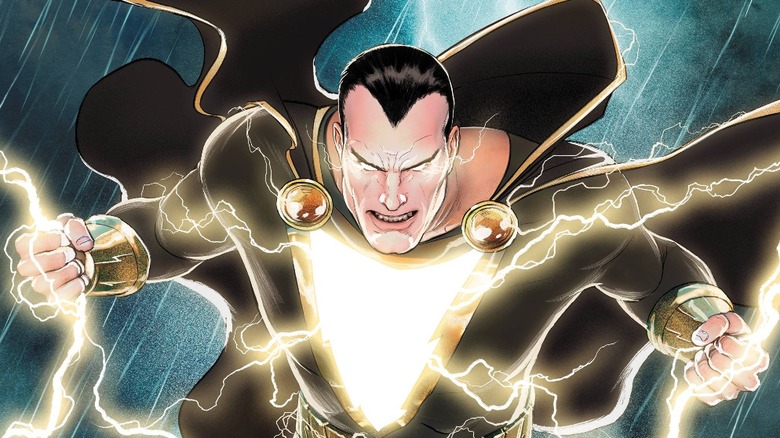 Things started to get very serious with "Black Adam" when, in summer 2019, Jaume Collet-Serra was hired to direct the long-gestating film. It was a positive sign, as Collet-Serra had just worked with Johnson on Disney's "Jungle Cruise," indicating that the two had a positive experience. This put a major piece of the puzzle into place, as he stayed in the director's chair all the way through to the end. This was the man that finally made it happen.
2019 - Filming Begins In 2020 On Black Adam, So Says 2019 Dwayne Johnson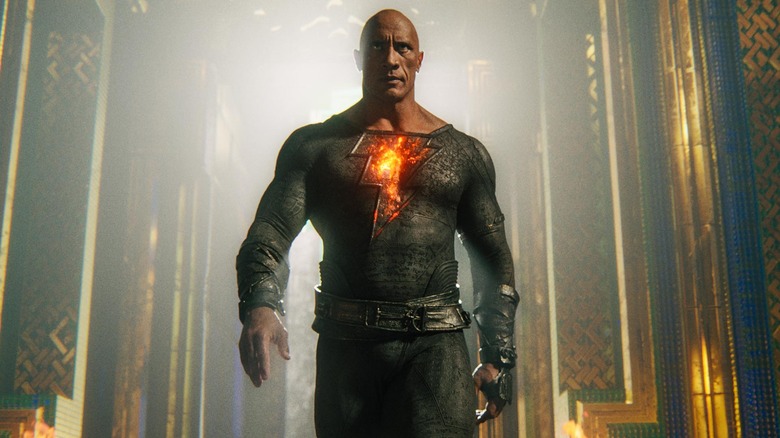 With a director in place, things started to really take shape, with Warner Bros. and Johnson barreling towards production. In October 2019, Johnson went so far as to say, "This project has been with me for over 10 years. Production begins this July. Appreciate the support." Unfortunately, as we would all learn in a handful of months, the world was going to have other plans. Namely, a global pandemic.
2019 - The Rock Shares First Poster, Release Date For Black Adam
In November 2019, things got very real as Johnson took to Instagram to share the above post, which included a concept poster for "Black Adam," along with a release date -- the film was intended to hit theaters on December 22, 2021. This was, again, pre-pandemic, meaning that they had no idea that the whole world was about to be shut down for more than a year, delaying production significantly.
2020 - Filming Of Black Adam Is Officially Delayed Due To The Pandemic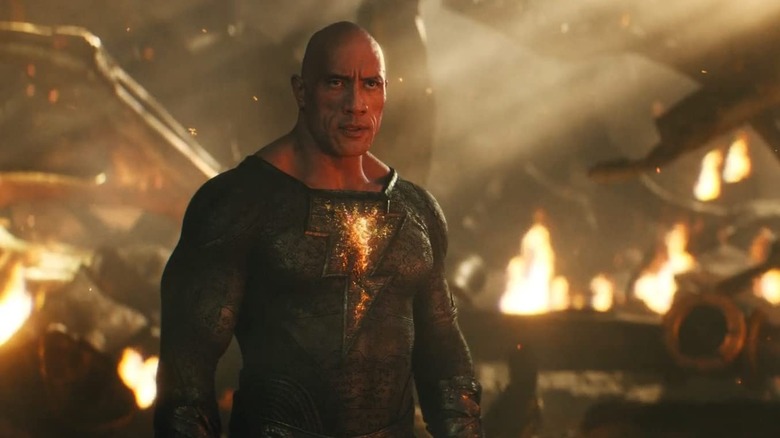 And just like that, in April 2020, Johnson confirmed via an Instagram Live session that "Black Adam" had its filming date pushed back by the pandemic. This was at a time when nobody really knew how long things would drag out, and the actor maintained a sense of optimism regarding the DC Comics adaptation. "We still plan on shooting probably at the end of summer now, probably pushed into the end of August or September. That is a project I hold near and dear to my heart and so I can't wait to get started," Johnson said at the time.
2020 - The Rock Drops A Black Adam Teaser At DC FanDome
The pandemic canceled in-person fan events (such as San Diego Comic-Con) for 2020, and many at-home events took their place. Those arrived with mixed results, but Warner Bros. won the day with DC FanDome, a live-streamed event that felt genuinely impressive and communal, despite taking place on the internet. The Rock dropped by for a special presentation centered around "Black Adam," with the above animated teaser trailer offering our first look at the film. This was the moment of no return, where things felt good and truly real.
2021 - Filming Finally Begins On Black Adam
Finally, in April 2021, the journey that started with a world-famous wrestler who was branching out into acting in 2007 came full circle. The Rock took to Instagram on April 9, 2021, to reveal that "Black Adam" had actually kicked off filming, meaning that the exceptionally long road to bring this character to the big screen was finally being realized. All of that persistence and optimism finally paid off.
"Black Adam" hits theaters on October 21, 2022.
Read this next: What These DC Villains Really Look Like Under The Makeup
The post An Exhaustive Timeline Of The Rock's Black Adam Movie appeared first on /Film.