15 screen-free ways to keep kids entertained while traveling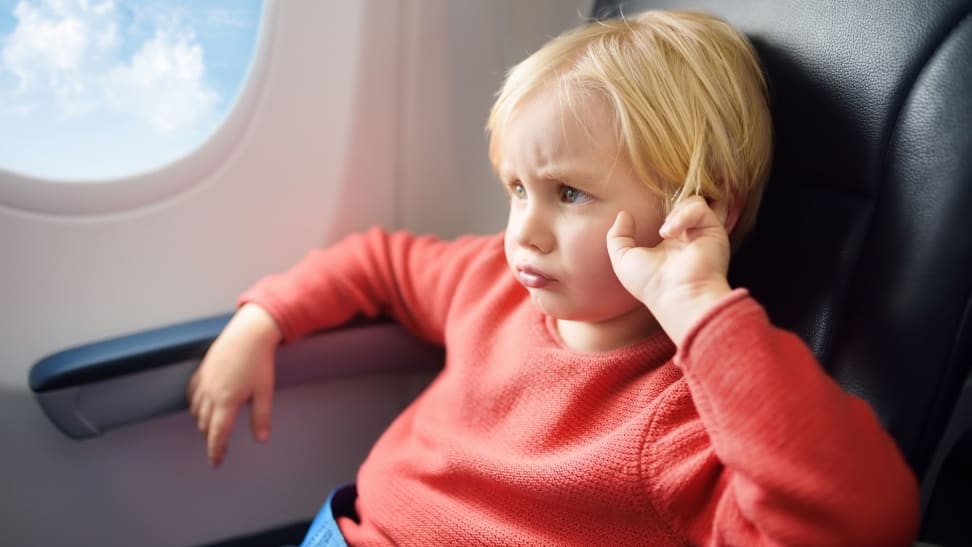 — Recommendations are independently chosen by Reviewed's editors. Purchases you make through our links may earn us a commission.
The kids are out of school, restrictions are being lifted, and suddenly the world is open again. Summer travel season is upon us; it's time to break out and hit the open road. While you're probably busy planning all of the fun activities your family will enjoy when you meet your vacation destination, having a game plan for when they get bored in the car or on the airplane tends to take a back seat (so to speak).
If you're like most parents (me), you're lucky if you have the stamina and wherewithal to throw on a podcast and play a round of I Spy before you defer to the tablet for the remainder of the trip.
Here are some brain-boosting games and toys for screen-free travel entertainment that are compact and free from tiny pieces that are doomed to get lost between the seats. Some toys are just right for some quiet time, and some will get the whole family involved. The whines of "are we there yet" will soon be a thing of the past.
1. Scavenger Hunt for Kids card game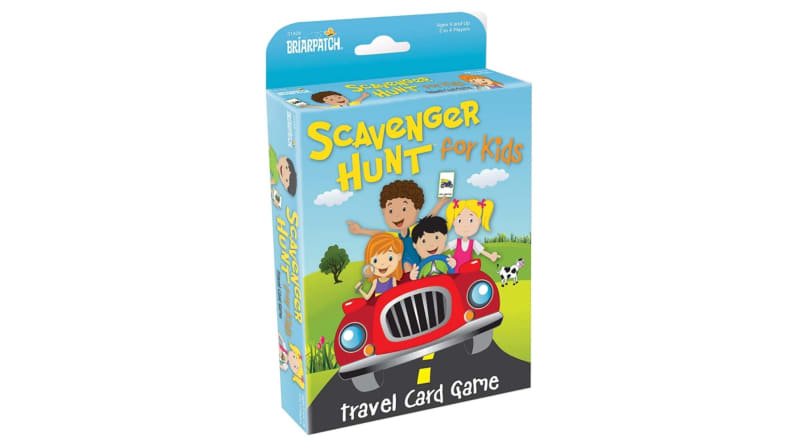 Ages: 3 and up
If you're getting bored with looking for "something green" while playing I Spy (for hours), this clever card game will mix things up and get kids flexing their object-finding prowess. Get them on the eagle-eyed lookout for giggle-inducing finds, like "a bald man in another car" or "something stinky on the street."
The box says "ages 7 and up" but more than one reviewer talks about including kids as young as age 3, so as long as they have someone to read the cards for them, the whole family can join in the fun.
Get the Scavenger Hunt for Kids card game at Amazon for $5.99
2. Melissa & Doug Rainbow Caterpillar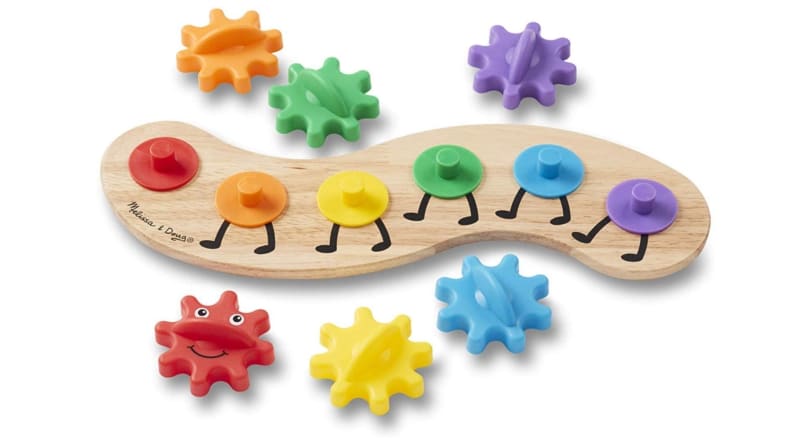 Ages: 18 months to 3
Toddlers will be fascinated as they make the gears move on the caterpillar's interlocking segments. The bulky, notched gears are easy for little hands to hold and the color-coordinated pegs help keep the gears in place so small pieces aren't easily dropped during long drives.
Get the Melissa & Doug Rainbow Caterpillar at Amazon for $12.67
3. KiwiCo Monster Mix & Match Art Pack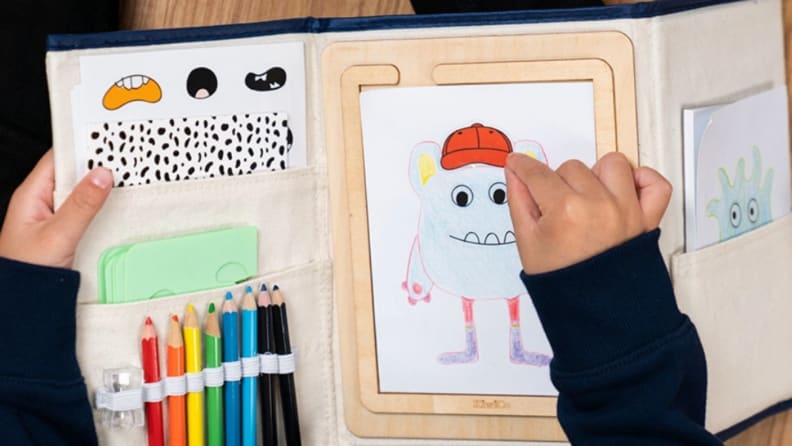 Ages: 5 and up
This delightful doodle package has everything your little artist needs for creative expression on the go. This compact set, with smart packaging that keeps everything in place, will inspire your monster-maker with 10 mix-and-match stencils, stickers, texture cards (to give your monsters wooly pelts or scary scales) and colored pencils.
Get the KiwiCo Mix & Match Monster Art Pack at KiwiCo for $17.95
4. Djeco GeoBasics animal set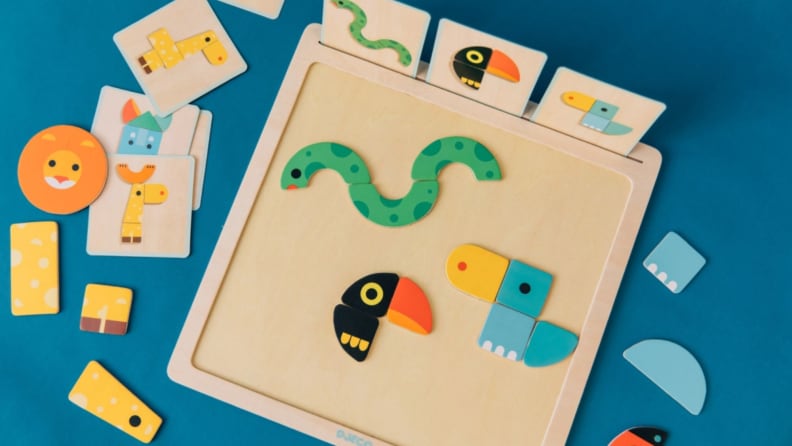 Ages: 3 and up
For tiny tots that still need to be kept busy, this magnetic set lets them imagine and create animal creatures that will stay put in transit. This set comes with 48 wooden shapes to play with as they conceive of their ligers and zebears and whatever cool animal combos their little minds can conjure.
There's also a set for kids ages 4 and up that includes wooden geometric shapes that are perfect for making tangram shapes.
5. Quiet Book for Toddlers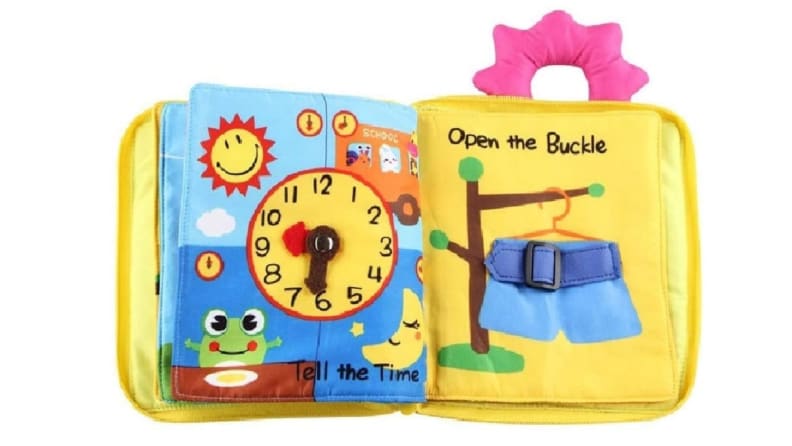 Ages: 1 to 3
This Montessori-inspired book gives toddlers all of the tactile input they need during extended car rides. The Velcro shapes, great big buttons, and fine-motor-tuning zippers on this soft, squeezable, and machine-washable book may be wordless but it'll keep them entertained almost as long as a best-selling novel.
Get the Aprigreen Quiet Book for Toddlers at Amazon for $14.99
6. Pop-It sensory game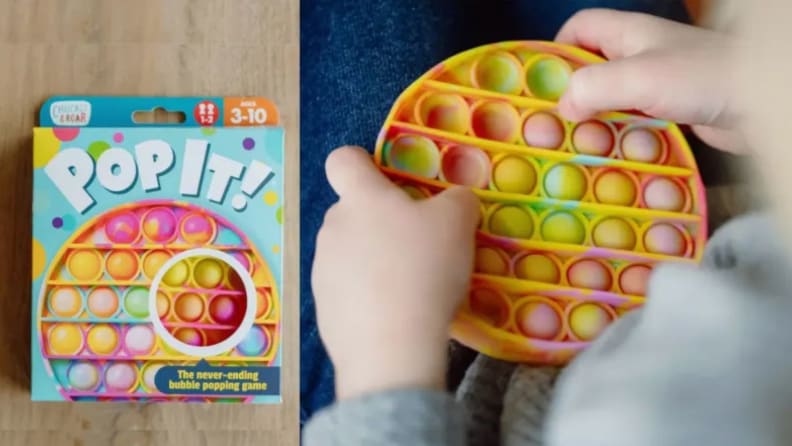 Ages: 3 to 10
A must have for road trips, Pop-Its give the sensory satisfaction of popping bubble wrap, without the jarring noise factor. They're all the rage on school yards these days and their soothing entertainment value make them a great choice for keeping kids entertained when cooped up in a car or booster seat.
Pop-Its can be enjoyed as a two-player tic-tac-toe-like game of strategy or as a solitary sensory toy to help kids get their zen on when they're getting bored, stressed, or frustrated.
Get the Pop-It sensory game at Target for $7.99
7. Simon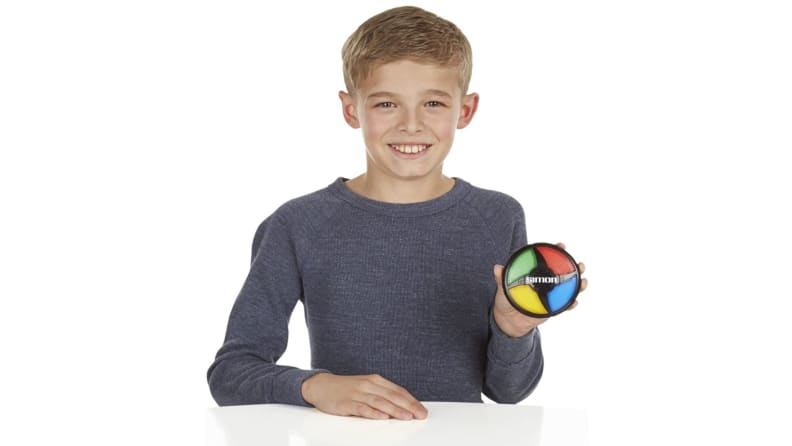 Ages: 8 and up
Remember Simon? It's still just as fun to play and still as engaging and entertaining as when you were a kid, but now it comes in a hand-held size that's small enough to join you for a trip, without taking up too much space. Bonus: It's fun for the whole family to play when you're dealing with jet lag or crashing in a hotel room. If you're worried about the sound, put some tape over the speaker to mute the noise.
Get the Simon Micro Series at Amazon for $9.99
8. Flashdash Memory Cube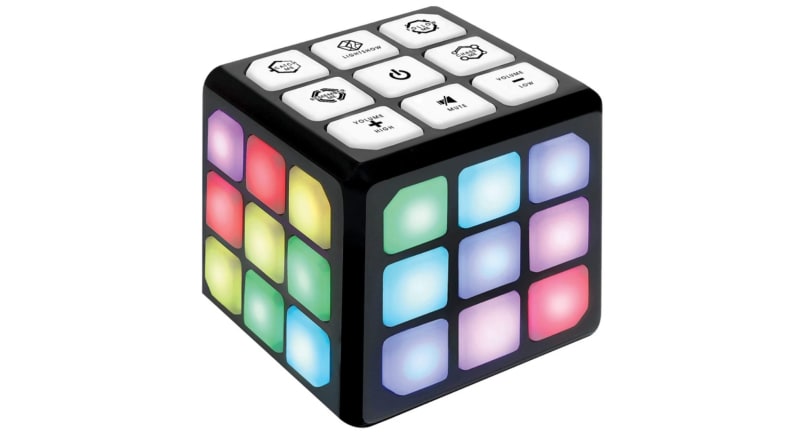 Ages: 6 to 12
If the sound aspect of Simon really is too much, the Flashdash memory cube gets rave reviews and—wait for it—it has a mute button. This four-sided approach to visual and frenetic memory electronic games has four different functions to boot, including game options that are specific to building speed, memory, or coordination. There's also one that's just a fun light show when the kiddos aren't really in the mood for a challenge.
This says it's for ages 6 to 12, but you'd be hard pressed to convinced us that a teenager (or adult) wouldn't have a blast with this one.
Get the Flashdash Memory Cube at Amazon for $29.99
9. SmartGames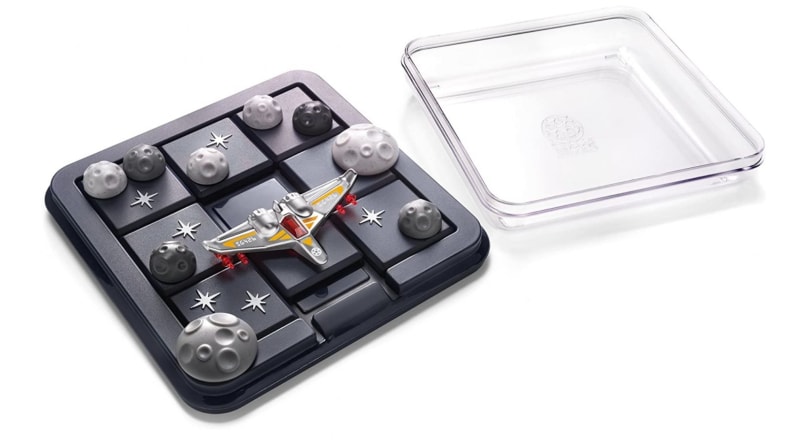 Ages: 3 and up
If you haven't yet heard of SmartGames, they are about to make traveling with kids so much easier. Every game can be played independently, so they are fantastic for when siblings are screaming about crossing imaginary lines in the back seat.
Every SmartGame comes with a booklet of strategy problems that you work out by moving the game pieces around. With each page the problems get tougher, so you'll get lots of mileage out of these games. There are lots of SmartGames to choose from: Some are made for kids as young as 3 years old, while others are great for teens or adults.
10. Rocket Ships Build-it set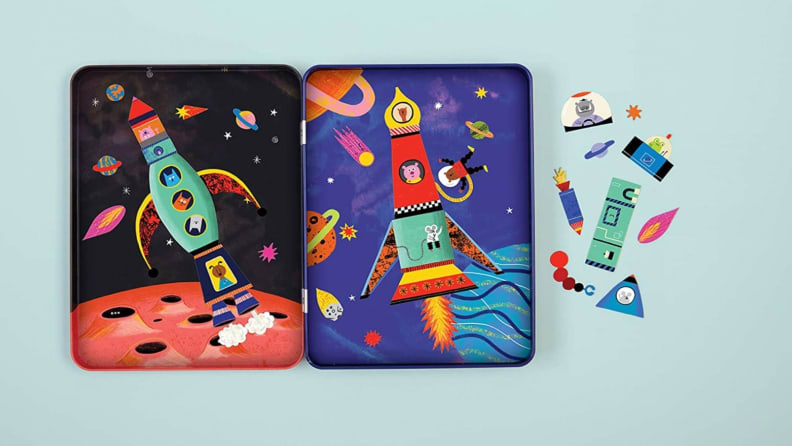 Ages: 4 to 8
A travel-friendly toy that's just out of this world, this magnetic space scene lets kids imagine where their magnetic, cut-out, space travelers will explore all on a fold-out, two-sided, magnetic tray. Sixty pieces allow for loads of imaginative play, and the tray closes up to be well-sealed storage to keep and carry all of the pieces anywhere they may travel to.
Get the Mudpuppy Magnetic Rocket Ships Build-it set at Amazon for $16.99
11. Rush Hour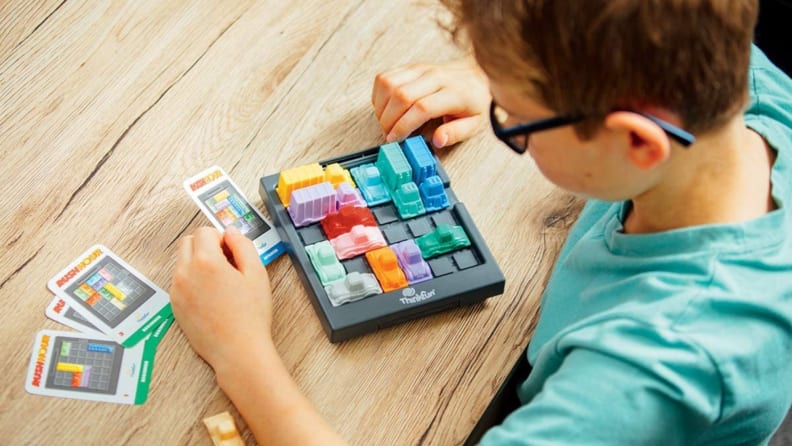 Ages: 8 and up
If you're stuck in traffic, maybe your designated back seat driver can give you a few tips. This is a classic game of planning and strategy where cars click into the board and logic is needed to get the red car out of the traffic jam. Pieces slide across the compact board, so the game is both challenging and easily transportable.
This game has been raking in the awards since 1997. So far it has earned 20 from parenting groups and toy organizations internationally, so you better believe it lives up to the decades-long hype.
Get Rush Hour at Amazon for $21.99
12. Brainbolt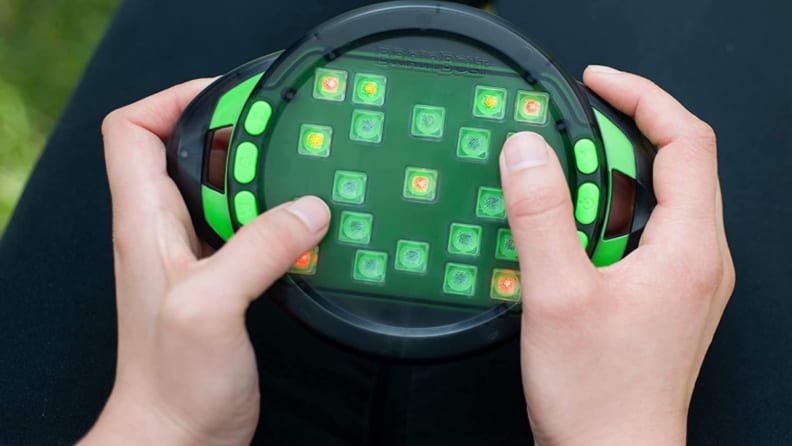 Ages: 7 and up
This fun visual memory game is fun, frenetic, and versatile. It's made to be played independently and it has options to play against an opponent or as teams. Incredibly simple in its concept, we were skeptical at first, but the over 2,000 five-star reviewers, frequently describing this handheld game as "addictive," convinced us this game just may have your child taking a voluntary break from Minecraft.
Get the Brainbolt handheld game at Amazon for $17.59
13. Flipside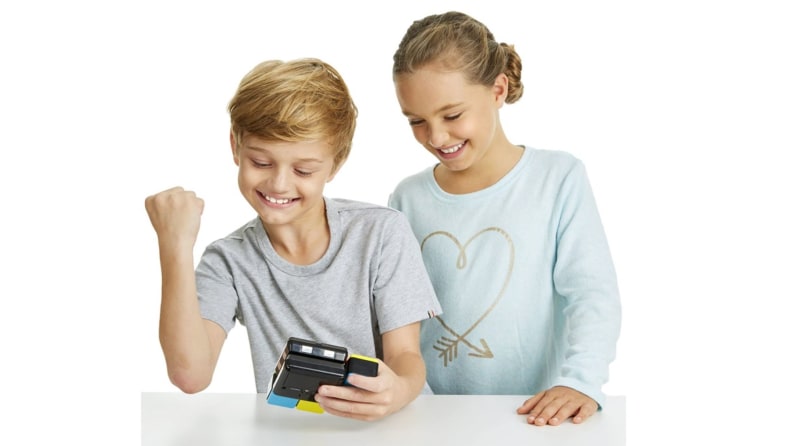 Ages: 8 and up
This is a fun and addictive game where you flip colored tiles to align with light up tiles. The concept is easy, but the actual winning, well, that takes reflexes and strategy. This is a great game for older kids when you want them to take a screen time break. We won't guarantee they'll look up from this game to see much of the scenery on the ride, but at least they'll be playing something new.
Get the Flipside electronic handheld game at Amazon for $17.59
14. Yahtzee
Ages: 8 and up
A dice game—without the dice! This classic game never gets old but it's not ideal for the car. This version, however, has travel written all over it. It's exactly the same in concept as the original, only the device does the shaking, rolling, and scoring for you.
Get the Yahtzee handheld digital game at Amazon for $7.99
15. Paint by Sticker
Ages: 5 to 8
We love the whole Paint by Sticker line of books for kids. These are mess-free, compact, lightweight, and quiet—and you never have to worry about small pieces falling or going missing under a seat. These are airplane- and car-friendly, and are part craft and part puzzle all in one. At under $10 a pop, you can probably afford to get a few of these to toss to your kid every time boredom strikes.
The product experts at Reviewed have all your shopping needs covered. Follow Reviewed on Facebook, Twitter, and Instagram for the latest deals, product reviews, and more.
Prices were accurate at the time this article was published but may change over time.